How to Use Technology in Marketing Cannabis Products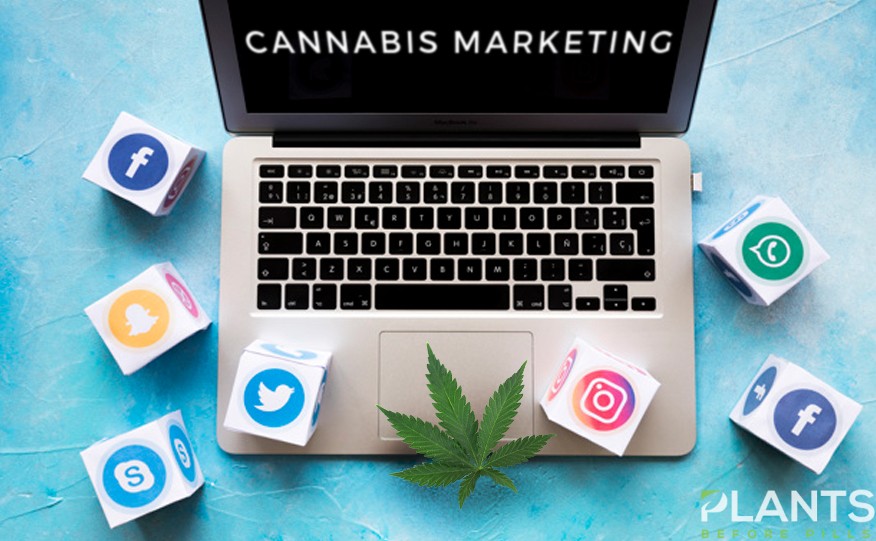 News of cannabis legalization continues to create buzz around the world, particularly in the United States, Canada, and even Australia. Technology plays a great role in this booming industry – from cannabis production to e-commerce websites, the digitization of the industry knows no bounds.
With the industry slated to reach a whopping $4.5 billion in sales come 2021, it comes as no surprise why many individuals and companies alike are venturing in this industry. Further down the road, economic and business analysts foresee that the industry has the potential to hit multibillion-dollar returns.
One of the key players in the marijuana business today is the development and the increased used of technology. As a matter of fact, there are a number of technologies and developments which have invariably shaped the success of the field. Some of the businesses are already utilizing all sorts of technologies – from cultivating marijuana plants to extracting CBD oil to selling and marketing products.
Increased Demand for MJ and CBD Products
Aside from the continued fight towards legalization and regulation, the main reason why there is an increased demand for cannabis products is that more and more individuals are getting acquainted with the benefits that this herb can bring. While many people opt to use and smoke this plant for recreational purposes, most individuals who are seeking the aid of this miracle plant often use this for medical and medicinal purposes.
Following this increased patronage and demand, businesses are opening and launching their foray into the field left and right. Everywhere you look, you may see dispensaries, cultivation sites, and even stocks being sold under this.
With marijuana's success and reach expected to grow steadily over the number of years, using technology to your advantage is a skill that must be mastered. While learning state laws and federal regulations come in handy, there is nothing like earning a profit from this sector using expertly crafted social and digital marketing strategies.
Below are excellent ideas that allow you to use technology and marketing products to your advantage.
Create Cannabis-Themed Content
While seamlessly made pictures and witty captions certainly capture the eyes of your target audience, such content can easily get lost in a market that is already permeated with countless brands. To set your offerings apart from others, setting up a website or a blog that highlights the benefits of cannabis or even CBD oil will help draw attention to what you are trying to promote.
Before launching a website or blogging platform, carefully examine the angle you are going for. Would you like to provide information to the reading public? Or perhaps you want to promote and highlight certain products or simply supply your readers with the latest news? Whatever angle you wish to take, know that creating targeted content will increase the people's trust in you through the level of expertise and knowledge you impart.
You may also delve into product reviews, thereby providing more insight and clarity on the various CBD products that exist on the market today. However, venturing into this sector entails knowing not just about the products you intend on reviewing, so be wary.
In creating targeted content, one of the most effective ways to drive traffic is by using search engine optimization (SEO) tools, such as keyword ranking. By utilizing keywords and other forms of SEO marketing strategies, you can slowly but surely increase your website ranking. At the same time, it will allow you to reach underserved sectors that people look into when they talk about this industry.
Market Cannabis Goods Online
Seeing CBD beauty products and CBD oil edibles on various websites and social media platforms have become a norm nowadays. From seeing manufacturer's claims to product raves, reviews, and feedback, marijuana-based products are not uncommon. In order to attain this kind of reach and traffic, putting up your business on the world wide web is a must.
The most affordable and perhaps manageable way to use technology is starting your own e-commerce site. This is where you can sell your cannabis-based products such as CBD infused beauty products, cannabis edibles, and even CBD oil vape pen starter kit. As waves of legalization take over the country, you may want to explore selling artworks, t-shirts, and accessories.
Take Advantage of Social Media
Social media plays a huge role in influencing our purchasing and consuming patterns. At times, these platforms also serve as avenues for news and other relevant information. Because of this, taking advantage of these different platforms to promote your wares will be a great marketing strategy on your part. Besides reaching more individuals across various parts of the globe, you will also increase your engagement and visibility over time.
Take for example Instagram and Facebook. In a highly digital age, you would be hard-pressed to find individuals who do not have accounts on these two essential platforms Reach like-minded people by taking snippets of your cannabis-related content and post it on these sites. Make sure to include a link to your article. Doing so will certainly invite more traffic and customer engagement.
Provide Engaging in-Store Experience
Marijuana dispensaries are designed to give both medical and recreational users access to cannabis. More than this, dispensaries serve as centers where individuals can gain more information about the benefits of marijuana and how this can aid in their everyday life, particularly those who suffer from certain kinds of illnesses.
To make visits fun and exciting, providing customers with unique in-store experiences should not be missed. This allows you to keep user interest at a maximum, thereby encouraging more customers to come in and see what you have to offer on the brands and products you have on hand.
For one, you can offer product demonstrations on newly acquired CBD oil vape pen starter kit you have or simply have a walkthrough certain types of buds. Since customers are all about having unique experiences, it might be useful to have displays or devices that engage their senses, such as providing avenues for interacting with certain types of buds or tasting new kind of cannabis edibles.
At the same time, make your store beginner-friendly. A television screen showing new products, an iPad allowing newbies to browse through offerings, or a tasting station will all surely provide an engaging and exciting in-store experience that will keep these loyal patrons coming back every so often. Even hosting events at your local dispensary will encourage both regular and new customers to come in, so make sure to take advantage of these events to widen your network and collect mobile numbers or email addresses which you can add to your directory listings.
Give Digitized Payment Methods and Ways of Communication
People rely on their smartphones, tablets, and other similar devices for means of communication. To reach these individuals, directly sending push messages via text or sending notifications via email would be a great help. Apart from building customer relationship and increasing database, brands working in this sector also reach their target audience and encourage more product sales.
Alongside digitizing and streamlining these modes of communication, make sure to elevate and enhance payment solutions as well. While we all know that cash is king, in a highly digital world, convenience and accessibility reign supreme. With this, making mobile and online payments available to customers will not only allow them to retain brand loyalty but also foster a deeper sense of connection and awareness.
Utilize Seed-to-Sale Technology
According to the press release by FinancialBuzz, seed-to-sale technology makes use of a unified system which allows businesses to track and report cultivation and sales of cannabis. Through this, distributors provide information regarding audit trails, ensuring they are fully complying with the laws in place. This type of software also allows marijuana companies to store records for auditing and inventory purposes, helping these businesses grow while still maintaining secure transactions.
What makes seed-to-sale technology attractive in light of the legalizations is the ability for the government to track and enforce rules and regulations while still allowing dispensaries to sell marijuana. It restores the federal government's and state's trust in the industry.
More than this, dispensaries and other trading institutions involved in this type of market can benefit greatly from this technology by creating individual consumer profiles, automating data entries, and providing automated discounts and loyalty programs. With this software under your care, you can lessen, if not totally eliminate risks for human error, but also enhance customer relationship – all with a single, efficient action.
The Future of Cannabis Under Technological Developments
As the marijuana industry continues to take the world by storm, it would not be surprising to see the future of cannabis flourishing under the limelight thanks to the technological advancements and developments in the field of marketing. From content creation to furthering in-store experiences, there are numerous ways this specific market could progress and reach the heights of success. For now, we believe that with cannabis legalization and technology taking center stage, the future is certainly looking brighter than ever before. So, dispensaries and businesses of all sizes, start taking notes.
How to Clean and Maintain Your IQ2 Carbon Vaporizer for Longer Lasting Use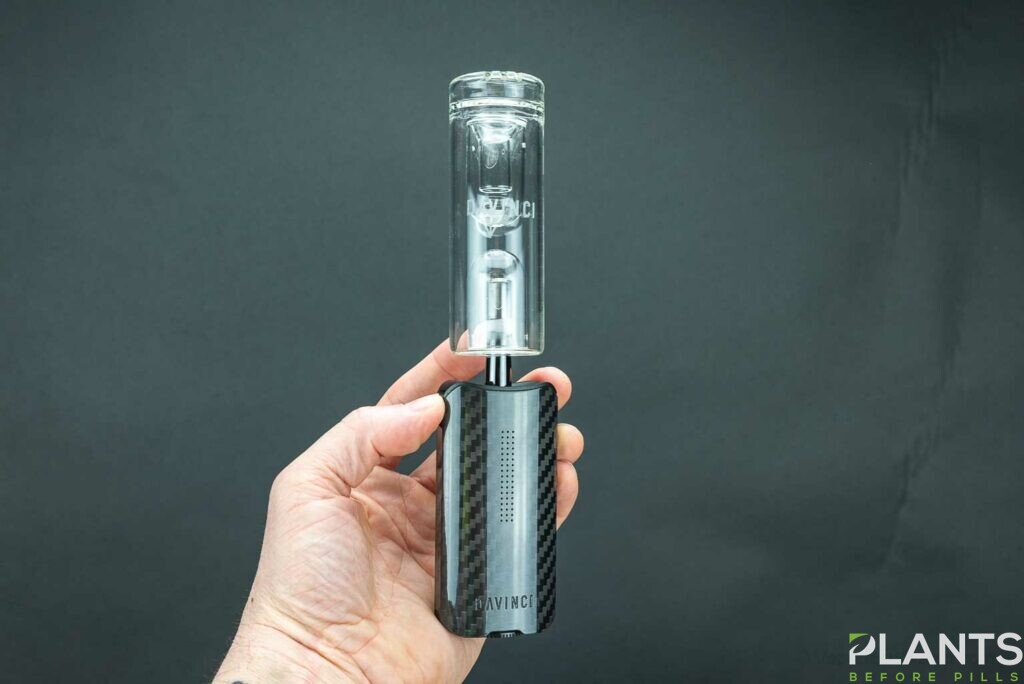 Are you the proud owner of an IQ2 Carbon Vaporizer? If so, you know how important it is to keep your device clean and in good condition. Not only will this ensure that you get the best vaping experience possible, but it also helps extend the life of your device. In this blog post, we will discuss the best ways to clean and maintain your IQ2 Carbon Vaporizer and Eyce Banger Female 14mm attachment for optimal performance. Read on to learn more!
What You Will Need
To effectively clean and maintain your IQ2 Carbon Vaporizer , you will need a few key items. Firstly, you will need the IQ2 Carbon Vaporizer itself, which can be purchased on davincivaporizer.com. Additionally, you will need a cleaning solution, which can be made by combining isopropyl alcohol and water in a 1:1 ratio. You will also need a small container for soaking the vaporizer parts in the solution, as well as a soft cloth for wiping down the parts. Finally, if your IQ2 Carbon Vaporizer features an Eyce Banger Female 14mm, you may also need a specialized cleaning tool designed for this component. By gathering these supplies, you will be ready to effectively clean and maintain your IQ2 Carbon Vaporizer for long-lasting use.
Step One: Preparing the Solutions
To ensure that your IQ2 Carbon Vaporizer stays in pristine condition and functions optimally, it's important to regularly clean and maintain it. The first step in the cleaning process is to prepare the necessary cleaning solutions. For this task, you'll need some isopropyl alcohol, a small bowl, and a brush.
You can easily find isopropyl alcohol at your local drugstore or online. We recommend getting 99% isopropyl alcohol for better cleaning results. If you need help finding this, check out websites like davincivaporizer.com or other popular vaping accessory stores.
In addition to the alcohol, you can also use some warm water and dish soap to clean your IQ2 Carbon Vaporizer. Make sure you get some high-quality dish soap for better results. Another good solution to use is the Eyce Banger Female 14mm . It's an all-in-one cleaning solution that's specifically designed for vaporizers and water pipes.
Once you've gathered all the necessary cleaning solutions, it's time to move on to the next step of the cleaning process.
Step Two: Disassembling the Vaporizer
Now that you have all the solutions prepared, it's time to start disassembling your IQ2 Carbon Vaporizer. First and foremost, turn off and unplug the vaporizer to ensure your safety during the cleaning process. Then, remove the mouthpiece and the oven lid.
Next, remove the flavor chamber, which can be accessed by gently twisting and pulling it out of the vaporizer. Take extra care with the flavor chamber, as it can be fragile and prone to breakage. Set it aside in the solution prepared in Step One.
To remove the vapor path, hold the vaporizer upside down and remove the two screws located at the bottom using a screwdriver. Gently remove the vapor path and soak it in the solution as well.
Lastly, remove the Pearl and the adjustable air dial. The Pearl is a small, cylindrical piece located on the bottom of the vaporizer and can be removed by gently pushing and pulling it out. The adjustable air dial can be unscrewed by twisting it counter-clockwise.
It's important to keep track of all the pieces you remove during this step, so it's best to place them in a designated area or tray. If you're unsure about the disassembly process, refer to the user manual provided on davincivaporizer.com.
Additionally, if you're using an accessory like the Eyce Banger Female 14mm with your IQ2 Carbon Vaporizer, make sure to remove it before beginning the cleaning process. These accessories may require different cleaning methods, so it's best to clean them separately.
Unpacking the Features of the Arizer XQ2 Vaporizer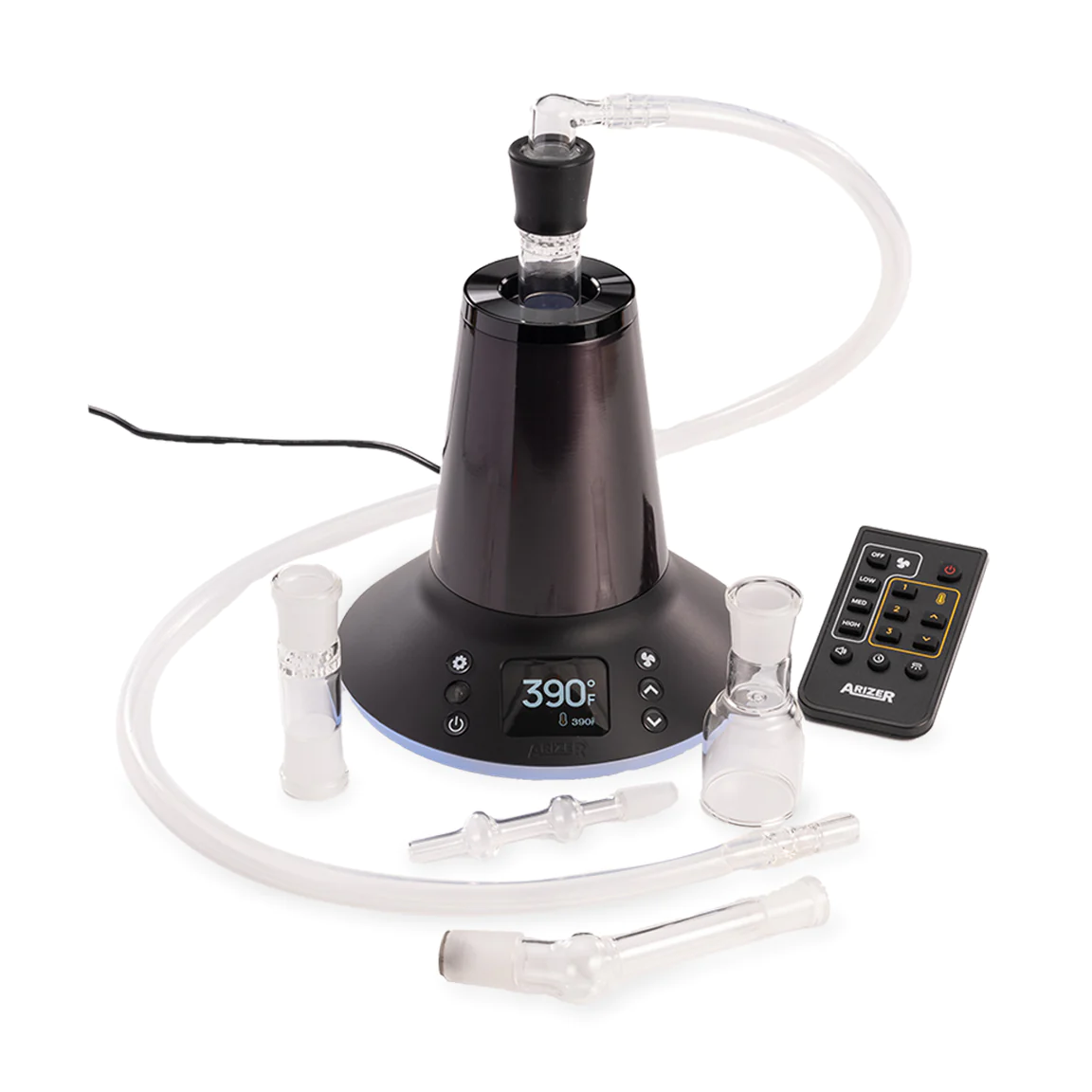 Are you looking for the ultimate vaping experience? Then you need to check out the Arizer XQ2 Vaporizer. This device is quickly becoming one of the most popular options on the market, and for good reason. The Arizer XQ2 Vaporizer is a great choice for those who want to get the most out of their vaping experience. Compared to other popular options like the Crafty+ Vaporizer, the XQ2 offers a range of features that make it stand out from the competition. In this blog post, we'll be taking a deep dive into all the features the XQ2 has to offer.
The Design
When it comes to the design of the Arizer XQ2 Vaporizer, there are some notable features worth discussing. This sleek and compact vaporizer is built with durability and portability in mind. The device measures just over 4 inches tall and fits comfortably in the palm of your hand. One thing to note is that the device does have some weight to it, which may be an issue for those looking for an ultra-lightweight vaporizer.
The Arizer XQ2 Vaporizer comes in a classic black colorway with silver accents. While some may find this to be a bit standard, the minimalistic design of the device gives it a timeless look. Compared to other vaporizers on the market, the Arizer XQ2 Vaporizer has a more premium feel to it. This is in contrast to the more utilitarian design of the Crafty+ Vaporizer which is built with function in mind over form.
Overall, the Arizer XQ2 Vaporizer has a sturdy and well-built design that should withstand daily use. Its minimalistic aesthetic may not appeal to everyone, but it certainly fits in with the current trend of sleek and streamlined vaporizers. To learn more about the Arizer XQ2 Vaporizer, head over to davincivaporizer.com and explore all of its features.
The Display
The Arizer XQ2 Vaporizer boasts an impressive digital display that provides users with detailed information about their vaping experience. The large, clear screen is easy to read and displays the temperature, battery level, and session duration. This is a huge upgrade from other vaporizers on the market, which often only have a small LED light indicating the temperature setting.
In addition to the clear display, the Arizer XQ2 Vaporizer also offers a wide range of temperature settings that can be adjusted in 1-degree increments. This level of precision allows users to customize their vaping experience to their exact preferences. Compared to the Crafty+ Vaporizer, which only offers a handful of preset temperature settings, the Arizer XQ2 Vaporizer truly stands out.
If you're looking for a high-quality vaporizer with a clear digital display, the Arizer XQ2 Vaporizer is definitely worth checking out. You can find more information about this product on davincivaporizer.com or by doing your own research online. Overall, the digital display is just one of many impressive features that make this vaporizer a top contender in the market.
The Heating System
When it comes to vaporizers, the heating system is one of the most important aspects to consider. The Arizer XQ2 Vaporizer boasts an advanced heating system that uses both conduction and convection heating methods. This means that your dry herbs or concentrates are heated evenly and efficiently, resulting in a smooth and flavorful vapor.
Unlike other vaporizers that use solely conduction heating, the Arizer XQ2 Vaporizer's convection heating ensures that there is no risk of combustion, resulting in a cleaner and healthier vapor experience. The unit also features adjustable temperature control, giving you the ability to choose between 50°C to 220°C.
If you're in the market for a vaporizer with a top-notch heating system, the Arizer XQ2 Vaporizer is definitely worth checking out. You can purchase this vaporizer directly from davincivaporizer.com, where you can also find more information about the product's specifications and features.
Mighty vs Mighty+: Which One Should You Choose?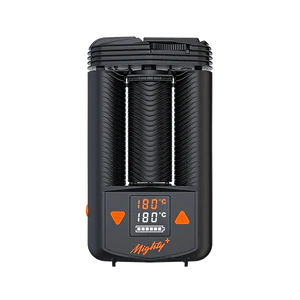 Are you trying to decide between the Mighty and Mighty+ vaporizers? If so, you've come to the right place. In this blog post, we'll discuss the key differences between the Mighty and Mighty+ so that you can make an informed decision about which one is best for you. Both vaporizers offer great features, but each has its own strengths and weaknesses. We'll look at the various features of the Mighty and Mighty+ and compare them to help you determine which one is right for your needs. So let's dive in and find out which Mighty vaporizer is best for you!
Overview
If you are a fan of vaping, you probably know about the Mighty and Mighty+ vaporizers from the renowned brand, Storz & Bickel. These two devices have become quite popular among vape enthusiasts and for a good reason. They both have impressive features that make vaping a great experience. However, deciding between the two might be a bit challenging, especially if you're new to the vaping world. That's why in this post, we'll be taking a closer look at the Mighty and Mighty+ vaporizers, comparing their features and helping you determine which one is right for you. So, whether you're a seasoned vaper or just starting out, keep reading to find out which of these two amazing devices is best for you. You can also find more information about both vaporizers on the davincivaporizer.com website.
Mighty
The Mighty vaporizer is one of the most popular portable vaporizers on the market. Made by the renowned German manufacturer, Storz & Bickel, this device is known for its reliability, ease of use, and superior vapor quality.
With its hybrid heating system that combines convection and conduction heating, the Mighty produces consistent and flavorful vapor every time. Its powerful heating element also heats up quickly, so you won't have to wait long to start enjoying your herb.
The Mighty has a large herb chamber that can hold up to 0.3 grams of dry herb, which is more than enough for most sessions. Plus, its clever design allows for efficient and even heating, ensuring that you get the most out of your herb.
One of the best things about the Mighty is its long-lasting battery life. The device can last up to 90 minutes on a single charge, which is much longer than most other portable vaporizers. Additionally, the Mighty is very easy to clean and maintain, thanks to its simple design and removable parts.
If you're looking for a high-quality portable vaporizer that will deliver excellent vapor quality and durability, the Mighty is definitely worth considering. You can purchase it directly from the manufacturer's website, davincivaporizer.com.
Mighty+
The Mighty+ is the upgraded version of the Mighty vaporizer from Storz and Bickel. Just like its predecessor, the Mighty+, too, is a highly powerful and portable vaporizer that is loved by vapers worldwide. It is also sold on the official website of the company, davincivaporizer.com.
The Mighty+ has been updated with several new features that make it even more user-friendly and efficient. For instance, it has a 20% faster heat-up time than the Mighty, allowing you to start vaping sooner. Additionally, the Mighty+ also has a 30% longer battery life than the original Mighty, which means that you can enjoy longer vaping sessions without having to recharge the device as frequently.
One of the standout features of the Mighty+ is its large LED display, which displays the temperature, battery life, and other relevant information. This makes it easy to keep track of your vaping session and customize it according to your preference.
Another unique feature of the Mighty+ is its self-cooling system. This innovative technology cools down the vapor before it reaches your mouth, making your vaping experience smoother and more enjoyable.
The Mighty+ comes with a durable, lightweight design, which makes it easy to carry around with you. Additionally, it is compatible with both dry herb and wax concentrates, which means that you can enjoy a wide range of vaping options with this device.
In summary, the Mighty+ is an excellent choice for those who are looking for a portable, powerful, and user-friendly vaporizer. If you want to buy the Mighty+, you can do so from the official website of the company, davincivaporizer.com.