How 'Someone Great' Normalized Women Consuming Weed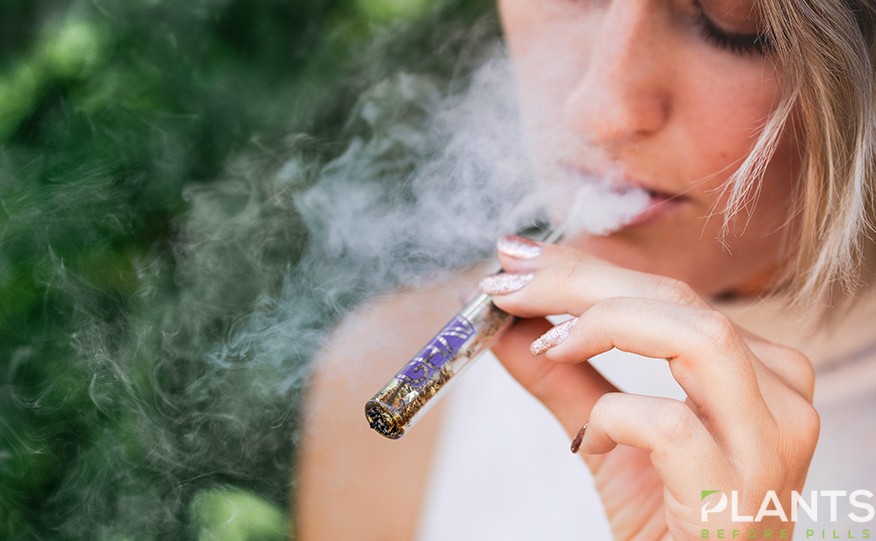 For the longest time, there was a societal misconception that only men had the right and the ability to use weed. Often, stoner films and even musicians centered on male personalities who have been taking this herb. As a matter of fact, these films show men huddling around and passing their joint to one another, as well as sharing their marijuana with fellow weed enthusiasts.
Today, it cannot be denied that the use of cannabis and even CBD Hemp oil has already been normalized in society, albeit far and few in between. After all, having a daily dose of pure cannabidiol or a hit of a joint is no different from having a glass of wine to relax, particularly after a long day. Someone Great, Netflix's newest film is showing viewers just how women are taking back their space and showing the use of weed in their everyday life.
Setting the Pace
Television shows have already featured strong female personalities who have used cannabis. In fact, the characters of Abbi Jacobson and Ilana Glazer in Broad City have had numerous adventures with this plant. One of these hilarious escapades includes Ilana transporting cannabis and keeping it safe under her lady bits.
Mary + Jane from MTV also takes pride in showing two strong women breaking through a male-dominated weed delivery company in Los Angeles. Even Disjointed featured a commanding female presence through a cannabis activist who runs her own dispensary, perfectly depicted by Kathy Bates.
A More Relatable Approach
While these shows paved the way for the plant and the many CBD hemp oil benefits to become known, it seems that the film Someone Great appears more relatable, particularly for women who are not only experiencing a breakup but also those who are going through overwhelming changes in life.
Here, the character of Gina Rodriguez, the protagonist of the breakup comedy named Jenny, is finally moving from the Big Apple to sunny San Francisco. Having recently broken up with her boyfriend of nine years, Jenny makes it a point to leave the city with a bang. To do this, she meets with her two girlfriends, Erin (DeWanda Wise) and Blair (Brittany Snow) and goes on a series of wild exploits throughout Manhattan.
What makes these 20-something women relatable, apart from their kinship and their struggles, is their love for pot. As they began their thrilling journey around the city, each of these female characters either smokes up a joint or inhale the vapor of their CBD oil vape pen. Whether it be having sexual trysts or doing some work and grinding it up, this film illustrates that women are still capable of doing whatever they set their mind do even while taking cannabis.
This Netflix movie successfully showed using weed has become more accepted not only in society but also as a part of people's lifestyle. In many ways, this has also become akin to taking a generous serving of wine at night, particularly when it comes to relaxing.
Various Uses of Cannabis
Jenny, Erin, and Blair all showed how they used cannabis in their life. Come to think of it, while each of these characters used it hastily, all of these individuals benefited from taking this herb. One enjoyed sex better, one became more relaxed and equipped in dealing with work, and so on.
Apart from using these in non-traditional ways, cannabis can also be used to alleviate pain and to treat a variety of illnesses and health concerns. The market now has CBD oil for pain management, CBD beauty products, and so on, thus upping the hemp game of the industry.
Someone Great shows that women are also adept with dealing with cannabis on screen. More than this, the film depicts a sense of rawness and relatability that allows viewers to see for themselves that weed does not have to be shunned. Give it a go and see just how eye-opening this movie can be.
Can CBD Help Improve My Gut Health And Digestion? [VIDEO]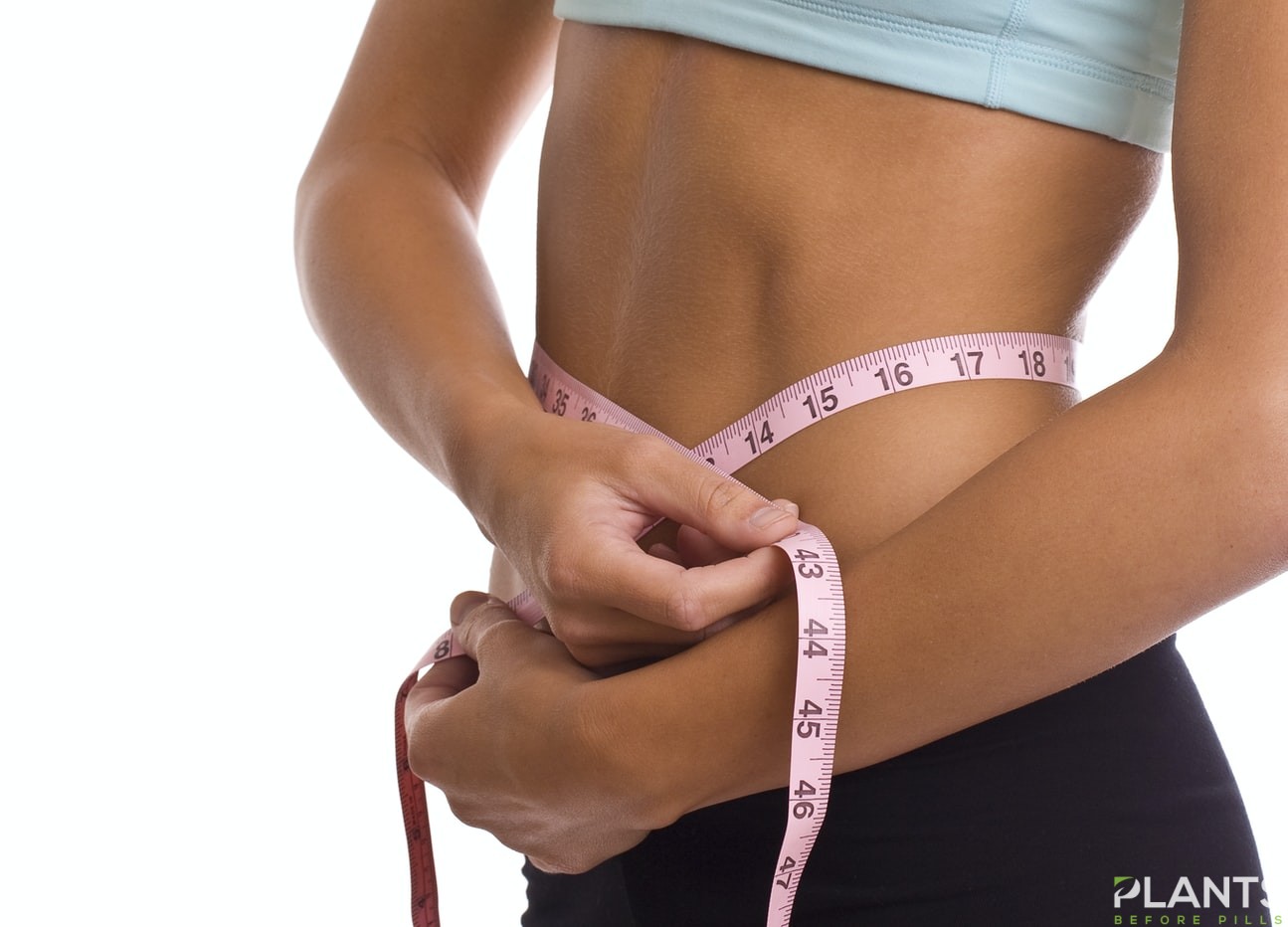 There are plenty of claims about how CBD can benefit gut health and digestion. According to some experts. CBD can impact the digestive system by providing digestive support and by soothing and calming the digestive organs. Dr Oz and investigative reporter Maria Schiavaocampo sheds more light on these claims.
High and Wealthy: Top 8 Richest People Who Have Used Marijuana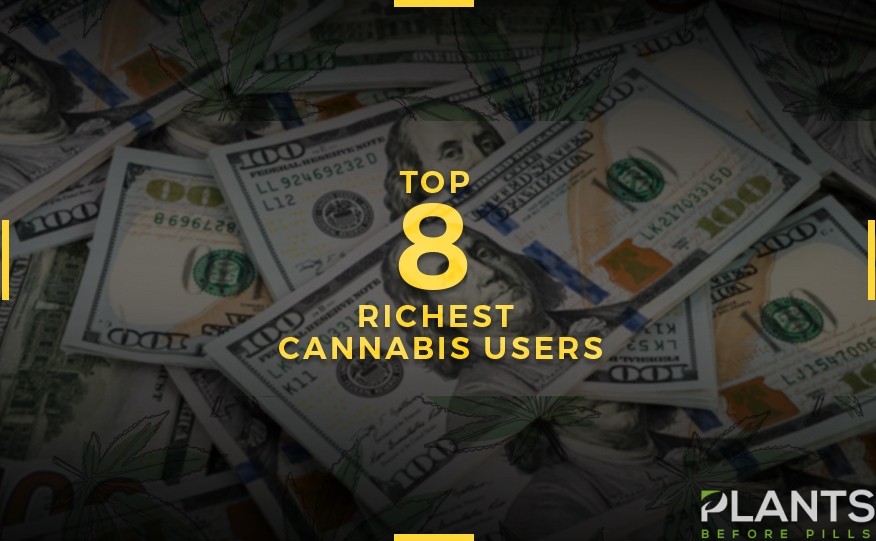 For years, the word "rich" carries a broad range of possible connotations – classy, refined, eloquent, regal … and high? From smoking flower to consuming marijuana hash, the wealthy are dialed in.
Gone were the days when the wealthy are boxed within the "prim and proper" notion. Today, the newer generations of the top 1% are more than willing to break the strict expectations and experience a different dose of high and wildness.
From business tycoons, politicians, to award-winning artists, here are 8 of the richest cannabis users.
Get to know them:
Perhaps, it is safe to say that almost every guy has heard the name "George Zimmer" before. He is, after all, the founder and former CEO of the popular clothing chain, Men's Warehouse. Although Zimmer was fired as executive chairman in 2013 due to his "unwillingness to hand over the reins," the entrepreneur remains to be one of the biggest fish in the cannabis pond.
In fact, in 2010, Zimmer has openly showcased his support for the legalization of cannabis by donating a staggering $70, 500 to support the Proposition 19 in California.
Five years later, in an interview with CNBC, the former CEO said he has been regularly smoking marijuana for half a century already. When asked about his stand about the marijuana prohibition, Zimmer is quick to respond, saying: "This is the biggest con that has been perpetrated on this country in the last century."
No one can debunk the unpleasant stereotypes linked to marijuana users more than the American billionaire Ted Turner. Not only is he famous for founding the first 24-hour news network, CNN, but he is also regarded as America's second-largest individual landowner and a self-made billionaire. In 2014, Forbes estimated Ted Turner's net worth at $2.2 billion. Today, Turner continues to rise as one of the top media tycoons in the country.
For years, Ted Turner has been rumored to have been a marijuana user. Some sources even claimed he had been caught growing marijuana in his dorm room at school. Although the mega-mogul refused to clarify the rumors, his vocal support for the legalization of cannabis and his consistent role as a sponsor of the Kentucky Hemp Museum already seem to confirm the report.
Richard Branson is not the kind to back out from anything – even from admitting he smokes marijuana. In fact, in an interview with GQ magazine, the founder of the Virgin empire had admitted he tried using cocaine, ecstasy, Viagra, and marijuana.
"I haven't tried skunk, I have smoked cannabis though. I mean, I went with my son on his gap year, for God's sake. We learned to surf and had some nights where we laughed our heads off for eight hours," the multi-millionaire airline boss told Piers Morgan.
As a bonus, the British entrepreneur also said that the first person to teach him how to roll a joint is none other than Rolling Stones guitarist Keith Richards.
For years, Branson has been one of the most devoted supporters of the legalization of marijuana and even said he'd put in on sale if it were to become legal.
No one lives the "American Dream" more accurately than Hugh Hefner. From astounding mansions, fanciful lifestyle, dream girls, to regular puffing of cannabis – this magazine tycoon seems to has it all. Despite his death in 2017, the founder and editor-in-chief of Playboy magazine remains to be one of the biggest faces of celebrity cannabis users.
"I don't think there's any question that marijuana should be legalized because to not legalize it, we're paying the same price we paid for prohibition," he told Fox News on 2010 when asked about his stand on the legalization of the plant. "In other words, it is a medical concern and it should be handled that way."
In a book called High in America: The True Story Behind NORML and the Politics of Marijuana, Hefner shared how marijuana made him see sex in a different light. "Smoking helped put me in touch with the realm of the senses. I discovered a whole other dimension to sex. I discovered the difference between fucking and making love," the Playboy magnate told Patrick Anderson.
Nothing tops Michael Bloomberg when it comes to being the face of success. Not only is he the co-founder and CEO of the financial, software, data, and media giant, Bloomberg L.P, but he also became a three-term Mayor of New York City. Forbes estimated his net worth to be a stunning $55B and was even hailed as the 9th richest people in the world.
In 2001, Bloomberg was asked by New York Magazine whether he had ever tried marijuana, in which he responded with the iconic line: "You bet I did. And I enjoyed it."
He then later came to regret making the comment when the National Organization for the Reform of Marijuana Laws Foundation unveiled a $500,000 ad campaign featuring his face alongside the quote.
"In terms of, I had, certainly when I was younger, as I suppose most people in my generation, experimented," he told during a news conference. "I never lie, so if somebody asked me a question, I told them. Do I, in retrospect, wish I didn't say it that day so they couldn't quote it? Of course."
However, despite his experience with the plant, Bloomberg was not fond of decriminalizing marijuana. In 2013, he even called medical marijuana "one of the greatest hoaxes of all time."
The American business magnate and co-founder of Microsoft isn't just commendable for having the world's largest private charitable foundation but also for his vocal support for the legalization of marijuana13 in his home state of Washington.
Although the Microsoft's mogul has been mum on whether he had used to smoke cannabis, his 1994 interview with Playboy seem to suggest a possible answer. During the said interview, Gates was asked if he had ever taken drugs, particularly LCD. He responded by saying: "My errant youth ended a long time ago."
When asked to further his answer, the American entrepreneur only said: "That means there were things I did under the age of 25 that I ended up not doing subsequently."
Bill Gates now stands as the top 2 richest individuals in the world, according to Forbes.
Aside from his vocal support for democratic ideals and causes, the Hungarian-American billionaire George Soros is also a faithful supporter of the legalization of marijuana. In fact, since 1984, he has been injecting more than $80 million of his money to various alliances and networks for the advancement of the legalization of marijuana.
Although he said he finds no use for drugs, the prominent international investor admitted he once tried smoking cannabis.
"I tried marijuana and enjoyed it, but it did not become a habit and I have not tasted it in many years," Soros said in an interview.
As a well-known humanitarian, George Soros believed that the marijuana laws are doing more harm to people than good.
"The criminalization of marijuana did not prevent marijuana from becoming the most widely used illegal substance in the United States and many other countries. But it did result in extensive costs and negative consequences," he asserted.
Perhaps, we can all agree that no other CEO could top the grand stature of Steve Jobs when it comes to the public realm. After all, who would forget the genius mind behind the Apple gadgets? In 2010, he was hailed by Forbes to be the 17th most powerful person. And even when he succumbed to cancer in 2011, he was still regarded as one of the leading pioneers of the microcomputer revolution.
Prior to his death, Jobs' involvement in recreational drug use is not a secret to the public. In fact, he was even able to give a talk about his drug experiences, particularly with LSD and marijuana. During the interview, the Apple Co-Founder expressed that his use of LSD was one of the "two or three most important things" he ever did in his life. He also said he and his friends used to smoke marijuana and eat pot brownies for some time before. For Jobs, the reason behind his marijuana usage stems from the relaxing effect the plant provides, along with its creative significances.
Today, Steve Job's legacy continues to affect the computer, wireless, and even cannabis industries.
After his death, Daniel Kottke, an old friend of Jobs' told CNN that Jobs' experiments with drugs stopped with the dawn of his company, Apple.
"Once Apple started, Steve was really focused with all of his energy on making Apple successful… and he didn't need psychedelics for that," he explained.
Conclusion:
Surely, the "high" and wealthy will always have their own ways to stay on top. From CEOs, politicians, sports personalities, to celebrities, there always comes a broad list of rich people who find leisure in the company of the green plant.
Who among these people do you fancy sharing a joint with?
A 7-Step Guide To Growing Marijuana at Home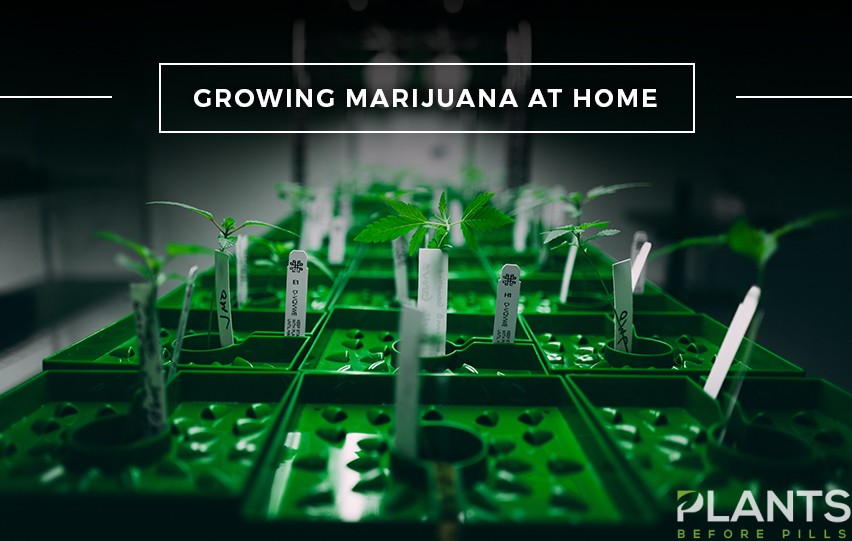 All the talk about cannabis can cause excitement to the point of getting your hands dirty and growing your very own plant. It can be a fun hobby and the start of an exciting business opportunity as well.
Also, for individuals using cannabis for medicinal value, it is possible to obtain the best quality buds grown with proper care. From seeds to buds, here are seven steps to follow to grow a cannabis plant at home.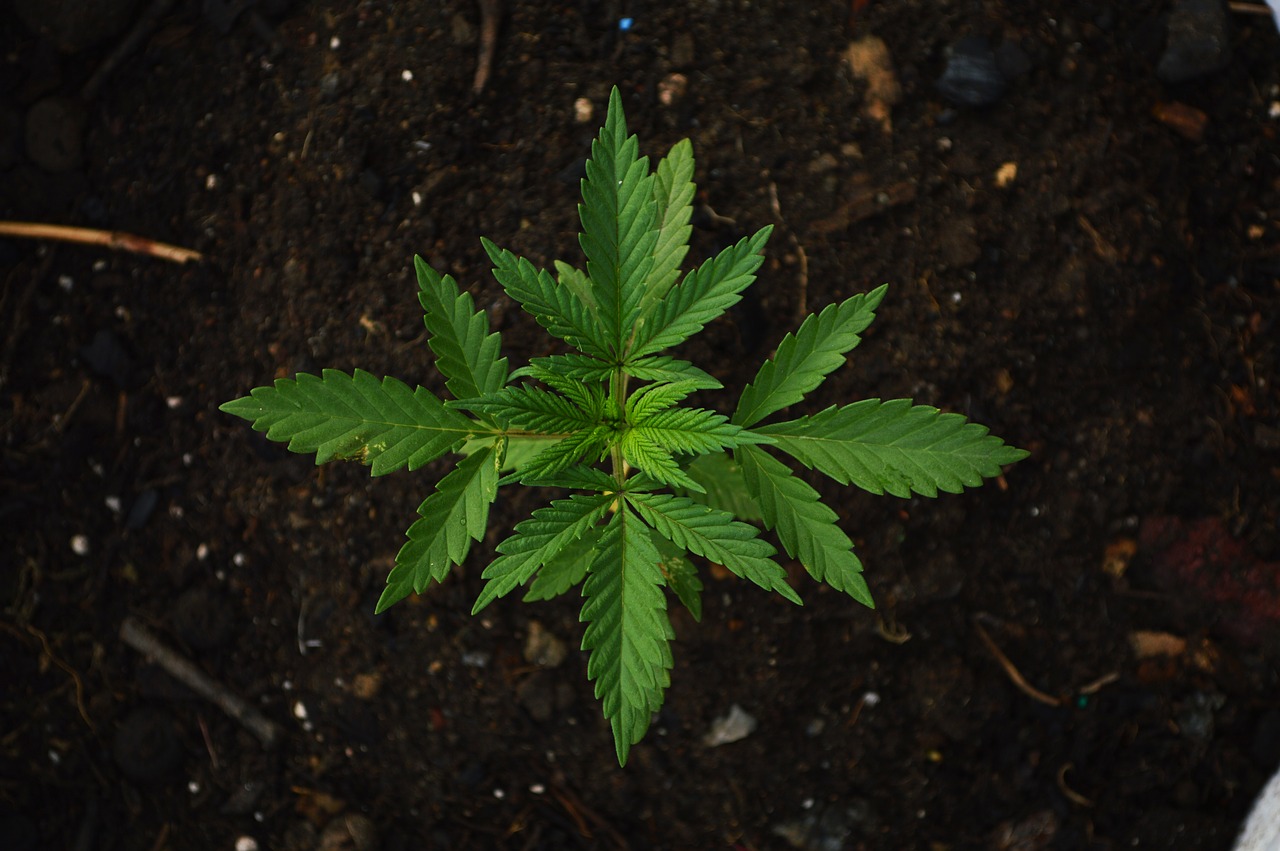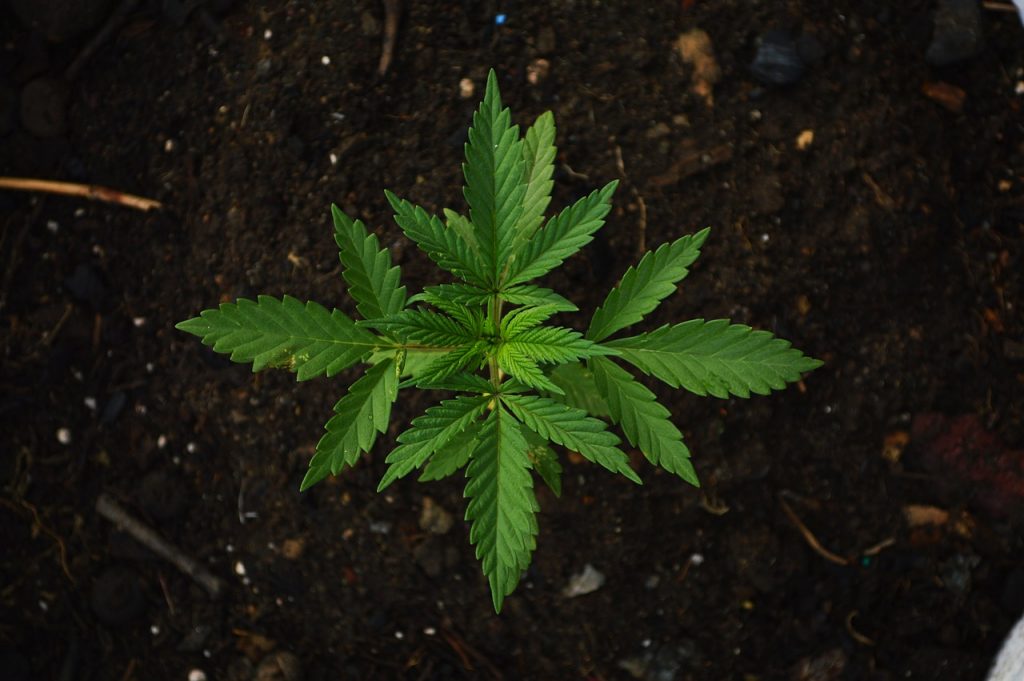 1. Choose the Perfect Spot
Finding the right location to place your cannabis plant is crucial. Although cannabis is not a demanding species, there are certain conditions required to ensure your yield is of the highest quality.
The place you select for your plant must be secluded and out of the way to reduce tampering. It must offer the liberty to control essential parameters such as temperature and light for the plant to grow well.
You can choose an empty room, basement, attic, garage, or any space available that is easy to clean and private to grow your very own cannabis.
2. Pick the Right Seeds
Choosing the right marijuana seeds helps to achieve a good yield for your use. If you are planning to grow any particular strain for medicinal usage, you can shop here from your trusted source of premium marijuana seeds.
If you are a first-time in growing marijuana at home, choose the easiest strain to care. It will help you learn about the plant, while not having to invest too much time, money, and other resources into it when growing marijuana at home.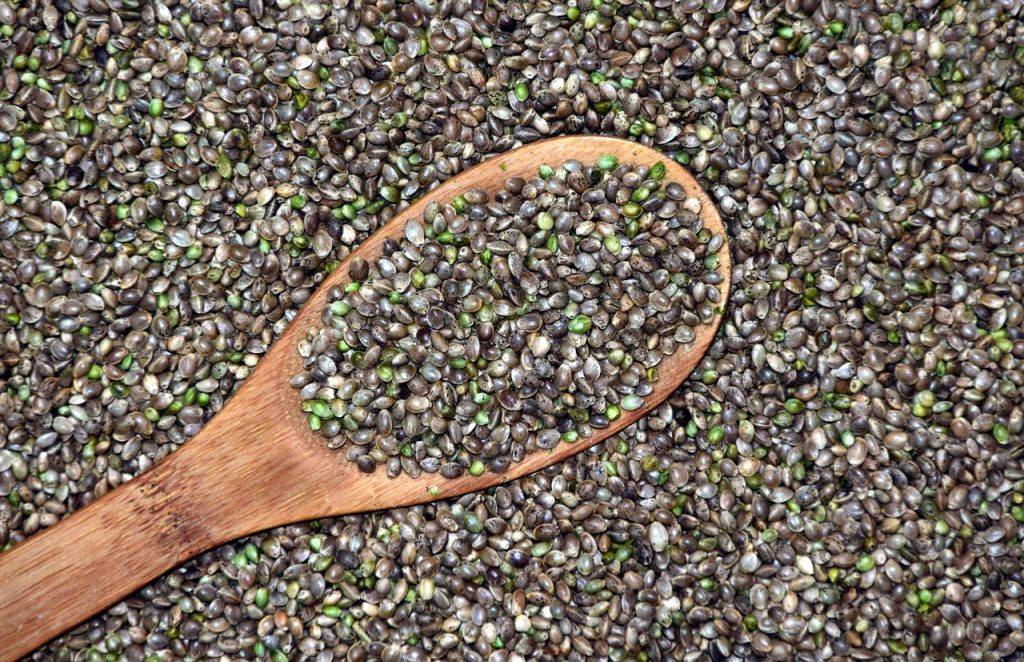 Among pure, feminized, and auto-flowering seeds, auto-flowering could be the best choice for novice growers. They produce 100 percent female plants that will give a completely usable yield.
Also, auto-flowering seeds eliminate the need for photoperiod control in cannabis plants, making it easy for first-time growers. The seeds are straightforward to grow, and a simple set can give you a healthy yield.
3. Choose Growth Medium
Once you know the right place to plant your cannabis, you need to prepare the area to support growth.
The growth medium is responsible for transferring nutrients through water, and the entire set up should be capable of doing so effectively. You can choose between growing in the soil, or soilless mediums, such as hydroponics.
In the case of soil as a medium, water the plants and add nutrients to the soil for the plant. But in hydroponics, you directly feed the necessary nutrients to the water that increases absorption efficiency and supports quicker growth. It also reduces some common problems with soil as a medium, such as pest infestations.
Although both pose specific advantages, using soil is the best choice for first-timers to make the process simple and straightforward.
4. Set Up the Growth Area
Now you can move on to work on the growth area to nurture and support your cannabis plant.
Make sure to create provisions for adequate light availability in the home growing area. You can rely on sunlight or invest in artificial lighting systems using LEDs, HIDs, or fluorescents to create the right light levels.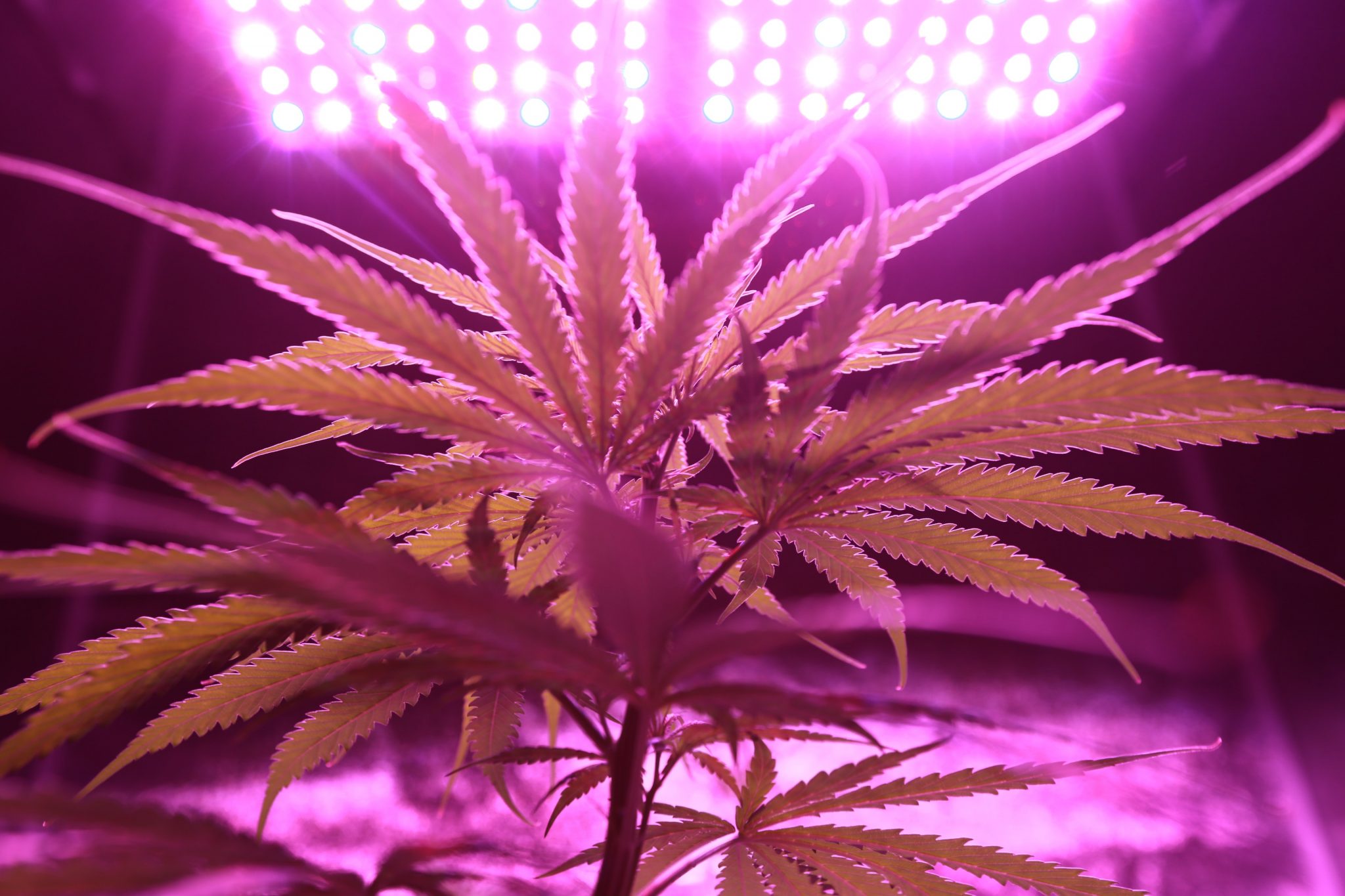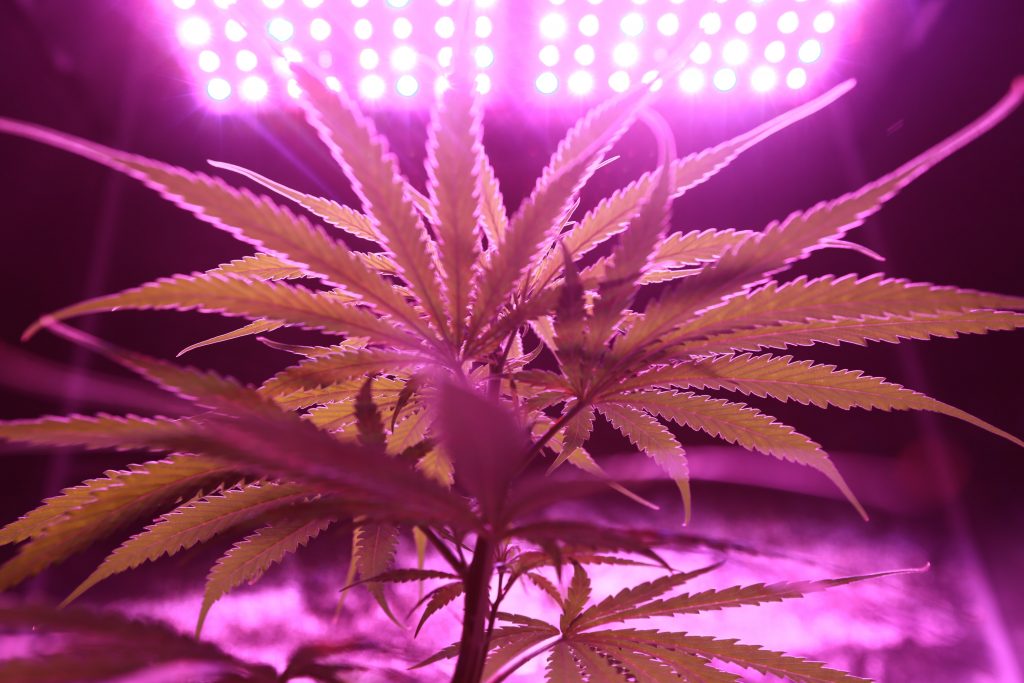 Measure the temperature and humidity levels and install ventilation mechanisms to keep these parameters in check when growing marijuana at home. It reduces the risk of pest infestations and mold and keeps the area from smelling pungent.
Check the pH levels of your growing medium. The ideal range should be between 6-7 for soil and between 5.5 – 6.5 for hydroponics. Also make sure to get your hydroponic supplies from a specialized hydroponics wholesaler.
Test the soil to understand the availability of essential nutrients and supplement with the rest to promote growth at different stages.
5. Germinate and Plant your Cannabis
The next step is to germinate your seeds. Place the seeds directly in a pot or in a wet paper towel and leave it for a few days to let it sprout. Using a pot as your germination medium is advisable as it reduces the transplanting shock in the next stage.
When you plant sprouts, transfer it along with the soil to a large pot or grow medium.
The plant is now going to transition into a vegetative stage where you will see the sprout grow into leaves. The temperature requirement is slightly higher during this time, and all the essential nutrients need to be adequately available for healthy growth.
Be mindful of light availability throughout this period. Monitor the growth and look out for any signs of plant deficiencies to provide the necessary remedies.
6. Monitor the Flowering Stage
The next step for your cannabis plant is the flowering stage. This is when your plant starts to form small flowers, which will eventually turn into buds that we consume. It is a critical phase in the life of a cannabis plant and requires maximum care and attention.
If you are working with pure cannabis seeds in growing marijuana at home, you might have to vary the photoperiod to lead your plant to this stage and weed out the males. Auto-flowering seeds reduce the effort in such areas and only require minimal adjustments in temperature.
Maintain the temperature between 64° F and 78°F and increase the watering levels to flush your plant with nutrients that contribute to aroma, taste, and potency.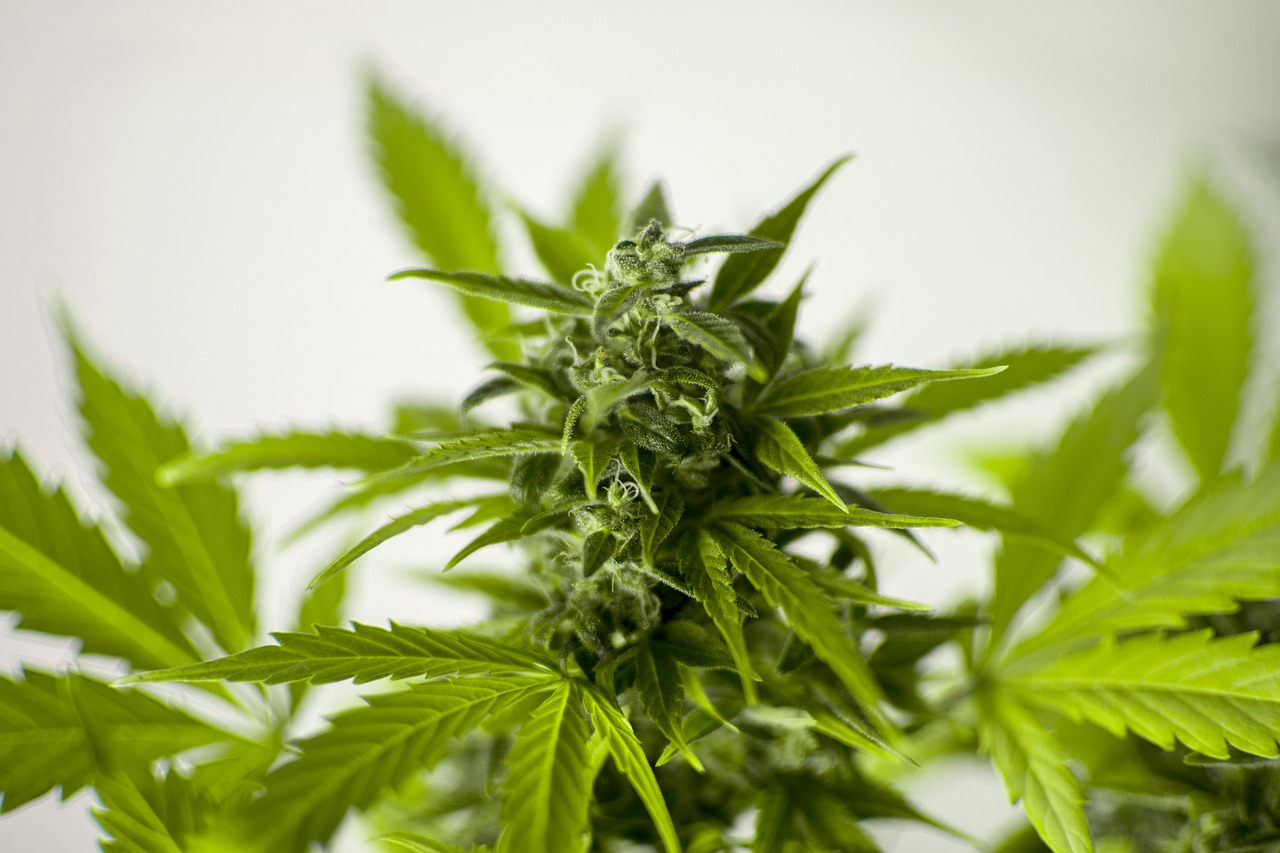 Your plant also requires some grooming during this stage to provide space for the flowers. Trim and bend the leaves to make sure your entire plant gets enough light and nutrients and is easy to maintain.
Watch out for signs such as yellowing of leaves or browning at the tips, which could indicate pH imbalance or nutrient deficiency. Caring for your plant during this stage will give you the best yield.
7. Get Ready to Harvest and Relish the Yield
Finally, the moment you have been waiting for. It is time to harvest the buds and relish your yield. The color depth of the pistils and hairs indicate the maturity and potency of the buds.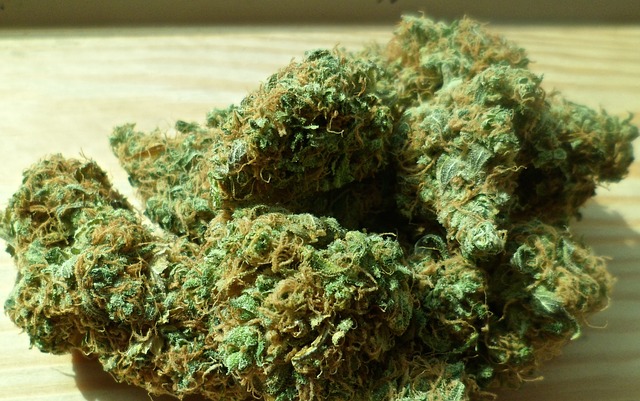 When they are about 50 – 70 percent dark, you will get a yield rich in THC content. If you wish to enjoy a relaxing effect from the buds, then wait for at least 80 percent of the flowers to become dark in color to harvest.
With the help of scissors, cut the buds and hang them upside down to dry out for five days. Place them in a jar and store in a cold, dry, and darkroom. Make sure to remove air from the container to let the buds cure and get ready for use.
Growing your cannabis at home can be a fun and exciting activity, but it can also be challenging at times. Although these instructions give you the basic idea of taking your cannabis seeds through the growth process to harvest, there are several strain-specific details, such as temperature levels and lighting requirements that need to be taken care of.
Research and gather these details and apply them wherever relevant to cherish the yield of your cannabis plant.