Cannabis Industry Forecast this 2020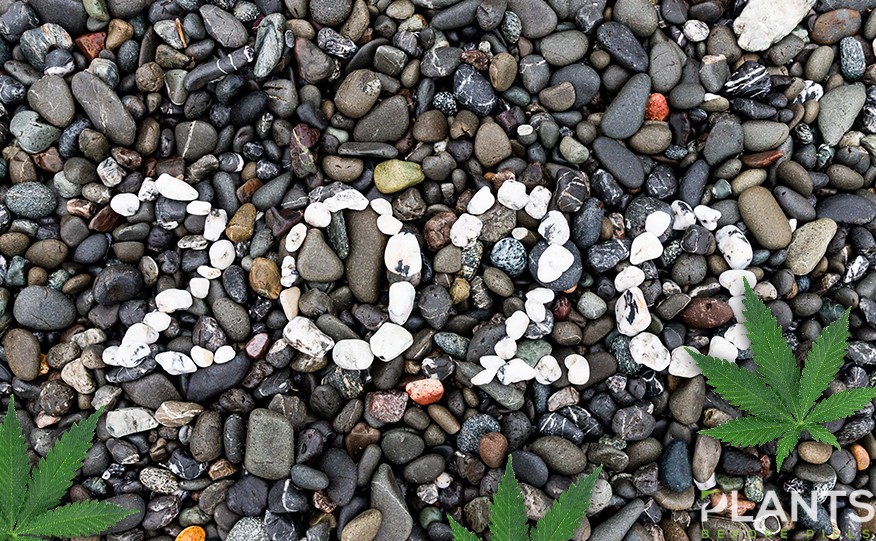 Industry experts said that the cannabis sector is likely to experience a drop. BNN Bloomberg noted that this is necessary before the country's marijuana industry gets better next year.
Cannabis Industry Forecast
According to analysts, 2020 will be met with several bankruptcies and consolidations. This will occur as cannabis-related companies that had been struggling toward the end of this year strains to find capital. However, those that survive until the beginning of 2020 could experience positive development as the United States addresses legalization as the November 2020 election nears.
Moreover, 2019 has been a particularly difficult year for marijuana stocks. This comes after the legalization in Canada, which ushered in initially high valuations for stocks. These values are deemed "too high" even for some industries. However, Canada's eventual implementation of retail cannabis products resulted in predictions that were "impossible to achieve."
The industry also took blows when Canada-based CannTrust Holdings Inc. suffered from a critical regulatory breach. This was aggravated by the mounting concerns regarding vaping-related health effects.
When compared to the all-time high records of cannabis stocks in March, November's figures show that it lost two-thirds of stock values. This means that only the strongest marijuana-related companies are not struggling to generate cash as smaller ones drop.
Because of this, bigger companies may acquire many smaller ones. Despite this, consolidation will likely only positively affect the bigger firm and not the one being acquired.
Despite the disappointing forecasts on the industry toward the end of 2019, experts are optimistic for companies as 2020 progresses. Predictions in the US elections say that more states would legalize medical marijuana. This is seen as the "beginning of the end" of the prohibition of the plant at the federal level.
As federal outlook regarding marijuana loosens, the financial sector could also warm up to the prospect of serving cannabis-related companies and transactions. The Secure and Fair Enforcement Banking Act can pave the way to this.
Canada is also expected to allow more outlets and types of cannabis products, especially with the implementation of Cannabis 2.0 in the country. This will make edibles, beverages, and vapes accessible in the country. Experts expect that earnings through these new products will reflect later in the year.
The Bloomberg report noted that cannabis stocks in 2020 will continue to fluctuate. However, they are more optimistic about the potential of such companies in the coming year.
Back to Basics: "What is CBD?"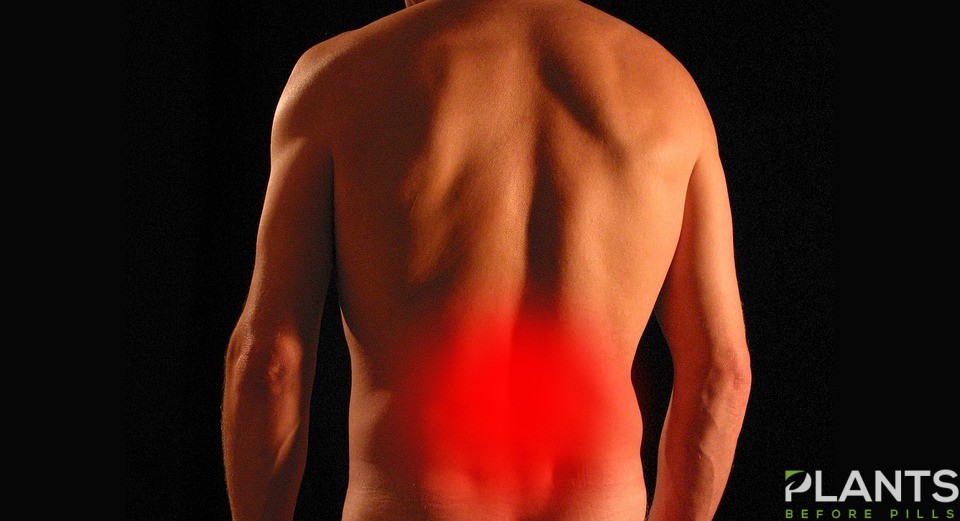 What is CBD?
CBD (cannabidiol) is one of the active compounds in hemp and marijuana. It is known for its ability to relieve pain and induce sleep, among many other things we're going to discuss in this overview. You can consume CBD as an oil, vapor, pill, or edible. CBD oil is a pure extraction of this compound from the marijuana or hemp plant itself.
What are the benefits of CBD?
CBD oil can be ingested in order to manage pain to get surprisingly effective results. Chronic back pain, broken bones, headaches, and menstrual cramps all can be managed with CBD, along with plenty of other physical ailments. This is exactly what Active Relief (save 20% off with the code "FIRST100" ) strives to accomplish with their CBD lineup. In addition to the benefits above, CBD is a notoriously effective sleep aid as well, helping the anxious and insomniacs alike. Many people also report that CBD has significantly helped them with chronic depression and anxiety. In addition, CBD has been used by various rehabs and at home as a way of breaking addictions and coping with withdrawals. This easy to use, fast-acting oil can help with a wide variety of physical and mental ailments.
How is it extracted?
CBD extraction isn't as simple as pressing rosin or wax, since the CBD must be separated from the THC in order to make CBD Oil. A popular operation in the field is to compress CO2 into a liquid form and combine it with the raw bud in something called a closed-loop extractor. In this process the CO2 strips away Cannabinoids which can be accessed when the CO2 is depressurized, leaving only the extract. This method is popular among dispensaries because it can process a huge amount of biomass with every extraction. Butane or propane can be used in a similar way with a greatly reduced cost, though this process requires more careful heating or cooling in order to separate the extract, and this can lead to chemical impurities if done improperly.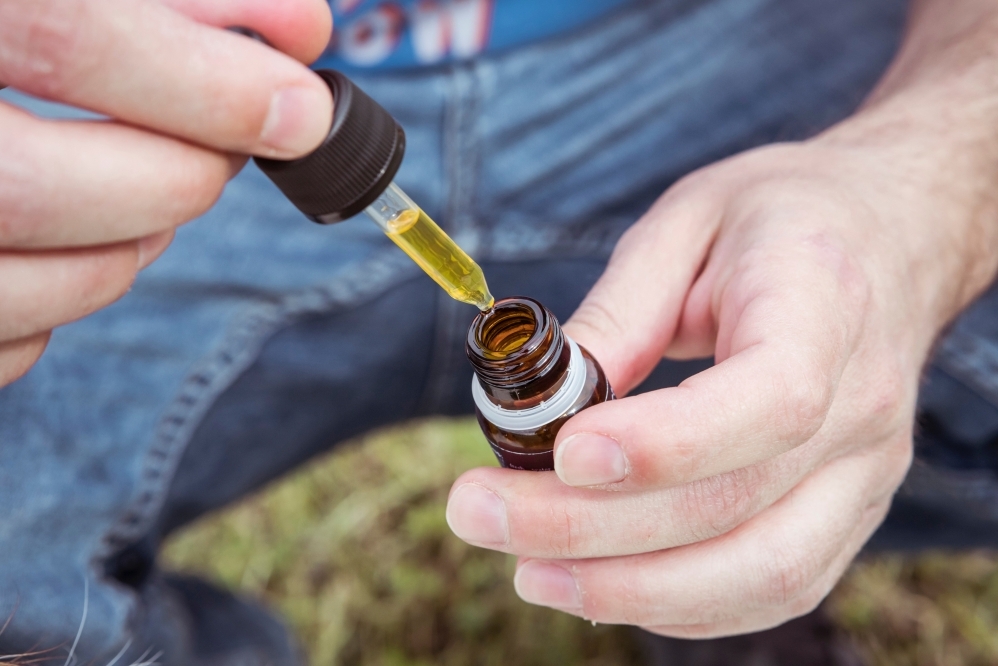 Why use CBD Oil?
CBD oil is the most pure, potent form of CBD. This means that it is effective and easy to dose, so you don't have to worry about the variability that comes with an edible or cream. You only need one or two drops of CBD oil in order to benefit from its effects. CBD is a natural and non-addictive solution to pain, sleep, and recovery, and CBD oil is fast and easy, activating in the bloodstream rapidly after being dropped under the tongue. Lots of consumers prefer the oil as well because it gives them the option to add it to different drinks or foods, thus they are not limited to whatever edibles are available at their dispensary. In addition, CBD has much more relaxed laws surrounding it in most countries than THC does, so oil is a great solution for people who want the medical benefits but don't have access to legal marijuana.
Patients who need the pain-relieving effects of marijuana throughout the day but want to avoid being high all the time find CBD to be a very convenient, middle-ground solution. It is not always a problem solver, but its ability to help with managing mental and physical problems that are otherwise overwhelming is undeniably impressive, and when you buy CBD oil you have plenty of options for how you use it.
Social Equity Partners is Available For Arizona Applicants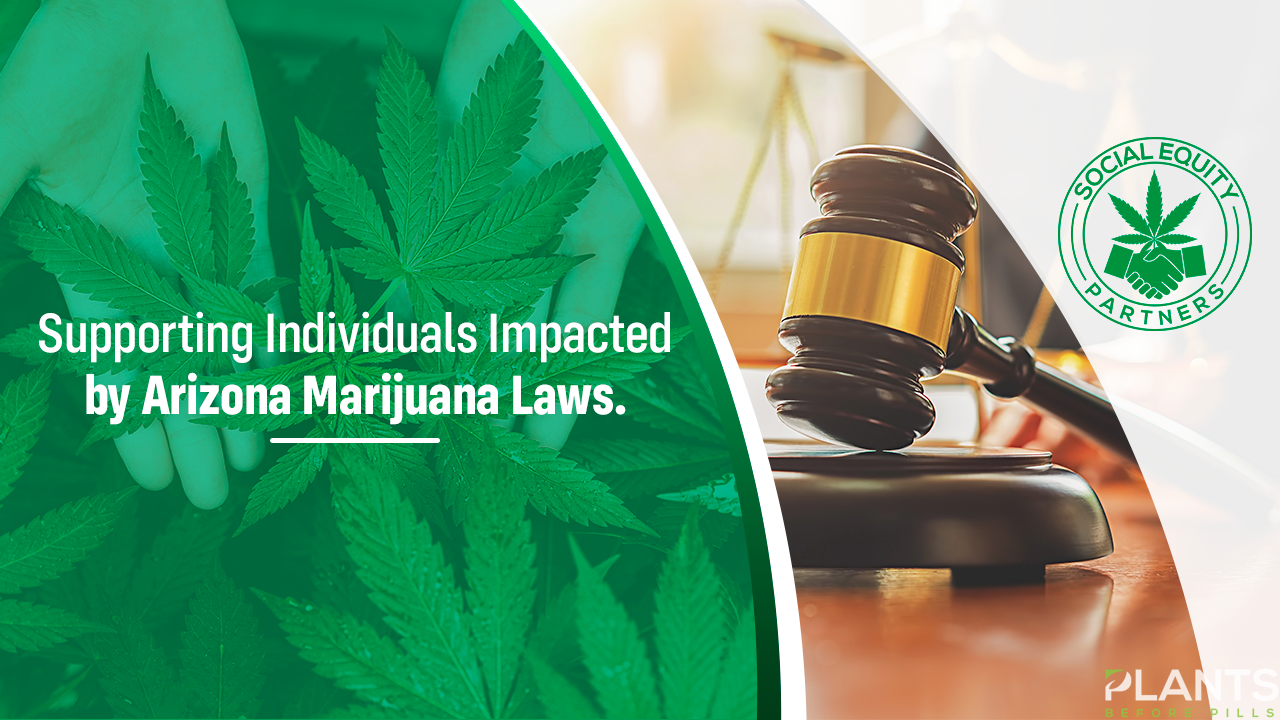 With the passage of prop 207, legal cannabis sales for recreational purposes become a new norm for Arizona residents. The legal cannabis market is a multi-billion dollar industry with a projected worth of $73 billion globally by 2027. That's why it is important for local residents of Arizona to look for partnerships that benefit local communities within Arizona instead of foreign corporations.
Social Equity Partners' mission is to assist Arizona residents who were convicted of non-violent cannabis felonies to apply for adult-use marijuana dispensary and cultivation establishment licenses through the program offered by Social Equity Partners. Their goal is to offer Arizona residents with cannabis convictions extensive support in receiving a license and establishing a cannabis business through the Social Equity Program. The founder Thomas Lopez was convicted in 2001 by the State of Arizona with a felony for marijuana possession. He understands the obstacles of what it takes to have personal and professional growth after a criminal conviction which is why he founded Social Equity Partners.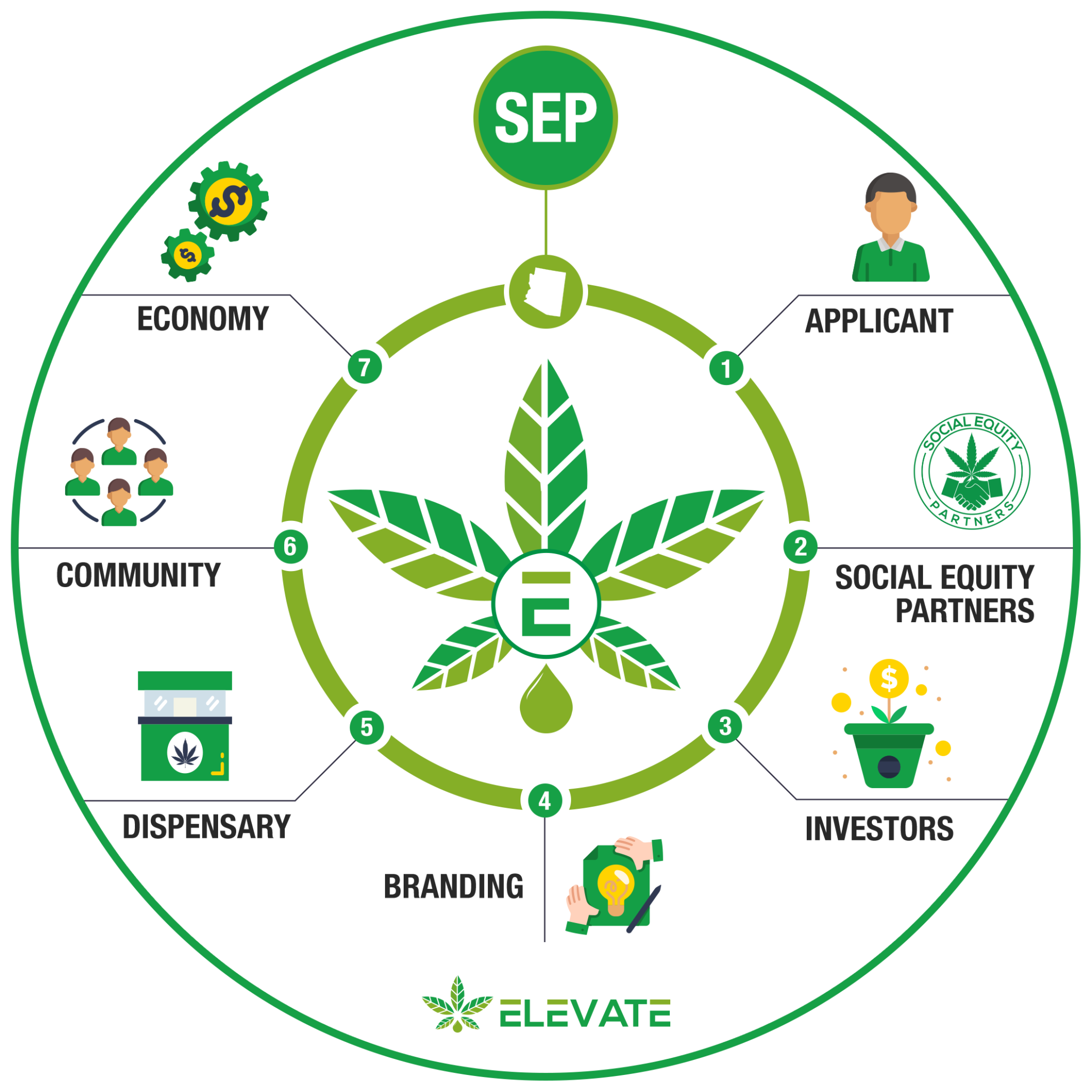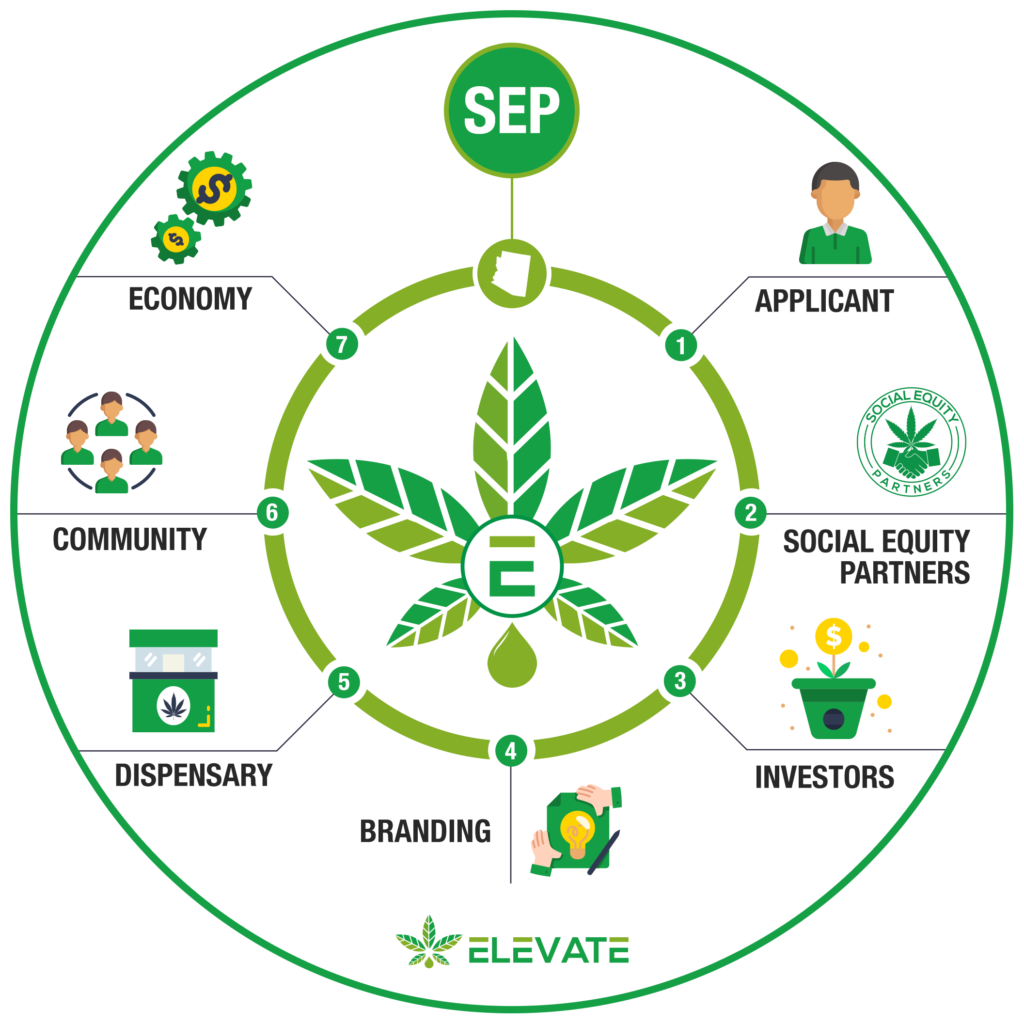 Under the ELEVATE brand label, one of the services that Social Equity Partners offers is access to their fully conceptualized dispensary. ELEVATE is a boutique dispensary with the aim to modernize and deliver the highest-quality marijuana products, with locations planned for Sunnyslope, Glendale and Tempe. ELEVATE aims to serve the local communities of Arizona as a small independent business that keeps money in the community instead of generating profits for foreign corporations while forgetting about the concerns of the local citizens.
Applicants will receive assistance with developing a broad web presence, social media campaigns, and professional branding once accepted into partnering with Social Equity Partners. They will also have access to their pool of local investors who are local community members looking to provide capital for starting dispensaries that benefit local residents instead of funneling money into corporations.
Social Equity Partners will be there to offer assistance during the application process for Arizona residents who are applying with felony cannabis convictions by helping them complete the application, create a compelling business plan, and verify financial requirements. The goal for Social Equity Partners is to ensure that all funding remains local and stays in the community. With this partnership, they believe that applicants have a chance to positively impact their neighborhoods and take part in reinvigorating local economies with locally-based investors' support.
With a partnership like Social Equity Partners, applicants will have access to full support from land-use lawyers, Realtors, and permitting specialists to help with identifying a site for your cannabis business. Their real estate brokers and lawyers understand the legal requirements for zoning laws for spaces all over Arizona and will help assist partners with finding the right property for their needs. Their partnership increases the likelihood of eligibility for the Social Equity Ownership Program with their proven funding and business plans already in place.
CBD Trends for 2021: Information You Must Have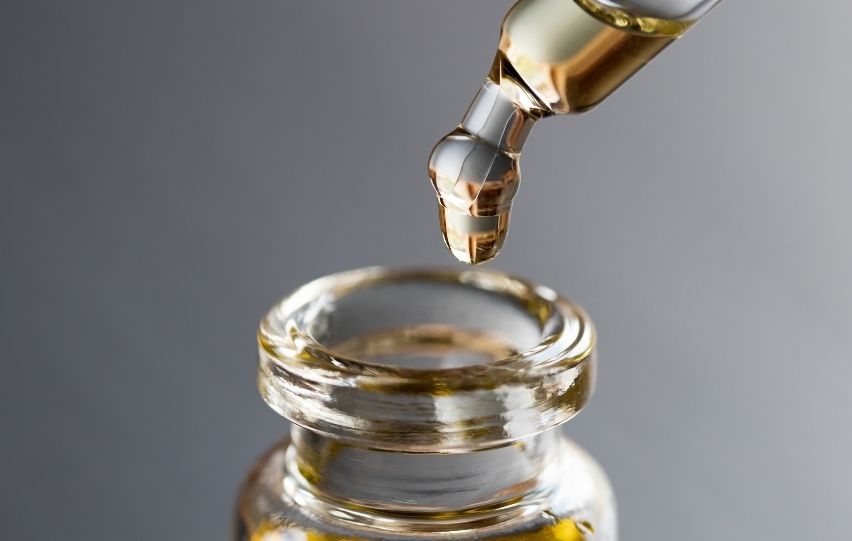 CBD is the non-psychoactive ingredient in marijuana that serves to treat various physical and mental health problems and does not generate addiction nor dependency at all. This ingredient has become highly popular globally because it collaborates in the relief of diverse conditions of physical and mental health. CBD is constantly evolving to offer solutions that improve people's quality of life. The CBD trends for 2021 are hopeful, as this ingredient will continue to generate benefits for many. Everything you need to know about the trends of CBD for 2021 is below.
Home-grown CBD
Due to the general confinement of Covid-2019, many more people will choose to grow CBD in their home gardens. People want to be self-sufficient because the pandemic is not over yet. Therefore, urban garden sales are predicted to grow throughout 2021.
Dental Hygiene
Several international companies are manufacturing dental hygiene products such as toothpastes and mouthwashes. The components of CBD would serve to improve oral conditions, preventing cavities and gingivitis. Due to its anti-inflammatory properties, CBD can also help as an antibiotic for a toothache.
A new drink
CBD seeks to succeed in the beverage industry in 2021. Several drink manufacturing companies are teaming up with those that cultivated cannabis to create drinks based on an infusion of CBD along with other popular drink flavors. This would be an excellent alternative for those who want to drink something more natural. More and more people are rejecting alcohol, artificial juices, and soft drinks. The CBD industry wants to satisfy those needs, offering a totally natural product.
CBD Mattresses
The CBD industry is increasingly creative and offers solutions for every aspect of daily life. CBD is known to be very effective in relieving insomnia and promoting deep sleep. For this reason, several companies are hoping to launch mattresses and covers based on an infusion of CBD.
A better legal structure
One of the big problems with CBD is that it is not fully legally regulated. For this reason, several companies make claims about the CBD without having a true foundation of facts to prove their claims.
The FDA is going to better regulate CBD during 2021 and that will positively impact the quality of products based on that ingredient.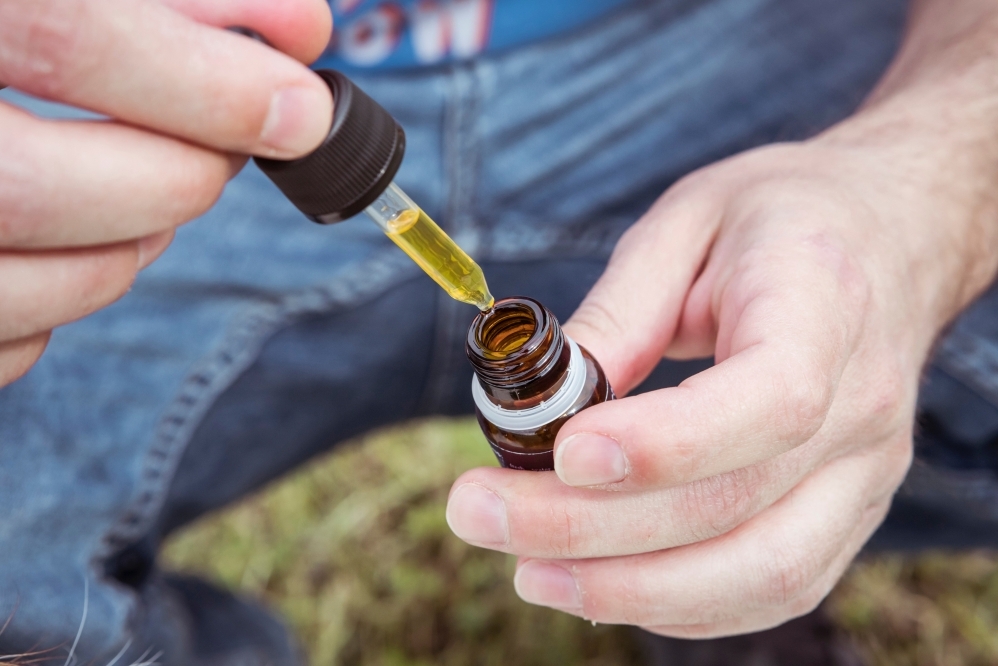 Highest quality standards
Currently, the quality standard for growing CBD is high. Unfortunately, there is a lot of contaminated land and that affects the quality of CBD negatively. Therefore, many brands must meet the current requirements or they will not be able to continue working. Brands like WillowCBD offer high-quality CBD products for many levels of consumers.
Positive awareness
Until a few years ago people had negative connotations and thoughts about marijuana. Thanks to the spread of the benefits of CBD, people have completely changed their opinion on this substance. Everyone knows that CBD has no hallucinogenic effects. In addition, people know that this ingredient can improve the quality of life in several ways. Fortunately, this positive trend will continue throughout 2021.
Conclusion
The new CBD trends for 2021 look to generate healthy expectations throughout the world. Everyone hopes to improve their quality of life and many people are hopeful that CBD will provide relief to many of their problems. It is advisable to be well informed based on reputable sources.