Drawing the Line Between Eating and Smoking Marijuana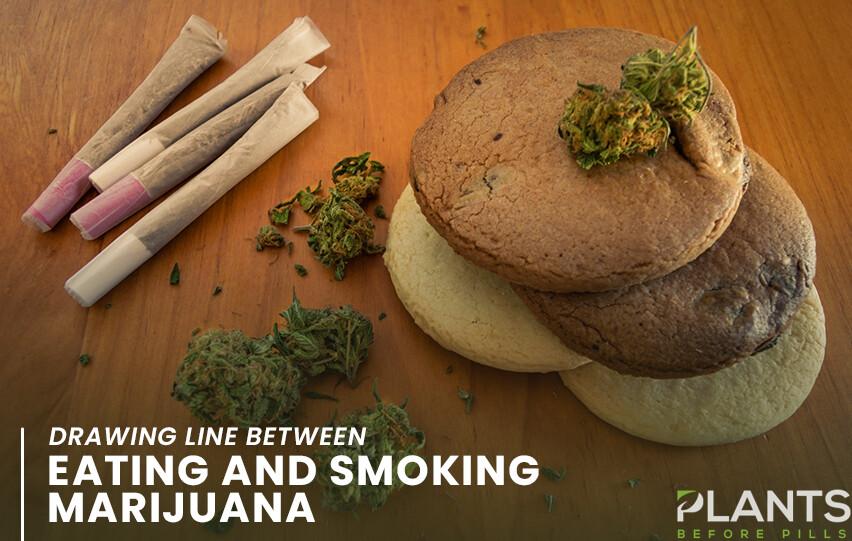 Exploring the cannabis universe, beginners may be caught off guard deciding the difference between smoking and consuming or eating it. Others question whether smoking or eating differ in the overall effect, and if consuming directly can have faster effect.
Drawing the line is important to get an idea whether one can manage the euphoria or not. And if a certain effect is more intense than the other way of consuming marijuana. In this article, we're exploring these two methods and find out the differences between the two.
How To Consume Cannabis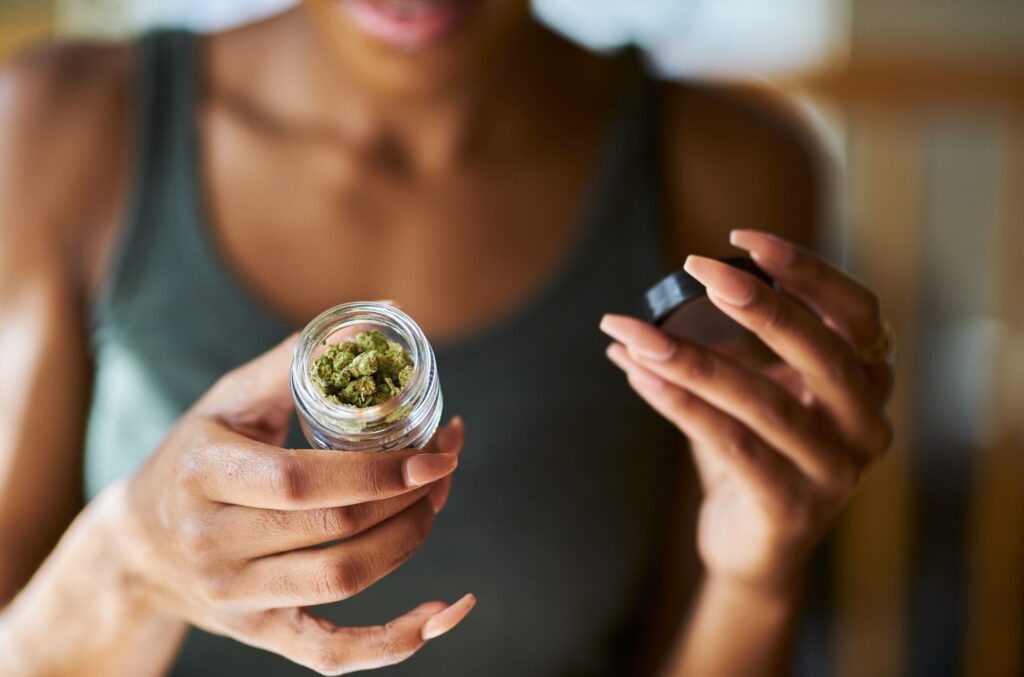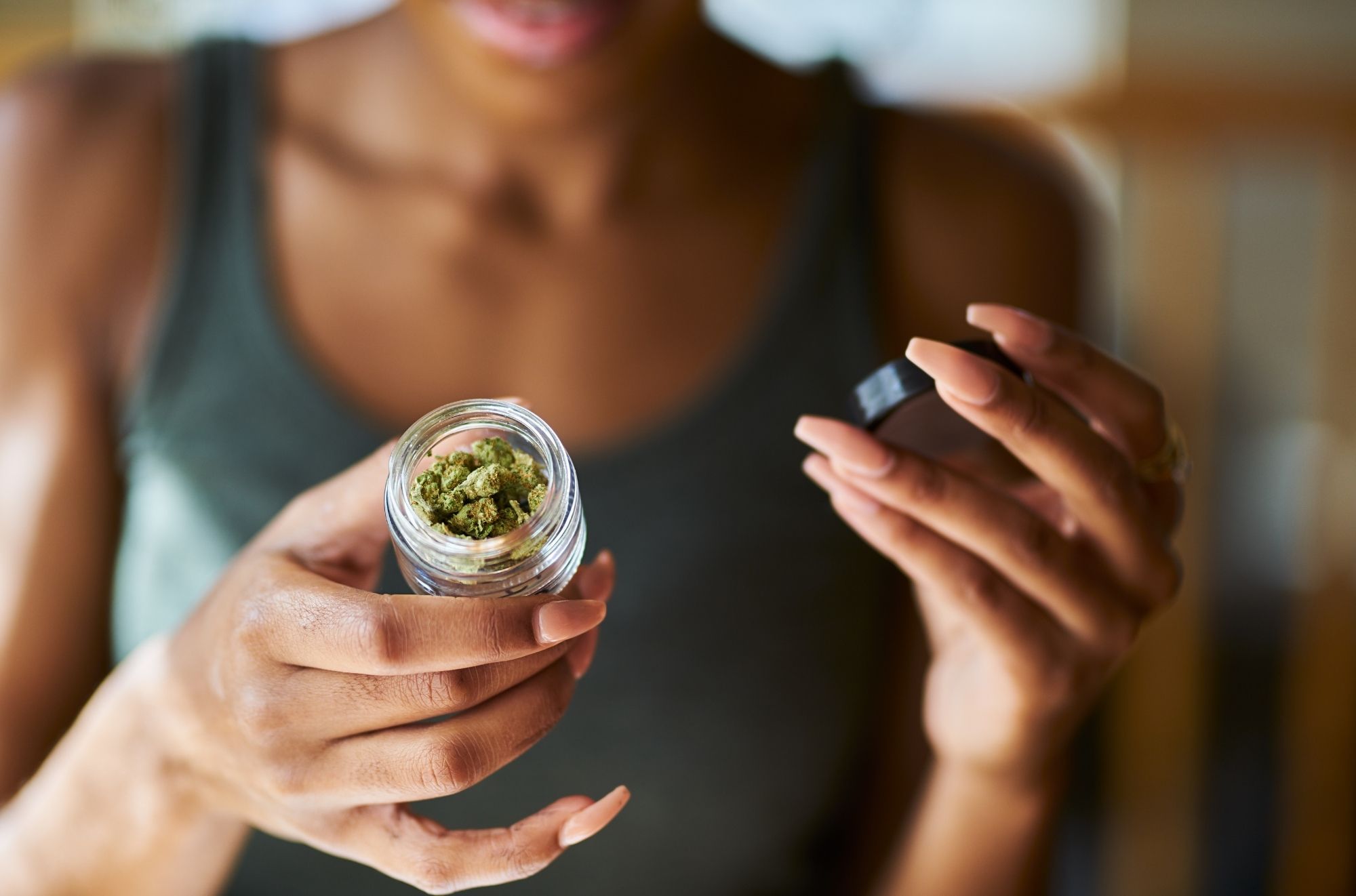 In addition to vaping and dabbing or topicals, the most common consumption methods are smoking and eating edibles. Smoking is probably the most go-to option, since it's easier to light a stash and puff the smoke. However, there are more options for edibles these days, offering the same goodness as smoking.
Those who prefer smoking cannabis can use a variety of accessories for puffing smoke, including using a pipe, bong, spliff, or blunt. For the edibles, there's a wide variety of space cakes available, in addition to the common brownies. There's also gummies, ice cream infused by cannabis, coffee, even wine. The list goes on, as more manufacturers develop edibles infused by marijuana.
What's different is that smoking can be a bit of work because there's a need to light and smoke it. Some users or enthusiasts hated the smoke lingering to their clothing or the house or room. With edibles, everything comes easy; get supplies from dispensaries, prepare and eat directly.
Main Differences
Experience-wise, edibles produce more intense and stronger high while smoking can give a predictable and manageable hit. The science behind this is, when consuming cannabis, the effects are slowly felt because it needs to go through the stomach and all that. However, once the effects kick in, it's more intense because the liver metabolize the tetrahydrocannabinol or THC, turning it to 11-hydroxy THC—a more potent and long lasting variety.
On the other hand, when one smoke cannabis, THC travels directly to the brain via the alveoli in the lungs. This makes a person feel the effects within minutes after smoking the marijuana. This effect can only last a certain period of time, depending on the intensity or type of strain.
When it comes to onset, smoking cannabis can be best for beginners as the effect is less intense, with a person knowing how much to smoke to get desired effect. This means, it's easy to stop and take a break to be able to take control over the euphoric effects. This isn't the same with edibles as the effects only kick in after some time, an hour or so. What makes it more unreliable is the delay in the effects, that's why some people tend to eat more. In the end, the effect is more intense.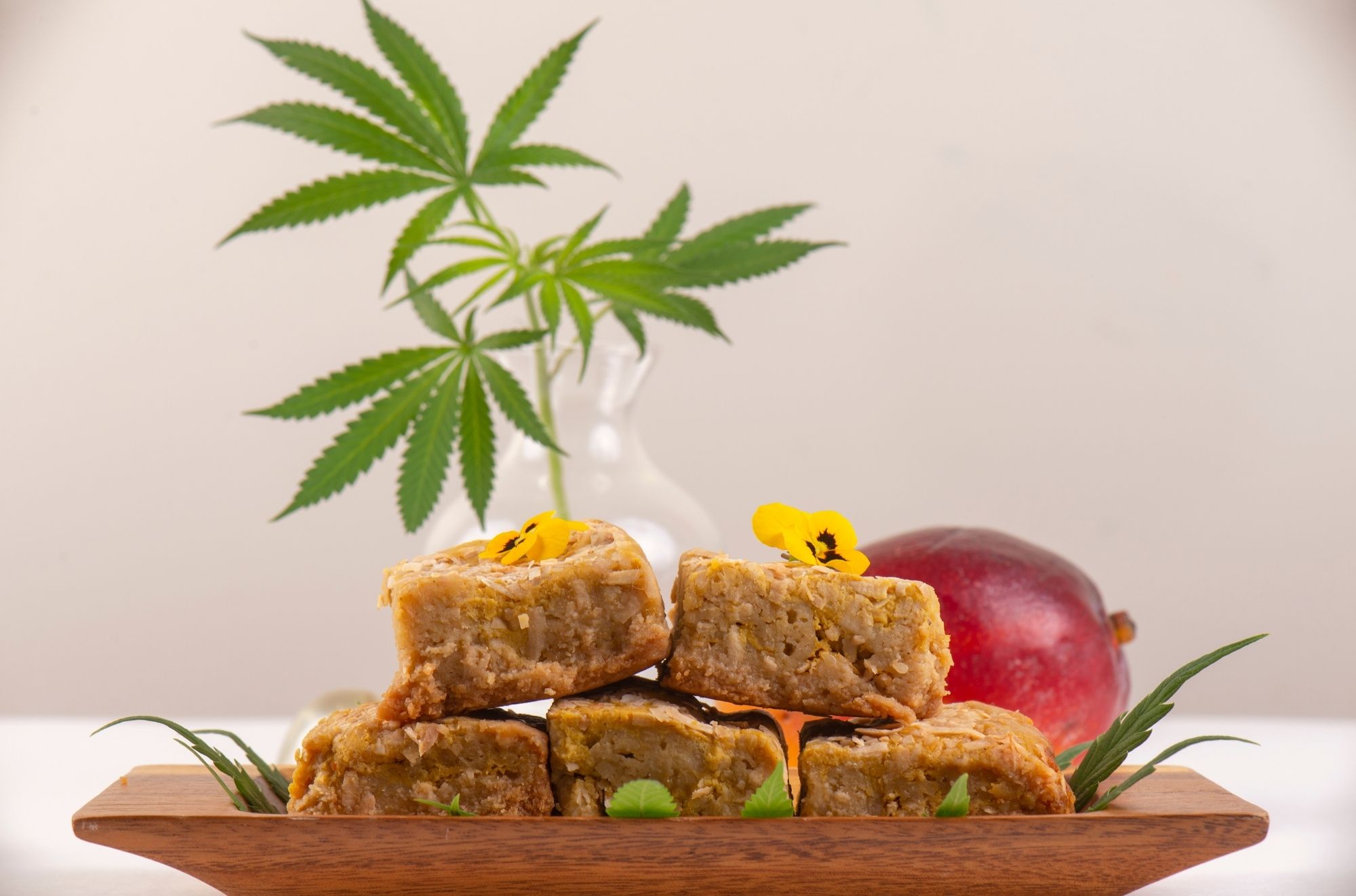 In addition, edibles have lasting effects, can be up to eight hours or so. Veteran users and enthusiasts can vouch for the lasting high that's no good when trying to do things around the house, working, or simply going out to public places. With smoking, the first few hits can be felt almost immediately, and only lasts for an hour or two, sometimes even shorter. The effect wears off almost immediately, but if a user wants to feel buzzed, all it takes is a few more hits.
Bottom Line
Understanding the main differences between smoking and eating marijuana is crucial to know the effects, potency, as well as the duration of euphoric effects. It all boils down to a person's preference, whether lasting effect is more suited to their lifestyle or not. What's important is to take moderation seriously to avoid undesirable effects like headache.
How to Purchase Magic Mushrooms Online Responsibly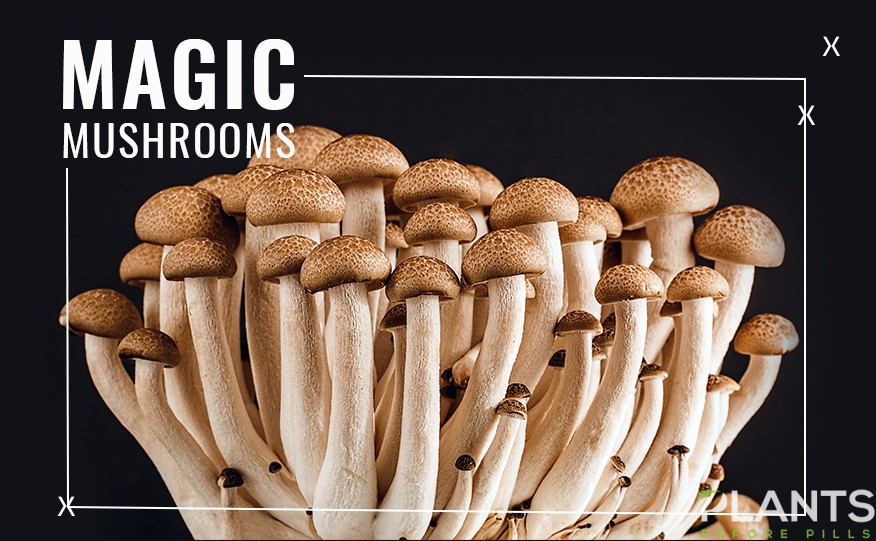 Psychedelic therapy, particularly using substances like psilocybin, has shown remarkable potential in treating various mental health conditions and facilitating personal growth. From depression and anxiety to PTSD and addiction, research suggests that magic mushrooms can have profound therapeutic benefits when administered under professional guidance. With growing interest in exploring alternative approaches to mental health and well-being, some individuals seek to buy magic mushrooms online to embark on their therapeutic journey. However, it is essential to recognize the critical importance of responsible sourcing and adherence to safety guidelines. In this blog post, we'll delve into the world of psychedelic therapy, explore its potential benefits, and offer guidance on how to responsibly purchase magic mushrooms online for therapeutic purposes.
The Promise of Psychedelic Therapy
Psychedelic-assisted therapy involves using substances like psilocybin in combination with therapeutic support to facilitate emotional breakthroughs, introspection, and healing. The experience is carefully guided by trained professionals, creating a safe and supportive environment for profound personal insights.
Research on psychedelic therapy, including studies conducted with magic mushrooms, has shown significant potential in treating conditions like treatment-resistant depression, post-traumatic stress disorder (PTSD), anxiety, and addiction. The mechanism of action is thought to involve the modulation of brain networks, leading to enhanced emotional processing and an altered state of consciousness that can promote self-reflection and healing.
Responsible Online Purchasing for Therapy
Legal and Ethical Considerations: Before purchasing magic mushrooms for therapeutic purposes, be aware of the legal and ethical aspects of psychedelic therapy in your region. In some places, there may be special programs or clinical trials that allow supervised therapeutic use of psychedelics. Ensure that you can receive legal shroom delivery services where you live.
Seek Professional Guidance: Psychedelic therapy should always be conducted under the guidance of trained therapists or facilitators. Trained professionals can provide valuable support during the session and assist with integration afterward, which is crucial for maximizing the therapeutic benefits of the experience.
Avoid Self-Medication: Self-administering magic mushrooms for therapy without professional guidance can be risky and may not yield the desired therapeutic outcomes. Always seek qualified assistance from experienced therapists who specialize in psychedelic-assisted therapy.
Educate Yourself: Learn about the therapeutic process, potential risks, and benefits of psychedelic-assisted therapy. Understanding what to expect can enhance your experience and ensure safety throughout the journey.
Integration and Preparation: Preparing for a psychedelic therapy session is an essential step in maximizing its potential benefits. Integration sessions, which take place before and after the psychedelic experience, help you process the insights gained during the session and apply them to your daily life.
Set and Setting: The therapeutic context in which you take magic mushrooms is essential. Choose a comfortable and safe environment where you can feel relaxed and supported. The setting can greatly influence the outcome of the therapy session.
Conclusion
Psychedelic therapy, including the use of magic mushrooms, has emerged as a promising avenue for mental health treatment and personal growth. If you are considering exploring magic mushrooms for therapeutic purposes, it is crucial to prioritize safety, education, and adherence to legal and ethical guidelines. Seek out professional guidance from trained therapists or facilitators experienced in psychedelic-assisted therapy. Remember that the therapeutic journey is a profound and transformative experience that should be approached with care, respect, and a commitment to self-discovery and healing.
A Comprehensive Guide: How to Safely Buy Magic Mushrooms Online in Canada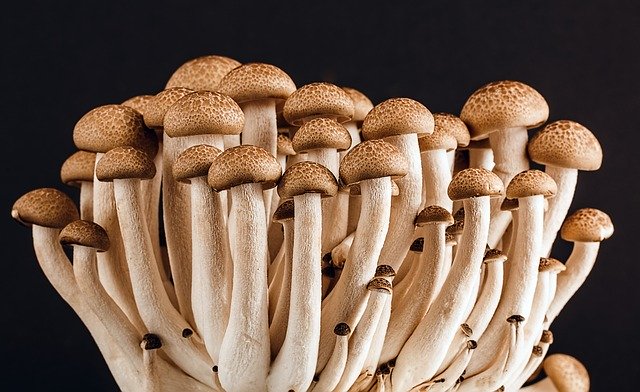 In recent years, the accessibility of magic mushrooms in Canada has expanded with the advent of online marketplaces. However, navigating the online landscape can be daunting for newcomers. This comprehensive guide aims to provide you with the necessary knowledge and steps to safely purchase magic mushrooms online in Canada.
Understanding Legal Considerations
Before embarking on your online magic mushroom shopping journey, it's crucial to familiarize yourself with the legal framework in Canada. As of September 2021, psilocybin mushrooms, the source of magic mushrooms, remain illegal for recreational use. However, there are legal exceptions for medical and therapeutic purposes. It's essential to be aware of the legal nuances to ensure compliance and avoid any legal complications.
Researching Reputable Sources
When purchasing shrooms online, finding trustworthy sources is paramount. Start by researching online communities, forums, and review platforms to gather insights from experienced users. Look for vendors with positive feedback, transparent product descriptions, and responsive customer support. Additionally, consider the vendor's adherence to safety and quality standards, such as lab testing for purity and potency.
Ensuring Safe and Discreet Delivery
Discretion and safety should be a top priority when ordering magic mushrooms online. Reputable vendors understand the importance of discreet packaging to protect your privacy. Look for vendors who use nondescript packaging without any explicit labeling or indications of the contents. It's also advisable to choose vendors who offer secure shipping options, such as tracking numbers or signature requirements, to ensure your package reaches you safely.
Payment Options and Security
Consider the payment methods offered by the online vendor. Reputable sources typically provide secure and discreet payment options, such as cryptocurrencies or encrypted payment gateways. These methods offer an added layer of security and minimize the risk of sensitive information falling into the wrong hands. Exercise caution when sharing personal or financial details and opt for trusted payment methods to safeguard your information.
Dosage and Usage Guidelines
Understanding dosage and safe usage is crucial when consuming magic mushrooms. It's recommended to start with low doses and gradually increase as you become more familiar with their effects. Online vendors often provide detailed dosage guidelines, but it's important to conduct additional research and consult reputable sources for accurate information. Remember, responsible usage and respecting the power of magic mushrooms is essential for a positive experience.
Conclusion
To buy magic mushrooms online in Canada can be a safe and convenient option when approached with knowledge and caution. Magic mushrooms, like any powerful substance, should be respected and used responsibly. Prioritize understanding proper dosage guidelines, potential risks, and interactions with other medications. Additionally, it's crucial to prioritize your mental and physical well-being by creating a supportive and safe environment for your psychedelic experiences. Always seek guidance from healthcare professionals or experienced individuals when needed, and remember to comply with the laws and regulations regarding the use of magic mushrooms in your jurisdiction. By approaching the world of magic mushrooms with responsibility and care, you can maximize the potential benefits and minimize any potential risks.
Breaking Taboos: The Changing Perception of Psychedelics in Canadian Society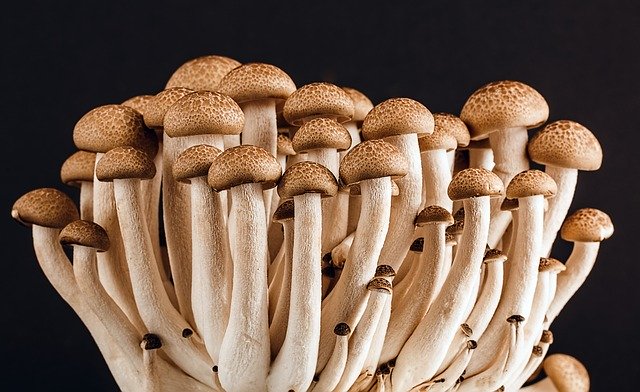 In recent years, Canada has witnessed a remarkable shift in public perception towards psychedelics. These mind-altering substances, once associated with counterculture and stigmatized as dangerous or illicit, are now experiencing a resurgence in popularity. As the country embraces a more open-minded and evidence-based approach to mental health and well-being, Canadians are beginning to recognize the therapeutic potential of psychedelics. In this blog post, we will explore the factors that have contributed to the changing perception of psychedelics in Canadian society.
Shifting Cultural Attitudes
The counterculture movements of the 1960s played a significant role in popularizing psychedelics, but they also fueled a backlash that lasted for decades. However, as societal values evolve, so too do our perspectives on mind-altering substances. Canada, known for its progressive outlook, has witnessed a growing willingness to challenge long-held assumptions and taboos surrounding psychedelics. In fact, you can actually find an online psychedelic dispensary in Canada very easily with a quick search on the internet. The rise of social movements advocating for mental health awareness, decriminalization, and drug policy reform has fostered an environment where discussions about psychedelics are becoming increasingly commonplace.
Scientific Research and Public Advocacy
Scientific research has played a crucial role in reshaping public opinion on psychedelics. Studies conducted in reputable institutions around the world have demonstrated their potential therapeutic benefits for mental health conditions such as depression, post-traumatic stress disorder (PTSD), and anxiety. This growing body of evidence has caught the attention of public figures, including medical professionals, scientists, and celebrities, who have become vocal advocates for psychedelics. Their endorsement has helped break down stereotypes and create a platform for informed discussions about the responsible use of these substances.
Media Coverage and Information Accessibility
Media coverage has played a pivotal role in shaping public perceptions of psychedelics. Documentaries, news features, and podcasts have showcased personal stories of individuals who have found healing and transformation through psychedelic-assisted therapies. These stories have humanized the issue, dispelling myths and generating empathy for those seeking alternative treatment options. Furthermore, the internet has facilitated the dissemination of information, enabling individuals to access research, personal experiences, and expert opinions, thereby empowering people to make informed decisions about psychedelics.
Promising Therapeutic Outcomes
The potential of psychedelics to revolutionize mental health treatment has captured the imagination of both the public and healthcare professionals. Clinical trials investigating the use of substances like psilocybin (the active compound in magic mushrooms) and MDMA (commonly known as ecstasy) have shown remarkable results. Patients struggling with treatment-resistant depression and PTSD, for example, have experienced significant improvements after undergoing psychedelic-assisted therapies. These transformative experiences have sparked hope and increased interest in psychedelics as potential breakthrough treatments.
Regulatory Developments
Canada has emerged as a global leader in psychedelic research and regulation. Health Canada has taken progressive steps by granting exemptions and permits for individuals and organizations to conduct research on psychedelic substances. In 2020, the country's first legal psilocybin therapy clinic opened its doors, offering supervised psilocybin sessions to individuals experiencing end-of-life distress. Such developments indicate a willingness to explore alternative treatment options and embrace evidence-based practices, creating a favorable environment for the growth of psychedelic therapies.
Conclusion
The changing perception of psychedelics in Canadian society is a reflection of the evolving attitudes toward mental health, evidence-based practices, and personal autonomy. As scientific research continues to uncover the therapeutic potential of these substances, and as individuals share their stories of healing and transformation, psychedelics are gradually shedding their historical stigma and entering the mainstream discourse. Canada's progressive approach to mental health and its commitment to exploring innovative treatment options position the country