Sundae School Unveils Cannabis Goods with Pharma-Themed Event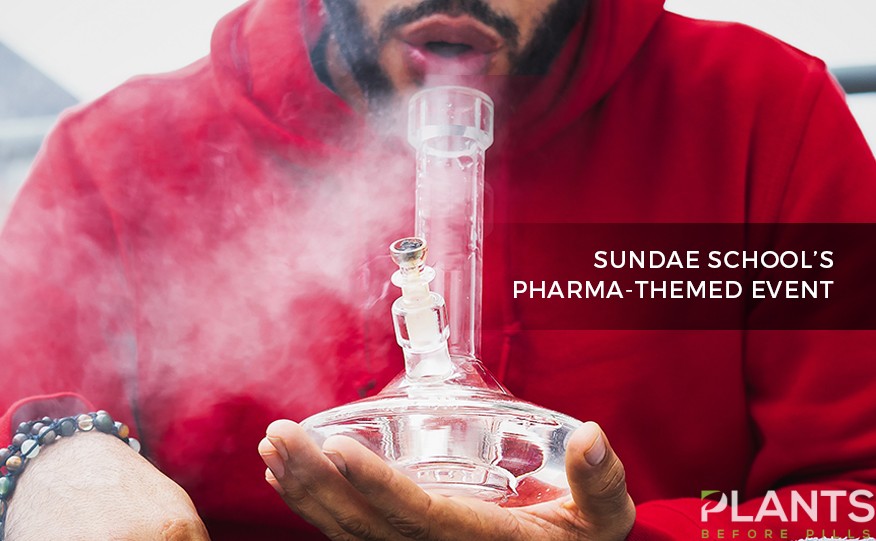 Sundae School recently launched its new cannabis line with a pharmacy-themed event in New York City last August 25, 2019. The lifestyle brand is slated to unveil the full collection later this September.
Sundae School's inaugural cannabis line focuses on providing enthusiasts and fellow enthusiasts with high fashion smokewear, which is usually worn when smoking marijuana. The launch was reportedly done in partnership with the Boiler Room, an independent music platform and cultural curator. Boiler Room, alongside IFFY FM, transformed Schimanski into an apothecary where guests and customers can freely choose their 'medicine' of choice for the night, says Paper Mag.
To complete the look and feel of the event, bartenders were dressed in lab coats. Performers who graced the stage include Amrit, Bambii, DJ Marauder, DJ Miles, Goldlink, Gvijin, Odalys, Proper Edakit, and Wale.
Besides clothing and accessories, Sundae School also showcased some of their finest offerings. These include cannabis accessories and limited-edition CBD smokes, reports Paper Mag.
The theme of the pop-up installation was "The Sundae Pharmacy," an ode to the traditional pharmacies which are found only in South Korea.
Humble Beginnings
Cannabis lifestyle and smokewear brand are founded by two best friends, namely Dae Lim and Mia Park. Both of the duo both became aware of marijuana in their respective boarding schools when they immigrated from South Korea to the United States at the age of 13.
Having officially launched their company on April 20, 2017, the co-founders now have an impressive list of apparel under their belt. The first and second collections featured were named "Chapter 1: Genesis" and "Chapter 2: When Tigers Used to Smoke." These collections featured a wide range of clothing, from tees, hoodies, patches, hats, and jackets. The third and fourth collections were named "Chapter 3: Weed Scholar" and "Chapter 4: The Green Rush."
While the brand initially focused on smokewear, it was able to venture to cannabis operations with the help of Flow Kana, states Bloomberg.
For their latest venture, the duo is set to release a collection of pre-rolled joints along with other limited-edition offerings. However, the items will only be available at a number of partner California dispensaries. The marijuana collection will launch in mid-September, notes Forbes.
The three cannabis strains expected to take center stage include Eureaka (sativa), Nightcap (indica), and Kickback (CBD). According to Forbes, each of these three strains was done in partnership with Chantel Lee. Pre-rolled joints will be available in tins of eight called "Bullets" or as singles.
Here's What to Expect at a Cannabis-Themed Wedding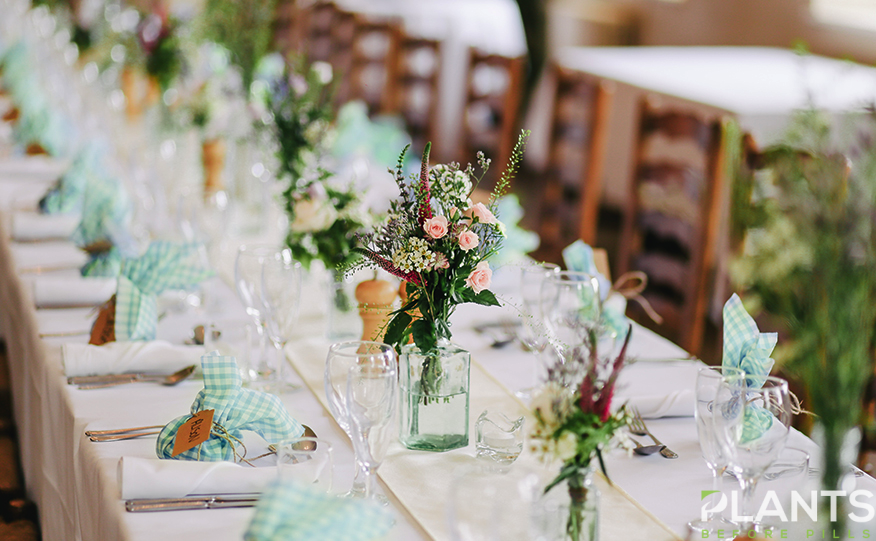 The legalization of marijuana in many parts of the world including Canada and some states in the US gives many people the opportunity to incorporate the plant into many aspects of their lives. As a matter of fact, many individuals include cannabis in celebrations of important days such as Christmas, birthdays and even the observation of the Lent Season.
Last October 27, 2019, the Toronto Cannabis Wedding Expo was held and through this, we had a chance to glimpse of what a wedding of this kind will look like. Whether you are a bride or groom to be or simply a guest of one, below are some things that were observed from this unique wedding.
Cannabis-Themed Wedding- What to Expect
Gift Bags Full of Cannabis Products
Weddings would never be complete without a basket of goodie bags to give away. With numerous CBD products on the market, it's not at all difficult to streamline your gift items to the people who'll be attending your ceremony and reception. From beauty items to CBD oil edibles, there are now tons of options you can choose from.
You can even customize giveaways depending on the personality and preferences of your recipient. Friends who are bookworms can receive cannabis-related books, while those who love music can get marijuana-inspired records. This way, you can make sure they know that their presence and support on your day is well-appreciated.
Cannabis-Themed Reception
Not everyone will be open to having marijuana in their respective venues. Although your state or region might uphold the legalization laws in place, not every venue will be as welcoming. Since regulations and restrictions on this plant are still being navigated, it might be best to choose a privately-owned venue. Better yet, get recommendations from your local dispensary. They might have partners who have contacts who can offer you a venue you might like.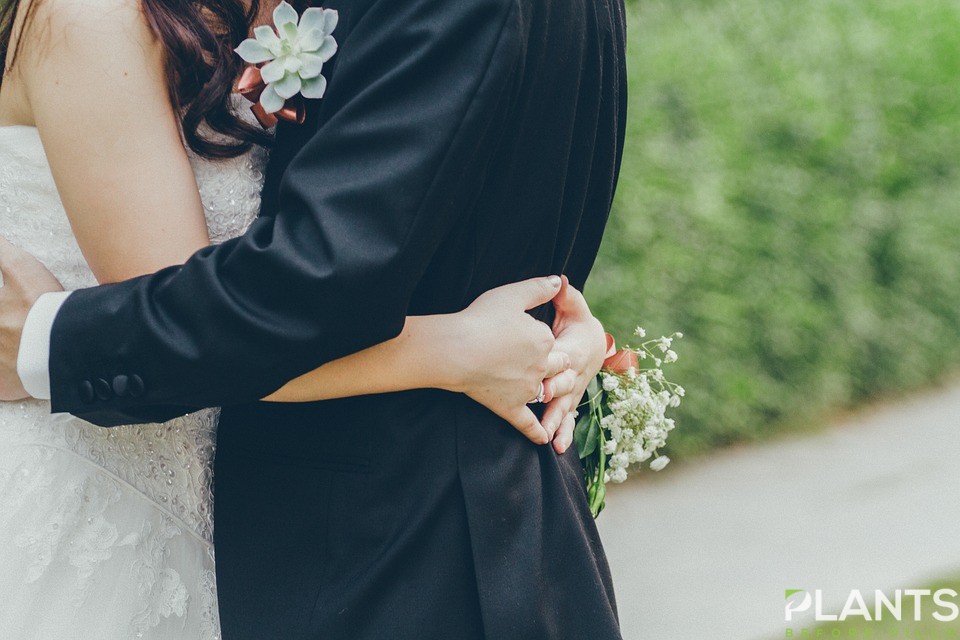 With a cannabis-friendly venue, you can expect your reception site to decorated with cannabis-related décor. From earth-toned furnishings to ornamental plants to uphold the natural characteristic of marijuana, the reception will definitely be referring to the plant.
While weddings typically have an open bar until the wee hours of the morning, a cannabis-themed wedding entails having a full-blown budbar or a mini dispensary of sorts. Since these substances have intoxicating side effects, you may be asked to choose between serving alcohol and this plant.
Compared to alcohol, CBD products and cannabis-infused goodies may be seen as the better choice. Not only do these provide a laid-back and relaxing sensation, but these also provide a more communal experience which like-minded individuals can share with one another.
Before you set up your bar, it is important to keep in mind that THC and alcohol don't mix well. Because of this, you might need to choose between marijuana or alcohol, or you can opt for a CBD reception complete with alcohol.
A Whole Lot of Fun
Apart from medical use, marijuana is also used for recreational purposes. Elevated towards a more sophisticated setting, like-minded individuals will surely have the time of their lives during this special day. Keep the celebrations going by sharing with other guests and by trying the different strains, that is, under the watchful eye and guidance of the event's budtender.
Conclusion
Now that you know what you can expect from a wedding of this kind, you are surely excited about attending the ceremony of your plant enthusiast friends. Better yet, why not go ahead and plan your dream wedding by incorporating marijuana into the mix? This way you are sure that you, your partner and your friends will be able to celebrate the occasion complete with the goodness of this plant.
Celebrating the Holidays with a Cannabis Christmas Calendar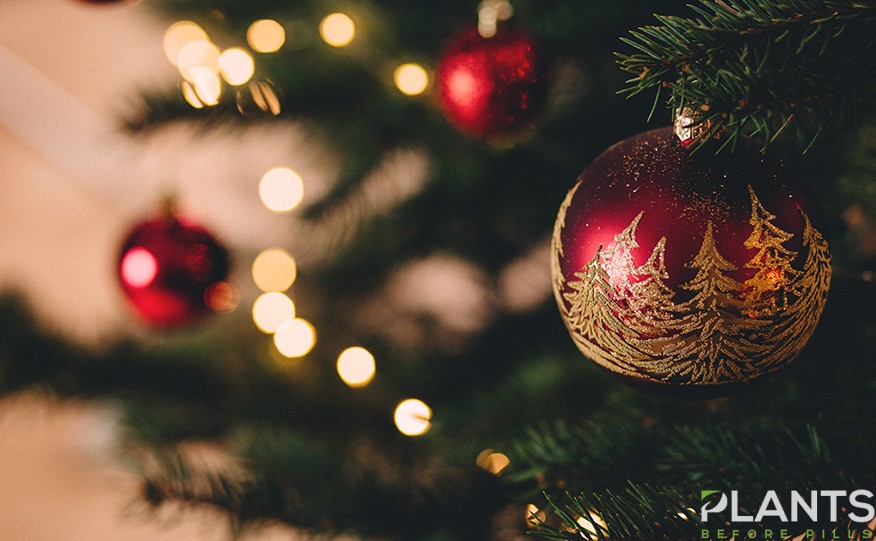 Those who celebrate Christmas are likely to be excited for this occasion as it is a festive time for people to get together. If you celebrate Christmas, you surely have your own traditions for the upcoming holiday. Whether you are into extravagant festivities or you are contented with an intimate get-together with friends and family on Christmas Eve, you might want to consider getting a cannabis advent calendar. Not familiar with them? Read on to find out more.
What is a Cannabis Christmas Advent Calendar?
Advent calendars cover the days leading up to Christmas, starting from December 1 to December 24. These have flaps on each day, which can contain an image related to the holiday, small treats or trinkets. A cannabis advent calendar follows the same concept, except that you can expect to get marijuana-infused items for each day.
MMJ patients and enthusiasts alike will definitely enjoy getting a small marijuana surprise for every day up to Christmas eve. If you are interested in having one for the upcoming celebrations, here are some cannabis items you can include.
Plain Ol' Flowers and Buds
Perhaps one of the most basic things you can stash into your calendar is a bunch of dried marijuana. You can also roll some joints or buy pre-rolled ones because what's better than waking up to find a spliff waiting for you every day? This can definitely complete the day of every marijuana lover.
To spice things up, you can even place different strains of cannabis for each day, giving you the chance to try out different varieties every day! There are 779 strains or probably more out there, so you will definitely find the experience of picking the best ones exciting.
CBD Products
If you are looking to give some cannabidiol-infused products a try, then this is a great opportunity for you. Think of items that you would want to check out. Perhaps you have been wanting to see if that cannabis shampoo can help your hair get that healthy glow. You might also be curious about the effects of CBD topicals for your skin.
Take this holiday season as a chance to try out these products. With the medicinal effects of the cannabinoid, you can get positive outcomes with these items, depending on different factors that can vary the effects of the cannabinoid on your body.
You can choose from a lot of different products such as topicals (creams, lotions), oils, pills and even vape pens.
Small Treats
Aside from the items mentioned above, you can also buy edibles. These are easy and fun to consume, especially if you have a sweet tooth. Many companies have released their own line of cannabis-infused candies, from chocolates to gummy bears.
Those who are into baking might want to make some treats themselves. If you are concerned about complicated recipes, worry not because these are definitely easy to make. You just need the usual ingredients for, say, brownies combined with decarboxylated cannabis buds. Just keep in mind that cannabinoids and terpenes can evaporate so, cooking using the right temperature is vital.
With marijuana-filled advent calendars, you can definitely make your December much more exciting. What's better is that these marijuana-filled calendars are also perfect as gifts. Just keep in mind that there are states that enforce strict rules against the plant, so make sure to verify if the receiver lives in a state in which such products are legal. Moreover, see to it that you keep these items out of the hands of minors as legal states only allow adults to handle such products.
Here's What You Can Expect from LA's Cannabis Café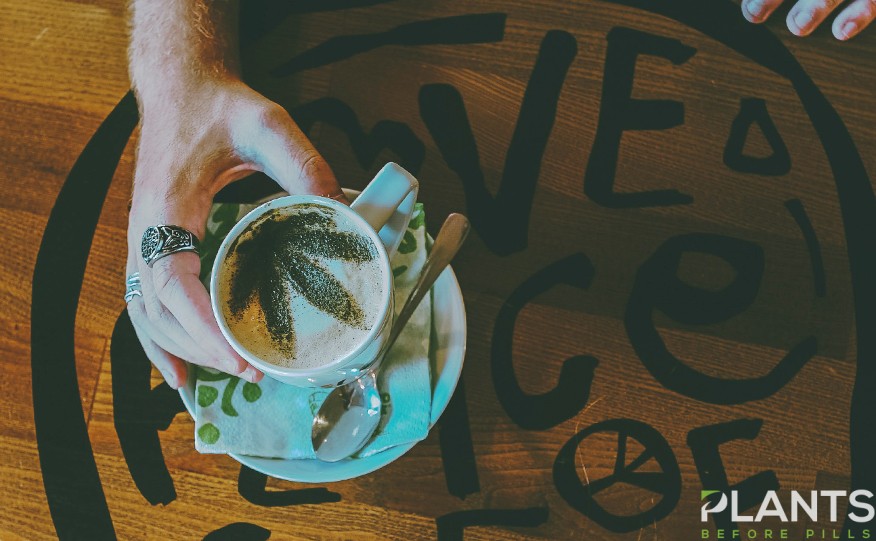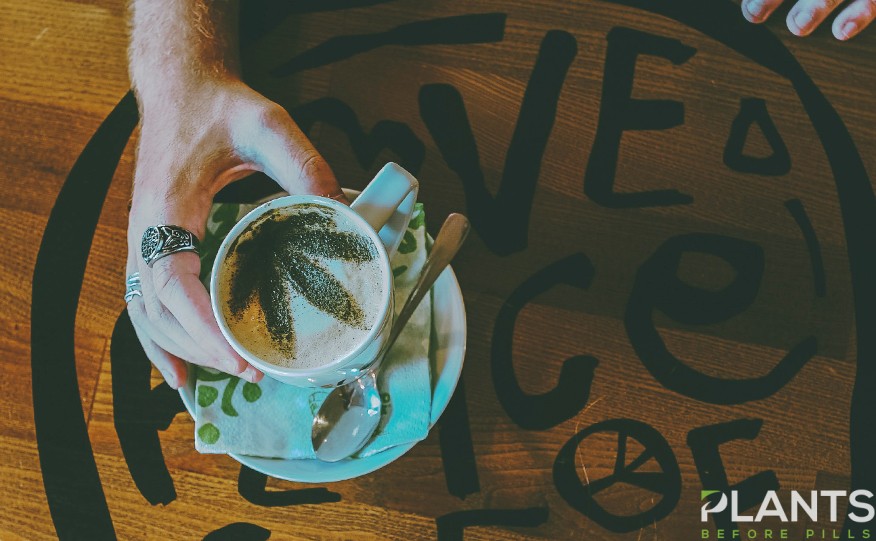 With the recent opening of Lowell Farms: A Cannabis Café, a lot of cannabis enthusiasts are dropping by West Hollywood to catch a glimpse and even partake inside the establishment. Restaurant director Kevin Brady even said that all types of cannabis enthusiasts and patients are flying in from all over the world to visit the café. "I feel like we're Disney World," he said.
As the place is slowly becoming an attract from people from all walks of life, it is definitely getting the success and recognition it deserves. Interested in visiting this place? Here's what you can expect.
Lowell's Cannabis Café – What To Expect
Perhaps a great concern among cannabis consumers is how their consumption will be received if they do so outside of the safety of their own homes. This worry comes at a time when marijuana and its use is becoming more accepted and mainstream. However, this is a valid concern as many individuals remain to be prejudiced against the plant.
One of the best things about the country's very first cannabis café is that it offers a safe space for all enthusiasts and patients. This establishment offers a community-like place for marijuana consumers where they can expect to be able to be themselves. Moreover, they can express their love for the plant without fear of being judged.
A Relaxing and Conducive Ambiance
Aside from being a place where enthusiasts and patients can freely partake, the café also serves as a great site for people who are looking to wind-down after a long day. Complete with earth-toned, rustic décor and furnishings, this café definitely emphasizes the natural quality of the plant.
While the interior may seem intimidating, the place is anything but. In just one look, you can see that space is created for the comfort and enjoyment of consumers. The café is equipped with comfy chairs that can definitely make your stay more relaxing. Sensitive of harsh lights? This establishment does away with those types of illuminations and favors warm, soft lighting that is perfect for your downtime.
A Sommelier at Your Service
Ever been to those fancy restaurants in which a wine expert explains the different types of wines to customers? LA's newest cannabis recreational space has one of those, as well. These marijuana experts will be glad to assist you in choosing which strain is perfect for your wants and needs.
Because they are experts, you can rest assured that you can ask them anything about their offerings. You can inquire about CBD and THC content to the buds' flavor profiles, and you can expect a clear and precise recommendation. From strains with citrusy flavor and aroma to those that have the plant's signature taste and smell, you can definitely choose one that suits your palate.
A Wide Variety of Cannabis Products
While the café will definitely carry buds, you can expect to find the best marijuana-infused products in the shop. It has a gastropub-style   kitchen which serves food and drinks that uses cannabis products such as CBD oil. You'll be surprised what normal-looking dishes they can cook up using marijuana.
Just keep in mind that the establishment does not allow individuals to drink alcohol while inside the pub. However, you can definitely drink beer or wine on the front patio, but consuming cannabis is not allowed in that area.
So, are you ready to visit the Lowell Farm Café? Make sure to make a reservation as it is pretty in-demand right now. While it accepts walk-ins, a reservation can definitely make your visit a more convenient one.