Can I Use CBD While in Recovery?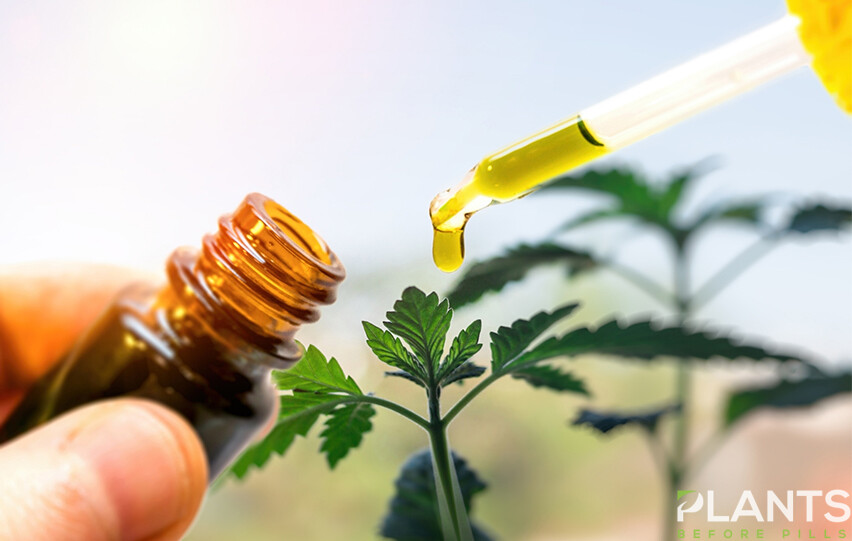 Cannabidiol or CBD — a non-euphoric extract of hemp — is lauded by many as a substance that can bring relief on the difficult path to recovery from addiction. Users claim that CBD helps to reduce cravings, calm anxiety, and lessen the physical pain that may have led to substance abuse in the first place. 
As positive testimonials abound online, sites like Save on Cannabis have experienced a surge in CBD-related web traffic. But is the link between CBD and sobriety proven? And are you still considered "sober" if you use a cannabis extract on a regular basis?
CBD Is Not Marijuana
Using a cannabis derivative on the path to sobriety might seem a little counterintuitive. After all, isn't marijuana a drug? Fortunately, knowledge about the cannabis plant and the many active compounds it contains helps us to understand the key differences between CBD as a compound and marijuana as a recreational drug.
CBD Is Derived from Hemp
CBD in the United States is sourced from hemp rather than marijuana. Hemp contains naturally low levels of THC — the compound in cannabis that gets you high — and high levels of the therapeutic, non-psychoactive cannabinoid CBD. By law, hemp can contain a maximum of .3% THC, not nearly enough to elicit a psychoactive response.
CBD Is Non-Addictive
Studies show that cannabidiol is not addictive. Unlike tetrahydrocannabinol (THC), which is present in large amounts in marijuana, CBD does not significantly affect heart rate, blood pressure, or cognitive function and is not associated with patterns of abuse.
CBD Does Not Cause Impairment
CBD does not alter the senses or impair physical coordination like THC and marijuana. Rather, CBD might actually help with attention, improve memory, and protect key neurons in the brain. This differentiates CBD from alcohol and other substances that impair the user at certain thresholds.
How CBD and Sobriety Are Linked
Doctors do not yet have enough evidence to prescribe CBD for recovery, but studies so far look promising:
A 2015 review indicated that CBD might be helpful in nicotine and cannabis use disorders.
A 2018 preclinical rat study showed that transdermal CBD reduced addicted rats' anxiety and reduced drug-seeking behaviors related to familiar triggers and stress.
A 2019 review indicated that CBD may help to prevent cocaine and methamphetamine use disorders as well as helping to prevent a relapse.
A 2019 double-blind study showed that CBD was more effective than a placebo for reducing symptoms of social anxiety disorder (SAD) in Japanese teenagers.
Several peer-reviewed studies have shown that CBD may help with pain — including neuropathic pain and arthritis-related pain.
Several peer-reviewed studies have shown that CBD is not habit-forming (i.e. addictive) by itself, even though marijuana often is.
Making the Best Decisions for Your Health
If you're struggling with recovery from substance abuse, CBD may provide a suitable option for increasing your comfort level and staying clean. However, there are a few things to keep in mind when considering CBD and sobriety:
CBD Comes in Many Forms
The CBD industry is largely unregulated, and products vary in their composition. Choose a CBD product that is third-party lab-tested, accurately labeled, and free from THC if you live in a state or city where THC is illegal.
CBD Dosage Takes Time to Perfect
As a substance that acts to balance your body rather than provide an immediate "hit," CBD can take time to produce any noticeable effects. Start with the lowest dose possible and gradually increase the dose until you find your "sweet spot."
Your Friends and Family Might Not Understand
When you're coming off alcohol and/or drugs, your loved ones might become concerned when they find out that you're using a cannabis extract. To calm their doubts, learn as much as you can about the therapeutic benefits of CBD.
CBD and Sobriety: The Takeaway
While cannabidiol is definitely not a cure-all and further research is needed, this hemp-derived, non-addictive extract could be just the thing you need to help you on the path to recovery. For best results, consult with a knowledgeable healthcare practitioner and use only high-quality, lab-tested products.
Product Review: Innovative Extracts Night Time CBD Gummies w/ Melatonin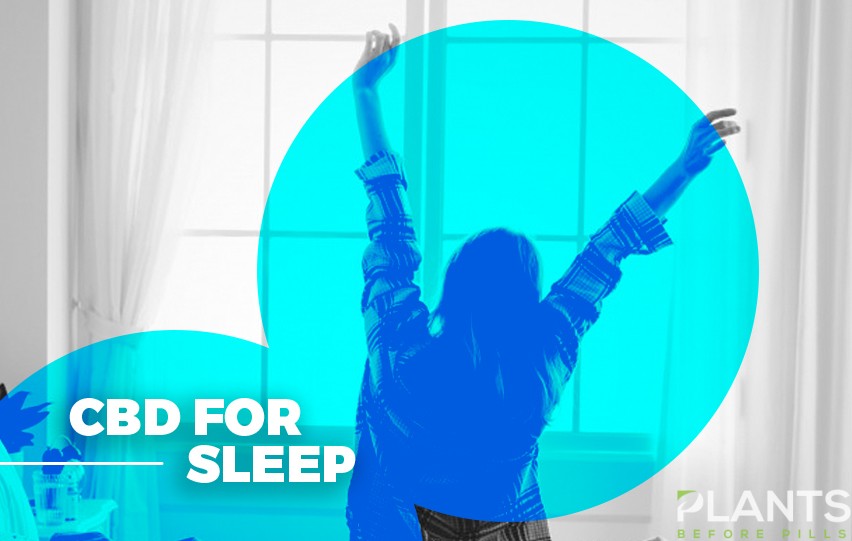 Nearly 1 year ago, I did a review on the 20 CBD Gummies for Sleep where I took a look at some of the industry's top products specifically designed for helping you get those zzz's. Since this time, I have looked into other products that help with sleep, and one that piqued my interest was Innovative Extracts sleep gummies. It was one product I found to be captivating specifically because not only does it have CBD as an active ingredient but also another well-known sleep aid, melatonin.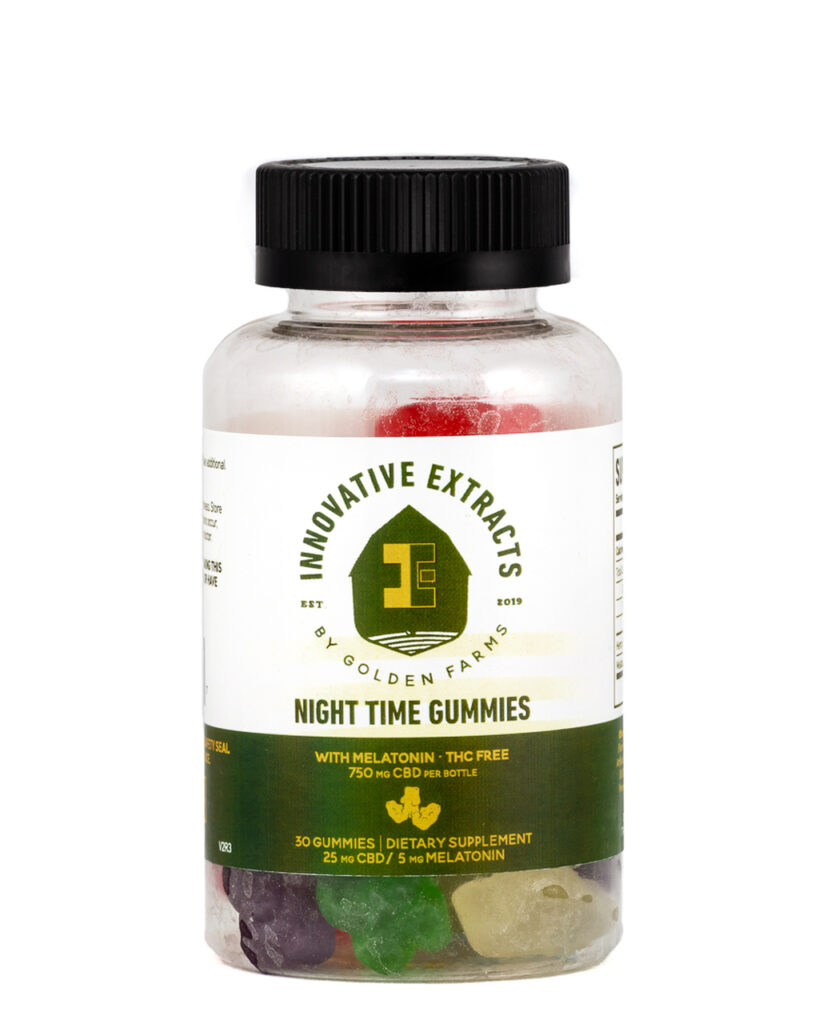 How did it measure up you ask? Here is what I discovered after I gave these a try for a full 7 days:
Taste
I found that the flavors of the gummies were not overpowering and tasted good. There are several different colors, indicating different flavors however, they tasted rather similar to me. On a scale of 1-10, with 1 being the worst, and 10 being the best, I would give these and 8.75-9 out of 10 on taste. Another facet of taste I considered was texture and the gummies were right on par in terms of texture. Very similar to the standard candy gummies you get at your local grocery store. A stellar 10 out of 10 on texture and they didn't melt or stick together like some of the other gummies in the space.
Look
Simple "bear-shaped" gummies look great and the packaging was just as appealing. I also liked the variety of colors/flavors. No qualms here.
Effectiveness
The most important attribute for this review is just how well it helped me sleep. In general, I do find it hard to go to sleep and stay asleep for more then 3-4 hours at a time. I sometimes take CBD oil before bed or melatonin gummies, which both work well most times. For the Innovative Extracts gummies, and the combination of CBD+Melatonin, I can say is a fantastic combination. I was able to stay asleep for 5-6 hours on average after consuming 1 gummy before bed. I am now curious if I were to take my previous CBD oil and melatonin together if it would have the same effectiveness, but at this point, why bother? Innovative Extracts gummies are a one-stop-shop for better sleep.
Conclusion
In conclusion, I really liked the Innovative Extracts Night Time CBD Gummies with Melatonin and its effectiveness. I would give this product a solid 9.5 out of 10 and recommend others to try to help them get better sleep in a hurry!
CBD Flower: What Is It and Why Should It Be Your CBD Go-To?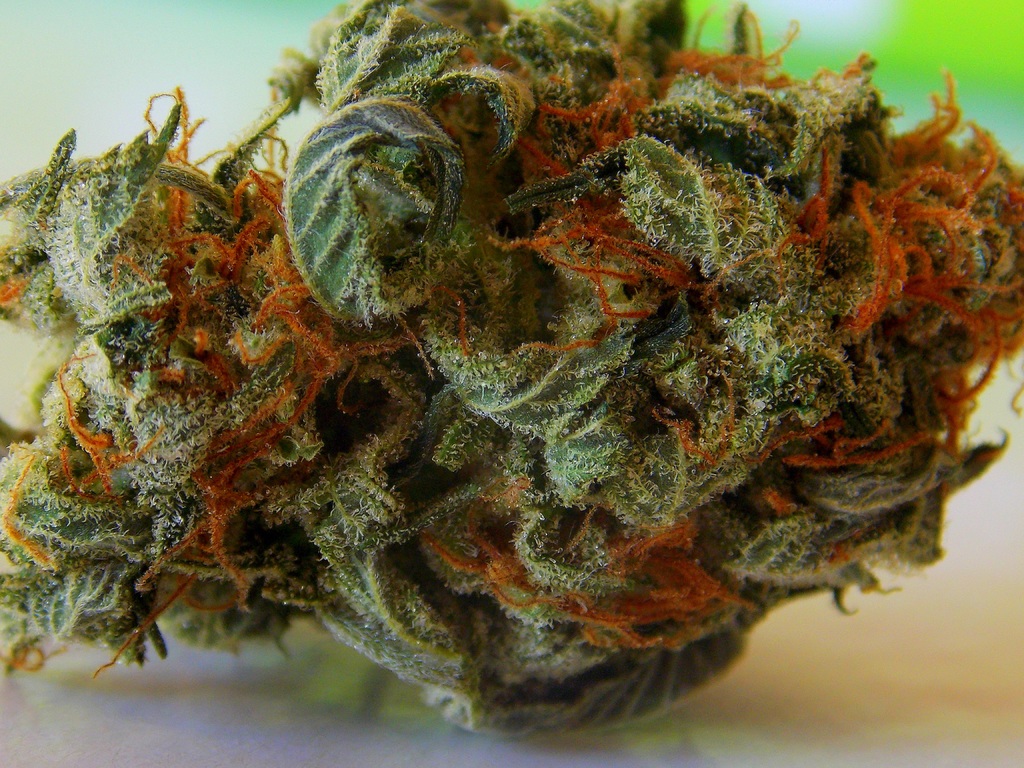 There is no shortage of CBD products on the market nowadays. CBD has taken many forms over the recent years, ranging from gummies to oils and even topical ointments. While some people may have a preference over what works best for their needs and lifestyle, our suggestion, if you are overwhelmed with the number of choices available to you, is to go back to the basics.
The basics we're referring to is CBD flower, an unprocessed and original form of CBD that is the perfect choice for any traditional cannabis fan.
What Is The CBD Flower?
CBD flower is the original yellow or green flower that grows on the hemp plant. Picked and dried, CBD flowers are often referred to as buds. Similar to the rest of the parts of the hemp plant, the flowers contain an equivalent amount of CBD.
Does CBD Flower Contain THC?
Just like the other CBD products, the CBD flower contains only traces of THC, making it completely legal. In the UK, CBD's THC content should be around 0.2% or less to be legal. Hemp and marijuana flowers are extremely similar in nature and are very difficult to distinguish simply by looks alone. It is important to purchase CBD flower from a reputable source to ensure you are purchasing CBD and not THC. Both the smell and looks of CBD flowers resonate with marijuana and could only be distinguished via lab testing.
How To Use CBD Flower?
Like marijuana flowers, there are many ways one could use CBD flowers in their daily lives. Those that prefer the old tested ways should opt-in for smoking the flower. Separate the flower into tiny pieces using a grinder or hands and use it in your pipe or roll a CBD cigarette using rolling papers.
Other individuals that are fonder of ingesting CBD rather than smoking it could benefit from adding CBD flower into their food, especially baked goods. Lost in the sweetness of your dessert treat, you won't be able to taste the bitterness of the flower itself but you'll still reap the benefits of CBD such as calmness and relaxation. It is especially convenient on the go and does not require any additional supplies. So get your sugar and flour ready, we're baking CBD cookies! 
Where To Buy CBD Flower?
With so many choices available on the market, it is easy to get lost in the sea of CBD products. By choosing CBD flowers instead of the commonly advertised oil or gummies, you are already filtering through the masses. It is especially important that you purchase your CBD flower from a reputable source that has completed the lab testing ensuring that the amount of THC found in the product is trace only and that you are receiving a high-quality and legal product. In the UK, suppliers like
There are a few sources where you could purchase CBD flower, one of them being your local smoke shop, where you can physically examine the product or a trusted online source. Always opt-in for high-quality products to ensure you get a safe and enjoyable effect.
How CBD skin cream can help you with your Eczema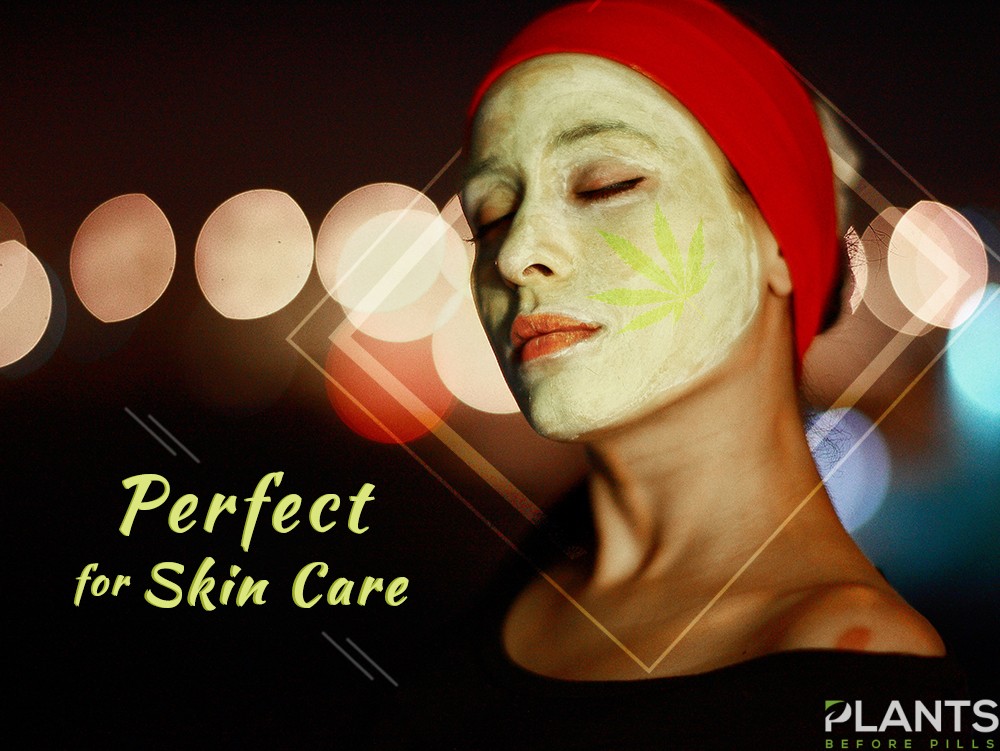 Have you or anyone you know ever experienced red, itchy, and inflamed patches of skin? If so, you may have eczema. Eczema, also referred to as atopic dermatitis, is a skin condition that is more common than you think!
These skin flares can cause painful and uncomfortable conditions for those who experience them. The discomfort can urge you to seek various lotions and creams all in the hopes that they will soothe the flare-ups and ease the pain, but at what cost?
If you have exhausted your search for skin creams, look no further for you have found your safe space and the best solution for your skincare needs!
Can CBD help treat eczema?
At this moment, there are few existing studies on the treatment of eczema using CBD, however, with time, more are coming forth confirming its benefits.
In a study conducted in 2019, participants with eczema applied a CBD-enriched ointment to flare-ups twice daily for three months.
The researchers concluded that CBD beauty products like CBD skin cream are safe and can be an effective alternative for combating inflammatory skin conditions such as eczema. This is of course considering the ointment lacks traces of THC, or tetrahydrocannabinol which also stems from the cannabis plant.
In another study conducted in 2020, participants collected data after applying CBD skin cream to their inflamed areas. The findings were that fifty percent of the participants reported that their eczema improved by more than sixty percent.
How to use CBD cream for eczema
Before applying the product to inflamed areas, check the directions for your product, and ensure you are following the steps correctly.
Some factors that may affect the product usage for your body include body weight, personal experience with CBD use, and the product's potency.
If you are testing out CBD beauty products for the first time, it is best to use a product with a low dosage of CBD to see how your body responds. With time, the potency used can be increased.
Other Benefits of CBD Skincare
While more research is needed, studies have found that CBD beauty is highly effective when used to treat psoriasis, acne, and inflamed areas of the skin. It helps to clear up problem areas and keeps existing clear skin healthy.
CBD can also help with soothing redness caused by rosacea, help regulate oil production and balance skin, and promote hydration to prevent skin dryness. Research has also found that CBD skincare neutralizes damage from free radicals and toxins from the environment. Therefore, leaving your skin healthy and glowing!
So What?
At this point, while there exists a limited amount of research supporting the use of CBD in skincare, the findings are consistent in each research study. CBD can be used for many topical treatments for many skincare needs including skin inflammation caused by eczema. By adding high-quality CBD to your daily skincare routine, you are sure to see improvements not only in eczema but other skin problems as well. Thus, now the question remains: What are you waiting for?