Tracing Important Cannabis-Related Facts Throughout History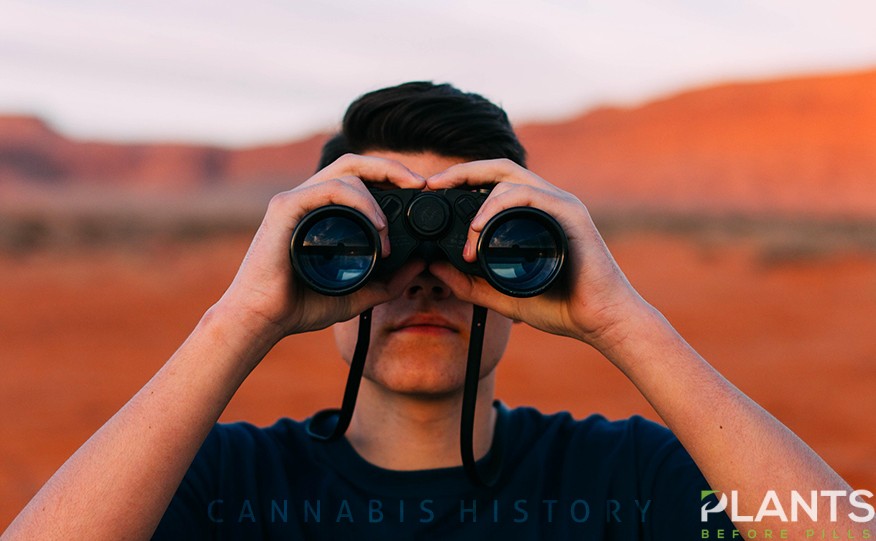 Cannabis has a long history, but how far does its story go back to? Considered as a worldwide crop which is the oldest plant in the history of humanity, it is interesting to learn about the key events in the long history of the plant. Read on to find out the most important events in its story:
Hemp in the Ancient Times
If you think that marijuana only emerged in modern times, then think again. The plant has existed for thousands of years now. There were records of it being used in Ancient European, Asian and African civilizations, making it a truly global herb. Check out how it was used in ancient times.
Applications of Cannabis:
Spirituality and Religion
Perhaps one of the most primary uses of marijuana during this age is for spirituality and religion. Ancient texts bear witness to the religious purpose of cannabis. The Vedas of ancient India goes as far back as 2,000 BC, mentioning cannabis as one of the five sacred plants. Shinto and Buddhist literature also mentions the herb as an aid for meditation.
Aside from aiding in spiritual rites, cannabis was also used to treat all kinds of medical conditions. The Chinese people have a legendary leader who prescribed cannabis tea for a variety of medical conditions. This includes rheumatism, poor memory and gout.
There were also records of medical use in India, Egypt and Japan, which is implemented to treat cough, anxiety, inflammation and constipation. It was also used as an anesthetic.
As spirituality and healing are closely related in ancient times, it is important to mention that some studies assert that Jesus used hemp oil as an anointing oil to cure the sick. Researchers say that the Scriptures refers to it as keneh-bosem (or kaneh-bosm) in Aramaic.
In ancient times, the plant was not only consumed but also used for practical and industrial purposes. Hemp is a highly fibrous herb, making it a good crop for textiles, papers, ropes and many other industrial products.
Who Smoked the First Blunt?
This question pops up on every smoker's mind. In fact, even non-smokers may be curious as to who discovered that this plant can be smoked and consumed. Cannabis legend and High Times editor-in-chief says that our ancestors from Bactria (now part of Afghanistan, Uzbekistan and Tajikistan) discovered the psychoactive properties of cannabis through burning the plant in caves and shelters. However, it is difficult to determine who exactly smoked the first blunt.
Earliest Evidence of Marijuana Use
Scientists believe that the crop came from Central Asia, which includes the modern-day countries that cover the ancient place that is Bactria. While Hager says that the herb came from what is now known as parts of Afghanistan, Uzbekistan and Tajikistan, other scientists say that it emerged from what is now called Siberia (the southern part) and Mongolia.
Researchers say that the use of cannabis can be traced back to 12,000 years ago, making it one of the oldest crops in the world. The oldest texts that mention the consumption of the cannabis dates as far back as 4,000 B.C. in China.
However, it is only recently when experts discovered direct evidence of humans consuming marijuana. A 2,500-year-old burial site in Western China was found to have traces of the plant with high contents of tetrahydrocannabinol (THC), the mind-altering compound in cannabis. Theories say that it was used for ritualistic burials or for its psychoactive effects.
The Medieval Age and Cannabis
Also called post-classical age, the medieval times was another eventful time for cannabis. With the various imperialistic endeavors during this age, the world saw marijuana's evolution in the medieval age.
Applications of Cannabis:
As a medieval forerunner of chemistry, alchemists experimented with what the plant has to offer. Alchemists (the medieval equivalent of modern-day scientists) used marijuana incense and other extracts from the plant for medicinal purposes. Some historians say that religious hospitals grew hemp for the same reason.
However, herbalist physicians warned people against the excessive use of the plant. These individuals believe that over consumption can lead to infertility and even serious medical conditions.
A lot of writers and thinkers of the time have consumed marijuana. Even the prolific William Shakespeare was believed to have taken this herb, which may have resulted in his creative writing.
Worldwide Cannabis
The plant arrived at Eastern Africa when Arab traders came to the region in 1,300 BCE. They brought cannabis to treat various illnesses such as malaria, asthma and dysentery. Meanwhile, the Spanish Conquest in 1,500 BCE brought the plant to the Americas. The colonists used their hemp crops for industrial purposes, making ropes and textiles using its fibers.
Wine and 'Hashish'
During medieval times, the wine was banned in the Middle East. This led the people to turn to hashish, allowing them to get intoxicated without breaking the law.
How the Modern World Perceives Cannabis
Now that we know how the herb was used in the ancient and medieval ages, we now come to our own time: the modern age. While you are familiar with how the public views marijuana today, there are several important events that can influence the future of the plant.
Applications of Cannabis:
With the debate going on regarding the usefulness of the plant, one of the first things you should know is that cannabis is used for:
Just like in the ancient and medieval ages, this herb is used today as an effective addition to medical treatments. However, it is essential to note that we now have a better understanding of the medicinal effects of the cannabis. We currently have deeper knowledge about the chemical compounds of hemp, especially cannabidiol (CBD), and its effects on the human body thanks to the endocannabinoid system.
With this, we know how and why the plant can reduce, alleviate, treat and prevent various medical conditions of the body. These include cancer, epilepsy, mental disorders, inflammation, pain and brain degeneration diseases, just to name a few.
In the medieval age, humans used marijuana for leisure. The same is still true today, especially with the legalization of the crop in many parts of the world. Many individuals use the plant for its medicinal properties, but many others enjoy their psychoactive effects thanks to THC.
Aside from recreational usage, the herb is also popular as a lifestyle aid. The group of writers and thinkers called Le Club Des Haschischins (or the Hashish Club) in mid-19th century consumed the plant. While the medieval age has shown how it is well-used as a creativity aid through various works, it is generally used as a lifestyle aid in modern times. Many people now recognize the plant's potential not only as medical, recreational and creative aid but also as a productivity aid and mood enhancer.
The popularity of CBD has enabled professionals, creatives and scholars the boost in energy, cognition and creativity they need to become more productive. In fact, it has the potential to greatly increase the quality of life of many working individuals.
The passing of Farm Bill 2018 in the United States signals the return of hemp as an industrial crop. This means that Americans will be able to enjoy hemp-derived products from oils, papers, textiles and many other industrial products.
Aside from this, there are speculations that marijuana can become an energy crop. Researchers are looking into its potential as a biodiesel source, especially as it produces a large amount. Compared to the current energy crop, soybeans, hemp can turn up to 4 times more oil per acre.
War on Drugs
One of the most important cannabis-related events in the globe is its inclusion in the war on drugs. There are drugs wars being waged across the world, aiming to eradicate the use of illicit substances including LSD, cocaine, fentanyl, and unfortunately, marijuana.
The U.S. is one of the countries that are waging these types of war. Since the enactment of the Marihuana Tax Act of 1937, the country has federally banned the herb. Other countries that are executing the initiative includes Mexico, Bangladesh, the Philippines, China, Brunei, Malaysia and Singapore among others.
Cannabis Legalization
Only 2 countries have nationally legalized the herb for any use: Uruguay and Canada. However, there are a lot more others with favorable medical marijuana laws, including Thailand, Chile and Croatia. In the U.S., 33 states legalized medical marijuana, eleven of which including Washington, D.C. have legalized recreational use. Meanwhile, many parts of the world are looking into legalizing the herb, getting us nearer to worldwide legalization.
Today, cannabis is one of the most widely consumed and beloved natural crops. When combined with the mounting research pertaining to the medical attributes of the plant, even legal recreational use can become possible. With its legalization in some parts and its impending legalization in others, many places across the globe will once again be able to serve its people with the goodness that is marijuana and all its benefits.
Ringing in the New Year with Cannabis: What You Should Know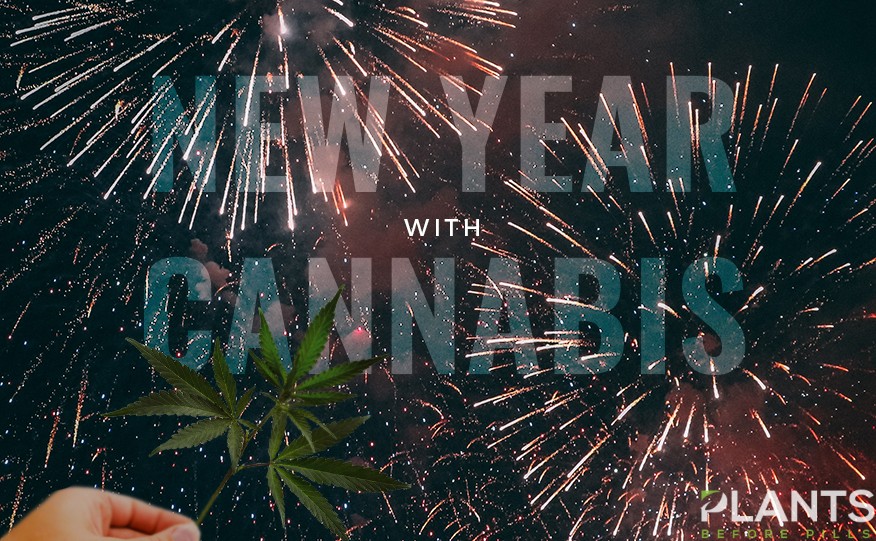 The festive season is around us, and with it brings the need to celebrate everything that happened in 2019. Not to mention, a proper celebration allows us to ring in the new year with a bang. What better way to celebrate this than with your trusty cannabis and CBD oil, right?
Before you get ahead of yourself, celebrating with cannabis comes with a lot of responsibilities. Apart from adhering to certain state laws and regulations, you also need to be mindful of the people around you and their preferences. In the same way, you also need to obtain your goods from licensed dispensaries and pharmacies.
Now that these pesky regulations are out of the way, here's what you should know when celebrating with marijuana and CBD oil products.
Why Have Cannabis on New Year?
Cannabis has always been celebrated by fanatics, now more than ever because of the legalization that's slated to take place come the first of January 2020. Though many states and countries have already provided medical marijuana, there are more states are taking their love for this plant even further.
Cannabis is known to treat certain illnesses and conditions, especially aiding in pain management. However, this also comes with a mind-altering effect due to its psychoactive component called tetrahydrocannabinol (THC). While many individuals get to 'enjoy' these, there are also people who frown upon its psychoactive component and what it can do. Because of this, finding another solution might work in your favor.
CBD Oil as Reliable Alternatives
Unfortunately, not every state has legalized recreational cannabis. In the unfortunate event, this falls in your area, you can opt for other safer and more legal alternatives – all without the unwanted effects of THC.
One of the more popular options available on the market is cannabidiol or CBD oil. This potent and downright powerful product provides most, if not all the benefits that come from cannabidiol. From pain management to treating insomnia, this is no doubt as to why this is celebrated as one of the revolutionary creations of all time.
CBD Oil and MJ Consumption
For states, countries, and areas that have legalized cannabis consumption, good for you. But for areas which require a little bit of a push from the local and federal government, sticking to cannabidiol might be a good choice. Below are some guidelines you need to heed when celebrating with this compound.
Eat Your CBD Edibles Early
To make sure you celebrate the year right and with a bang, remember to eat your edibles at least two hours before the stroke of midnight. This way, you can feel its effects as the ball drops. Not to mention, this will leave you feeling calm and collected even amidst the bustle and the fireworks.
Lace Your Food and Drinks with CBD Oil Products
While gummies and other edibles will work just fine, you can also create your own menu designed to celebrate the occasion and to highlight your guest of honor. Do this by making soups or salads with some drops of CBD oil or infusing the roast beef with some good ol' cannabutter.
If you want a more modern take to beverages, you can also experiment with adding and infusing cocktails with the cannabidiol product of your choice.
Let's face it, not everyone is into cannabidiol and cannabis and that's okay. If you are having guests over, don't forget to label the goods that are made with CBD. At the same time, provide other food options and activities which non-users and consumers can enjoy. This way, you are making an inclusive step to make everyone feels good in their element. Think of this as a great start for the year.
The Bottom Line
Now that you know what etiquette and regulations to observe, you can finally ring in the new year with good health and optimum wellness with cannabidiol. What are your plans for the upcoming holidays?
Best Books to Read by the Fireplace (And the Right CBD Product to Pair with Them!)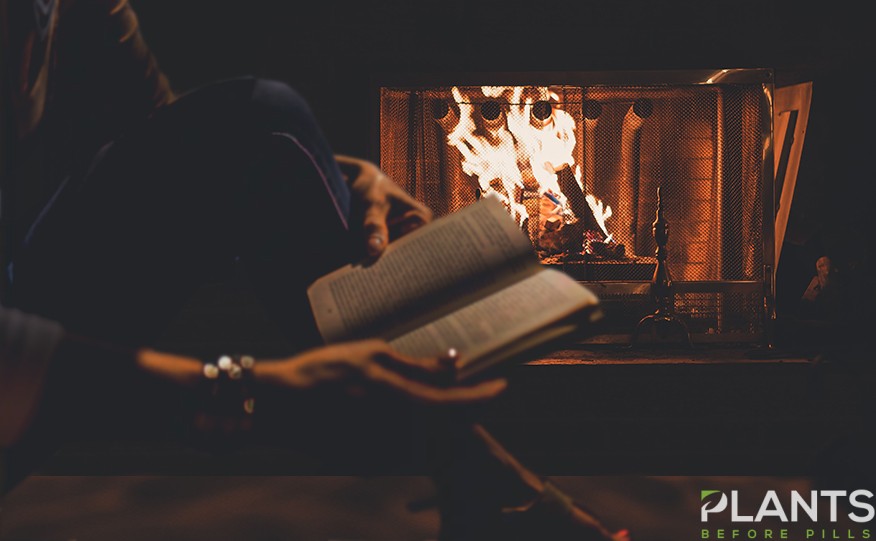 Ah, it's that time of the year again. Snow. Fireplace. Books. Warm Tea.
Surely, for the typical bibliophile, winter comes as the perfect season for reading. As the snow melancholy drop into the waiting ground and the breeze dances in its peak glory, individuals are given the chance to find comfort at the warmth of the fireplace with some books on their lap and food or drink by their side.
Now that the leaves have fallen and winter finally takes up the spotlight, it's time to set up your favorite couch, lit up the fireplace, ready your preferred CBD product, and pull out a book from your dusty shelves.
To make sure you'll have the best time in front of the enigmatic flames, we have compiled 3 of the best winter must-reads and the perfect CBD product to match with each of them.
Best Fireplace Books To Read and CBD Products to Pair With Them
FOR THE SENTIMENTAL READER
What to read: The Great Gatsby, F. Scott Fitzgerald
What CBD product to enjoy: CBD vape products
If you're up for some nostalgic, heart-wrenching story to read this season, then F. Scott Fitzgerald's 1925 Jazz Age novel is the perfect book to check out. Recognized to be one of the most prominent classics from twentieth-century literature, The Great Gatsby magnificently captures the high and madness that comes with the jazz age – from the decadent parties, wild Jazz music, fabulous romances, too, at last, the disintegration of the American dream.
Written in rich literary brilliance, this classic modern story of the romance and wickedness of the Jazz Age is one of the perfect fireplace books to read as you inhale the earthy flavor of your high-quality CBD vape juice.
FOR THE ADVENTUROUS READER
What to read: Don Quixote, Miguel de Cervantes
What CBD product to enjoy: CBD gummies
Dubbed to be the first modern novel, Miguel de Cervantes' Don Quixote stands as a classic literary masterpiece that any reader must not dare miss.
In the story, Don Quixote, an aging nobleman, spends his days and nights reading chivalry novels. Driven mad by reading such romances, he dresses up in old shining armor, mounts his skinny old horse Rocinante, and leaves his village in search of glory.
Written in experimental form and rich with literary playfulness, Don Quixote comes as a heart-warming, mind-boggling, and epiphany-inducing masterpiece that captures the contradictions between free will and fate, idealism and materialism, life and death.
Combined with the soothing effects of CBD gummies, your reading time is sure to make your winter break even more precious and therapeutic.
What to read: Brave New World, Aldous Huxley
What CBD Product to Enjoy: CBD Oil
Want to set out into a deep, thought-provoking adventure by the fireplace this winter? If you're the type who isn't afraid to explore the evils of a seemingly satisfied and successful society just like the one we have, then Aldous Huxley's 1932 dystopian novel, Brave New World, is the one you should pick out from the shelf this holiday.
Set in the year AF 632, Huxley's novel bravely takes us into a highly scientific and compartmentalized future where life is pain-free but meaningless. Heavily influenced by George Orwell's 1984, this classic sci-fi novel presents a nightmarish vision of a future society where children are created outside the womb, embryos are sorted and genetically-modified into different classes, and citizens are subjected under psychological manipulation and classical conditioning.
Dark, daring, and thought-provoking, Brave New World is the perfect match for your winter leisure time activity as you enjoy each drop of your premium CBD oil.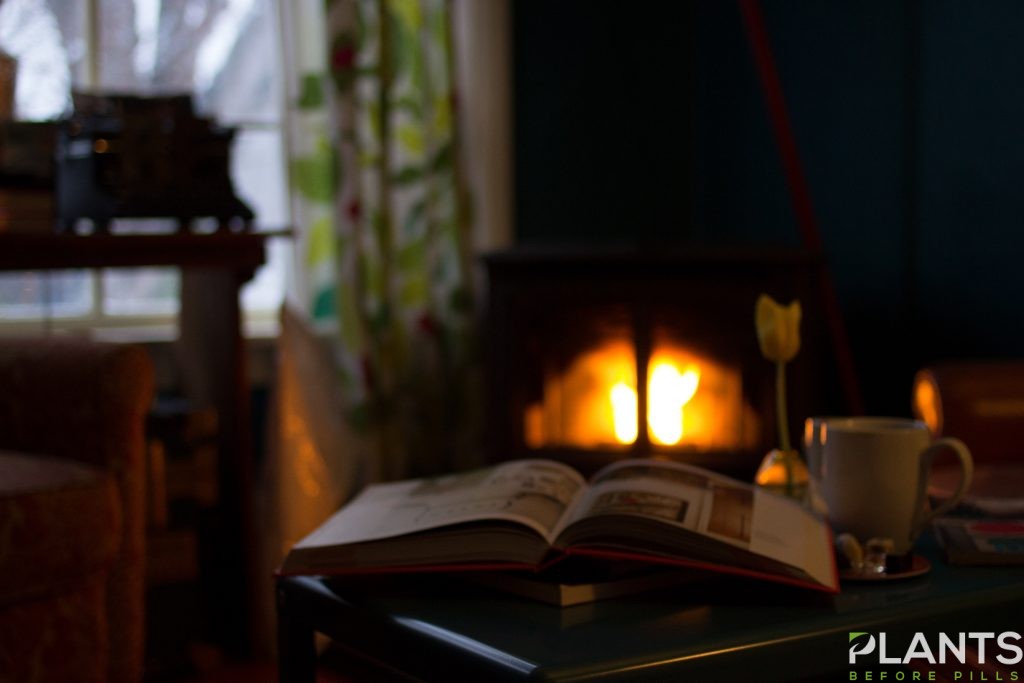 Surely, curling up by the fire with a book on your lap and a fine CBD product on your side is the best way to make the most out of your winter break.
With superb literary writing ready to be read and analyzed, combined with the therapeutic effects of some high-quality CBD items, your holiday season is sure to become the cherry on top that will complete a wonderful 2019.
Celebrating World Philosophy Day with Cannabis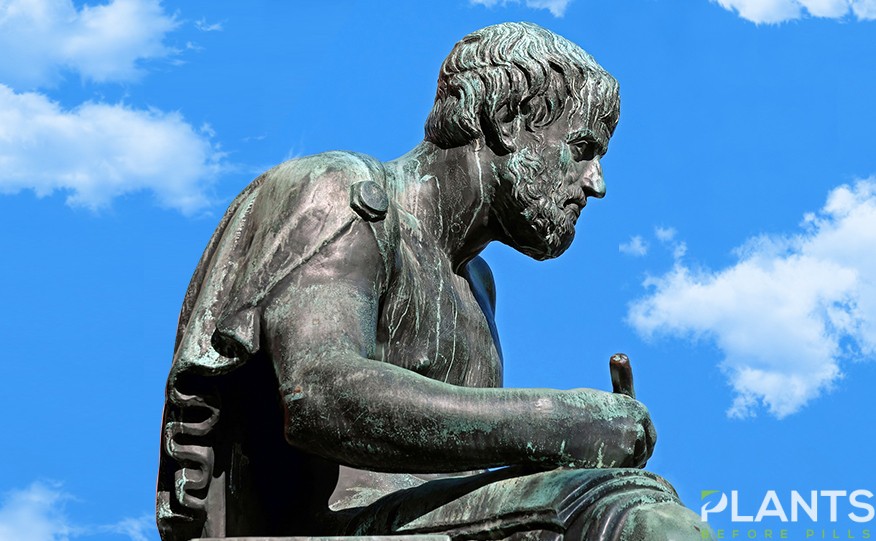 For some people, philosophy is one of the most important branches of the humanities as it helps shed light on virtually everything under the sun. Because of this, some take philosophy classes and get philo degrees, while others read and practice it during their own free time. If you appreciate what this field has to offer, you might want to commemorate World Philosophy Day in the best way you can.
Celebrated every third Thursday in November, World Philosophy Day has been observed since 2002. This year, people will be taking part in its celebrations on November 21. Cannabis enthusiasts might want to participate with no other than our beloved plant. Curious as to how you can use cannabis to practice philosophy? Here's what you need to know.
Why Celebrate Philosophy Day with Cannabis?
As an enthusiast of both cannabis and philosophy, you probably know that the plant can help you focus and have a clearer and relaxed mind. However, it is important to know how it can do so. Let's start by talking about the human body. Our body is equipped to process marijuana and its cannabinoids.
Why? Because we have a system to absorb and use the chemical compounds contained by the plant. In fact, our body even produces its own cannabinoids. This is why we are able to reap the benefits the plant has to offer. Now, these compounds interact with receptors placed in different systems in our body. There are cannabinoid receptors in the nervous, digestive and immunes systems. When cannabinoids bind with these receptors, we are able to feel the effects.
For philosophizing, the cannabinoids cannabidiol (CBD) and tetrahydrocannabinol (THC) can help improve your experience. The CB1 and CB2 receptors in the nervous system allows us to process THC and CBD efficiently and effectively. THC, which has the psychoactive effects, give users the unique creativity used in spouting what is now called "stoner philosophy." Meanwhile, CBD gives more focused and creative thinking. This is because the compound incites a calm, yet energizing effect, that improves cognitive functions.
How to Celebrate with Cannabis Products
Now that you know how exactly the plant can help make the most out of World Philosophy Day. To celebrate the day with the plant, here are some things you can do.
Gather Your Philosopher Friends
The thing about philosophy is that anyone can be a philosopher (but not everyone can philosophize, as the saying goes). Philosophers used to gather around a table and discuss a wide array of topics. Great philosophers such as Jean-Paul Sartre and Simon de Beauvoir used to sit in Café de Flore with their other thinker friends.
So, if you want to celebrate this day just like how these thinkers did, it is a good idea to gather them and start a roundtable discussion to exercise your minds. Of course, you can have any snack or beverage you want, including cannabis edibles.
Drink CBD Oil-Infused Coffee
When the powerhouse couple Sartre and de Beauvoir gathered with their friends, they usually gathered in coffee shops. In fact, many great philosophers such as Immanuel Kant, Voltaire and Soren Kierkegaard were all coffee drinkers. During your roundtable discussion, why not serve CBD-infused bullet coffee with your friends? This can energize your body and mind even more while giving you a cognitive boost.
You can even drink one while you stay at home and read, write, think and observe. Remember, reading, writing and thinking may be important parts of philosophizing but taking the time to observe is another valuable part of it.
So, sit back, relax and do your thing as you ponder the world's machinations. While you're at it, take the time to prepare a cannabis-infused treat to help you move your thoughts along.