CBD Help Guide: How to Manage Anxiety During Health Crisis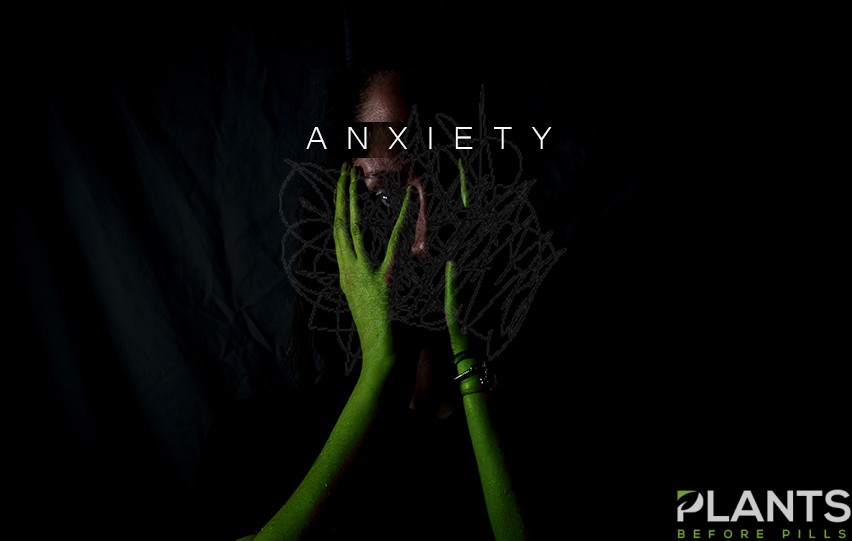 As the world faces the defining health crisis of our time, many are likely to struggle in coping up with the lockdown caused by the COVID-19 pandemic. From the troubling feeling that comes with the indefinite isolation to the panic that is generated by the shrinking resources, there comes a ton of factors that can make this outbreak a mentally and emotionally challenging time for many.
If you think the current lockdown is now taking a toll on your mental health, it's best to know what are the necessary tricks that can help you manage your anxiety during this time of adversity. Thankfully, with the presence of many home-based stress-relieving activities, combined with the soothing power of CBD products, you can still somehow find serenity during this lockdown.
Below, we have prepared a list of the things you can do, along with some cannabis products, that will help calm your mind and body amid the ongoing health crisis.
Read on.
Sweat Your Way Out with CBD Oil
Perhaps, it's not new to you that aside from physical endurance and flexibility, a clearer and more positive mental state also comes as a product of regular exercise. In fact, for years, various studies have already suggested that exercising helps alleviate symptoms of depression, anxiety, and low self-esteem. Essentially, this happens as a result of a neurochemical process. As the body engages in physical activities, the brain, in response to the stress, will stimulate the production of endorphins, which act as the body's natural painkillers. As a result, a person is to become energized and feel relaxed after working out; thereby, helping alleviate negative thoughts and feelings.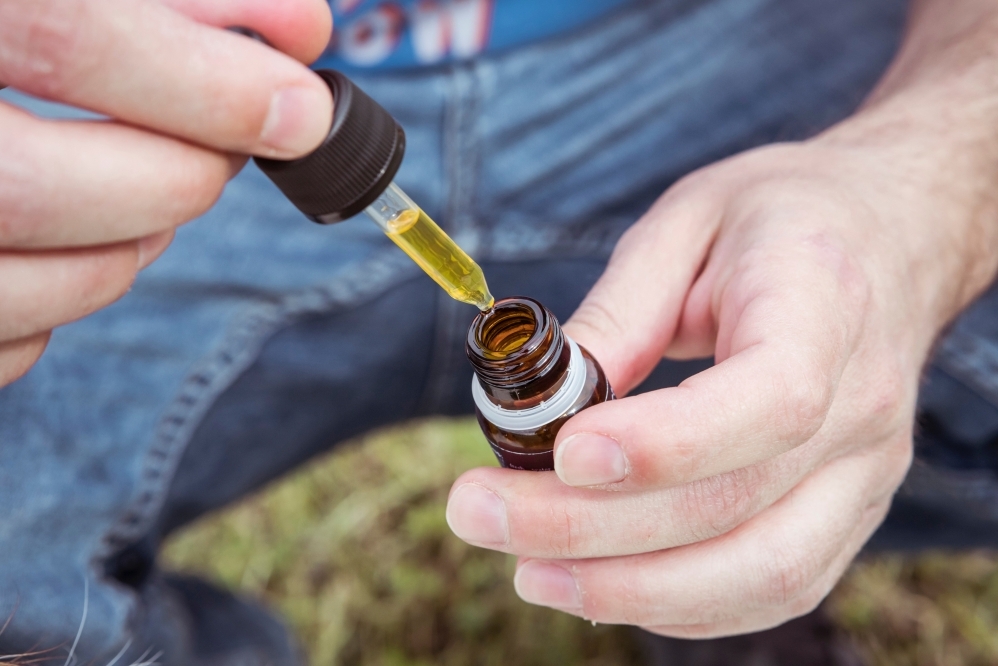 To make your physical activity even more relaxing, try taking a drop of CBD Oil before engaging in your home-based physical routine. Since cannabidiol is known for its anti-inflammatory and soothing effects, this will help you ditch the soreness of muscles that usually goes after a heavy exercise and heighten the feeling of calmness that will enable you to halt the flow of constant worries running through your head amid the isolation.
Complete Your Journal with some CBD Snacks
For the longest time, journaling has been identified to be one of the top tricks in dealing with anxiety. By keeping a record of your day-to-day activities, thoughts, and struggles, you will be able to identify possible stressors and come up with ideas to ditch them in order to embrace a healthier and more positive life.
Whether it be a weekly or daily record, you can have fun in doodling and designing your journal. Aside from that, you can also turn your focus in describing your current feelings and thoughts instead of dwelling in your own fears and doubts. This way, you can somehow find your way through your feelings, examine your thoughts, and find ways to shift your perspective.
Take a Quick Dip in a Tub with a CBD Bath Bomb
What better way to pamper yourself other than dipping yourself in the tub after a stressful day, right? For many, taking a bath comes as one of the best ways to relax and give themselves the care they need. Since you'll be stuck in your home during the pandemic, you are sure to have more "me" time without the pressure to keep up with your usual schedule.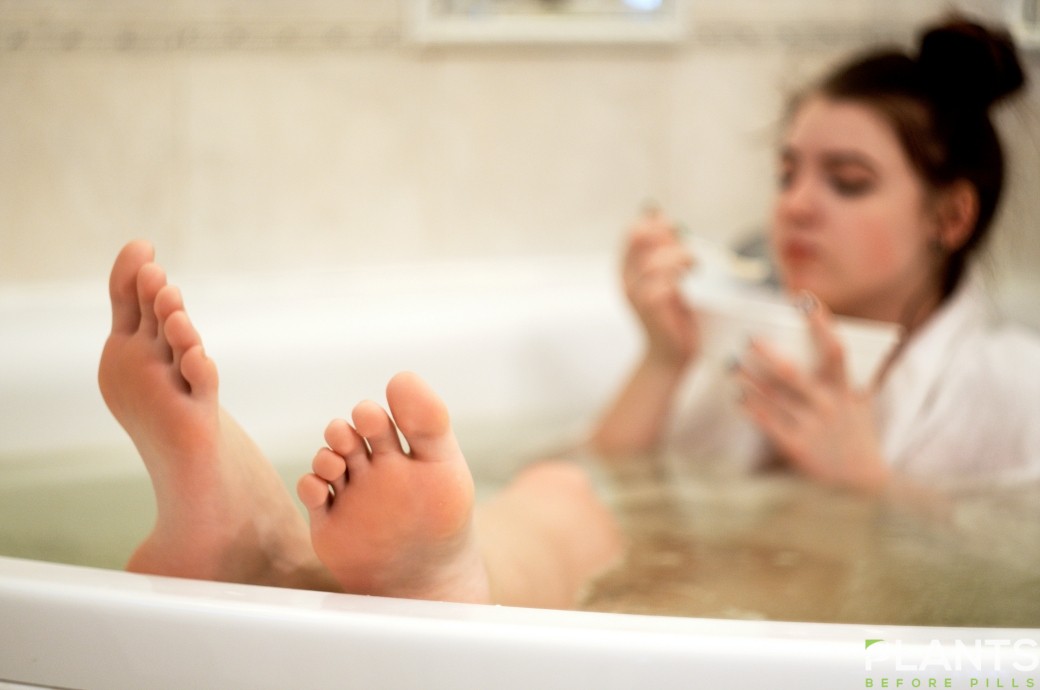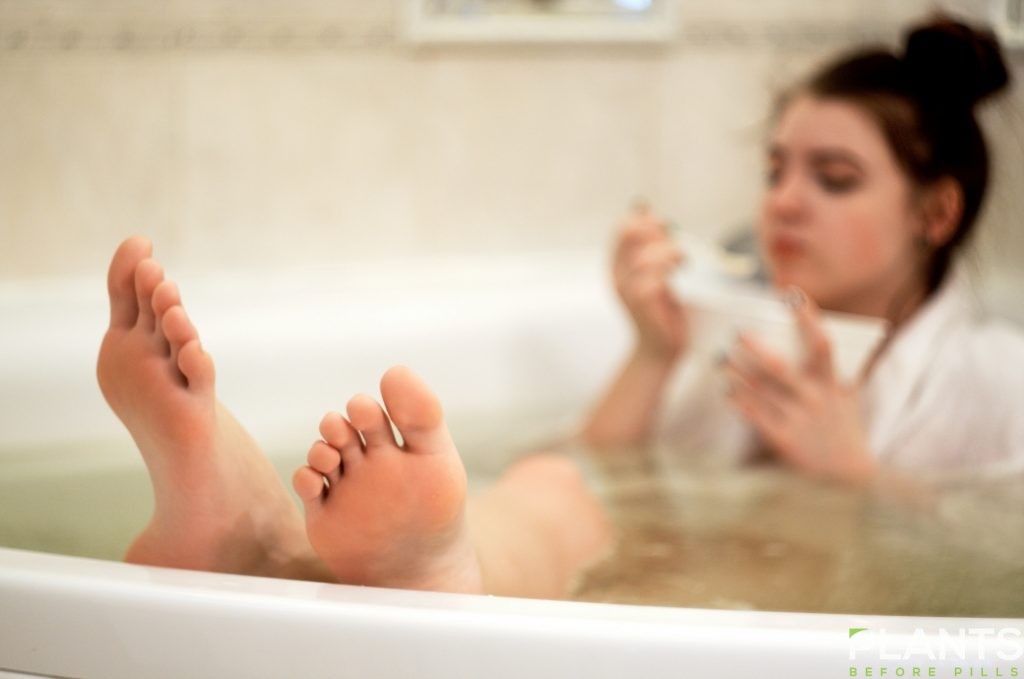 To make your bath time even more soothing to the body and mind, you can add a quality CBD bath bomb to your water tub. Like a sponge, your body is sure to absorb all the essential oils that come with the product and take advantage of CBD's stress-relieving effects. This way, you won't just be able to wash away the weariness in your muscles but the worries that is burdening your thoughts as well.
To make the process even more relaxing, try preparing a few CBD snacks, such as gummies or brownies. This way, you can have the satisfaction of writing down your thoughts while munching some of your favorite snacks that will add up to your home-based and self-managed therapy.
The Bottom Line
As questions and fears about the ongoing pandemic continue to intensify, it's not impossible to find yourself in a state of self-doubt and terror. Before the worse comes to worst, it's best to take a step ahead and do the necessary routines that will help you alleviate the stress and anxiety that comes with this isolation.  Try out any of these activities today!
Stay informed during this time of health crisis. Check our site for the latest cannabis news!
The Oral Health Benefits of CBD [VIDEO]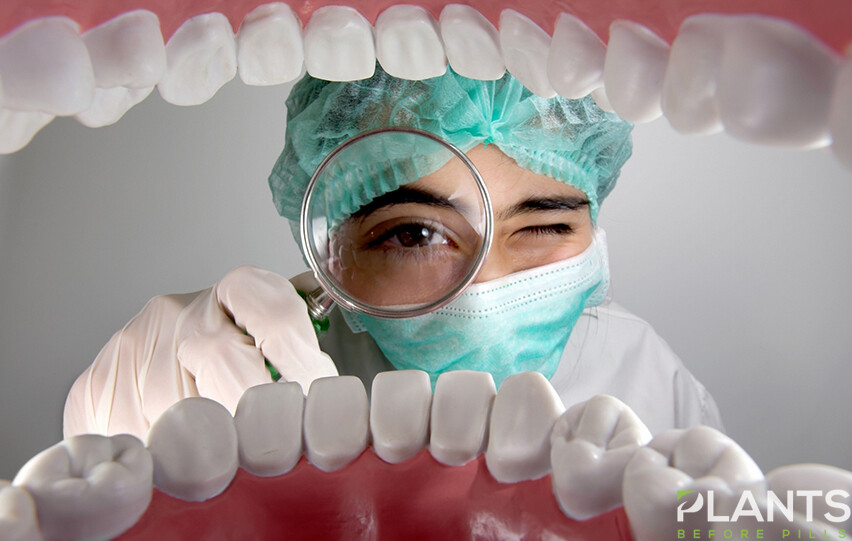 Suffering from toothache and gum problems? CBD may be the answer. Known for its potent pain-relief and anti-inflammatory properties, CBD can provide great relief for gum and tooth diseases as it reduces irritation and promotes faster healing. Watch this video to know more.
Does CBD oil work for Gout? | Gout Pain Relief | CBD oil for Gout [VIDEO]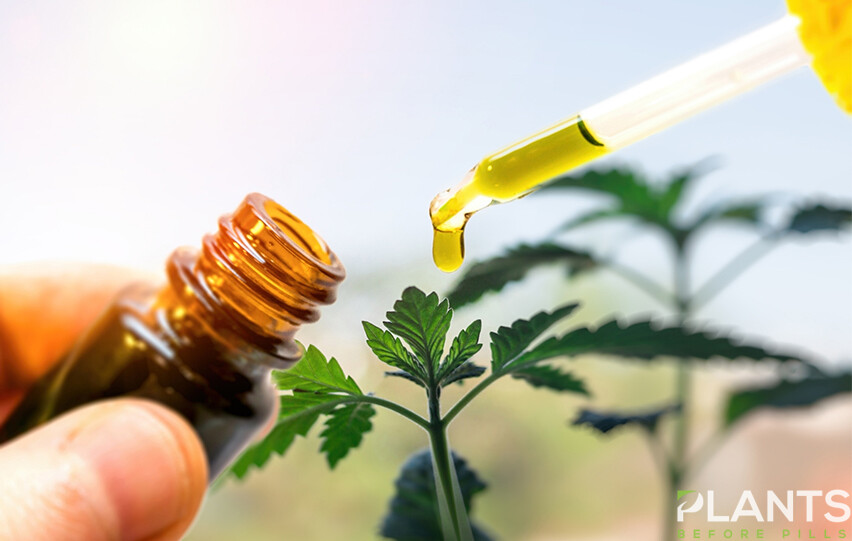 People suffering from gout can find great relief in using CBD. Gout is a form of arthritis caused by a buildup of uric acid in the joints and is known to be extremely painful. CBD's powerful anti-inflammatory properties not only relieves the symptom of gout, but it may also work to prevent its occurrence in the first place.
Can Kratom Boost My Energy Levels?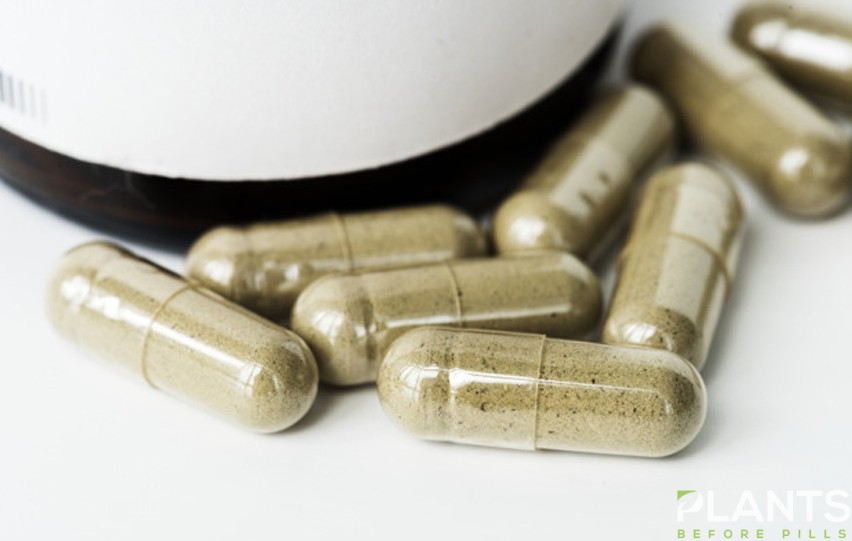 Everyone has their daily list of tasks that they need to complete by the time the day is over. But when you've had a terrible night's sleep prior, it makes waking up and getting all the things you need to do done very hard to do. Coffee and caffeine can only do so much. You may be wondering, is there another alternative? If you find yourself desperate for a solution then you came to the right place! Today we're going to be talking about a plant called Kratom, what it is and how it affects your energy. We'll also be discussing other potential benefits this herb may possess.
What Is Kratom?
Kratom, or Mitragyna Speciosa, is an evergreen tree that is a part of the coffee family. It is native throughout Southeast Asia, and it is commonly found in countries such as Thailand, Myanmar, and Indonesia. Kratom is known for its euphoric like effects and the health benefits it possesses. Although Kratom is legal in the United States and sold in many alternative medicine stores, it is illegal in numerous parts of Southeast Asia due to a lack of testing and knowledge about this plant.
The FDA (Food and Drug Administration) has not yet approved Kratom for medical use because there have been few clinical trials to fully understand the herb. People take Kratom for a variety of reasons. Some use it for purely recreational purposes, whereas other people use it for pain relief or try to substitute it for opioids or to treat withdrawal symptoms. Kratom is a highly controversial substance that hasn't been researched enough to know the long term effects.
Kratom For Energy
There are three main strains of Kratom. These strains include red, green, and white variations. The best strain for energy or motivation is white Kratom. Some people state that when taken in small doses, white Kratom makes them feel energized, focused, and sociable when they otherwise won't be. But when taken in higher doses, people have reported feeling calmness, euphoria, and even sedation, which isn't good when you are trying to be focused and energized. It is advised if you do plan on taking Kratom of energy, motivation, and focus, that you choose white Bali Kratom. It is one of the milder types of Kratom but will give you the boost that you need. There is also white Maeng Da Kratom or white Borneo which are more potent but they are also good for boosting your energy if taken in small doses.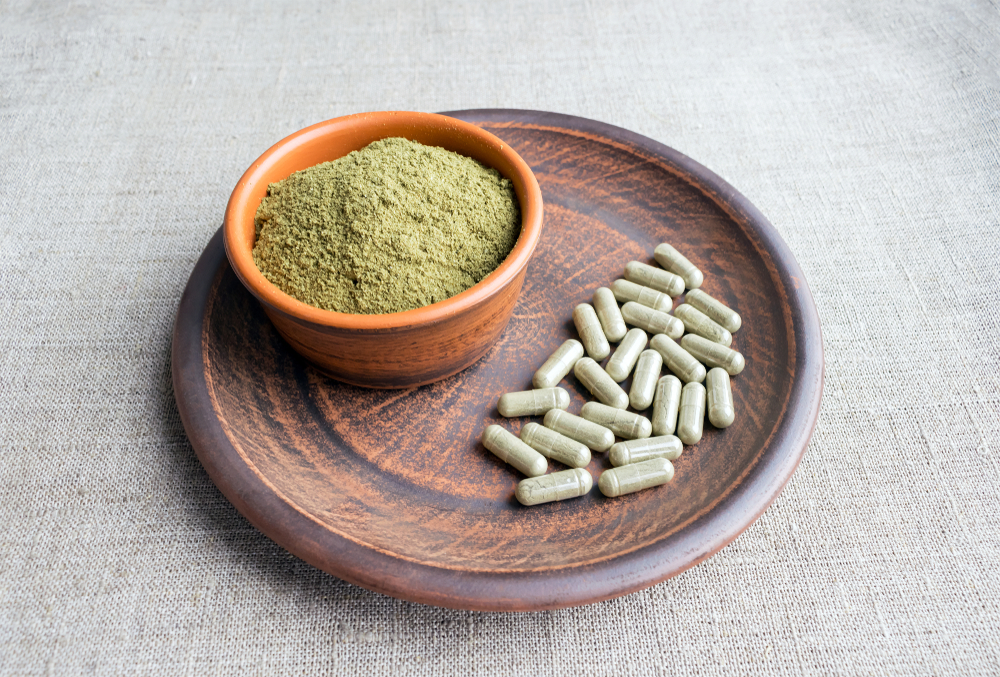 Other Benefits Of Kratom
Along with Kratom having great energizing properties, it also some other benefits. First of all, many people say that Kratom is a great relief for chronic muscle pain because it works like a sedative in relaxing your muscles. Another thing that people use Kratom for is treatment for anxiety and depression as it can energize you and make you crave more social interaction. Of course, none of these are scientifically proven, but people that actively use Kratom have stated these benefits.
In conclusion, although the Kratom plant is quite a controversial herb, it can have amazing benefits and qualities and may be a useful source for chronic pain, anxiety, depression, treatment for drug addicts, and an energizer. Many people in today's age are opting for natural path options instead of modern-day medicine, and this could be the new up and coming natural medication. With further research and clinical trials, this plant may one day be approved by the FDA and become as common as THC and CBD are becoming.
The effects are said to usually start within 10 minutes after ingesting the plant and can last up to one and half hour.