Take a Look at Kim Kardashian's CBD-Themed Baby Shower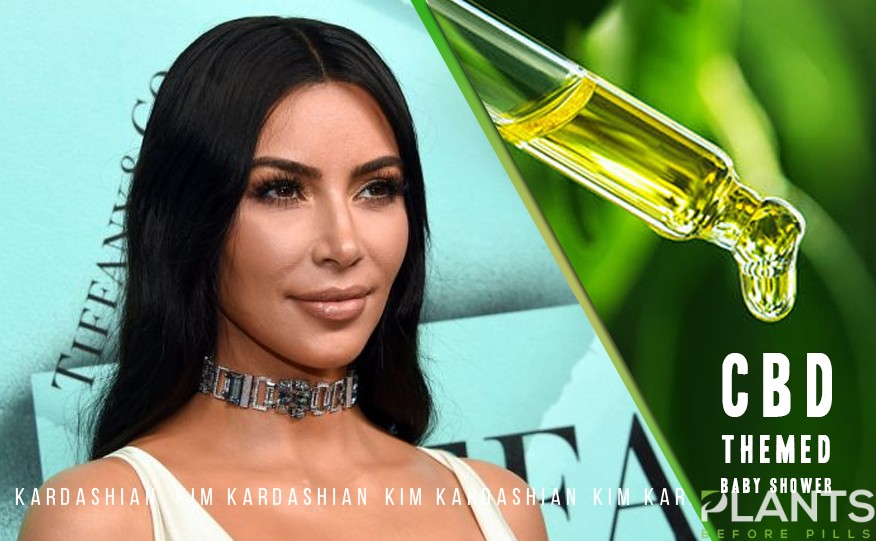 Kim Kardashian-West recently held an intimate baby shower for her fourth child with husband Kanye West. To celebrate this momentous occasion, the media personality decided to throw a CBD-themed baby bash to celebrate the event.
Fans and followers of the American personality caught the play by play on Kim K's Instagram profile, where the socialite and businesswoman showed all the details of her party via the stories feature. It seems that with the Kardashian-West brood growing and with the social media star handling a lot on her plate, a CBD oil-themed shower was the way to go.
Take a look at how you can recreate this event yourself.
Benefits of the Cannabis Plant
Pure cannabidiol has numerous benefits designed to address an array of issues. While the plant is definitely known for its pain management and pain relief properties, it is also known to have a relaxing effect on its users. At times, CBD hemp oil is also taken to help reduce anxiety and depression, allowing users to calm down and be more relaxed with their current state.
In skin care products, CBD oil benefits are also prevalent. Aside from moisturizing the skin, regular users of these infused goods will also experience less acne and inflammation.
Kim's Choice
The KKW Beauty founder is no stranger to holding big events, with her wedding to Kanye West taking center stage in the past. As the star awaits the coming of her fourth child, Kim Kardashian takes on a zen and meditative approach for her baby shower by taking on a CBD-themed party.
According to a variety of news sites, the reality television star shared that with her new baby coming at a busy time in her life, she feels that there is no "better way to celebrate than to have a little CBD." After all, its calming properties will definitely come a long way in easing the star's anxiety, especially with baby number four coming in around two weeks via surrogate.
Tapping HelloMD, the star highlighted some of her favorite stations and activities for the day. With the help of their board-certified cannabis and medical professionals supervising throughout the day, guests were treated to a wonderful day of pampering and relaxation.
Tons of CBD-Themed Activities
In her Instagram story, Kim Kardashian showed tons of exciting activities designed to help her guests feel more peaceful and comfortable throughout the day. One of the highlights of her stories included the star showing Epsom salts infused with 200 milligrams of CBD oil. Here, guests can add essential oils of their choice such as lavender and the like, allowing them to use this scrub during their bathing rituals.
Another video showed on the Instagram profile included Kim Kardashian making body oils infused with CBD hemp oil. These can be used to help moisturize the skin.
Apart from these CBD-themed activities, the reality television celebrity also featured a sound bath for the day's event. Here, all guests lounged on yoga mats. Even North West lay beside her mother while doing the sound bath and yoga actions. Guests were also free to suggest cute nicknames for the future baby on the 'Name Game' board.
Make sure to include these for your bash as well.
Goodie Bag
Since this is Kim Kardashian we are talking about, the KKW Beauty founder went all out for this supposedly chill event. Her guests were given with a goody bag filled to the brim. Some of the items included in the giveaway are Mr. Moxey's Mints, a famous type of CBD oil edibles, bath salts, bath scrubs, and other CBD beauty products.
Being married to Kanye also has its perks. For the events, guests also provided Yeezy flats and shoes to wear all day.
If you want to make a baby shower that's CBD-themed, take a cue from Kim Kardashian. This famous personality definitely knows how to throw a fun party that everyone will surely remember.
Here's What You Can Expect from LA's Cannabis Café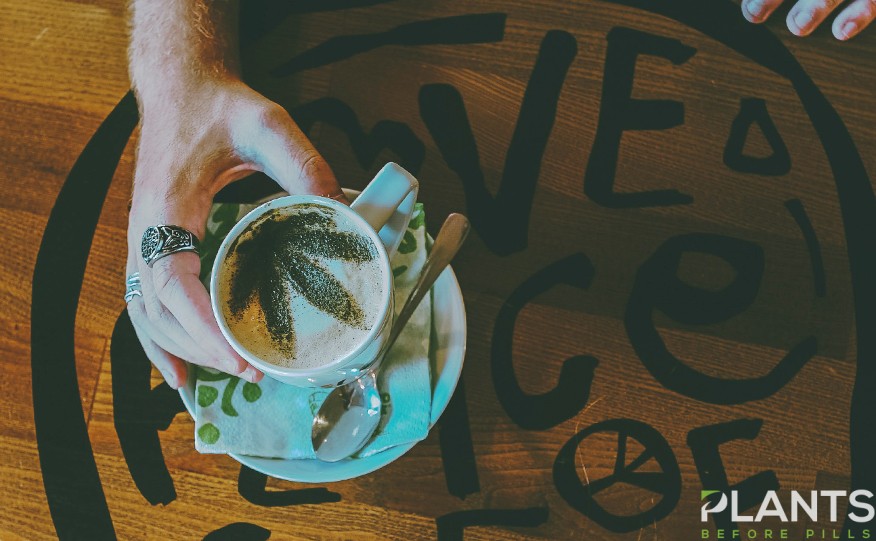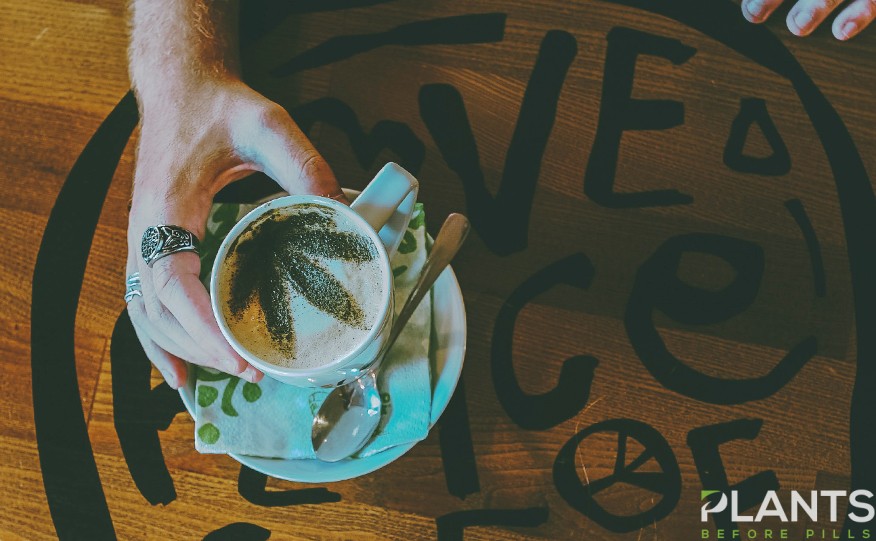 With the recent opening of Lowell Farms: A Cannabis Café, a lot of cannabis enthusiasts are dropping by West Hollywood to catch a glimpse and even partake inside the establishment. Restaurant director Kevin Brady even said that all types of cannabis enthusiasts and patients are flying in from all over the world to visit the café. "I feel like we're Disney World," he said.
As the place is slowly becoming an attract from people from all walks of life, it is definitely getting the success and recognition it deserves. Interested in visiting this place? Here's what you can expect.
Lowell's Cannabis Café – What To Expect
Perhaps a great concern among cannabis consumers is how their consumption will be received if they do so outside of the safety of their own homes. This worry comes at a time when marijuana and its use is becoming more accepted and mainstream. However, this is a valid concern as many individuals remain to be prejudiced against the plant.
One of the best things about the country's very first cannabis café is that it offers a safe space for all enthusiasts and patients. This establishment offers a community-like place for marijuana consumers where they can expect to be able to be themselves. Moreover, they can express their love for the plant without fear of being judged.
A Relaxing and Conducive Ambiance
Aside from being a place where enthusiasts and patients can freely partake, the café also serves as a great site for people who are looking to wind-down after a long day. Complete with earth-toned, rustic décor and furnishings, this café definitely emphasizes the natural quality of the plant.
While the interior may seem intimidating, the place is anything but. In just one look, you can see that space is created for the comfort and enjoyment of consumers. The café is equipped with comfy chairs that can definitely make your stay more relaxing. Sensitive of harsh lights? This establishment does away with those types of illuminations and favors warm, soft lighting that is perfect for your downtime.
A Sommelier at Your Service
Ever been to those fancy restaurants in which a wine expert explains the different types of wines to customers? LA's newest cannabis recreational space has one of those, as well. These marijuana experts will be glad to assist you in choosing which strain is perfect for your wants and needs.
Because they are experts, you can rest assured that you can ask them anything about their offerings. You can inquire about CBD and THC content to the buds' flavor profiles, and you can expect a clear and precise recommendation. From strains with citrusy flavor and aroma to those that have the plant's signature taste and smell, you can definitely choose one that suits your palate.
A Wide Variety of Cannabis Products
While the café will definitely carry buds, you can expect to find the best marijuana-infused products in the shop. It has a gastropub-style   kitchen which serves food and drinks that uses cannabis products such as CBD oil. You'll be surprised what normal-looking dishes they can cook up using marijuana.
Just keep in mind that the establishment does not allow individuals to drink alcohol while inside the pub. However, you can definitely drink beer or wine on the front patio, but consuming cannabis is not allowed in that area.
So, are you ready to visit the Lowell Farm Café? Make sure to make a reservation as it is pretty in-demand right now. While it accepts walk-ins, a reservation can definitely make your visit a more convenient one.
Ontario Cannabis Gardeners Form New Fall Tradition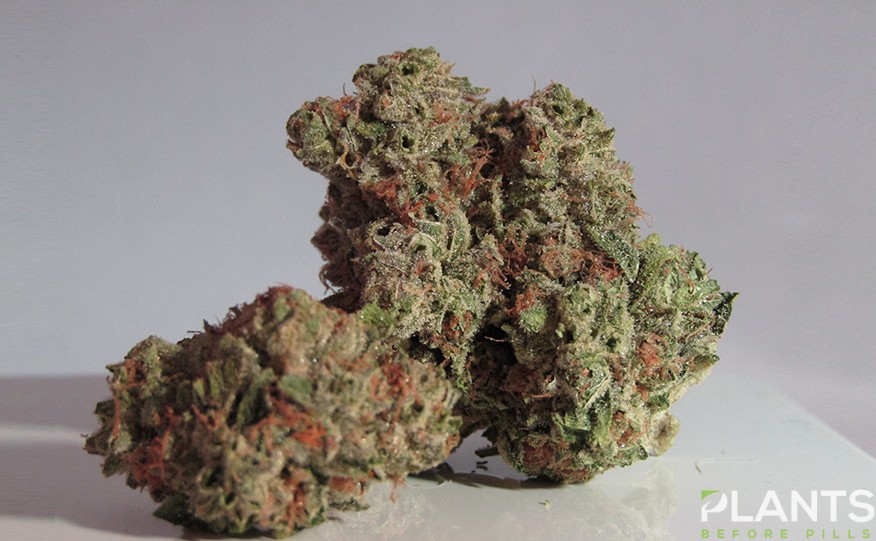 With Canada's marijuana community celebrating its first year of legalization last week, Ontario home gardeners are harvesting their first cannabis yields this fall. With this, residents of the province are forming a new fall tradition in which they harvest their cannabis plants in preparation for the incoming winter.
Katy Perry, the owner of a hydroponic supply store in Toronto, said that "now is the most exciting time of growing at home" because the plants are "finally ready to be chopped down, dried, cured and consumed."
Home Growers' Harvest Season
Ontarian growers who made their first harvests this fall have been cultivating their crops since the summer. With the summer being the plant's growing season and fall being the right time to harvest yields, this is guaranteed to become a tradition for Ontario residents.
One resident, Kat Milevic, preferred to try outdoor gardening using the marijuana plant. She said that "outdoor plants can get bigger," but poses more issues compared to indoor plants. She cited mildew and molds are primary enemies of outdoor crops. This is true especially as the freezing season nears.
In helping Canadians start their legal gardens, experts are offering classes that teach new growers the right techniques from planting, cultivating, harvesting and battling issues. Expert grower Matt Soltys, who teaches outdoor growing classes, said that planting early in the summer is the best way.
Soltys also noted that the cultivation offers empowerment as it allows people to provide for their own wants and needs.
Ontario Cannabis Laws
This month marks the first time that Ontarians are making their first harvest despite Canada still banning the cultivation of the plant for recreational purposes, said Toronto Storeys.
This is made possible by Ontario's Cannabis Control Act, which allows individuals 19 years old and above to cultivate and harvest the plant. According to the Ontario Cannabis Control Act 2017, "no person under 19 years of age shall cultivate, propagate or harvest" the plant, nor offer to do so.
The Act also elaborates that residents are allowed to cultivate a maximum of four crops per residence. These plants must be grown using seeds bought from legal cannabis stores or the online Ontario Cannabis Store (OCS). Moreover, the law states that residents can grow outdoor crops on their balconies, rooftops and garden.
As of this writing, the OCS reported that they sold around 7,500 seeds (packed in four) since its opening.
Observing All Saints' and All Souls Days with Cannabis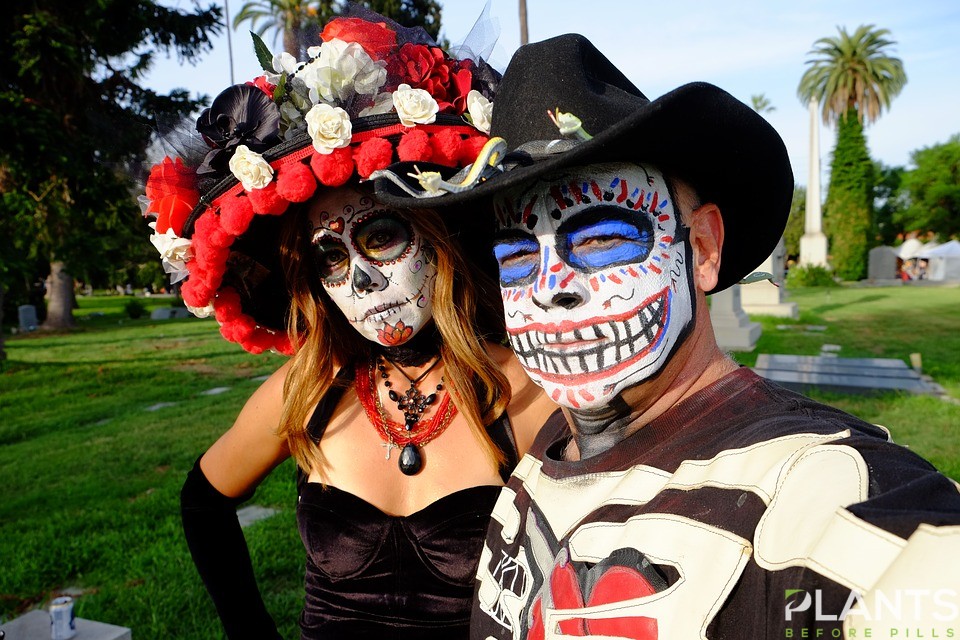 With the upcoming celebration of Halloween on October 31, believers are getting ready to observe two consecutive days: All Saint's Day and All Soul's Day. These two holidays are commonly observed by practising Catholics, making them religious celebrations. However, you can observe the spiritual aspect of this holiday without adhering to the religious traditions connected to these days.
For cannabis enthusiasts, this means observing the days with the plant. Here are some ways you can honor these days with cannabis.
Celebrate the All Saints' and All Souls Days with Cannabis
Meditate with Marijuana
These two celebrations hold religious connotations, which often require some sort of prayer. Whether you are the religious type or you simply want to observe these holidays for personal reasons, you will need to enter a meditative state in which you will be able to get in touch with your beliefs and traditions better. For many religions throughout history, marijuana plays an integral part in meditation.
From Hinduism and Buddhism to Chinese and even early Christian practices, experts assert that cannabis was used by our ancestors to enter a meditative state. In fact, early Indians were some of the first people to consume cannabis through drinking. Bhang lassi, a yogurt or milk drink infused with the plant, was traditionally consumed for meditation.
So, if you are a cannabis enthusiast who wants to combine this celebration with our beloved plant, you are certainly on track. This plant is known to elevate the mind by improving cognitive and creative functions, while also giving users a sense of calmness, a state of mind that is perfect for praying and meditating.
Get Together with Family and Friends
Aside from prayer through meditation, some families observe this holiday by getting together. Often this includes prayer, as well, but one thing is for sure: there will be food. If you are tired of eating out with your friends and family, you might want to whip up some dishes to serve to your guests.
Just like the early Indians, you can infuse your food and drinks with cannabis. If you prefer to eliminate the psychoactive effects of the plant, you also have the option to use CBD oil when cooking. This will give your cooking a cannabis twist while making sure that you and your guests will not be experiencing any mind-altering effects. You can also mix this with drinks you plan to serve.
By adding this ingredient, you can have a more energetic gathering, while enjoying a calmness that cannabidiol provides. This cannabinoid also has medicinal attributes making it a perfect addition to your recipes. Just make sure to inform your guests about your plan to include cannabis as some people may still have reservations about the plant.
Celebrate Your Own Way with Cannabis Products
If you plan to spend the day on your own but still observe the holiday, you have the luxury to celebrate it however you want. Aside from meditating to get in touch with your spiritual self in order to practice the religious aspects of the holidays, you can observe it by commemorating your deceased loved ones.
This is favorable especially if you do not adhere to the religious implications of the celebration. You can do this by listening to their favorite songs, looking back on your memories with them and even making art about them.
Being spiritual does not necessarily equate to being religious. If you are a marijuana enthusiast who wants to observe these days in your own special way, then cannabis can definitely help you create your own traditions for All Saints' and All Souls' Days.