Take a Look at Kim Kardashian's CBD-Themed Baby Shower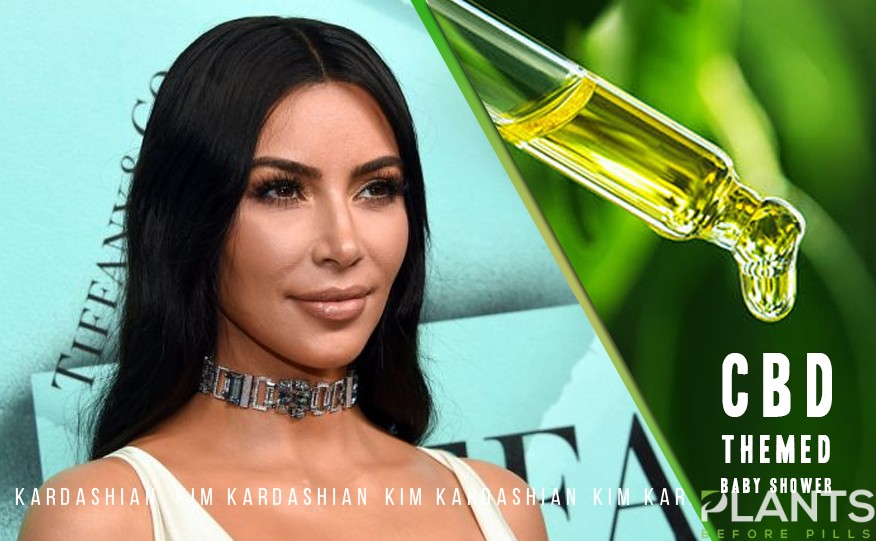 Kim Kardashian-West recently held an intimate baby shower for her fourth child with husband Kanye West. To celebrate this momentous occasion, the media personality decided to throw a CBD-themed baby bash to celebrate the event.
Fans and followers of the American personality caught the play by play on Kim K's Instagram profile, where the socialite and businesswoman showed all the details of her party via the stories feature. It seems that with the Kardashian-West brood growing and with the social media star handling a lot on her plate, a CBD oil-themed shower was the way to go.
Take a look at how you can recreate this event yourself.
Benefits of the Cannabis Plant
Pure cannabidiol has numerous benefits designed to address an array of issues. While the plant is definitely known for its pain management and pain relief properties, it is also known to have a relaxing effect on its users. At times, CBD hemp oil is also taken to help reduce anxiety and depression, allowing users to calm down and be more relaxed with their current state.
In skin care products, CBD oil benefits are also prevalent. Aside from moisturizing the skin, regular users of these infused goods will also experience less acne and inflammation.
Kim's Choice
The KKW Beauty founder is no stranger to holding big events, with her wedding to Kanye West taking center stage in the past. As the star awaits the coming of her fourth child, Kim Kardashian takes on a zen and meditative approach for her baby shower by taking on a CBD-themed party.
According to a variety of news sites, the reality television star shared that with her new baby coming at a busy time in her life, she feels that there is no "better way to celebrate than to have a little CBD." After all, its calming properties will definitely come a long way in easing the star's anxiety, especially with baby number four coming in around two weeks via surrogate.
Tapping HelloMD, the star highlighted some of her favorite stations and activities for the day. With the help of their board-certified cannabis and medical professionals supervising throughout the day, guests were treated to a wonderful day of pampering and relaxation.
Tons of CBD-Themed Activities
In her Instagram story, Kim Kardashian showed tons of exciting activities designed to help her guests feel more peaceful and comfortable throughout the day. One of the highlights of her stories included the star showing Epsom salts infused with 200 milligrams of CBD oil. Here, guests can add essential oils of their choice such as lavender and the like, allowing them to use this scrub during their bathing rituals.
Another video showed on the Instagram profile included Kim Kardashian making body oils infused with CBD hemp oil. These can be used to help moisturize the skin.
Apart from these CBD-themed activities, the reality television celebrity also featured a sound bath for the day's event. Here, all guests lounged on yoga mats. Even North West lay beside her mother while doing the sound bath and yoga actions. Guests were also free to suggest cute nicknames for the future baby on the 'Name Game' board.
Make sure to include these for your bash as well.
Goodie Bag
Since this is Kim Kardashian we are talking about, the KKW Beauty founder went all out for this supposedly chill event. Her guests were given with a goody bag filled to the brim. Some of the items included in the giveaway are Mr. Moxey's Mints, a famous type of CBD oil edibles, bath salts, bath scrubs, and other CBD beauty products.
Being married to Kanye also has its perks. For the events, guests also provided Yeezy flats and shoes to wear all day.
If you want to make a baby shower that's CBD-themed, take a cue from Kim Kardashian. This famous personality definitely knows how to throw a fun party that everyone will surely remember.
First-Ever Cannabis Café to be Launched in West Hollywood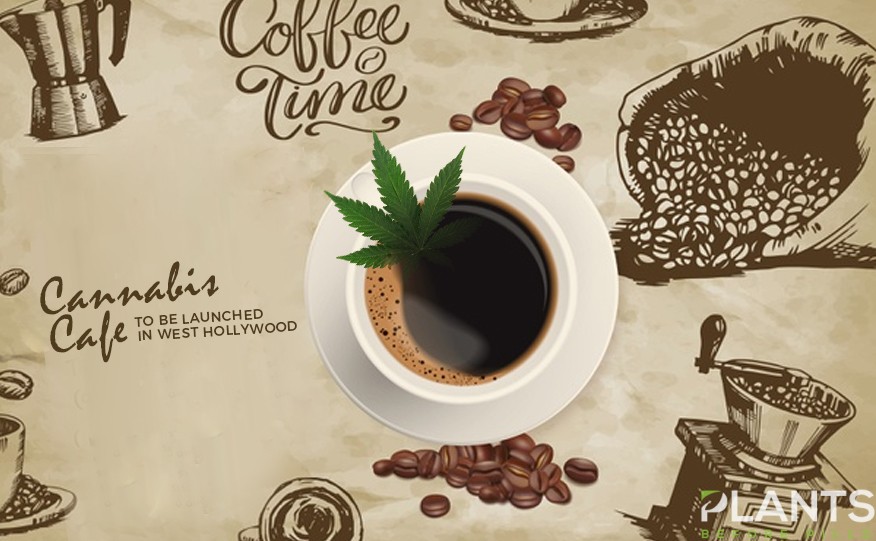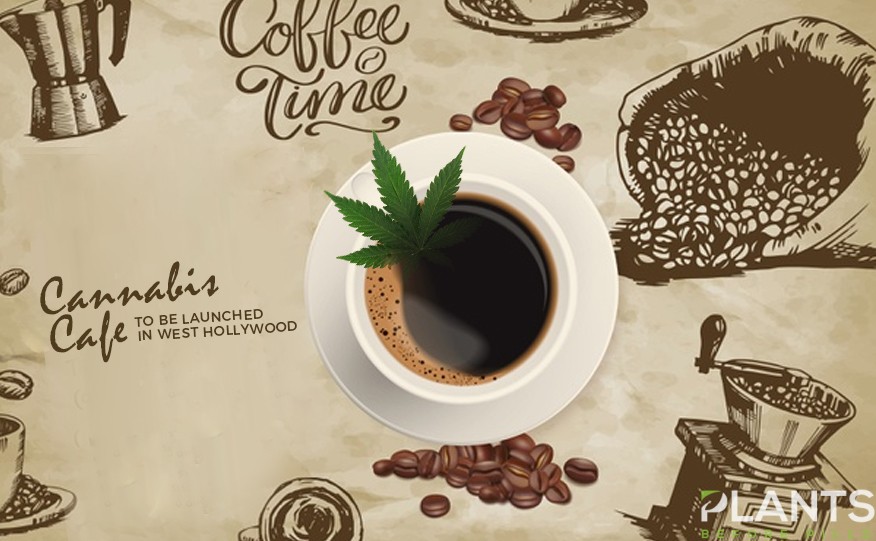 The United States' very first cannabis café is slated to debut this month.  The café recently obtained a business license, permitting customers to consume the plant right within the premises of the establishment. This includes edibles, drinkables and smoking options.
California is a legal marijuana state, which means that residents can consumer recreational and medical products within its premises. This is why the state has a program in which it grants marijuana-related businesses permits and licenses.
Officially called Lowell Farms: A Cannabis Café, the establishment offers a farm-to-table selection for its customers. This model allows consumers to order food and drinks, which will be prepared using freshly picked ingredients, particularly marijuana components.
Chef Andrea Drummer designed the menu to compliment the intensified senses brought about by the plant. While the list of available dishes can change, some of the possible items on the menu include burrata, grilled peach salad, and fried chicken sandwich.
The establishment will also offer cannabis-infused beverages. Note that these drinks will be non-alcoholic.
The café offers a "welcoming and stylish" place for enthusiasts and explorers to hang out and get their hands on cannabis products, food and drinks. As smoking can be involved, the place is also a well-ventilated, allowing for a much comfortable experience.
While cannabis enthusiasts and first-timers visit the business, its owners also target cannabis tourists. These types of tourists are those visiting California from states without legal recreational and even medical cannabis. By hanging out of the café, tourists can avoid being "kicked out of their hotels" when they partake.
One of the unique services offered by Lowell's is its "tableside flower service" which provides customers with a cannabis expert, akin to a wine sommelier. The host will talk guests through a variety of selections, allowing them to choose the best cannabis strains and options the café has to offer.
Aside from dishes made by Chef Drummer, the place will also feature pre-made edibles on its retail counter.
Lowell Farms is a known cannabis product brand in California. It is also burrata as the state's top grower, with partnerships with family-owned grow sites in Cali.
Meanwhile, more than 300 businesses sent in their applications for West Hollywood's special on-premise consumption permit. However, the city has only granted a mere 8 companies as of this writing. Aside from a café, other establishments granted with the license include soon-to-open spas, virtual reality gaming shop, and adult sellers.
Sundae School Unveils Cannabis Goods with Pharma-Themed Event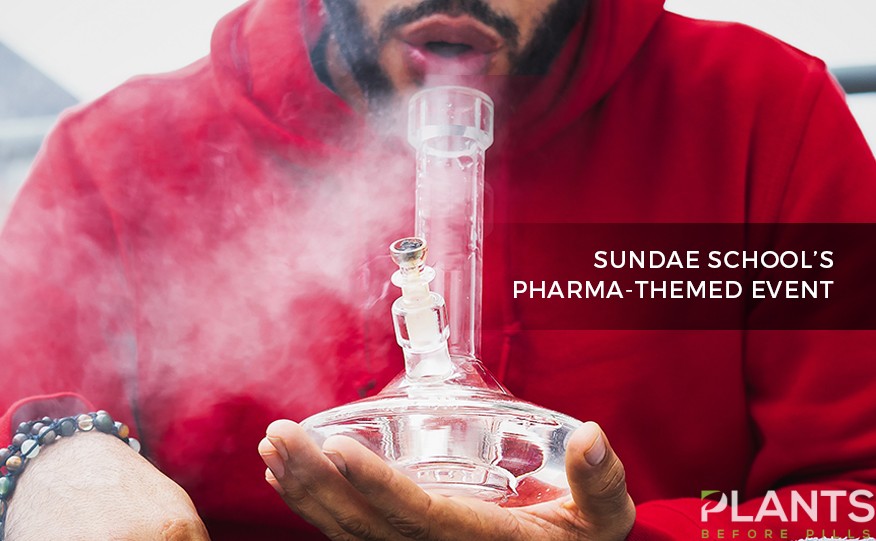 Sundae School recently launched its new cannabis line with a pharmacy-themed event in New York City last August 25, 2019. The lifestyle brand is slated to unveil the full collection later this September.
Sundae School's inaugural cannabis line focuses on providing enthusiasts and fellow enthusiasts with high fashion smokewear, which is usually worn when smoking marijuana. The launch was reportedly done in partnership with the Boiler Room, an independent music platform and cultural curator. Boiler Room, alongside IFFY FM, transformed Schimanski into an apothecary where guests and customers can freely choose their 'medicine' of choice for the night, says Paper Mag.
To complete the look and feel of the event, bartenders were dressed in lab coats. Performers who graced the stage include Amrit, Bambii, DJ Marauder, DJ Miles, Goldlink, Gvijin, Odalys, Proper Edakit, and Wale.
Besides clothing and accessories, Sundae School also showcased some of their finest offerings. These include cannabis accessories and limited-edition CBD smokes, reports Paper Mag.
The theme of the pop-up installation was "The Sundae Pharmacy," an ode to the traditional pharmacies which are found only in South Korea.
Humble Beginnings
Cannabis lifestyle and smokewear brand are founded by two best friends, namely Dae Lim and Mia Park. Both of the duo both became aware of marijuana in their respective boarding schools when they immigrated from South Korea to the United States at the age of 13.
Having officially launched their company on April 20, 2017, the co-founders now have an impressive list of apparel under their belt. The first and second collections featured were named "Chapter 1: Genesis" and "Chapter 2: When Tigers Used to Smoke." These collections featured a wide range of clothing, from tees, hoodies, patches, hats, and jackets. The third and fourth collections were named "Chapter 3: Weed Scholar" and "Chapter 4: The Green Rush."
While the brand initially focused on smokewear, it was able to venture to cannabis operations with the help of Flow Kana, states Bloomberg.
For their latest venture, the duo is set to release a collection of pre-rolled joints along with other limited-edition offerings. However, the items will only be available at a number of partner California dispensaries. The marijuana collection will launch in mid-September, notes Forbes.
The three cannabis strains expected to take center stage include Eureaka (sativa), Nightcap (indica), and Kickback (CBD). According to Forbes, each of these three strains was done in partnership with Chantel Lee. Pre-rolled joints will be available in tins of eight called "Bullets" or as singles.
5 Restaurants That Serve CBD Infused Food and Drinks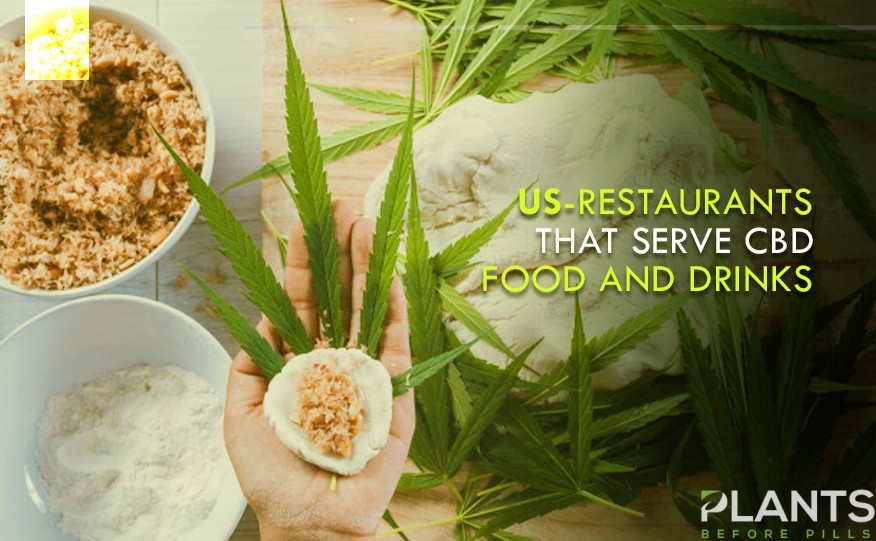 Because of the huge demand for anything cannabidiol or CBD, businesses are also getting into the fun by mixing this compound with their products. For instance, there are restaurants that create meals with CBD ingredient to attract more people into their premises.
In the US, more and more states legalize the use of marijuana and its active compounds like CBD and Tetrahydrocannabinol or THC. In case you need a dose of cannabidiol, here are some restaurants that you can visit.
by CHLOE
A well-known vegan restaurant. This place is a vegan wonderland because all their recipes are made from organic ingredients and are 100% vegan. By Chloe takes pride in their luscious menu, from salads, snacks, sandwiches and burgers, pasta, breakfast meals and of course, desserts.
Their CBD treats include chocolate leafy brownies, Ooey Cinnamoney roll, Chocolatey Cookey GF, Salty Peanutty Buttery Piey and more. The brand introduced a line called FEELZ, which sells its own collection of CBD-infused sweets. Check out FEELZ by Chloe to see more desserts they sell.
Zenbarn
Zenbarn offers a healthier set of meals to fill your tummy. They have snacks for sharing, cocktails, noodles, vegan bowls, drinks and more. This place has become a gem for its Salad infused with CBD dressing. A perfect combination of greens and natural ingredients that are not only good for the body but also tasteful.
If you are in the mood for a heavy snack, you might want to try the chicken wings in CBD garlic parmesan flavor. All the ingredients are gluten-free and you will love the combination of garlic and cannabidiol. Zenbarn also has CBD-infused burger or the '420 Burger' with CBD aioli for that mild hint of cannabidiol.
Fuel
Looking for an extra boost? Philadelphia's Fuel is not only healthy but also flavorful because of fruity smoothies. This restaurant infuses cannabidiol to its smoothies that taste like a normal one but makes one feel relaxed and pain-free. Their CBD Menu consists of CBD Berry Dream which has strawberry, Mango, Apple, and Banana; CBD Green Dream which has Kale, Spinach, Honey, Pineapple and Ginger; and CBD Orange Dream which has Non-Fat Yogurt, Banana, French Vanilla Shot and OJ.
In case you have a busy schedule and you don't have time to cook, you can drop by at Fuel and get your cannabidiol fix.
The Breslin
A New York City hotel called Ace Hotel serves CBD-infused brownies at its lobby. The Breslin added the new line of cannabidiol-infused pastries and cocktails to its menu. The restaurant uses Rosebud CBD oil as its main ingredient for brownies and cocktails.
The pastries are the best-sellers to the Breslin, especially the brownies. Before, The Breslin allowed RSVPs but eventually turn it down due to busy scheduling and high demand. The cocktails are also a game-changer which is a rendition of a French drink that has Rosebud CBD oil. All in all, this place is perfect for early night drinks and dessert.
Bubby's
Try coffee with a twist that is CBD at one of New York's famous eatery, Bubby's. The restaurant serves coffee with an added CBD sweetener for that relaxing treat. It is both refreshing and energy-boosting every sip. Try the coffee with their house specials Bacon, Mac N Cheese, and Fluffy pancakes.
If you're in the mood for good food, drinks, and desserts, these are the restaurants you can check out for that extra special ingredient that is CBD. Remember to check the dosage or strength to avoid any side effects like upset stomach and nausea. Although CBD oil benefits are guaranteed, it's also important to know how much you can tolerate.