CBD-Themed Mother's Day Gift Ideas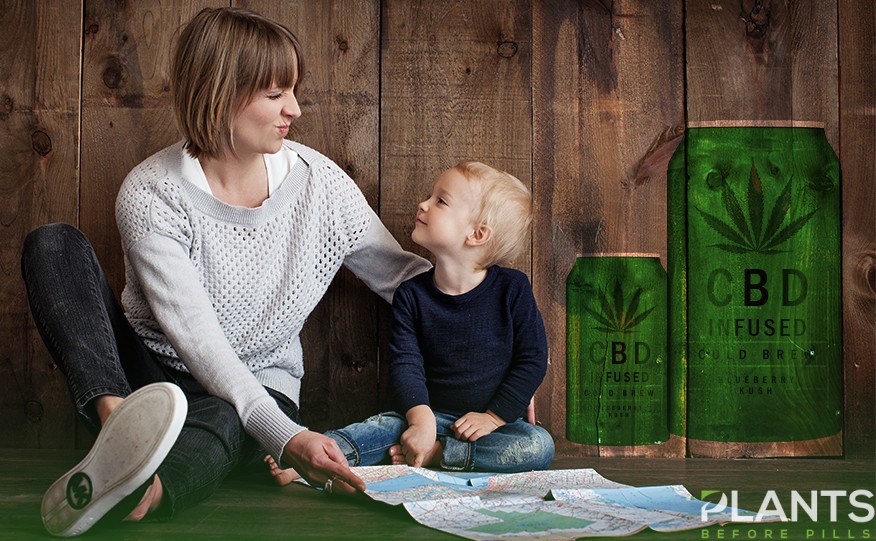 There's no denying that our mothers play a big part in our lives. Aside from being us into this world, moms are our anchor to this world. May it be a biological mother, an adoptive one, an aunt whose motherly instinct and care has carried you in tough times – showing your love and appreciation for all their hard work is only important.
While you may be tempted to give generic gifts and items from the drugstore or even pick up flowers or a piece of cake from your nearby grocery, bear in mind that taking into consideration their preferences is one you should not forget.
Don't be tempted to get the first mug or shirt you see. Instead, pick a thoughtful gift that shows just how much you know her. Whether it's something she has wanted for a long time or just an item she has mentioned in passing, make sure that what you get will make her smile and feel like the queen she is. After all, you cannot put a price on her happiness and everything that she has done for you.
So, for those of you who have cannabis-loving moms, here are some weed-themed gifts you can give for Mother's Day:
Amazing CBD-Inspired Mother's Day Gifts
For the Caffeine Addict
There's nothing like waking up to the scent of freshly-brewed coffee in the mornings. If a good cup of Joe is the only thing that will perk up your mom, why not give them something new? A CBD oil-based coffee is the way to go.
If you happen to be in Portland, Oregon, you can bring your mother for a once-in-a-lifetime experience at the Grön Cafe. This CBD-based café dubs itself as America's first licensed CBD café, so you're surely in for a treat. However, you can also get a CBD oil latte at Gregory's Coffee in New York. Should you go to the Big Apple, make sure to explore the tourist places as well. You can also purchase CBD hemp oil infused coffee from Strava Craft Coffee for their quick fix.
While you are it, consider giving the main woman in your life a pour-over set. An OXO one is the perfect accompaniment for their CBD oil-based drink.
For the Accessory Fiend
For the mother than appreciates a good cannabis-themed accessory, gifting a ceramic bong is more than ideal. The clean, sleek lines would surely complement any place or room in their home. Plus, the minimalist design makes it easier for them to hide should their parents or grandchildren come over.
One of the brands on the market that have simple, yet beautiful designs is Summerland Ceramics. This brand has a ton of gorgeous terracotta bongs and pipes designed to enhance their smoking experience. Another brand that takes pride in having ergonomic ceramic pipes is Miwok Junior. Giving your mother a piece from either of these collections will surely elevate their smoking pleasure.
If your mom wants to go in another direction, giving her a CBD oil vape pen starter kit will give her a whole new experience.
For the Mom Who Likes to Read
As they get older, our mamas tend to relax and read more in their spare time. This allows their brain to work and be stimulated even while they are just at rest. One of the best reads about cannabis is Smoke Signals by Martin A. Lee. This book makes a compelling case about the history of cannabis and its implications on society.
Furthermore, this book sheds insight on the misguided notions of society and the authorities who were then waging a war on this plant. Reading the pages of this eye-opening read will surely make your dear mommy appreciate how far the movement has come.
For the Mom Who Deserves a Spa Day
Our mothers deserve only the best that life has to offer. If your mom has constantly been asking for a foot rub or well-deserved massage, what better gift to give than an all-expense paid spa day?
A CBD hemp oil-based facial at Heyday Skincare will certainly take years off her face, allowing her to look glowing and younger than ever before. You can choose from a 50-minute or 75-minute facial. The ultimate glam experience includes a CBD oil-infused facial massage, a warm CBD avocado honey mask, and many more.
However, if your mama does not want to go out of the comforts of her own home, you can simply bring a basket of goods for her. You can buy pure cannabidiol-infused honey from Hey Skincare so she can use a mask at her own place.
For the Mom Who Loves Fancy Home Décor
Now that the home decorating trend has taken over the world by storm, chances are, your momma is one of these individuals who has been bitten by this decorating bug. If she has been getting into home goods and décor shopping, a good conversation starter piece is something she will definitely appreciate.
While there are some posters and prints that appear to be tacky, there are also some pictures and décor that are subtle yet still look out of this world. A minimalist yet unique piece you can give is the crossbar ashtray from Love + Destroy. The brand also boasts of a pebble ashtray that will go well with any space. Pair this with a pipe from the same brand and her smoking experience will never be the same.
A ceramic set from the JA x Sweet Leaf collaboration will also provide your mama everything that she has been looking for. Complete with a stash jar, rolling tray, and ashtray, there is nothing she could want more.
Except maybe the crystal-looking ashtray from Andre O. Hughes. This art piece will make your momma's living (or dining) room feel like a gallery of sorts, especially when the sun hits the ashtray just right. From rose-colored to citrine to amber, this piece will change hues right before your very eyes.
For the Foodie
There are mothers who just can't get enough of CBD oil edibles. If your mommy is one of these food enthusiasts, give them a basket filled with all the delicious cannabis goodies you can find.
The sativa pastilles from Beboes will surely satisfy her sweet tooth. Not to mention, this will give your mom a subtle yet euphoric high that they have been looking for. Diamond CBD also has an assortment of CBD hemp oil edibles available on their site. Some of their yummy flavors include peach, watermelon, cherry, and many more. They even have varying gummy shapes and sizes, from bears to worms and everything else in between.
Lord Jones also has a collection of CBD gumdrops made from natural fruit flavors and gelatin. Meanwhile, chocolate lovers will have a grand time tasting artisanal chocolates made from premium cacao and cannabis. Ask her to pair this with wine and she is set for the night ahead.
Another option you might want to consider when it comes to giving gifts includes the recipe book titled Cooking with CBD Oil: Delicious Recipes for Edibles and Everyday Recipes for Healthy Living by John Leggette, a medical professional. This recipe book will inspire your mommy to get more creative in the kitchen.
For the Skincare Loving Mom
While your mother is not getting any younger, presenting her with skincare and beauty items will definitely keep her skin looking young and supple. As pure cannabidiol oil is known for its antioxidant and moisturizing properties, these CBD infused beauty products will not only make her skin glowing, it can also combat signs of aging and even stave off acne and inflammation.
Some of the best and most raved about skincare products on the market include Herbivore's Emerald Cannabis Sativa Hemp Seed Deep Moisture Glow Oil. This beauty oil is meant to nourish the skin and help soothe irritation. Another highly praised product is Milk Makeup's Cannabis Sativa Seed Oil Hydrating Face Mask. Coming in a handy travel-sized container, this is perfect for moms who want hydration even while they are on the go.
For the Beauty Junkie
What's the use of all your mom's skincare products if her natural beauty isn't enhanced, right? With the help of cannabis makeup, she can look and feel her best.
One of the popular makeup items on the market is Milk Makeup's Kush Mascara. This is a godsend for anyone's who has ever had problems with short lashes. With a good amount of CBD hemp oil, this can make lashes look fuller and be more moisturized at the same time. MGC Derma also has a CBD BB Concealer Repair Cream that's made with SPF 20. This can prevent wrinkles and combat signs of aging while concealing blemishes.
To help you give back to this special woman in your life, take a cue from one of these gifting suggestions. Who knows, you might find one that tickles your mother's fancy.
A 7-Step Guide To Growing Marijuana at Home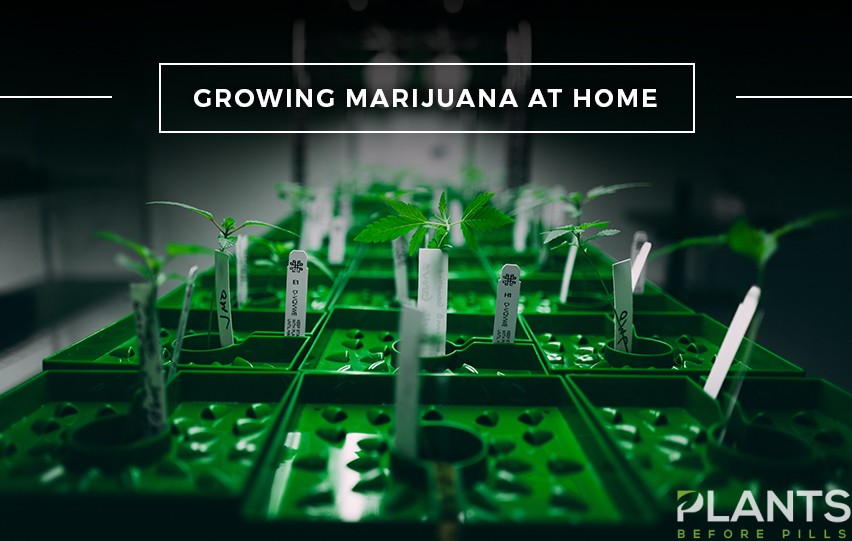 All the talk about cannabis can cause excitement to the point of getting your hands dirty and growing your very own plant. It can be a fun hobby and the start of an exciting business opportunity as well.
Also, for individuals using cannabis for medicinal value, it is possible to obtain the best quality buds grown with proper care. From seeds to buds, here are seven steps to follow to grow a cannabis plant at home.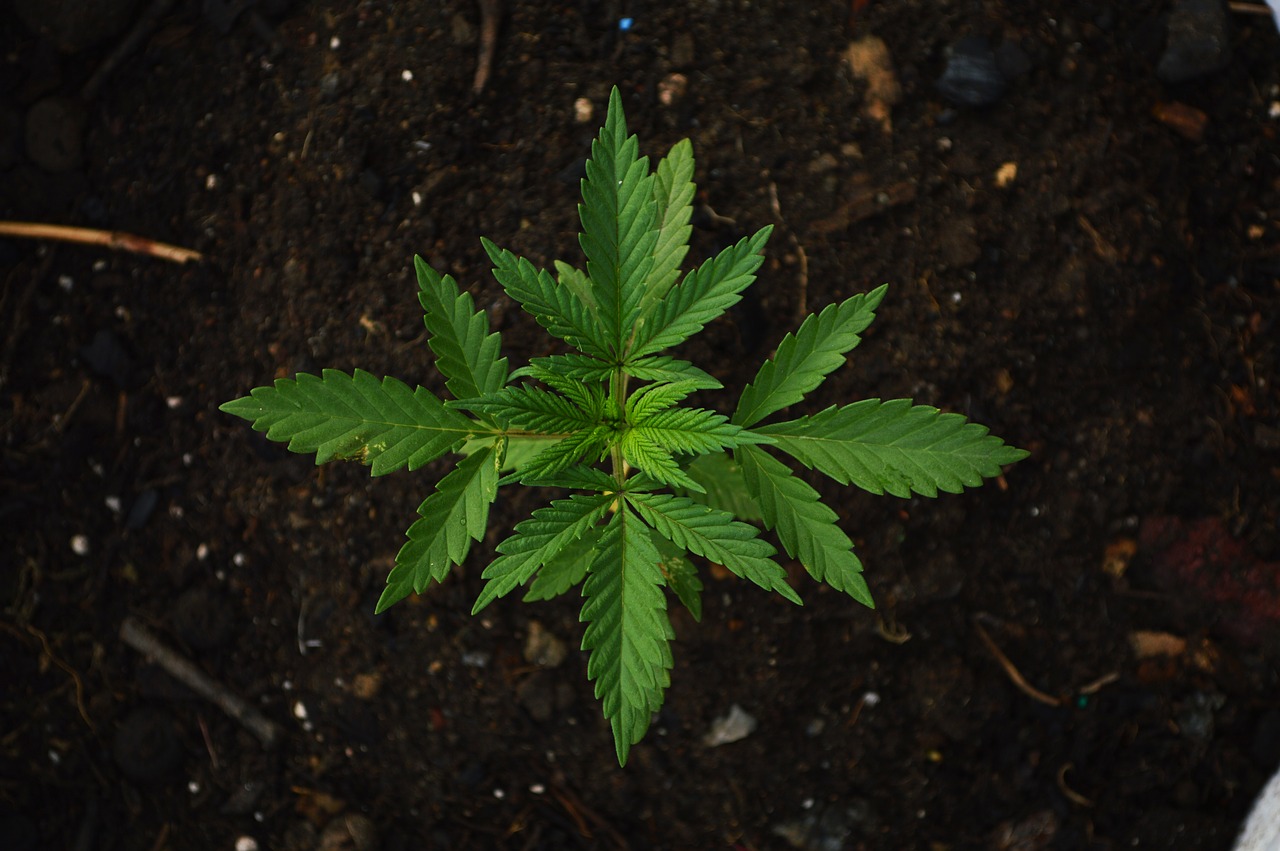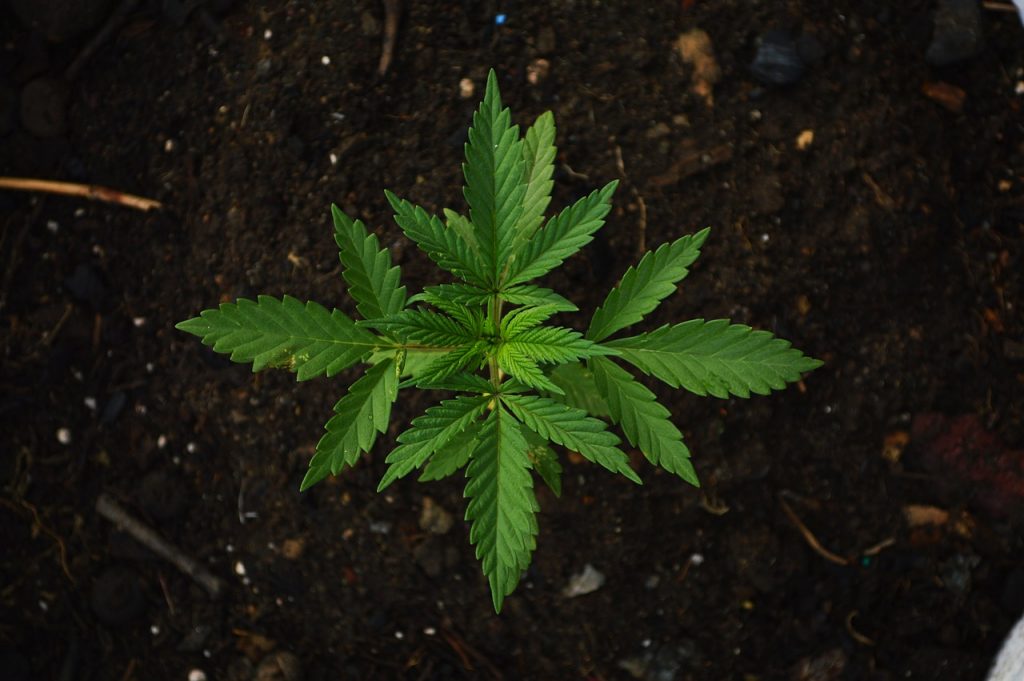 1. Choose the Perfect Spot
Finding the right location to place your cannabis plant is crucial. Although cannabis is not a demanding species, there are certain conditions required to ensure your yield is of the highest quality.
The place you select for your plant must be secluded and out of the way to reduce tampering. It must offer the liberty to control essential parameters such as temperature and light for the plant to grow well.
You can choose an empty room, basement, attic, garage, or any space available that is easy to clean and private to grow your very own cannabis.
2. Pick the Right Seeds
Choosing the right cannabis seeds helps to achieve a good yield for your use. If you are planning to grow any particular strain for medicinal usage, you can shop here from your trusted source of premium marijuana seeds.
If you are a first-time in growing marijuana at home, choose the easiest strain to care. It will help you learn about the plant, while not having to invest too much time, money, and other resources into it when growing marijuana at home.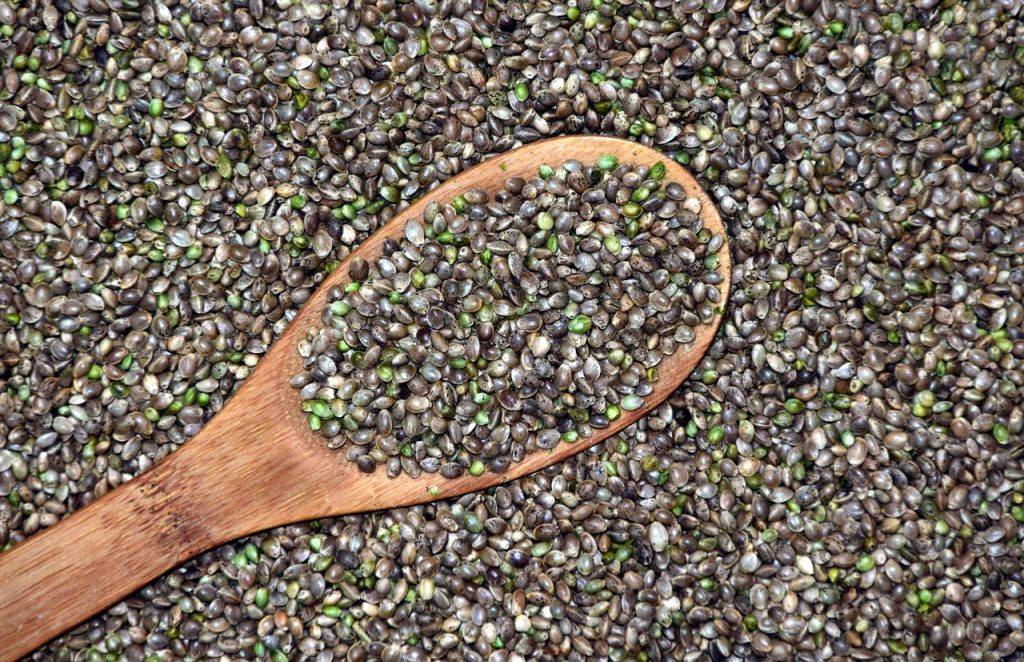 Among pure, feminized, and auto-flowering seeds, auto-flowering could be the best choice for novice growers. They produce 100 percent female plants that will give a completely usable yield.
Also, auto-flowering seeds eliminate the need for photoperiod control in cannabis plants, making it easy for first-time growers. The seeds are straightforward to grow, and a simple set can give you a healthy yield.
3. Choose Growth Medium
Once you know the right place to plant your cannabis, you need to prepare the area to support growth.
The growth medium is responsible for transferring nutrients through water, and the entire set up should be capable of doing so effectively. You can choose between growing in the soil, or soilless mediums, such as hydroponics.
In the case of soil as a medium, water the plants and add nutrients to the soil for the plant. But in hydroponics, you directly feed the necessary nutrients to the water that increases absorption efficiency and supports quicker growth. It also reduces some common problems with soil as a medium, such as pest infestations.
Although both pose specific advantages, using soil is the best choice for first-timers to make the process simple and straightforward.
4. Set Up the Growth Area
Now you can move on to work on the growth area to nurture and support your cannabis plant.
Make sure to create provisions for adequate light availability in the home growing area. You can rely on sunlight or invest in artificial lighting systems using LEDs, HIDs, or fluorescents to create the right light levels.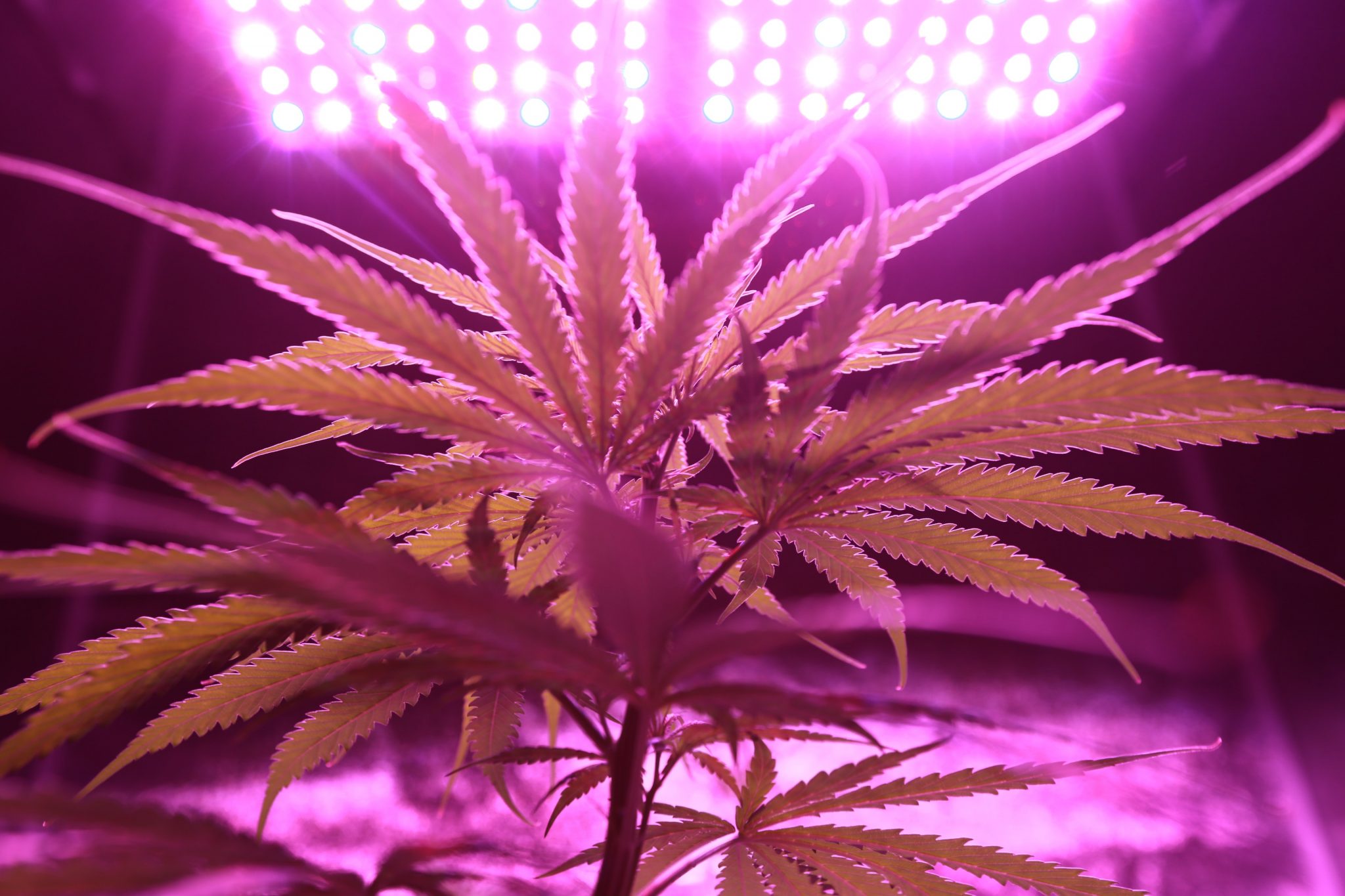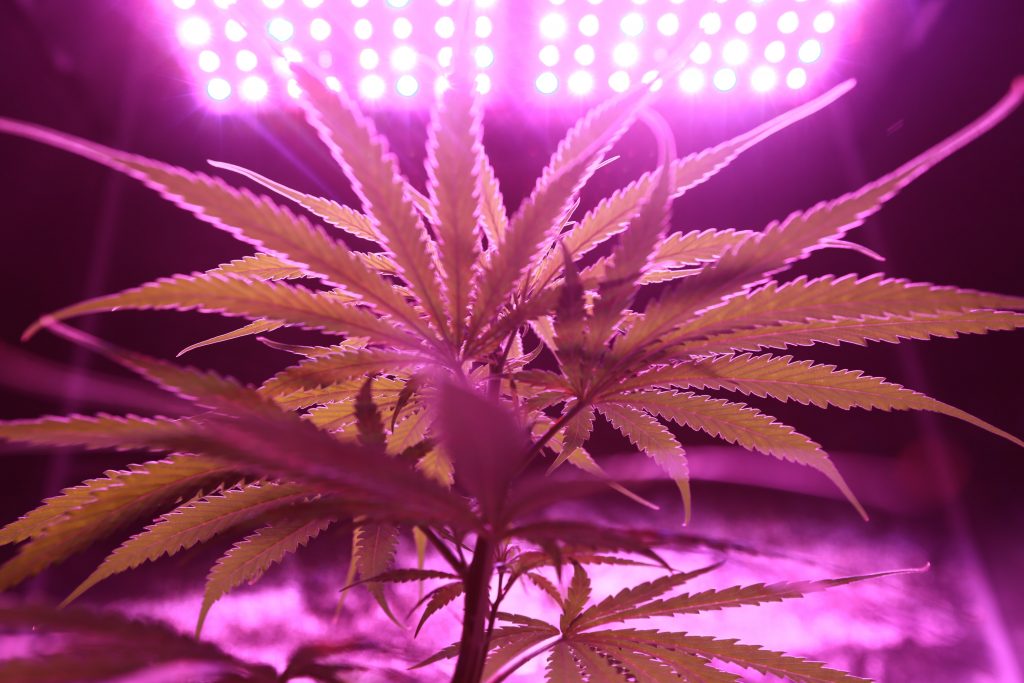 Measure the temperature and humidity levels and install ventilation mechanisms to keep these parameters in check when growing marijuana at home. It reduces the risk of pest infestations and mold and keeps the area from smelling pungent.
Check the pH levels of your growing medium. The ideal range should be between 6-7 for soil and between 5.5 – 6.5 for hydroponics.
Test the soil to understand the availability of essential nutrients and supplement with the rest to promote growth at different stages.
5. Germinate and Plant your Cannabis
The next step is to germinate your seeds. Place the seeds directly in a pot or in a wet paper towel and leave it for a few days to let it sprout. Using a pot as your germination medium is advisable as it reduces the transplanting shock in the next stage.
When you plant sprouts, transfer it along with the soil to a large pot or grow medium.
The plant is now going to transition into a vegetative stage where you will see the sprout grow into leaves. The temperature requirement is slightly higher during this time, and all the essential nutrients need to be adequately available for healthy growth.
Be mindful of light availability throughout this period. Monitor the growth and look out for any signs of plant deficiencies to provide the necessary remedies.
6. Monitor the Flowering Stage
The next step for your cannabis plant is the flowering stage. This is when your plant starts to form small flowers, which will eventually turn into buds that we consume. It is a critical phase in the life of a cannabis plant and requires maximum care and attention.
If you are working with pure cannabis seeds in growing marijuana at home, you might have to vary the photoperiod to lead your plant to this stage and weed out the males. Auto-flowering seeds reduce the effort in such areas and only require minimal adjustments in temperature.
Maintain the temperature between 64° F and 78°F and increase the watering levels to flush your plant with nutrients that contribute to aroma, taste, and potency.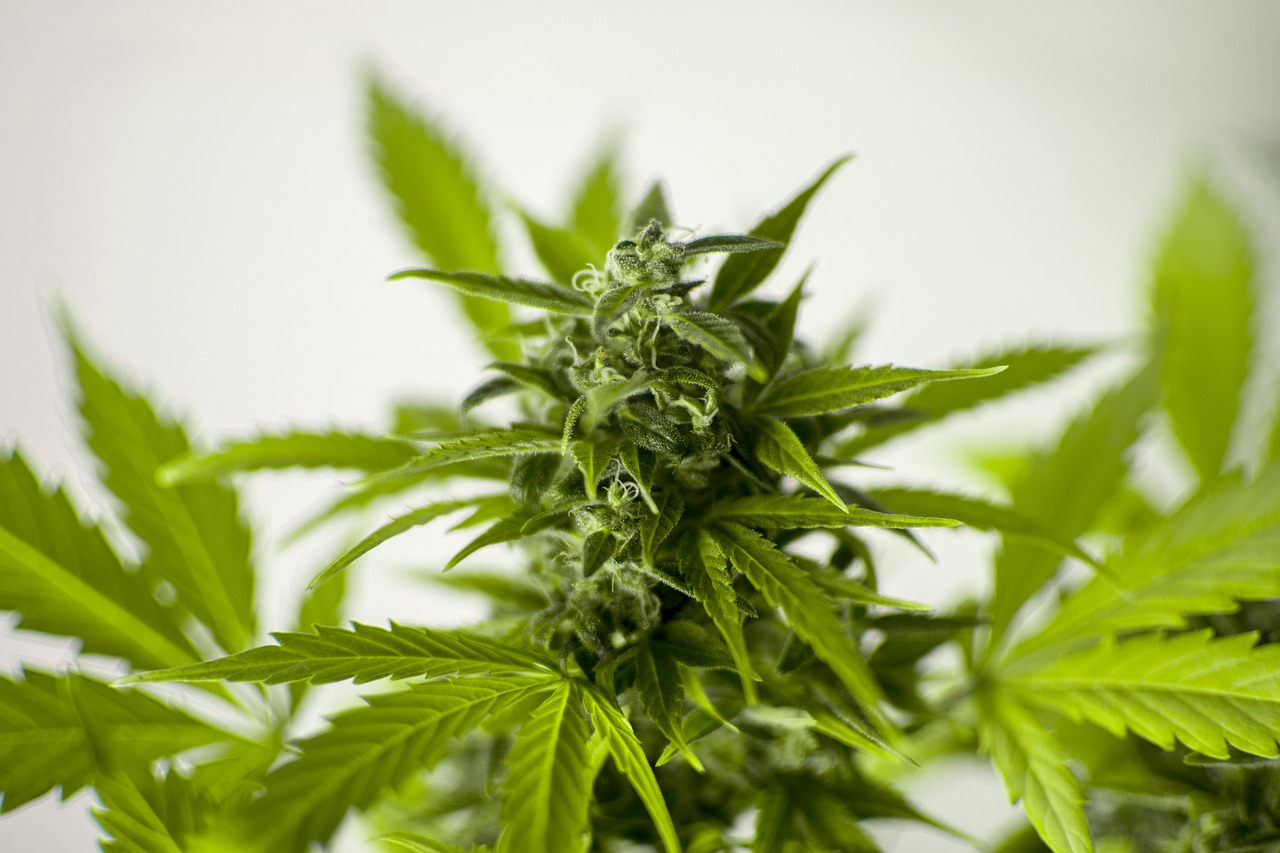 Your plant also requires some grooming during this stage to provide space for the flowers. Trim and bend the leaves to make sure your entire plant gets enough light and nutrients and is easy to maintain.
Watch out for signs such as yellowing of leaves or browning at the tips, which could indicate pH imbalance or nutrient deficiency. Caring for your plant during this stage will give you the best yield.
7. Get Ready to Harvest and Relish the Yield
Finally, the moment you have been waiting for. It is time to harvest the buds and relish your yield. The color depth of the pistils and hairs indicate the maturity and potency of the buds.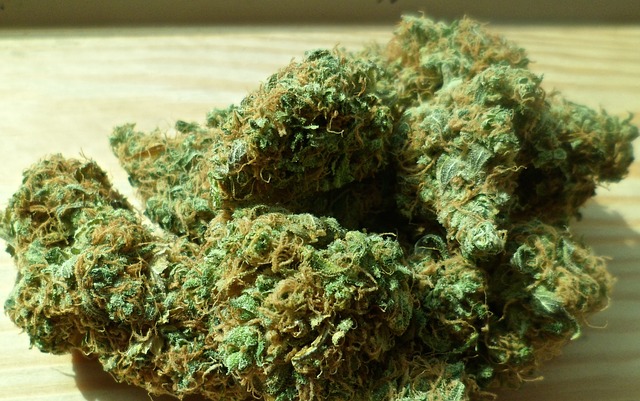 When they are about 50 – 70 percent dark, you will get a yield rich in THC content. If you wish to enjoy a relaxing effect from the buds, then wait for at least 80 percent of the flowers to become dark in color to harvest.
With the help of scissors, cut the buds and hang them upside down to dry out for five days. Place them in a jar and store in a cold, dry, and darkroom. Make sure to remove air from the container to let the buds cure and get ready for use.
Growing your cannabis at home can be a fun and exciting activity, but it can also be challenging at times. Although these instructions give you the basic idea of taking your cannabis seeds through the growth process to harvest, there are several strain-specific details, such as temperature levels and lighting requirements that need to be taken care of.
Research and gather these details and apply them wherever relevant to cherish the yield of your cannabis plant.
Stuck at Home? Catch Up on Your Reading with CBD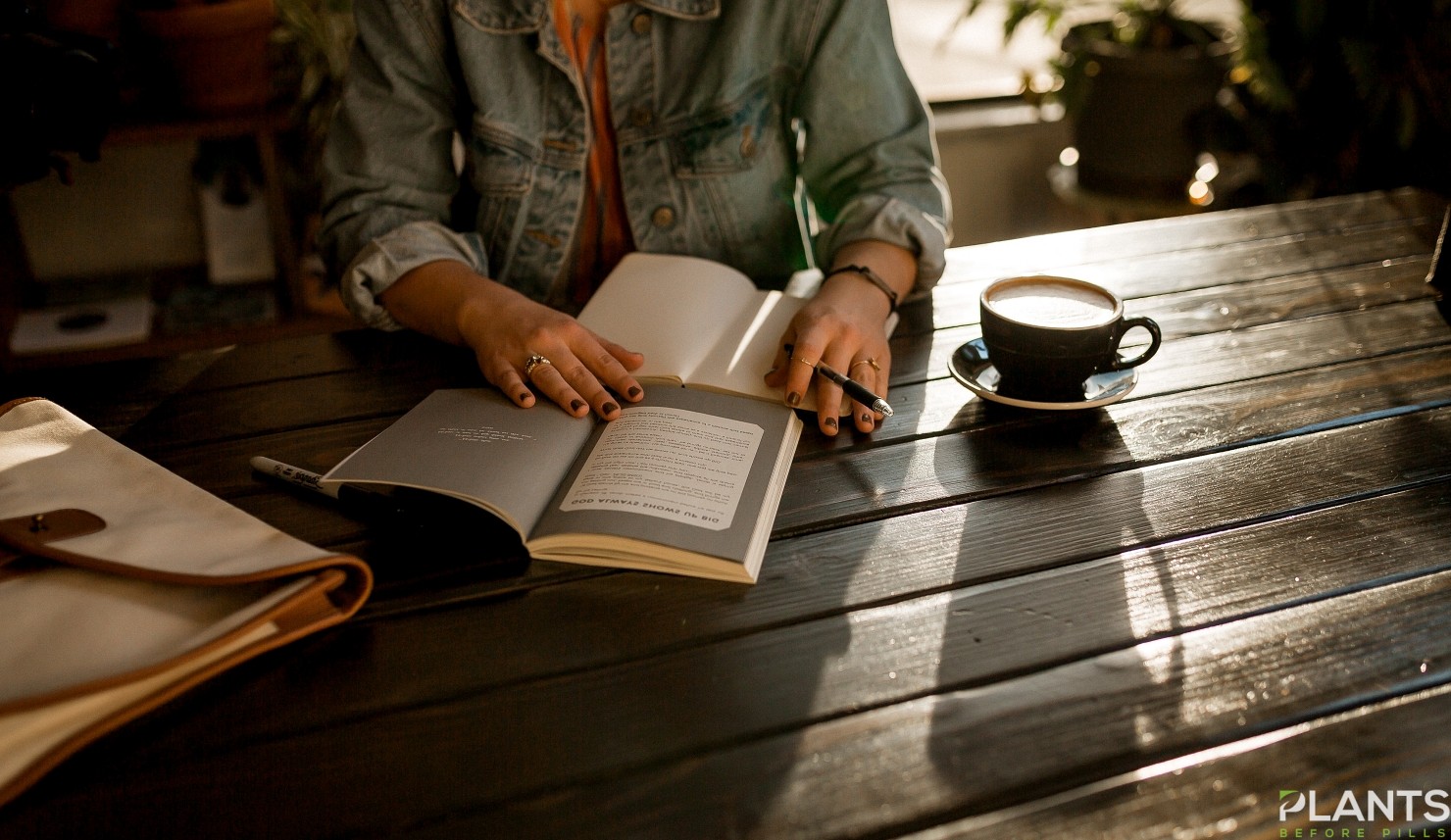 The social media age has paved the way for a wide variety of fun and friendly challenges across various platforms such as TikTok and Instagram. You can find people posting dance and photo challenges that definitely capture the attention of friends and followers. For bookworms, the 52 Books challenge is a great way to dare yourself while also doing something you care about. Reading with CBD products has a lot of benefits.
This challenge urges you to read one book per week. Some lets you freely choose what material you want to consume, while others take the dare to the next level by giving you a specific theme for each week. This may be more difficult especially with responsibilities in the way, but the quarantine could give you a time to catch up.
If you are up to the task, why not consider doing it with cannabidiol? This highly beneficial cannabinoid can do wonders for your mind and body. Here's how you can use CBD products to catch up on your reading: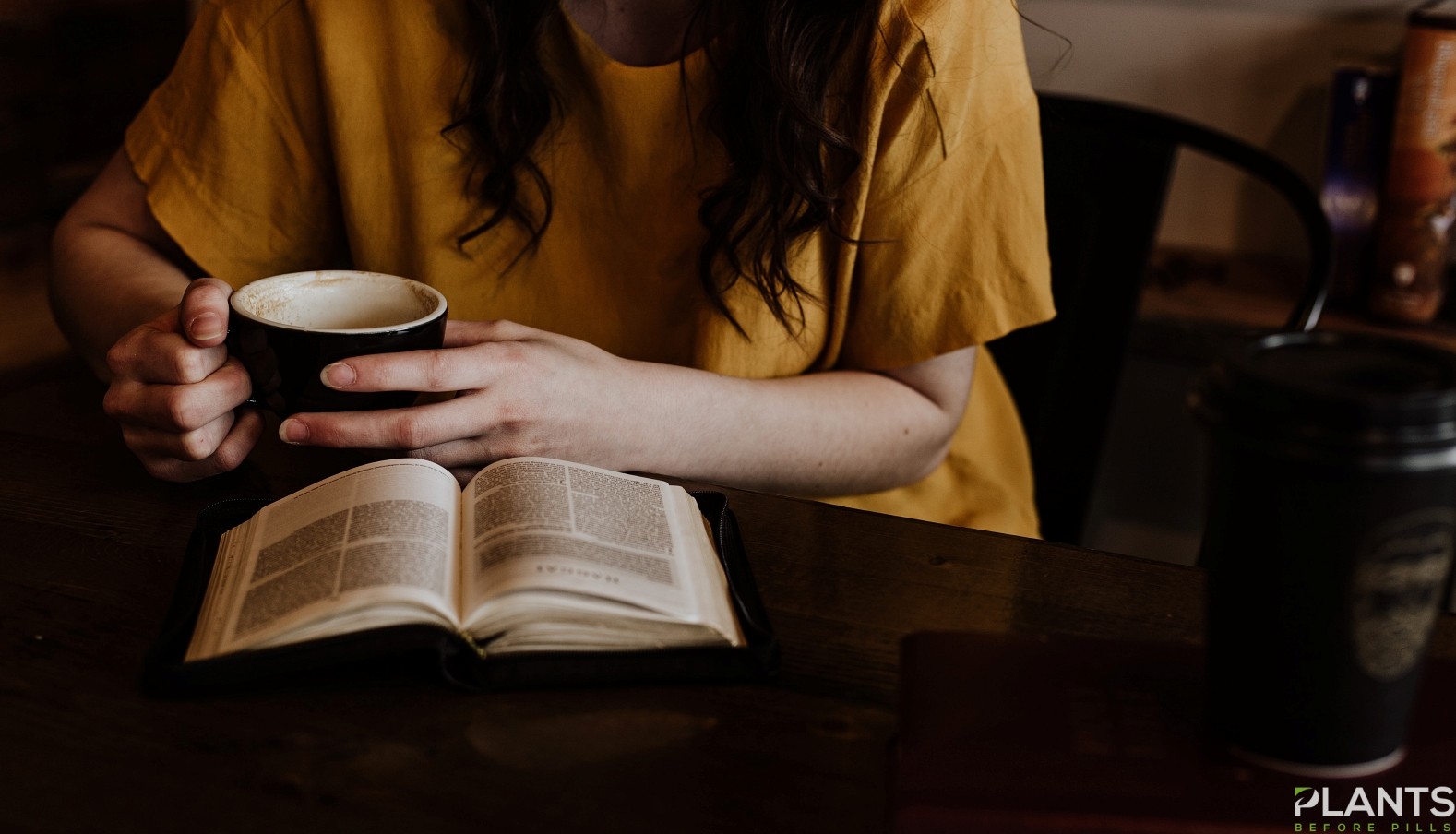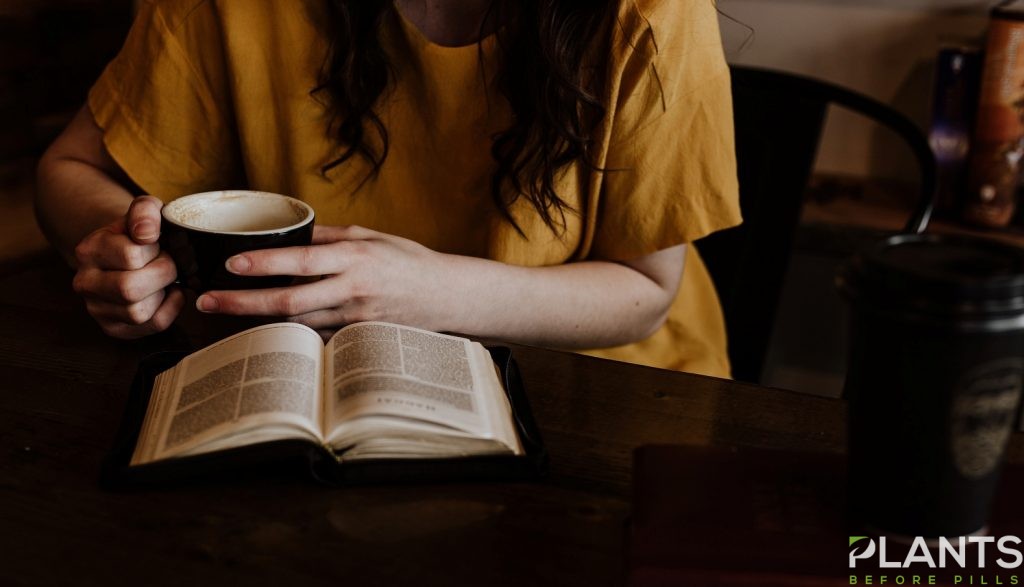 How to Use CBD to Catch Up
Calm Your Mind
When reading, you are primarily flexing your mind. You absorb words, information, knowledge, and experiences from your eyes directly to your brain. However, overstimulating it can make you feel exhausted, which can lead to other issues such as stress and anxiety. Because of this, you want to give your mind a break by taking some CBD for anxiety. This will let you ease your stresses while also preparing your brain for another round of reading.
Aside from letting your brain rest, you can also benefit from the cerebral effect of this substance. It is known to boost cognitive functions, making your reading more effective and efficient.
Get Some Sleep
Reading may be a leisurely activity for you, but it can be exhausting after a while. This is why you want to make sure that you get enough sleep to give your brain a rest. Understandably, you may have trouble sleeping during these times, which is the reason that you might want to take CBD oil with your evening tea.
This cannabinoid not only gives you a cognitive and energy lift, but it also helps you fall asleep when you need it. That's right! Consuming cannabidiol is a two-way street as it is known to regulate your mind and body depending on your needs.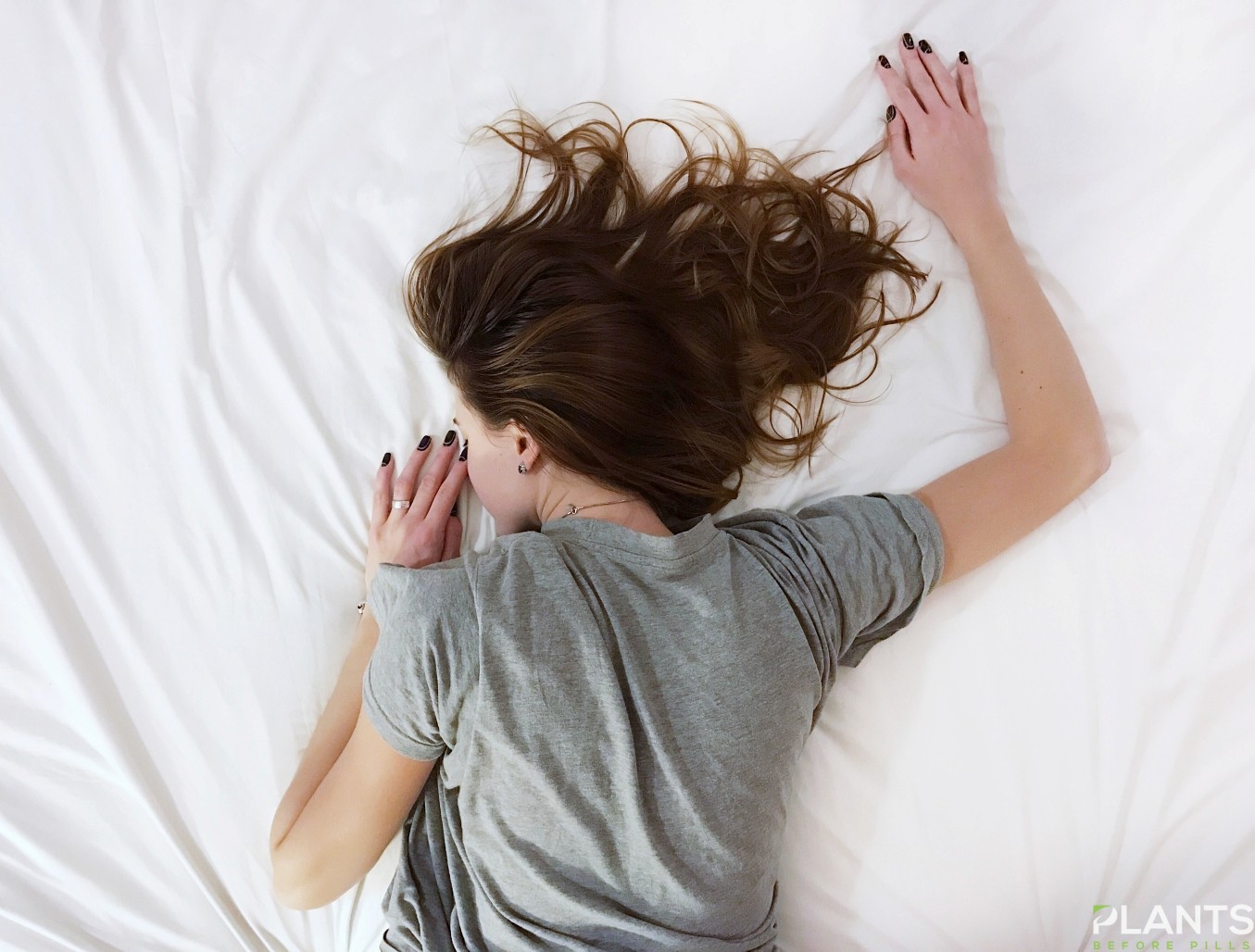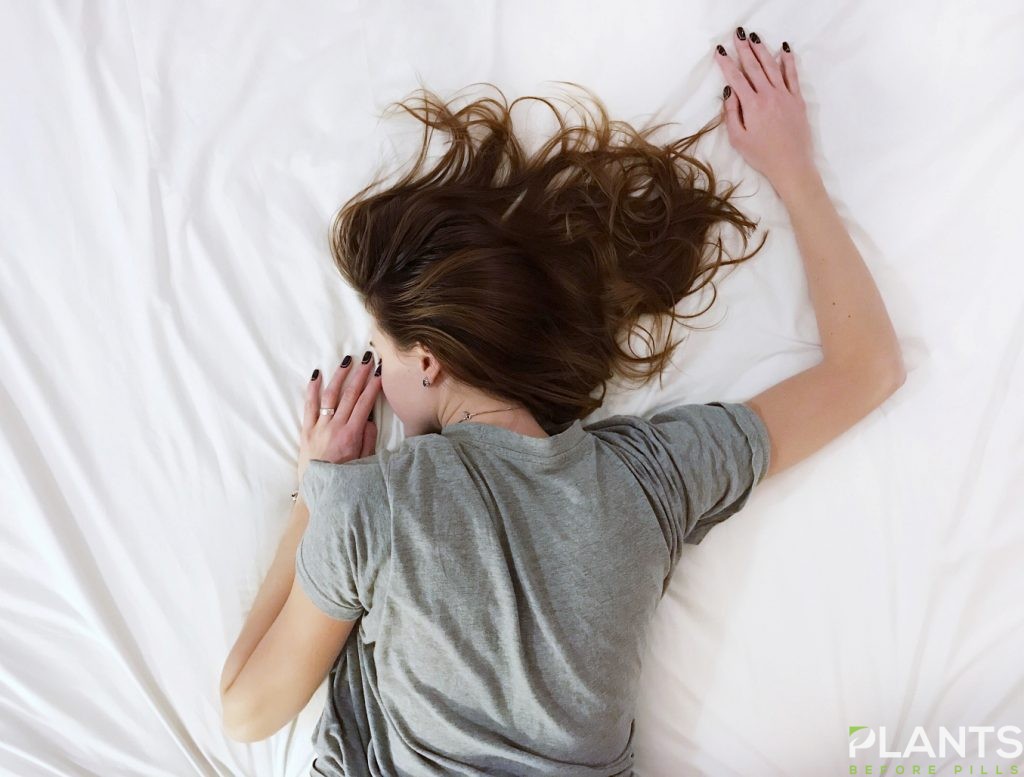 Take Away Distracting Aches and Pain
Everyday stressors, especially during a demanding and traumatic incident such as a pandemic, can be a major source of aches and pains. Add this to existing conditions such as frequent migraines and back pains and you might find it harder to push through with the challenge.
Instead of taking pain killers, the best way to deal with this is to consume CBD for pain relief. This cannabinoid works with the human body's endocannabinoid system to directly address pain through receptors located in pain and pleasure centers of the body.
Just Have a Good Time
Reading can be taxing depending on the content, your mood and the conditions in which you are consuming written material. However, you can help yourself have a good time by consuming CBD oil with THC, which is the psychoactive component of the cannabis plant. Just make sure that this is legal in your state and you can enjoy these cannabinoids without worries.
The thought of catching up to piled up reading materials can be intimidating, but with the help of cannabidiol and CBD products, you can make the challenge a more productive and fulfilling one. So, make sure to check out what this substance has to offer and reap the benefits it can give.
4 Safe Ways to Consume Cannabis Even in Quarantine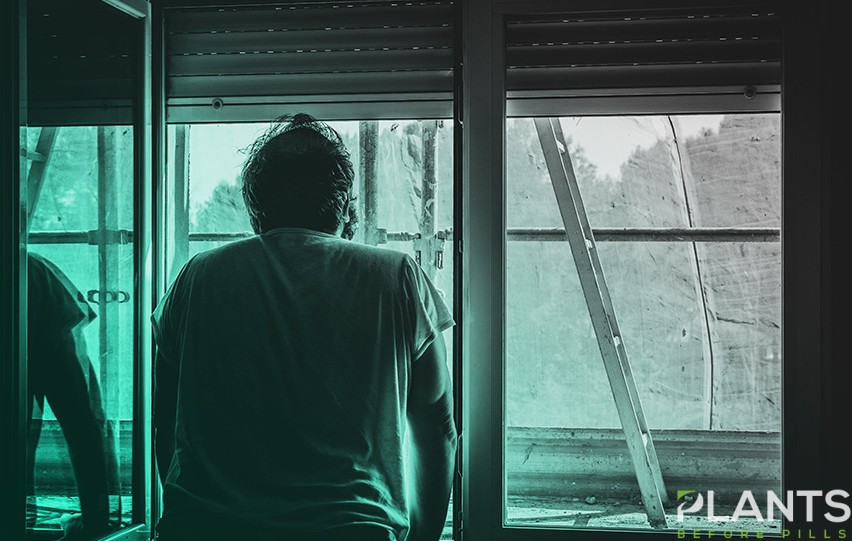 The coming of the virus pandemic has greatly changed the way people interact with one another. Socialization and gatherings need to be halted for the moment, and even purchasing items from the store (or your nearby dispensary) has become a whole other experience. Quarantine has been imposed almost everywhere.
With social distancing protocols in place, it's easy to say that cannabis culture will suffer, especially as this industry hangs heavily on its traditions and of course, its socialization practices with other like-minded people and communities. However, you can still keep the community practices and traditions alive at your own home, at least in the meantime.
Cannabis Consumption While Under Quarantine
If you're excited to consume cannabis products, below are four safe ways to do so. Take a look.
Consider Other Means Apart from Smoking
The World Health Organization (WHO) recommends that individuals refrain from smoking, especially as this can greatly weaken not only the lungs but the overall respiratory system. Though there are still no studies that link the consumption of cannabis to the prevalence of COVID-19 symptoms, experts and medical professionals deem it fit that smoking and other similar activities only exacerbate respiratory illnesses and conditions, leading to a compromised immune system.
In place of smoking your own joint, it's best that you opt for a CBD vape pen instead. Better yet, why not try CBD oil tinctures? This can easily be consumed whenever and wherever you wish. Plus, it doesn't pose risks compared to that of smoking.
Rely on CBD Oil Edibles
With smoking and the traditional puff, puff, pass a no-go now that the virus is still very much present, many people are leaning towards CBD oil edibles and even marijuana beverages on the market. As a matter of fact, studies have shown that sales for cannabis edibles have skyrocketed to 14 percent just as the pandemic hit. Thankfully, there is a wide range of edibles to choose from, including gummies, candies, chocolates, and even baked goods.
Cook Your Way with CBD Oil
Speaking of baked goods, what better to cope with stress and anxiety that the pandemic has brought upon us, particularly cannabis culture, than by cooking your way through this quarantine? For many people, cooking and baking have served as a therapeutic outlet of sorts that allowed them to channel their stress towards something more productive and delectable. At the same time, it allowed them to maintain a sense of normalcy, if not turn to another (virtual) community.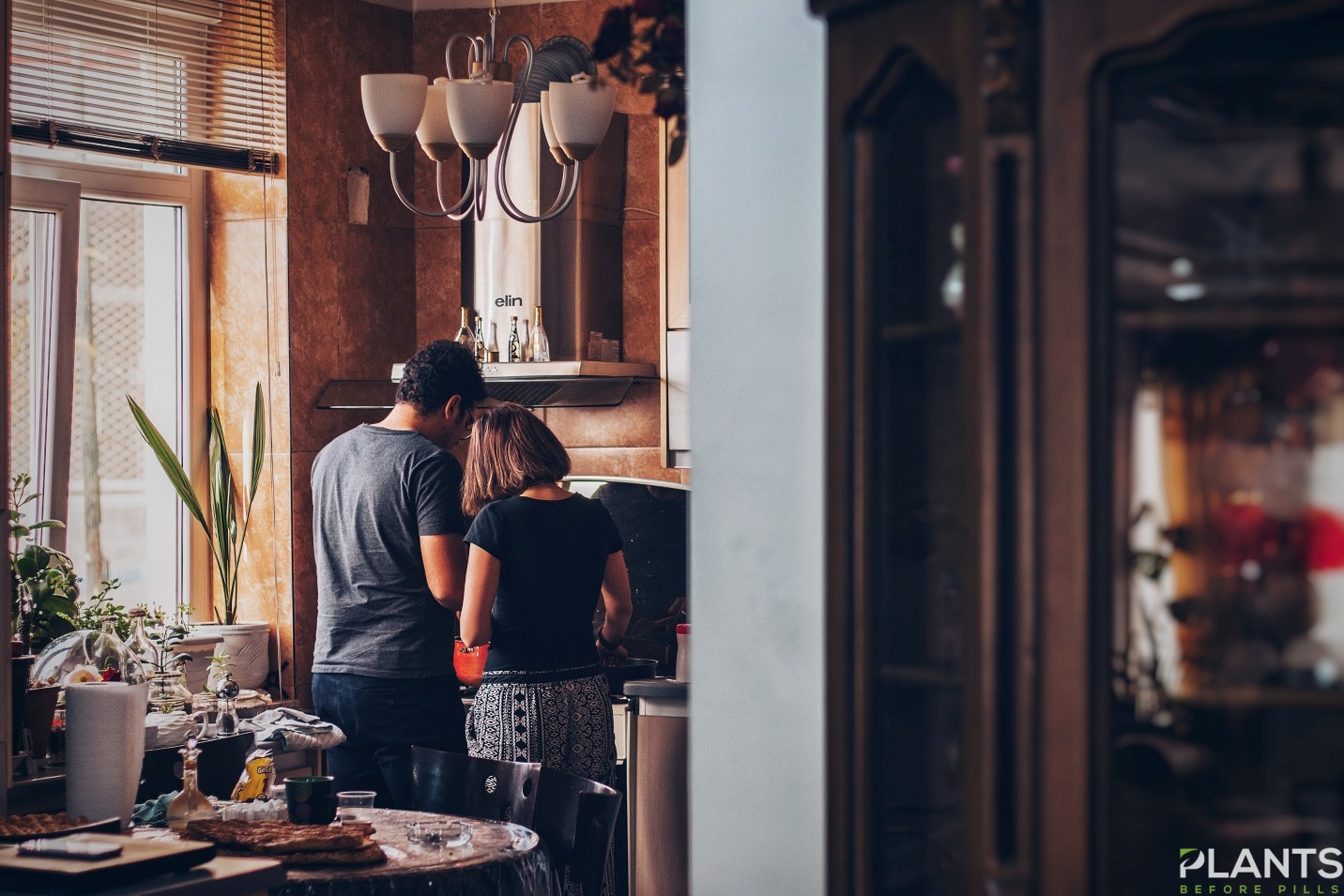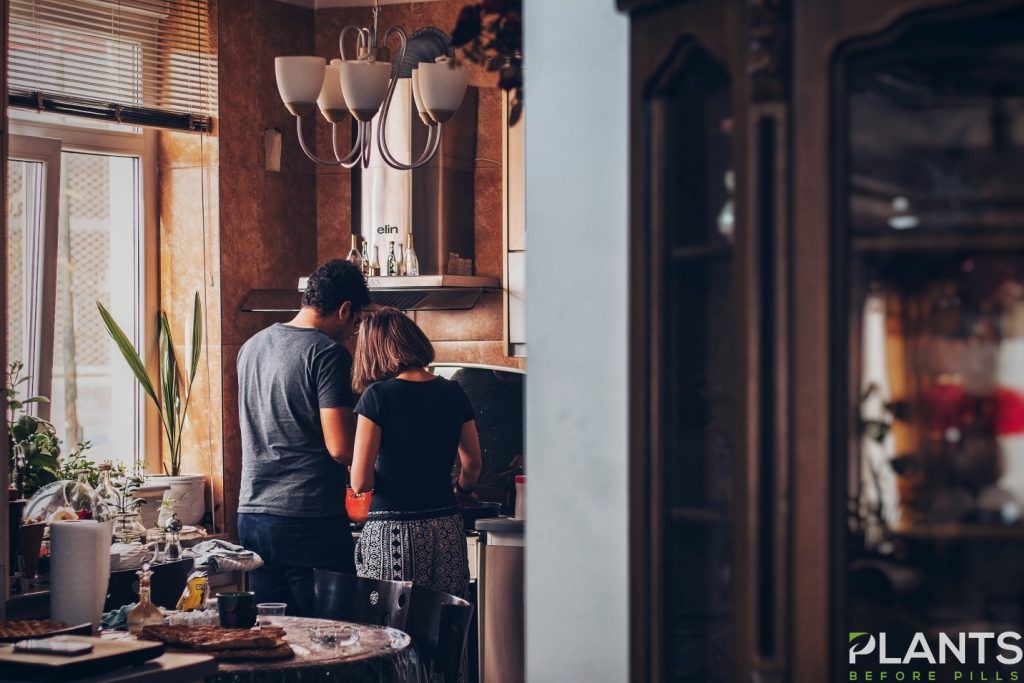 If this is the case, why not experiment cooking with your trusted CBD oil? While a delectable fudge brownie baked with cannabis or cannabidiol will always be a perennial favorite, you may be ready to move on to other baked goods or dishes. A pasta dish drizzled and finished with a few drops of CBD oil will bring you comfort through these days, while a cold bowl of soup with some extra drops of your tincture is sure to add pizzazz on nights you just want a quick and refreshing meal.
Opt for Dispensary Pick-Up Services
If you really have to go out and get your stash, the better way to do so is by using something like weed delivery Vancouver or a cannabis delivery service in your area. You may also want to utilize pick-up services rather than going to your dispensary and mingling with other people. After all, you don't want to increase your chances of getting sick nor getting other people at risk, right?
While these alternatives are not necessarily ideal as you might want to learn more about the items you're buying, observing these protocols can certainly help save a life. Plus, it's faster and more efficient on your end since you can just get your stash without having to look throughout the store.
The Bottom Line
This new normal is something you'll have to get acquainted within the near future. With these steps, you can still observe cannabis culture while keeping yourself safe and healthy at all times.