The Potentials of Medical Marijuana and CBD in Treating PCOS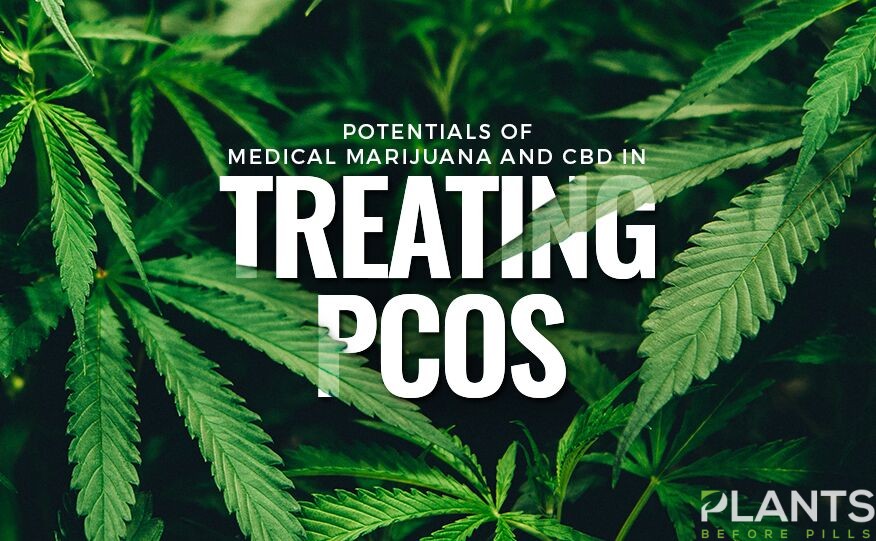 In the past years, marijuana has taken the medical community storm as many studies were conducted evaluating the potential of the plant to treat various health issues. In fact, many states in the United States only grant medical marijuana cards to individuals that have at least one of the qualifying conditions listed in their marijuana laws and policies.
With marijuana laws acknowledging the potentials of cannabis as a treatment or medical aid for treatments of various debilitating conditions and symptoms, you might be curious as to what other conditions it can address. If you are a person suffering from polycystic ovary syndrome (PCOS), you will be glad to know that cannabis has the potential to address some of its causes and symptoms.
Now, this is in no way saying that cannabis can heal PCOS. In fact, medical professionals say that there is no cure for this condition. The only way to address it is to manage the symptoms. Here's what you need to know about this syndrome and how marijuana can potentially help treat it.
What exactly is PCOS?
As the name implies, a person that has this condition has multiple cysts or fluid-filled sacs in the ovary or ovaries. An imbalance of reproductive hormones causes this. Hormones that are involved in these cases are androgen and insulin. According to studies, individuals with this syndrome have high levels of androgens or the so-called male hormones.
Patients also exhibit high levels of insulin, which causes the body to create more androgens. Keep in mind that many individuals with PCOS have insulin resistance, a condition that requires the body more insulin in order to breakdown sugar. This means that these people need more insulin in their bodies in order to have normal blood sugar levels. Insulin resistance runs in the family.
PCOS is characterized by a variety of symptoms. Check out some of the most common symptoms of this condition:
Irregular and painful menstruation
Hirsutism or the occurrence of hair on parts where men usually have hair such as the face, chin and chest
Acne outbreaks
Weight gain
Fatigue
Hair loss
Dark patches of skin such as the groin, underneath breasts and neck creases
Skin tags or excess skin especially in the armpit and next areas
As mentioned, this syndrome cannot be cured. However, when left untreated, PCOS can have adverse effects. This includes the following:
Increased insulin levels
Cardiovascular problems
Sleep issues
Effects on mental health
Issues with the endometrium such as endometrial cancer
Common PCOS Treatments
This is why the best way to address this condition is to treat it is by managing the symptoms. It can be done by:
Hormonal birth control – This includes pills, patches, shots, vaginal rings and hormone intrauterine devices (IUDs). These are taken to make menstruation more regular, decrease risks of endometrial cancer and reduce instances of acne and extra hair
Anti-androgen – A cause of PCOS is increased androgen levels. Because of this, taking anti-androgen medications can combat the effects of androgen. In turn, this will fight symptoms such as hair loss, excessive hair growth, and acne. Keep in mind that this is not an FDA-approved treatment for this syndrome.
Home remedies – Instead of taking medications, many people opt to do it naturally and at home. This is done through proper diet and exercise.
How Medical Marijuana and CBD can Aid PCOS Treatments
Now that you know what exactly this condition is, what causes it and how it is treated, you might be curious as to how it can be treated using cannabis and cannabinoids. According to a study published in the Journal of Ovarian Research, the endocannabinoid system may have close involvement with the progression of PCOS.
Here is a more in-depth discussion of the potentials of medical marijuana in treating PCOS:
As mentioned, this syndrome is caused by an imbalance of two hormones. One of these is insulin, the hormone essential to transforming glucose into energy. If you remember, women with high levels of insulin, as well as those with higher weights are more prone to developing this condition. These two issues are connected with the body's processing of glucose or sugars into energy.
The research cited above emphasized that the endocannabinoid system is directly involved in energy homeostasis or the balancing of food intake (also called energy inflow) and energy expenditure (also called energy outflow). Research shows that the endocannabinoid system is essential in signaling the need for food intake. It also interacts with the part of the brain in charge of rewards.
This means that the body's internal cannabinoid system can help regulate food intake by telling the body to consume food when needed and to stop energy inflow when unnecessary. Because of this property, cannabinoids such as CBD is used to prevent diabetes.
This can greatly help individuals who are struggling with PCOS and its symptoms, especially high insulin levels due to excessive food intake and obesity. Such potentials do not only address insulin levels, but also androgen levels. Remember that the body creates more androgens if it has higher levels of insulin.
One thing you should know about PCOS is that chronic low-grade inflammation contributes to the development of the medical condition. This is often caused by a dietary trigger such as glucose. Glucose causes oxidative stress, which leads to inflammation.
Once again, it is important to mention that glucose levels in the blood are regulated by insulin and when there is an excess of this hormone, the body creates androgens. The thing is, hyperandrogenism may be the cause of chronic low-grade inflammation. Now, this definitely makes it apparent why PCOS cannot be cured given the scientific developments currently available.
If you want to address inflammation, cannabis is a great option. This plant and its cannabinoids are known to be effective anti-inflammation substances. This is because the endocannabinoid system has receptors found in the immune system, which is in charge of protecting the body against diseases through various means including inflammatory responses. Intaking CBD capsules, oil, and other CBD products can help minimize inflammations.
Other Advantages of Using Cannabis Products for PCOS
Aside from addressing the major causes of this syndrome, cannabis, and its chemical compounds can also help manage its symptoms. Here are just some ways medical marijuana can do so:
Acne Control – We have discussed that the plant has regulating properties. CBD is known to exhibit effectiveness in this area. This is why CBD-rich hemp oil for skin is becoming more and more popular. Using topicals can help minimize the occurrence of excessive oil, which contributes to acne attacks. The best thing about these CBD products is that they can moisturize your skin when needed.
Pain Management – Studies show that cannabis and cannabinoids are a safer option for pain management than opioids. In fact, many people preach CBD oil benefits for pain, which is backed by research. This is because cannabinoids directly target the part of the brain in charge of pain and pleasure, thus, relieving discomfort and even chronic pain.
Anxiety and Depression Treatment – According to sources, many people who suffer from PCOS tend to have other hormonal imbalance issues such as those that affect mental health. This includes anxiety and depression, making it harder for them to cope with the symptoms. Depression and anxiety are listed among the qualifying condition for medical marijuana because of its mood-enhancing and stress-relieving property.
Energy Boost – In addressing symptoms at home, doctors recommend regular exercise for weight loss and regulation of sugar levels. However, the drive to exercise can be affected by fatigue. If you feel too fatigued to exercise, you can try consuming CBD. It has energy-boosting properties that can help supply you with the strength you need to do short physical activities. Remember, even a few minutes of exercise can help manage PCOS symptoms.
Just One Thing…
Before you go and try cannabis products to treat your PCOS, make it a point to run it by your doctor first. Just like any other doctor-approved home remedies you take, you want to make sure that you get valuable advice from a medical professional. This is important, especially if you are taking medications to treat the condition.
Remember, there are substances, food, and drugs that have adverse reactions when they interact in your system. For example, fruit as healthy as grapefruit can lessen the effect of cholesterol medications. Similarly, spinach and kale can counteract the effectiveness of anticoagulants.
To make sure that treating your PCOS using medical marijuana and its cannabinoid will be safe, consulting your doctor is the best way to go. You might even get tips and tricks to make your consumption a lot more effective.
The Bottom Line
Individuals who have PCOS may currently not have options to completely cure it, but with the right treatment aids, you can reduce and manage its symptoms. If you are planning to use cannabis and cannabinoids to treat this condition, you can definitely do so after consulting with your doctor.
3 Excellent Sleep Benefits with Using CBD Oil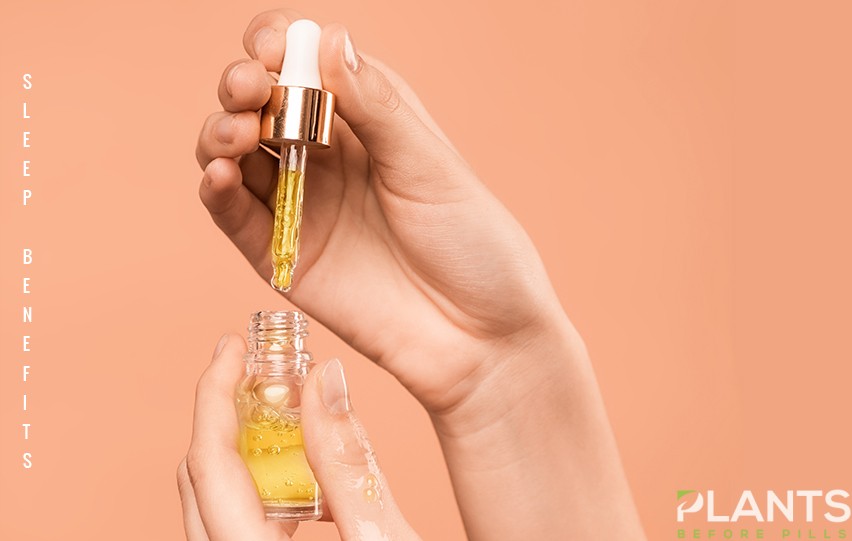 "Happiness consists of getting enough sleep. Just that, nothing more."
– Robert A. Heinlein, U.S. Science-Fiction Author
We live in troubled times – for some people, stressful times.
Cities on total lockdown, regular social interactions that we have taken for granted all our lives are now frowned upon (and are even being legislated against), and governments constantly talk of "flattening the coronavirus curve of infection." And if this curve isn't flattened, we'll lose thousands and thousands more.
The world has never seen anything like it, certainly not on such an all-encompassing global scale, and we used to think that it was the digital age and its social media that had suddenly made our world so much smaller.
There's plenty to concern us all, and plenty you could seriously lose sleepover.
Maybe, 3 or 4 months ago, you were even then struggling to get a good night's sleep – things on your mind, physical pain that's hard to manage, or anxiety and stress over those things we realize are out of our control anyway. All of these issues can contribute to a disturbed night's rest. We've just had another one added now.
And maybe, just maybe, this is all water off a duck's back to you, all this death and illness potentially on your doorstep, and nothing can affect you from that sweet moment your head hits the pillow. Lights out. See you in the morning. If you are one of these kinds of people, count yourself lucky. Many people out there will be just plain jealous of you.
Whoever you are, and whatever you feel about what's going on around you with the coronavirus pandemic, finding a natural way to relax, especially at night, is going to be of significant benefit. For many, an appreciated and much-needed benefit – one that could drastically improve their lives, and their outlook in these troubled times.
We've all been there. Getting yourself into bed at a reasonable time, possibly in preparation for a testing day to follow, only to simply lie there, staring blankly at the ceiling. Sleep seems a million miles away. And, to top it all, when it does come, it's broken and unrestful. You surface the following day feeling more tired than when you hit the hay 8 hours ago.
If this sounds like a typical scenario, maybe a little lateral thinking is called for, and maybe the use of CBD oil for better sleep will be the difference your troubled mind is looking for.
Important: If you are currently taking any form of prescription medicine, it is vital that you first consult your family physician to guard against possible negative interactions between these and the CBD oil.
What is Cannabidiol (CBD)?
Cannabidiol (CBD) is one of the many cannabinoid substances found in cannabis. However, the substance itself doesn't usually produce the "high" that cannabis smokers have long enjoyed. CBD medical studies have pointed with evidence to the fact it can be medically beneficial in treating certain neuropsychiatric disorders, such as anxiety, epilepsy, and even schizophrenia.
CBD Oil Sleep Benefits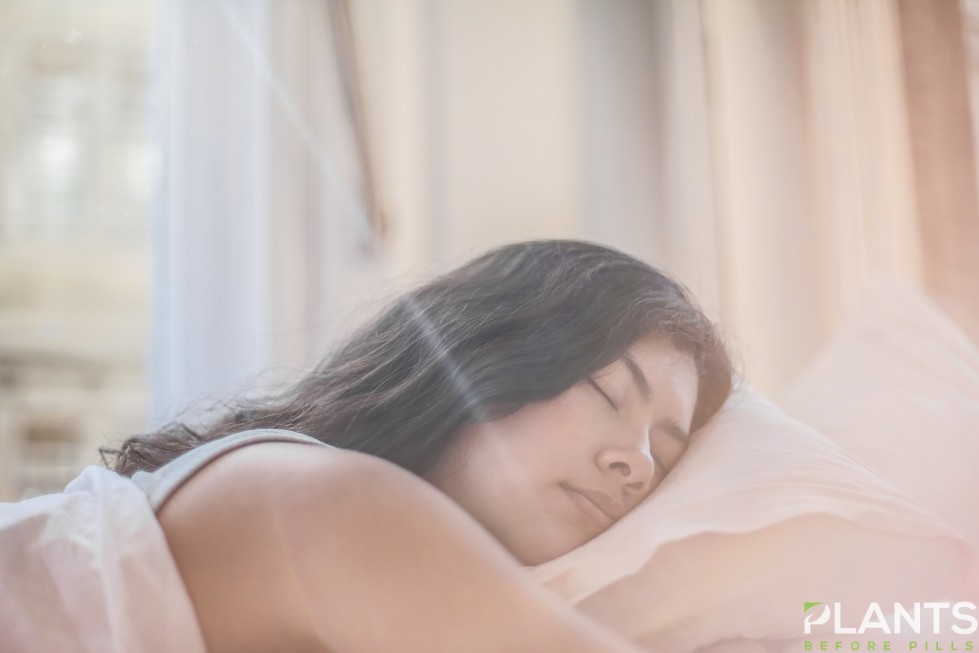 The evidence found shows that CBD exerts a calming effect on a person's central nervous system. It is for this very reason that new researchers have studied the effect of CBD on those will disturbed sleeping patterns.
#1. Enhanced, Deeper Sleep
Pharmacology researchers from the Department of BioMolecular Sciences at the University of Michigan specifically looked into CBD's effect upon the daily physiological patterns of circadian rhythms in its clinical study.
Circadian rhythms are physical, mental, and behavioral changes that follow a daily cycle. Responding primarily to light and darkness in an organism's environment, sleeping is a prime example of a circadian rhythm. Think of them as your biological clocks.
In this and other studies, CBD demonstrated a positive enhancement in subjects, with most of them reporting 7 hours of uninterrupted sleep. The ability to recall dreams significantly decreased, pointing to a far deeper sleep than normal, as dreams occur during the crucial REM stage of sleeping.
#2. Anti-Anxiety & Anti-Depressant Effects of CBD
As mentioned above, studies have found that CBD has a positive medical effect on those who suffer with anxiety – one of the biggest factors when it comes to disturbed sleeping. By calming the mind of the anxious person, overthinking at night is significantly reduced, and therefore enables sleep to come and, just as importantly, stay.
This calming response to the CBD also has another beneficial element – the less anxious you are, the better and clearer your cognitive thinking and rationalization skills, meaning you can resolve issues more adeptly and faster, and so allow for better sleep.
#3. Pain Management
CBD has been proven to both help rebuild brain cells and to improve the natural serotonin levels in trial subjects. Furthermore, it also affects anandamide levels and the brain's opioid receptors. All of these are known to positively affect our perception and management of physical pain.
Many people are unable to sleep deeply and fully because they are, in some small way, easily affected by pain. With improved natural pain management, this becomes much less of an issue come lights out at night.
To recap, CBD has been proven to produce enhanced, deeper sleep, even for those who suffer from anxiety and physical pain. So, on that note, sweet dreams and sleep well.
PrestoDoctor Snags Top Cannabis Telemedicine Award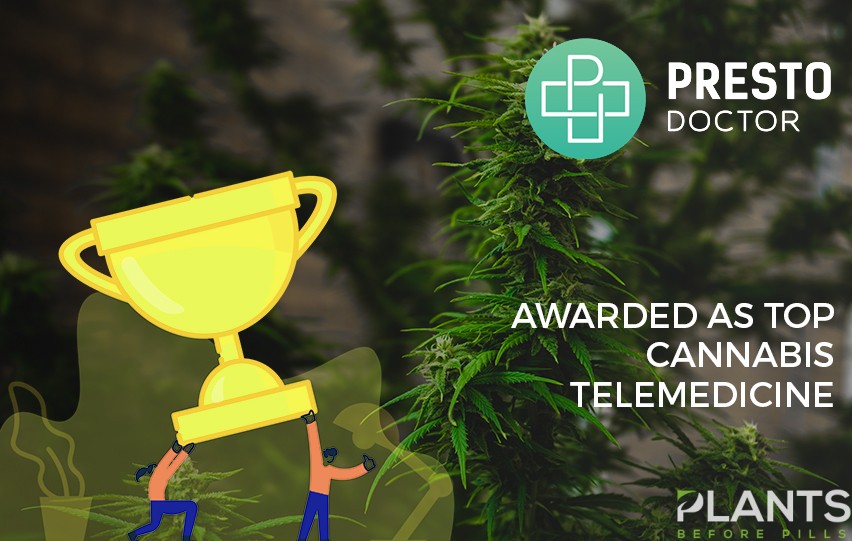 Medical tech company PrestoDoctor was awarded the title of the top cannabis telemedicine company in Missouri, said the Associated Press. The award, given during the recently concluded event MOCannBizCon+Expo, recognizes the innovation and accessibility the firm offered to the cannabis community.
PrestoDoctor co-founder and COO Rob Tankson said that the award is a result of the company participating in the telemedicine community across the United States. It is known for provided medical recommendations to more than 100,000 patients in 5 states in the country. The company entered the Missouri market only recently.
About PrestoDoctor's participation in the Missouri cannabis community through its telemedicine services, Tankson said that it "is anticipating robust demand in the newly-opened Missouri market." He also noted that the team is planning to "continue to meet the needs of the Missouri cannabis telemedicine community."
The Rise of Telemedicine
Telemedicine has revolutionized the provision of medical services through remote means. In recent years, these companies are able to provide more efficient and effective recommendations with the emergence of advanced technologies. Such platforms use online tools to connect patients with qualified physicians, especially through text- and video-based communication avenues, said The Fresh Toast.
In the cannabis industry, this mode of medical services has become necessary in light of the need for recommendations from licensed cannabis medical practitioners when getting a medical marijuana card. Today, prospective MMJ patients can acquire endorsements from their physicians through telemedicine platforms.
PrestoDoctor allows patients to communicate with their "compassionate licensed physicians" and "world-class patient support team" through secure video chat. Clients can schedule appointments through the company's website. This way, users can consult their board-certified doctors online.
When getting medical marijuana cards in states where PrestoDoctor operates, patients can set a consultation session with a PrestoDoctor physician to find out if they have qualifying conditions. After the assessment, the company will send a certification form that the patient has to accomplish.
This form, complete with a doctor's signature, is required when applying for an MMJ card. Other documentation requirements can vary depending on the state. In Missouri, the state requires proof of residency. The Missouri Medical Marijuana Authority also charges an application fee upon submission.
When approved, the patient will receive an email notifying them of the status of their application along with instructions to access their digital MMJ card, which can be printed or save on mobile devices.
JAMA Study: Number of Seniors Using Cannabis On The Rise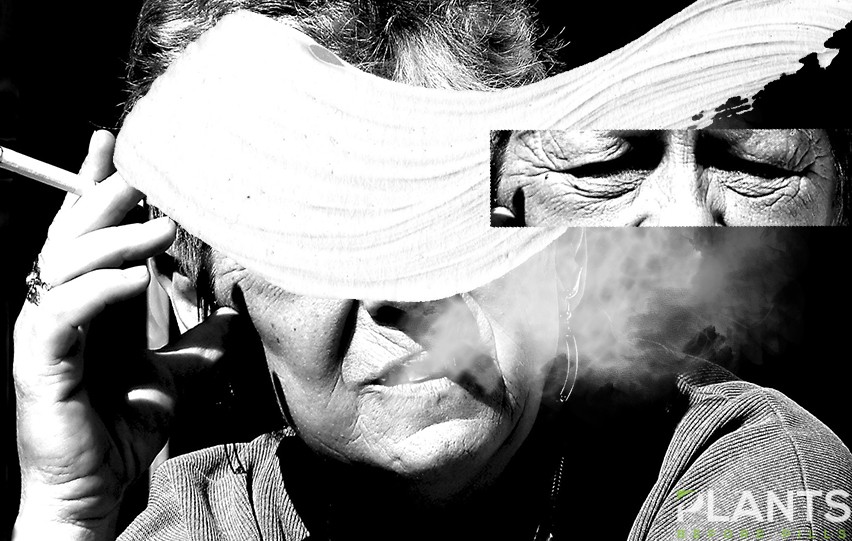 Research published in the Journal of the American Medical Association (JAMA) revealed that the number of American senior citizens who consume cannabis has increased from 2015 to 2018. Market Watch said that the reasons for the increased use are unclear.
The JAMA research evaluated data of around 14,896 individuals from 65 years old and up based on records from the National Survey on Drug Use and Health. These people reported using "marijuana, hashish, pot, grass and hash oil."
According to the study, there was a 75% jump in just three years. This means that from 2.4% of the senior population who used cannabis and related products in 2015, the figure spiked to 4.2% in 2018. This is a huge leap from the mere 0.4% in 2008.
Highest among racial and ethnic minorities
An interesting finding from the research is that the highest recorded surge in marijuana consumption is among racial and ethnic minorities. According to data, there was a whopping 336% increase in use in this group.
This is followed by senior citizens who have diabetes with an increase of 180%. Other groups that showed notable spikes in marijuana consumption include seniors who were treated for mental health issues (157%), individuals with $20,000 to $49,000 income (139%), those with incomes of $75,000 and up (129%), college-educated seniors (114%), married individuals (100%), and women (93%).
Unclear reasons
In a report by Market Watch, it was noted that the researchers, headed by Dr. Benjamin Han, did not include questions a Because of this, the study did not include a conclusion as to why the respondents consumed the plant. Dr. Han, who is an assistant professor at the NYU Grossman School of Medicine, said that the figures could be higher.
This is because while 11 states and the District of Columbia have legalized recreational marijuana, there remains a stigma against the plant. According to the geriatric medicine and palliative care specialist, respondents could have hesitated to reveal their cannabis use.
Moreover, it is important to note that the newly-published study failed to ask medical conditions such as chronic pain, Parkinson's disease or arthritis. Market Watch remarked that this could have provided valuable insight into the reasons for using the plant as medical marijuana is known for treating chronic and debilitating medical conditions and symptoms.
Meanwhile, Dr. Han expressed concern over possible negative interaction effects of cannabinoids with current medications taken by seniors.