A Quick Round-Up of Cannabis Developments in 2018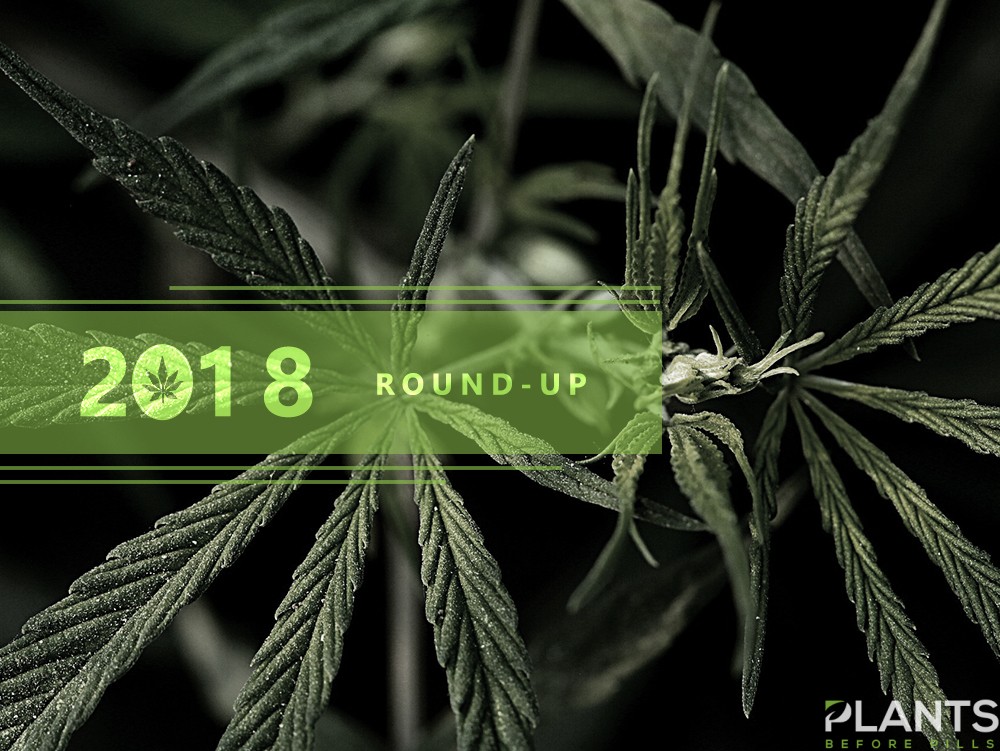 The year is fast coming to a close, and the marijuana industry is still riding the tide of all the changes that 2018 brought. From the widespread legalization of marijuana to the release of different marijuana-infused products, isn't it any wonder that so many marijuana enthusiasts around the world are celebrating? Let's kick off our 2018 round-up with a few significant facts:
2018 Facts and Figures
Cannabis has two major species, namely sativa, and indica.
Marijuana (commonly used for smoking) and hemp (scientifically known as sativa L., cultivated for industrial purposes) are two varieties of the cannabis plant.
There are 779 strains that we know of. With various budtenders cross-breeding one strain with another, it is reasonable to assume that there are more than 779 varieties you can sample and enjoy.
Because of hybridization practices, breeders have developed various rare and exotic strains that are highly sought after for their unique flavors, aromas, and appearances, as well as the one-of-a-kind sensations they give.
Statista's latest report on the number of medicinal marijuana patients shows that there are millions of patients benefiting from this plant's properties. In May 2018, California had the highest number of users with 915,845 patients followed by Michigan with 269,553 patients.
There was an anticipated increase in product sales in 2018 from USD 2.9 billion to USD 3.8 billion.
Recent Developments in Cannabis Legalization
With a little more insight into the successes of the industry, you might be curious as to what brought on these advancements. The answer is simple: it is slowly but surely being accepted and legalized in many places. Just this October 2018, Canada followed in the footsteps of Uruguay and legalized the recreational and medicinal use of marijuana nationwide. There are various laws in every province or territory, but this sure is a welcome change in the country. These laws cover various aspects of marijuana possession, distribution, and price.
Following the mid-term elections in November 2018, medical marijuana is now legal in 33 US states and Washington, DC. Of the 33 states, 9 (including Washington, DC) permit the use of cannabis for recreational purposes. CBD, with low THC content, is permitted for medicinal use in 14 states. So far, only three states, namely Idaho, South Dakota, and Kansas, maintain a complete ban on cannabis and cannabinoids. Meanwhile, American lawmakers have reached an agreement on the Farm Bill which will legalize hemp as an agricultural commodity.
In light of these developments, it is important to mention that the Canadian company, Canopy Growth Corporation, was able to make its first legal transfer of cannabis products. In fact, the US Drug Enforcement Administration (DEA) gave them an import permit, allowing them to get these marijuana products to a research partner in the US. Canopy Growth Corporation is a leader when it comes to maximizing what the plant has to offer.
These developments in legalization are huge wins for the cannabis industry not only because of the projected increase in sales but more importantly the benefits of this plant becoming more accessible.
Latest News in Research and Development
The legalization of marijuana has led to some important developments in the area of R&D in 2018. Here are some of the highlights:
Marijuana Breathalyzer
While it cannot be denied that there is a degree of social acceptance when it comes to the possession and use of cannabis, the fact remains that the authorities still maintain that, on a federal level, it is illegal. Of course, rules such as driving under the influence still apply to all users. Researchers at the National Institute of Standards and Technology (NIST) are working on ways to measure the THC and CBD levels in a driver, the same way alcohol breathalyzers work.
While they can successfully detect the presence of THC and CBD levels on the breath; they do face other challenges like the rapid rate at which cannabinoids leave the bloodstream.
It Lowers Opioid Use
In April 2018, it was discovered that government-approved medicinal marijuana could dramatically reduce opioid use. This is good news considering the number of people who are addicted to, abusing and overdosing on opiates such as morphine and fentanyl.
Cannabis Products that Emerged in 2018
In the 60s and 70s, there was only one way to consume marijuana: by smoking it. Now there are a wide variety of cannabis strains you can experiment with and nothing to stop you from exploring what this herb can do. Some of the latest products that have emerged this year include:
• Edibles and Drinkables
What better way to ingest this wonder herb than to mix it with delicious treats and satisfying drinks? With the growing popularity of homemade baked goods, businesses took the opportunity to sell high-quality marijuana-infused products. Kiva is one of the leading manufacturers and sellers of these goodies. From fruity gummies and fresh mints to delectable chocolate bars and even non-chocolate confection, you can try out these mouth-watering sweets that offer a unique kick.
If you are craving a good drink, just head to your local dispensary, and you are sure to find cannabis drinkables. Looking to soothe your senses? You might want to try one of Kikoko's teas. Their herbal drinks are mixed with a helping of this wonder plant. The great thing is you can choose a variety that can help improve your sleep, lift your mood, relieve your pains, and enhance your sex life.
Those in need of their morning coffee fix should check out marijuana coffee from Pot-o-Coffee. There is a wide selection of blends that offer various experiences for your taste buds. Enjoy a full-bodied brew for your morning cup or get one with caramel and vanilla tones for a more tasty helping.
• Body and CBD Beauty Care
Perhaps one of the most innovative ways cannabis is being ingested in 2018 is through body and beauty care products. With CBD being hyped as a highly medicinal compound, more and more people are adding it to their beauty regiment. From marijuana-laced soap bars and shampoos to CBD-rich ointments and balms, you can use these products to treat dandruff, acne, and even psoriasis.
Clean your pores using The CBD Skincare Co.'s CBD-Infused Exfoliating Cleanser and rid your face of dirt and grime and prevent blackheads. If 'bags under the eyes' is your problem, you might want to try CBD for Life's eye serum. With seed oil and hyaluronic acid, you can go about your day without worrying about the bags under your eyes.
2018 saw many body and beauty care companies focusing on using cannabis as a way to improve their products so keep your eyes peeled for those.
• CBD Vape Pens
The infamy surrounding cigarettes was matched only by the rise of CBD Vape Pens as an alternative. Even without the marijuana content, these devices are gaining ground because vaping offers a healthier means of ingesting nicotine and even non-nicotine juices. With the introduction of cannabis, vaping has become a more exciting experience. You can choose from a variety of juices with varied amounts of CBD and THC content.
What's exciting about this new way of consuming cannabinoids is that you get to pick flavors that suit your taste. Whether you like fruity notes or savory ones, you can get an e-juice that can satisfy your taste buds. This way, you can easily get your cannabinoid fix in a fun and tasty way, while perfectly blending in with the vaping crowd.
• 'Luxury Pot'
This herb is becoming more and more mainstream as the years go by. With its impending mainstream popularity, various brands have emerged to provide a 'luxury' version of this miracle plant. Defonce Chocolatier offers artisanal chocolate bars infused with dried buds in a wide range of flavors. These 20-dollar candies come in matcha, coffee, and mint flavors. You can also check out the selections from Beboe. Dubbed 'The Hermes of Marijuana,' their items come in luxe packaging with an equally sleek appearance. Try out their stylish vape pens or take some of their pastilles to get your quick fix of this herb.
• Dog Treats
Who would have thought you could feed cannabis products to your dogs? With recent developments, you can now share the benefits of this herb with your animal companion. Giving your dog these treats can address problems such as inflammation, mood issues, skin conditions, and muscle spasms. Keep in mind that these items are mixed with a lower dosage of cannabinoids to make it more compatible with a dog's body. Moreover, make sure that you only give a controlled amount to your pet.
Cannabis is indeed a wonder plant but what's more wonderful is the continuous developments the industry has enjoyed in 2018 — new products, legal progress, and even new strains have made this year one for the books for the marijuana industry and enthusiasts. With greater support for this miracle herb, we can certainly look forward to another year full of good news and weedy goodness.
Home-based Solutions: 2 Ways to Create CBD Oil at Home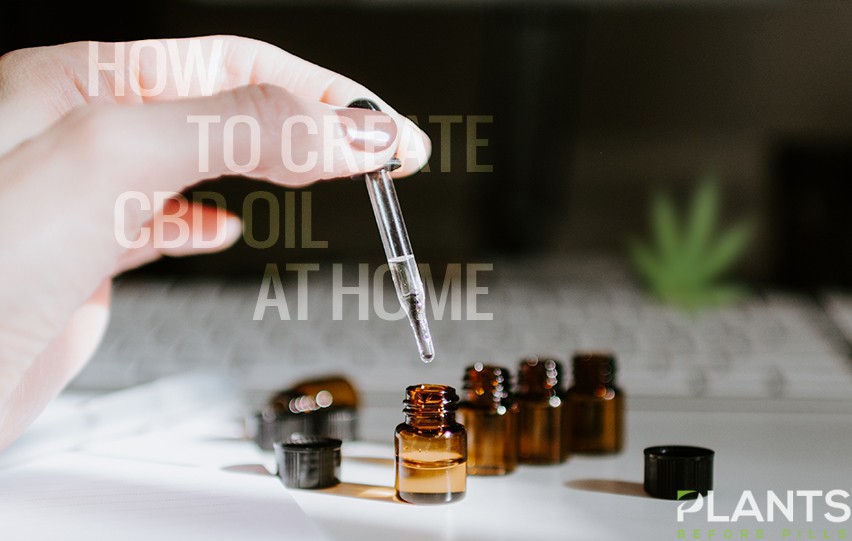 Sure, staying at home could be a bore for some, especially with all the fun possibilities the great outdoor promises. However, with the ongoing health crisis, you might find yourself with no other option but to stay within the comfort of your home and temporarily ditch the outside world.
Fortunately, with CBD, you may now find new ways to enjoy your time at home and skip the stress that comes with this pandemic. Promising a soothing effect that puts the body at ease, CBD is sure to make your stay a lot more rewarding.
To let you get the most out of this compound and enjoy your stay at home, we have prepared a brief guide that will let you create your own CBD oil right at the comfort of your home.
Interested to know how? Read on to learn more.
Can You Extract CBD at Home?
Believe it or not, creating your own CBD oil at home is not rocket science and can be learned easily. Sure, while you might have to experiment first to get a fuller grasp of the most effective techniques, extracting CBD at home requires very little effort and supplies.
Generally, the process can be done in two methods, namely the oil method and the alcohol method.
Here, we will discuss everything you need to know about each of them.
Oil Method
Considered to be one of the safest ways of extracting CBD, the oil method involves the use of oil, such as coconut and olive oil, as solvents to extract CBD from hemp plant material. Under the said method, you will need to prepare a high-quality cannabis plant, along with your selected carrier oil, an oven, a double boiler, a mason jar, a towel or cheesecloth, a herb grinder or knife, and a baking tray.
To start the process, you will need to put the raw cannabis into the decarboxylation process. To do so, you will need to condense the hemp flowers to a fine consistency using a herb grinder or a knife. Once you've reached your desired texture, put the ground flowers into the baking tray and heat it at approximately 110 °C or 220°F for 90 minutes.
Once the material achieved a light brown complexion, you may now proceed by mixing the ground-up cannabis with the carrier oil of your choice in the mason jar. After thorough mixing, saturate the cannabis with the oil. Once done, you can now start the boiling process by placing the mixture in the top section of the double boiler. Fill the bottom section with some water and leave the mixture to wait for 3 hours. Once done, you may now take the oil-cannabis mixture and put it in a container. Place the towel or cheesecloth over the opening and pour the mixture into another bowl. Extract as much oil as possible and seal the container to cool in a dry place.
Alcohol Method
If you're out of coconut or olive oil, you may still create your CBD oil at home using the other method, called the alcohol method. Similar to the previous technique discussed, this process requires very little effort and only a few tools.
To start, you will need to prepare a high-quality cannabis plant, food-safe grain alcohol, a bowl, a wooden spoon, a grinder, a piece of cheesecloth or a sieve, and a double boiler.
Similar to the oil method, the first step is to put raw cannabis into the decarboxylation process. Once it's done, you may now put the grinded materials into the bowl along with your chosen alcohol. Pour in enough alcohol to submerge the plant and stir for about 5 to 6 minutes.
Next, you will now need to separate the CBD-infused alcohol from the plant matter. To do so, put the cheesecloth or the sieve on the opening of the bowl and filter out the solvent. Be sure to repeatedly squeeze the mixture from the cloth to extract as much alcohol as possible.
From there, pour the extracted oil into a double boiler and heat it for about 30 minutes on a low flame. This will help make the alcohol evaporate from the solution. Once done, transfer the liquid into a jar and leave it in a cool, dry place.
Conclusion
Ready to make your very own CBD oil at home? Embrace the comfort and convenience of staying at your own place and enjoy the promises of cannabidiol today.
Which among the two methods would you like to follow?
4 Ways You Can Safely Celebrate 420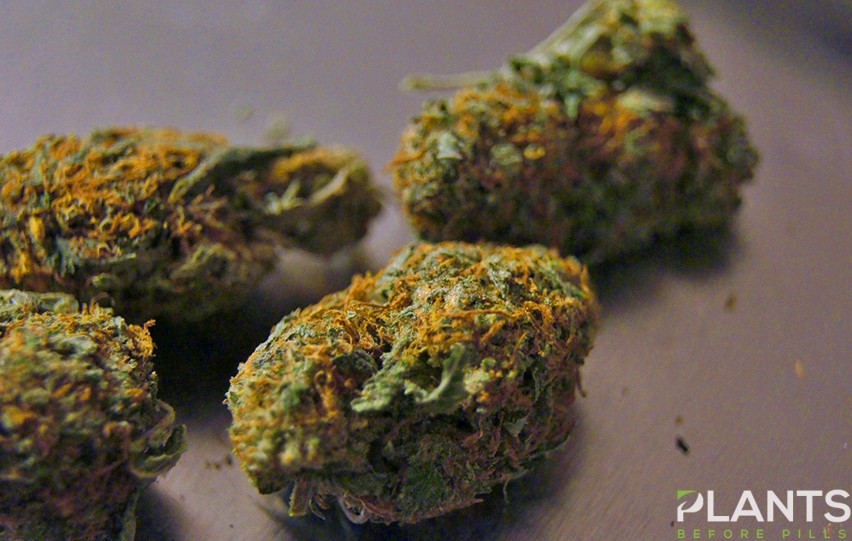 Now that the world is currently experiencing a pandemic, it might be difficult to see the silver lining of things. You may not even be aware that 420 happens in less than a month. Though numerous cannabis events and gatherings have been canceled left and right, that doesn't necessarily mean that you should forego celebrating this momentous time in history. After all, you can still safely uphold the sanctity and excitement that comes with this annual occasion – all from the comforts of your own home.
For those who still wish to celebrate 420, here's how you can enjoy the holiday without adding to the global spread of the novel coronavirus COVID-19 today. Check these out.
Acknowledge the Relevance of the Day and Cannabis Products
In the past, the use of marijuana has been highly regarded as taboo, even restricted by most countries and governments around the world. Because of this, the cannabis culture and movement that we know today owes its popularity and perseverance to the underground movement pioneered by enthusiasts and activities many years ago.
It dates back to the fascination of a group of high school kids from San Rafael High School in 1971. Using 420 as a code word for 4:20 p.m. to meet and partake marijuana, the group has since evolved to using the term for finding and doing more interesting – and let's face it, risque – things while under the influence of the drug.
Today, this date is dubbed as a national holiday that brings like-minded individuals from around the world to come together and to celebrate the importance of cannabis in their lives today.
Practice Social Distancing
With the widespread outbreak of COVID-19, many cities, states, and countries have implemented social distancing. Now, with this as a way of life, you might think that being with friends and fellow like-minded enthusiasts are impossible. If you're lucky enough to hold a small gathering with friends after the home quarantine period or even hang out via Zoom or other virtual sites, remember those who can't.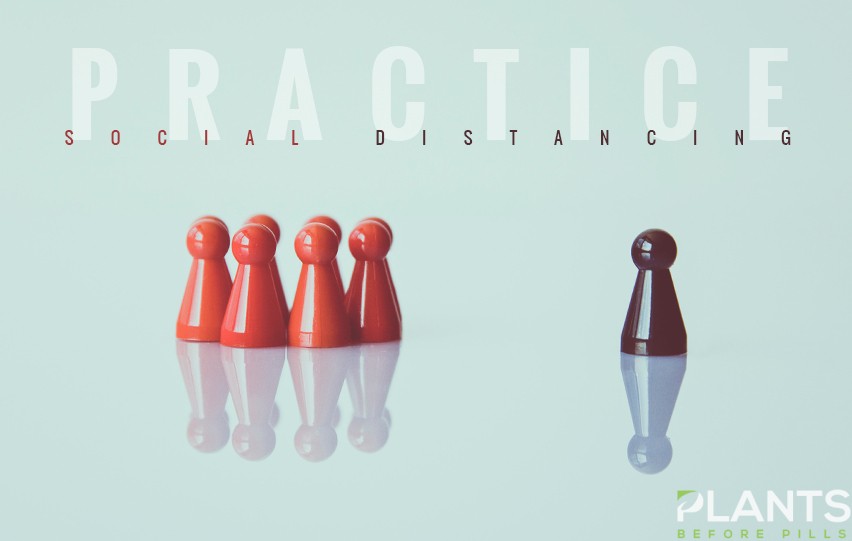 In a time when a pandemic has led people to shut their doors, take the time to think about the people who have yet to enjoy the liberties you have today. Until then, keep raising awareness about the advantages of using cannabis and the CBD oil benefits it can impart to users. At the same time, if you're spending time with good friends, don't forget to practice social distancing, especially when the world has yet to invent a vaccine that addresses coronavirus.
Stick to Your Own Cannabis Products and Devices
While cannabis culture normally calls for sharing cannabis products and tools, now may not necessarily be the best time to do so. Steering clear of sharing instruments can certainly prevent you from the further transmission of the disease. While you should and you may bring CBD oil edibles and other goodies for everyone to partake in, you might have to refrain from passing instruments and your CBD oil vape pen to keep yourself and the people around you safe from harm.
Stay Hydrated and Full with CBD Oil Edibles
Whether you're having a virtual gathering or meeting in person, the last thing you should miss out on is the abundance of CBD oil edibles and cannabis products. You can bake yourself some treats or even share with your guests, while of course being mindful of social distancing practices. You can even order some items from your nearby dispensary, after all, the industry is very much in thriving as cannabis is regarded as part of 'essential businesses.' Just don't go overboard and make sure pace yourself to avoid getting sick.
If you're one to celebrate this unofficial national holiday, take note of these tips to safely enjoy 420. These allow you to bring a sense of sunshine in these dark and trying times.
Cannabis Firms Experience Boost in Sales Amid Covid-19 Panic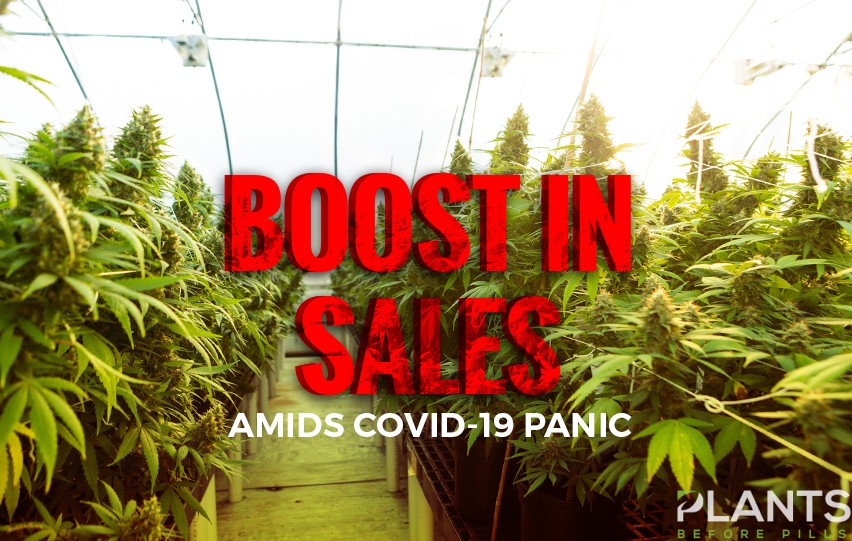 As the World Health Organization (WHO) declared the novel coronavirus called COVID-19 a pandemic, cannabis firms in the United States have experienced an exponential boost in profits as users increase their stocks. Stockpiling cannabis supplies amid the coronavirus pandemic comes as news of a prolonged self-quarantine threatens the country.
A number of marijuana dispensaries and cannabis businesses in different states have reported an increase in buyers and orders as the pandemic plagues the country, including Los Angeles-based NUG and Massachusetts-based firm New England Treatment Access (NETA).
In a statement to The Hollywood Reporter, head of sales for NUG, Steve Lilak said the reason why individuals are stockpiling is that they "are in scarcity mode. The streets are emptier, but specific businesses like grocery stores and dispensaries are seeing more people than usual – and people are stocking and purchasing in bulk. I've seen regular customers buying three or four of what they normally buy in just one of in L.A. dispensaries."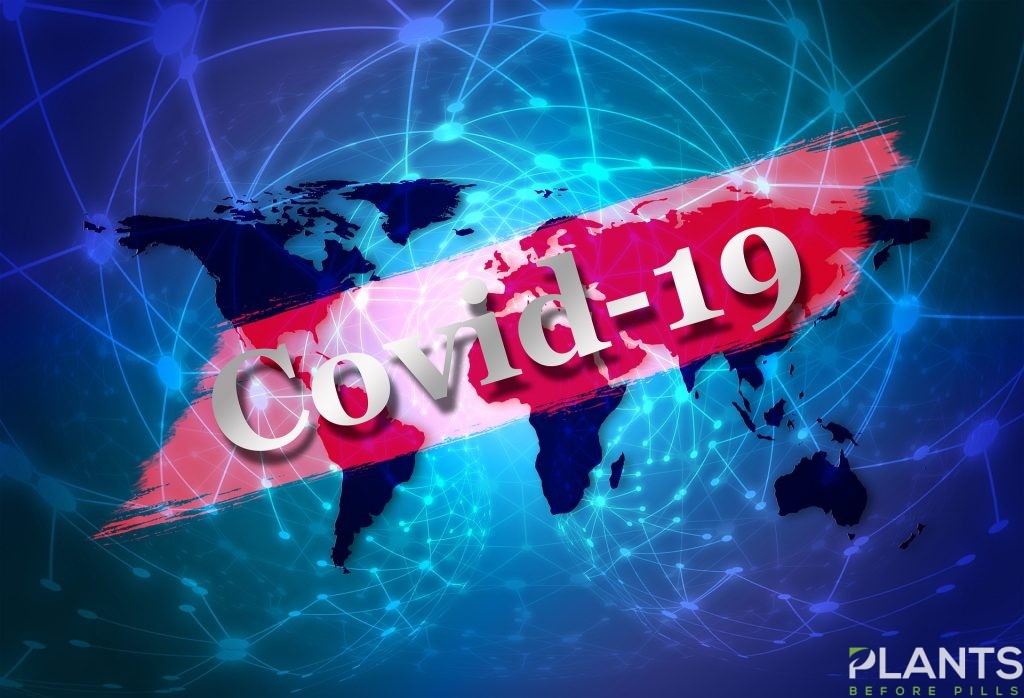 Increase of Stockpile for Impending Covid-19 Quarantine
Apart from corralling goods in a case of quarantine, individuals may be increasing their cannabis stash primarily because these offer calming effects to its users, remarks a Lowell Farms representative to The Hollywood Reporter.
Meanwhile, patients such as Mary K. Murray feel that they can better manage their pain and conditions with the help of marijuana, thus stockpiling the drug rather than waiting for her monthly prescription medication, reports WGBH.
Other cannabis firms who have a reported increase in sales include Caliva and Calexo. According to The Hollywood Reporter, Caliva is a delivery-based firm in California, while Calexo dabbles in sparkling cannabis drinks.
The same sentiments are echoed by Brookline's New England Treatment Access, which has seen a boost in its number of buyers. However, in keeping with the national and community guidelines in place, the NETA will only accommodate customers who place and reserve their orders in advance, notes WGBH.
Cannabis businesses are also urged by the International Chamber of Commerce (ICC) to practice remote work, avoid travel, as well keeping records of transactions. Moreover, the ICC, in partnership with the New England Complex Systems Institute (NECSI) also highlighted alternatives such as a utilizing a pick-up and drop-off service, home deliveries, or drive-by services to reduce contact time with buyers, thus preventing further spread of the disease.
NETA's practices fall in line with the guidelines posted by healthcare providers and industry professionals to practice social distancing as well as sanitizing and disinfecting places of business. Employees are equipped with disinfectants and latex glove, and the dispensary is disinfected every night.
Despite the boost in cannabis sales, industry experts believe the pandemic could potentially derail the development in the industry. Businesses, investments, as well as stocks, could see a change in their portfolio's as the disease continues to spread, states Forbes.