Hemp and CBD – A Potential Business?
In light of recent developments in the social and legal acceptance of cannabis in the United States, more and more cannabis-based products are entering the market. As an entrepreneur, you might want to consider the viability of hemp and cannabidiol (CBD) as as a potential business prospect. Read on to find out why.
What is Hemp?
Hemp is a variety of the cannabis plant, more commonly known as industrial hemp. You might be wondering if this is the same as marijuana because they are both a variety of cannabis. Hemp has lower levels of THC (tetrahydrocannabinol, the psychoactive ingredient in cannabis), as compared to marijuana, but higher amounts of CBD (a highly medicinal component). In fact, industrial hemp is often cultivated for its fibers, which are used for various purposes including clothing, paper, plastic, and food.
What is CBD?
The cannabis plant contains chemical compounds also known as cannabinoids. THC and CBD are just two of more than 100 cannabinoids founds in cannabis. These compounds are known to have a variety of effects on a person, depending on the amount consumed. CBD is a non-psychoactive substance that is widely used for medicinal purposes. It does not induce any kind of high. In fact, it is said to counter the effects of THC. Because of these attributes, the CBD compound is often used in conjunction with other medical treatments for diseases including cancer, epilepsy, and arthritis.
Hemp and CBD are Potential Business
There are numerous industrial and medical uses for hemp and CBD, hence, this market is growing and will continue to grow. Entrepreneurs who are planning to enter the market are, therefore, in for a treat…and here's why:
It is a Rapidly Growing Market
The legalization of medical marijuana in 33 of the 50 states in the United States has paved the way for many cannabis-based products to enter the market. Aside from marijuana, as an aid for medical treatments, most states permit the use of CBD oil too. This is why you will find a lot of CBD-infused items in places where it is legal. In fact, only three states have a total ban on the use of cannabis and its compounds.
Marijuana is Easy to Cultivate
One of the main differences between marijuana and hemp is the environments in which they thrive. Marijuana needs a carefully controlled environment for it to grow, while hemp can adapt to different kinds of climates. This means it can grow with minimal care, making it perfect for growing in bulk. Just make sure that you possess only the permitted number of plants per your state's cannabis laws.
The Possibilities are Vast
CBD oil is extracted from the cannabis plant, including hemp. Because of this, you can use your hemp fibers for industrial purposes, while having a source of cannabidiol extracts. Keep in mind that cannabidiol can be used not only for medical purposes but also for body, skin and even sexual wellness. This means that with proper marketing, you can target various markets.
Lots of Prospective Products
As a product, CBD is a versatile and marketable one. You can sell it in pure oil form in bottles or as tinctures. Moreover, you can incorporate it into various health, body and skin care products such as creams, balms, lotions, and shampoos. This compound can even be mixed in with food items to make candy, baked goods, and even fat-based beverages.
Like with any business prospect, ensure that you enter the market armed with proper research when it comes to the products, including its usage, distribution and the relevant state laws. This way, you can launch your business with the least amount of fuss, making the benefits of hemp and CBD more accessible to your potential customers.
CBD Treats to Give Away to Adult Trick or Treaters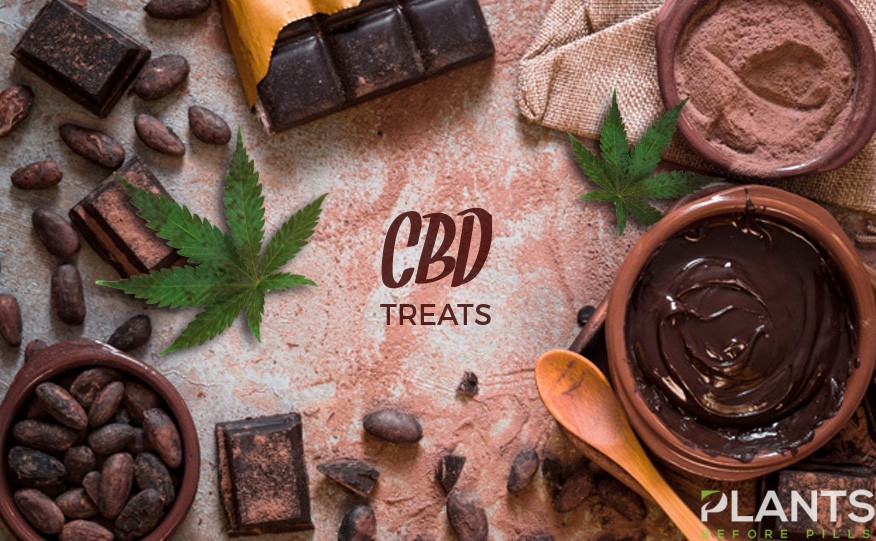 Halloween is certainly not just for kids. While the novelty of dressing up and going from one door to another may wear down with age, there's nothing more fun and exciting than getting treats to eat during the wee hours of the night. Now that you are much older, you may finally understand the appeal of CBD edibles that are geared towards friends and other likeminded individuals.
If you have friends coming over or you are simply waiting for a few adult guests to come knocking at your door, you might want to surprise them with wonderful cannabis goodies. Not only will this make them feel loved and pampered, but it will also bring them back to their childhood.
While taking a dosage of cannabidiol directly under the tongue is still the way to go, there are other creative ways you can take and use this. Below are some ideas that might be of help this coming Halloween:
CBD Oil Edibles for Chocolate Lovers
Numerous guests prefer to eat cannabis-laced food items as it reminds them of their childhood trick or treating experiences during Halloween. Not to mention, eating cannabis-infused foodstuff is simply an unparalleled experience. Some of the hottest items on the market today include:
Lord Jones CBD Dark Chocolate Espresso Chews
Nothing spells maturity (and caffeine!) than that of the word espresso. To give you that much-needed boost through the night, give your friends and adult trick or treaters with some of the finest cannabidiol infused dark chocolate.
Lulu's Artisan Chocolate: Chocolate Botanical Delight
Proudly made with 78% cacao with hemp oil complex, this chocolatey and indulgent delight will surely be a delicious addition to your gathering. Each square is enough for one person, so make sure to pass this bar around and have everyone get their fair share.
CBD Edibles Gummies for the Adventurous Soul
Let's face it, chocolate isn't exactly for everybody, although we don't get why. So, for those who are seeking alternatives to the traditional Halloween favors, CBD gummies will make for a great substitute. Apart from its juicy and flavorful bite, it also lends a more relaxing vibe that will help you and your gang enjoy the night away.
Lord Jones Old Fashioned CBD Gumdrops
The perfect cross a dense and light treat, the old-fashioned gumdrop boasts of natural fruit flavors filled with 20 milligrams of CBD per piece. Pass one to your circle of friends and watch this sweet treat take the edge off. This is particularly helpful for individuals who have anxiety and pain as this can promote calmness with every dose.
Charlotte's Web CBD Gummies
Made with whole-plant hemp extract and natural fruit and vegetable extracts, these organic creations promise a burst of freshness and juiciness with every bite. With different categories to choose from such as calm, sleep, and recovery, you'll have no shortage of gummies to share with your visitors.
Cannabis-Infused Beauty Products for the Homebody
Think outside the box and share some industry secrets with your best gal (or guy) pals. Since you're most likely spending the night together, why not throw in some CBD beauty products in their goody bags? Come morning, they'll appreciate their refreshed and moisturized faces even more. Face masks are a convenient and hygienic way to impart moisture on a dehydrated face after a night of partying, so make sure to give some skincare products their way.
The CBD face mask from Joy Organics is a miracle worker. Apart from the calming and moisturizing benefits that come with the hemp oil and hemp extracts, the mask also encourages cell renewal thanks to the rosemary extracts. End your night with this and you'll have a Halloween to remember.
With countless cannabidiol edibles making its way on the market, choosing adult-appropriate treats might have become more challenging than ever. Thanks to this guide, you won't have to look any further. With these CBD oil edibles and favors, your Halloween just got even better.
Top 7 Cartoons to Watch with CBD Edibles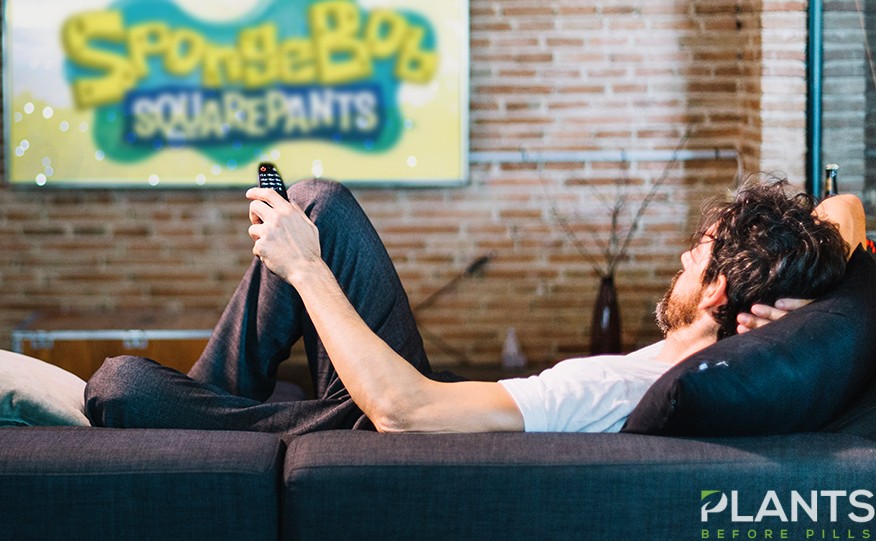 Looking for ways to further enjoy your snack time with CBD edibles? Listening to your favorite playlist might knock you out straight into the dreamland. Flipping through some books could at times be boring. Going on a video game war with your favorite pals might get too chaotic. The perfect alternative? Take a break, enjoy the serenity, and re-watch your favorite childhood cartoon series, of course!
As most of you already know, there is a broad range of cartoons that are best watched with a little help from cannabidiol. Given these shows' simple plotlines, interesting set of characters, out-of-this-world settings, and surprisingly laughable conflicts, checking them out during your leisure times with CBD will make your rest day even more relaxing and therapeutic.
Although CBD edibles won't give you that "high" sensation, turning on to cartoons could do the job. From talking animals, intergalactic travels, twisted dark humor, to unexpected political commentaries, there comes an array of animated shows that are sure to give you that same 'high' energy while munching some of your favorite CBD delights.
To kickstart your cartoon marathon, here are 7 of the best kid's shows that are worthy to be watched with some CBD edibles on your side table.
Check them out:
What better way to start out list other than with everyone's favorite sponge? From living in a pineapple under the sea, having a best friend that is … well … a dum-dum, living alongside a depressed neighbor, working under a greedy capitalist, and many more, there comes a broad range of reasons why Spongebob Squarepants stands as one of the best shows to watch if you want to welcome some loads of good vibes.
Not only does the show present subtle humor that only adults can understand, but it also features quirky misadventures that could leave anyone laughing out loud. From Spongebob's surprising level of obliviousness, Patrick's hilarious feats, Squidward's laughable misfortunes, to the story's overall nautical nonsense, this show is the perfect ingredient to make your snack time even more exciting.
Get ready to follow Spongebob as he wakes up high and ready, attends boating school, unknowingly puts another block of misery to his neighbor's life, and sell his labor for such a cheap rate in the name of his love for burgers.
Combining childish humor with twisted plots and relatable set of characters, Spongebob Squarepants is sure to make your CBD day the best day.
From intergalactic travels, daddy issues, to weird but undeniably striking humor, Rick & Morty seems to have all the necessary requirements to become one of the top shows to watch if you want to have a good laugh.
Following the story of a mad, alcoholic scientist, along with his naïve grandson, the animated sitcom features the adventures of two misfits as they set on a never-ending quest across time, dimension, and space.
Blending loads of dark humor, action, madness, and philosophy, the series had managed to present a brilliantly funny and toxic Back To The Future-style story that is sure to leave its viewers with surprising epiphanies and uncontrollable laughter.
You bet it. For years, Family Guy has stood as one of the top shows to check on if anyone wants to have a good time. From having a talking smart dog, a grotesque teenager, to a diabolical baby, Family Guy perfectly features a twisted, outrageous, and undoubtedly hilarious storyline that never fails to give its viewers a solid "Oh, come on" moments.
Given these features, Family Guy stands as a perfect bet when it comes to enjoying your relaxing time with some CBD snacks.
From terrorism, religion, disabilities, sex, to … wait for it … marijuana, the show is never the type to back down from any topic. Following the misadventures of a far-from-the-typical family and the chaos they cause to nearly everybody, Family Guy is sure to give you a good laugh as you happily munch some of those edibles.
Imagine this: A fat, alcoholic father, together with a supermom, tries his best (or, perhaps, his worst) to look after a trio of misfits: an evil son, a nerdy daughter, and a silent infant. Can you foresee the chaos, madness, and hilarity those set of characters could cause?
Featuring a satirical depiction of the modern working-class family, The Simpsons allows you to make fun of the things that normally make you miserable. As a bonus, the show is even believed to present a few hints on what lies ahead in the future (at least that's what many fans say!).
For years, no other animated sitcom had managed to present a hapless and dysfunctional family as hilarious and as relatable as The Simpsons. From offering adult humor that could make you laugh out loud in disbelief to referencing popular culture and real-life celebrities with fearsome accuracy, this show is, no doubt, one of the best classics for the typical CBD lover.
Adventure Time isn't your typical kid's show. Despite its colorful world and sing-along segments, this cartoon remarkably exhibits a surreal masterpiece. Following the story of a boy and his magical shape-shifting dog, this animated epic epitomizes what it means to live a 'high' life.
Set on a post-apocalyptic world packed with vampires, princesses, witches, and other magical creatures, this series features a unique plot and type of humor that can give you a few "What am I watching" moments.
From candy zombies, cyclical nightmares, devastating adventures to the pits of hell, to other weird yet interesting adventures, this show excellently blends magical positivity with dark humor, and in turn, creates a bold, fun, colorful, and strange world that could help enjoy your edibles even more.
No other duo tops our list of most iconic frenemies other than Tom and Jerry. Complete with violence, treacherous alliances, misadventures, and action-packed competitions, the show stands as one of the most recognized cartoons that are sure to give viewers a quick catharsis.
Following a non-stop, hysterical war between a greedy yet pitiful cat and a smart, always lucky mouse, Tom and Jerry is sure to take you into a world of unending rivalry and slapstick humor.
Although the two never really talked – except for the occasional singing, laughing, yelling, and "Aha!" – Tom and Jerry remain to be a classic masterpiece for people who love to experience a blend of pity and amusement.
Another classic contender on our list is none other than Nickelodeon's CatDog. Following the story of a conjoined cat and dog sibling, as they struggle to live a normal life, the show remarkably offers a good dose of humor and interesting oddness.
Combining Cat's smart yet mostly selfish antics to Dog's clumsiness and gullible nature, the show managed to display a hilarious and interesting plotline that could leave anyone in a seemingly 'high' state despite the pitiful state of the protagonists.
Set in a world where cats and dogs could be siblings, rats are blue, rabbits can be extremely authoritarian, and delinquent dogs roam around for trouble, CatDog promises a comical yet relatable story that is sure to leave you in tears for laughing out loud – with, of course, a little help from CBD!
Conclusion:
Have you decided which cartoon best fits your CBD snacks? Whether you're on the mood for some sci-fi comedy adventures or just plain animals living their human-like lives, you can expect that there lies a worthy set of cartoons waiting for you to click the "Play" button.
Be sure to experience a different kind of high and hilarity with these top 7 cartoons that will give you a boost of positivity as you munch on your favorite edibles.
Which show picked your interest the most? Find a good place to sit at, ready the snacks, and kickstart your colorful marathon with these amazing shows today!
4 Tips for Buying Cannabis Products Online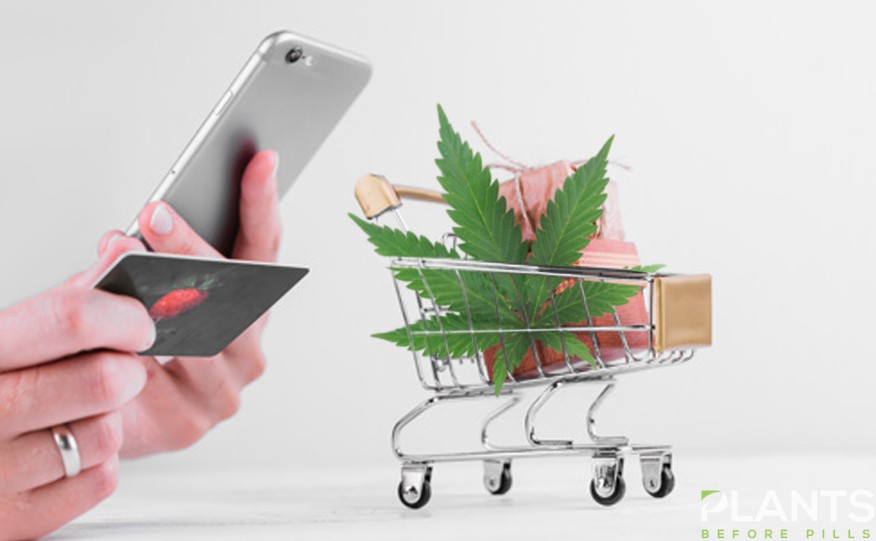 In this highly technological age, many things can be done online and including buying cannabis products. With the rise of delivery and online marketplaces, you definitely have a lot of more convenient options to get your hands on your favorite plant. For first time users of cannabis products, it is advisable for you to know the common marijuana terms in dispensaries and online shopping.  But before you hit that "Place Order" button, keep in mind the legality of the cannabis in your state. Currently, there are still some places in the US where both the medical and recreational marijuana is prohibited.
Helpful tips for buying cannabis products online
Determine the Best Cannabis Product
Before you go and buy cannabis products for medical or even recreational purposes, you want to make sure that you know the right product that can give you your desired effects. You can do this by simply listing down the types of results you want and those that you do not want. This will help you eliminate the kinds of products that you might not like and those that are perfect for your needs and preferences.
For example, you are looking for a potent product that can give you an energetic and more focused experience. You can check out items that have high CBD content. However, if you are into a more euphoric and laidback experience, then those with high levels of THC is perfect for you.
If you are not sure what type of item will give you the effect you are looking for, then you can always send an inquiry to the online shop. Receiving a response from them is a plus as it shows that they attend to their potential customers' questions.
Consider CBD Oil for Versatility
One of the hottest cannabis products today is CBD oil as many of the medicinal and beneficial effects of the plant is attributed to this cannabidiol. CBD is the chemical compound in the cannabis plant that is known for its medical properties.
This product is perfect for those looking to get the full benefits of the CBD while ensuring that the item can be used for many purposes. You can use it for cooking, mix it with beverages such as coffee and mocktails, and incorporate it in your cookie or brownie recipes. You can even make a cup of tea infused with CBD and topped with your other favorite herbs.
Make Sure that the Company is Legit
Lastly, you want to make sure that you get your supply from legitimate cannabis retailers. By doing so, you can rest assured that the products you will get is safe and regulation compliant. Before buying, make sure to do your research about the company. Find whatever you can find out the seller including company details, articles in which it is featured and other similar information. Moreover, stick to ones with positive reviews, as this means that other customers have tried their products and they vouched for the items.
Look for a Platform that Offers Convenience
Now, you may have found a legit company with legit products. Another thing you need to consider is the convenience of the transaction. Does the platform allow online payments? How about refunds and returns? This way, you can confidently pay for the item and be protected if you are not satisfied with the product.
You also need to consider delivery logistics. Will the company deliver the product right at your doorstep? Will the item be shipped in a discreet and protected packaging? This is important to ensure that you will receive your order in pristine condition without worries about prying eyes snooping on your package.
Now that you know the most important things about buying cannabis products online, you can definitely include these items in your online shopping list. This way, you just have to sit back and relax in the comfort of your home and wait for your cannabis item to arrive.