New to Cannabis Community? Here's Why You Should Check it Out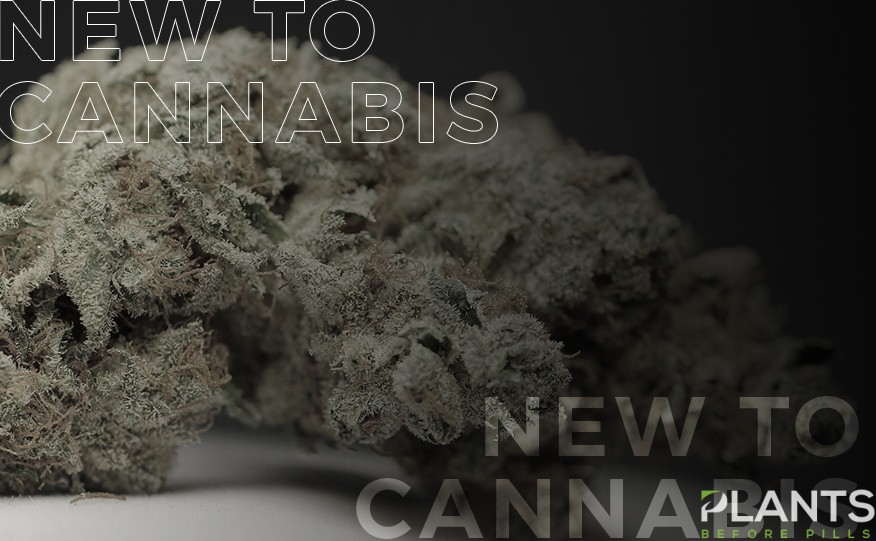 Medical marijuana and cannabis products are being raved left and right, especially with the legalizations that have been happening across the globe. Combined with the huge shift toward healthier lifestyles and alternatives, cannabis and CBD products have reached cult status. Because of this, non-consumers of marijuana might be curious as to what all the buzz is all about. Discover the facts about cannabis community.
Why Be in Cannabis Community?
If you are inclined to enter the cannabis community but you need more convincing, here's a list of things that can encourage you more.
CBD Products Have the Potential to Improve Your Lifestyle
Let's start with a more practical reason. At this point, you have probably heard the praises given to cannabis and CBD by various kinds of individuals. From health gurus to social media personalities such as Kim Kardashian-West, the various virtues of the plant and its cannabinoids are all over all kinds of media.
If this is not enough to convince you, then it could help to know that many of these positive claims are supported by scientific research. There are a lot of studies that show CBD's potential to replace opioids, treat various diseases and illnesses and even improve consumers' quality of life.
Even if you are not a patient, you can use legal cannabis and CBD to elevate your lifestyle. Having trouble falling asleep at night? Lacking appetite? Perhaps you suffer from slow cognition due to fatigue and stress? CBD can help you without it. The great thing about it is that CBD works both ways due to the endocannabinoid system and the cannabinoids' regulatory function, so this compound can also induce wakefulness, regulate appetite and induce calmness.
Cannabis Feeds Your Adventurous Spirit
Individuals who like discovering things might find the same satisfaction when they experiment with cannabis. There are hundreds of strains you can choose from, making your journey more exciting. Moreover, you can try out different infused products from edibles and tinctures to topicals and capsules.
So, if you like checking out your gadgets or you simply like exploring what music streaming sites have to offer, cannabis can definitely give you the adventure you are looking for. What's better is that this plant and cannabinoid can even help you enjoy those things more as it can let you focus and elevate your mood.
It Can Make Your Daily Activities More Fun
As mentioned, you can get more out of the things you love when you do them while consuming marijuana. This plant is known to elevate consumer's moods, making it a great aid for recreational activities with or without the psychoactive ingredient THC. It is even prescribed to patients with mental disorders such as depression and anxiety.
So, if you suffer from too much stress induced by a combination of work and personal life, which is aggravated by anxiety, then this can definitely help. You can even focus and enjoy your hobbies more because of the energy, creativity, and cognition boosting properties of this plant. This way, you can bring out the best in you while doing things that you love. It can even help you perform duties that you kind of hate doing!
The Cannabis Community Strives for Inclusivity and Social Justice
The prohibition and prejudice against marijuana have roots in racism and socioeconomic inequality. Many individuals from the lower strata of the society have suffered jail time for possession because of the society's produced view of the plant. With legalization, many people are fighting against these injustices.
In fact, the industry has even generated jobs that benefit not only the economy but also the financial matters of those who landed cannabis jobs. Moreover, the sector is showing signs of inclusivity as there are many business owners in the cannabis industry who are women and members of the LGBTQ+.
There are a lot of reasons why you should try cannabis products. With safe and responsible consumption, you can rest assured that you can have a positive experience with this plant and infused products.
A 7-Step Guide To Growing Marijuana at Home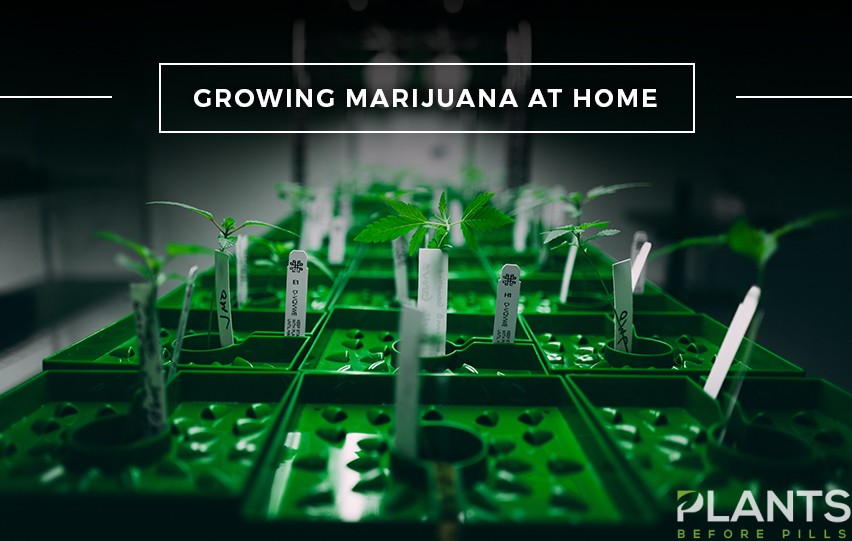 All the talk about cannabis can cause excitement to the point of getting your hands dirty and growing your very own plant. It can be a fun hobby and the start of an exciting business opportunity as well.
Also, for individuals using cannabis for medicinal value, it is possible to obtain the best quality buds grown with proper care. From seeds to buds, here are seven steps to follow to grow a cannabis plant at home.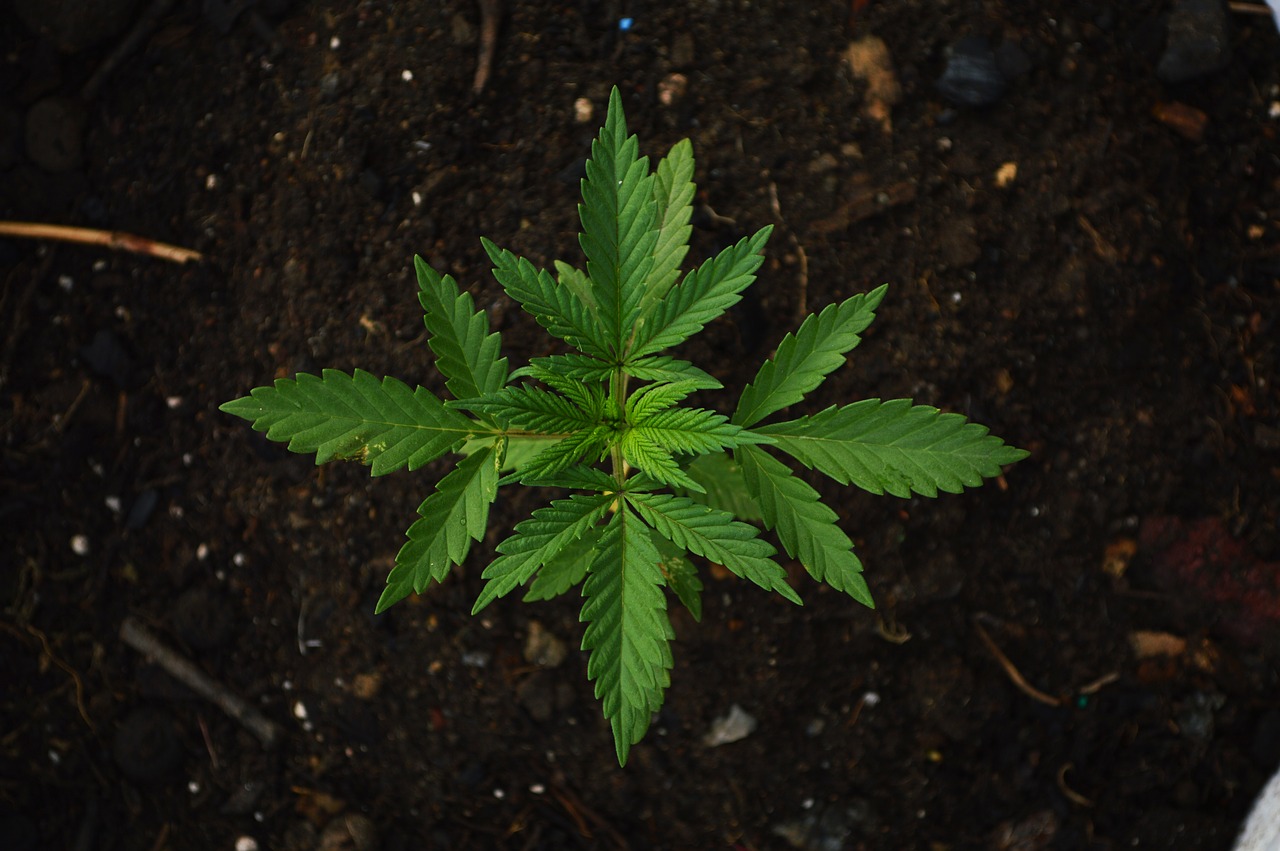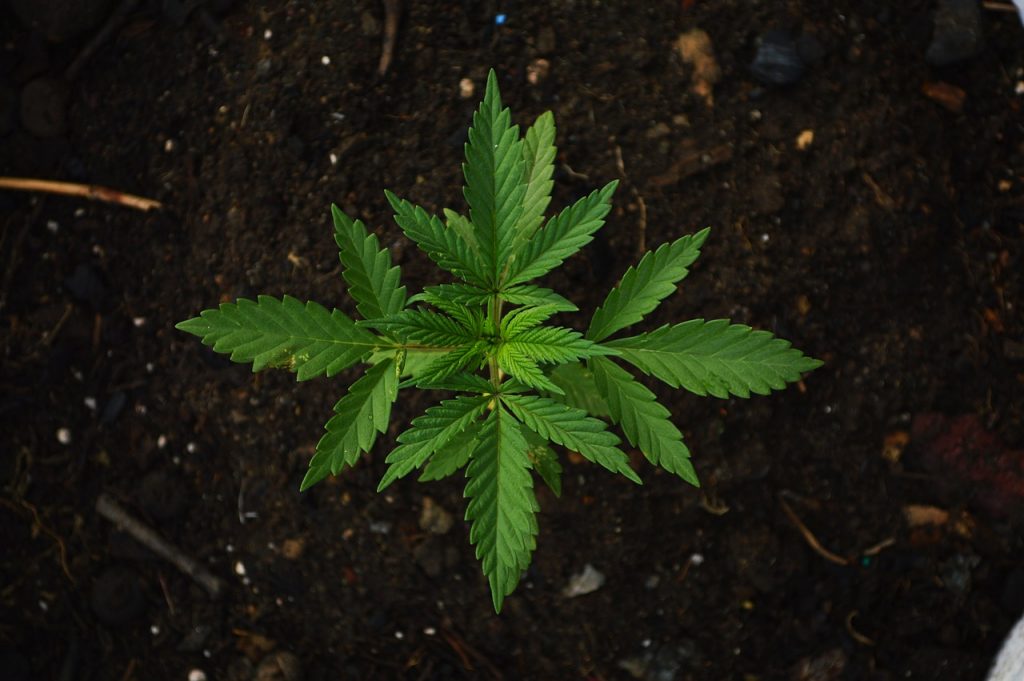 1. Choose the Perfect Spot
Finding the right location to place your cannabis plant is crucial. Although cannabis is not a demanding species, there are certain conditions required to ensure your yield is of the highest quality.
The place you select for your plant must be secluded and out of the way to reduce tampering. It must offer the liberty to control essential parameters such as temperature and light for the plant to grow well.
You can choose an empty room, basement, attic, garage, or any space available that is easy to clean and private to grow your very own cannabis.
2. Pick the Right Seeds
Choosing the right cannabis seeds helps to achieve a good yield for your use. If you are planning to grow any particular strain for medicinal usage, you can shop here from your trusted source of premium marijuana seeds.
If you are a first-time in growing marijuana at home, choose the easiest strain to care. It will help you learn about the plant, while not having to invest too much time, money, and other resources into it when growing marijuana at home.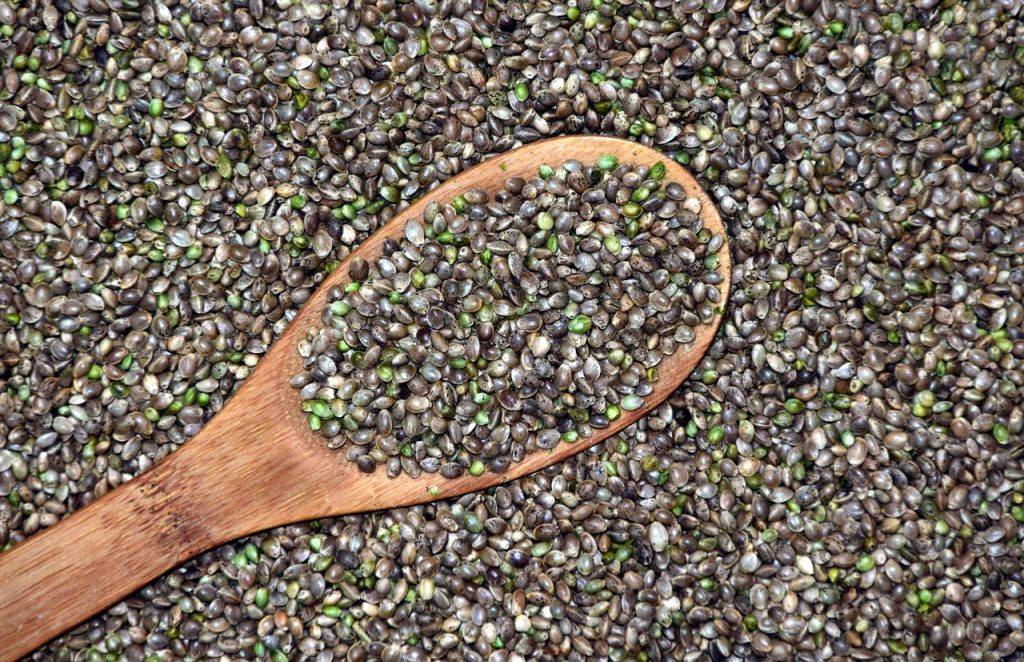 Among pure, feminized, and auto-flowering seeds, auto-flowering could be the best choice for novice growers. They produce 100 percent female plants that will give a completely usable yield.
Also, auto-flowering seeds eliminate the need for photoperiod control in cannabis plants, making it easy for first-time growers. The seeds are straightforward to grow, and a simple set can give you a healthy yield.
3. Choose Growth Medium
Once you know the right place to plant your cannabis, you need to prepare the area to support growth.
The growth medium is responsible for transferring nutrients through water, and the entire set up should be capable of doing so effectively. You can choose between growing in the soil, or soilless mediums, such as hydroponics.
In the case of soil as a medium, water the plants and add nutrients to the soil for the plant. But in hydroponics, you directly feed the necessary nutrients to the water that increases absorption efficiency and supports quicker growth. It also reduces some common problems with soil as a medium, such as pest infestations.
Although both pose specific advantages, using soil is the best choice for first-timers to make the process simple and straightforward.
4. Set Up the Growth Area
Now you can move on to work on the growth area to nurture and support your cannabis plant.
Make sure to create provisions for adequate light availability in the home growing area. You can rely on sunlight or invest in artificial lighting systems using LEDs, HIDs, or fluorescents to create the right light levels.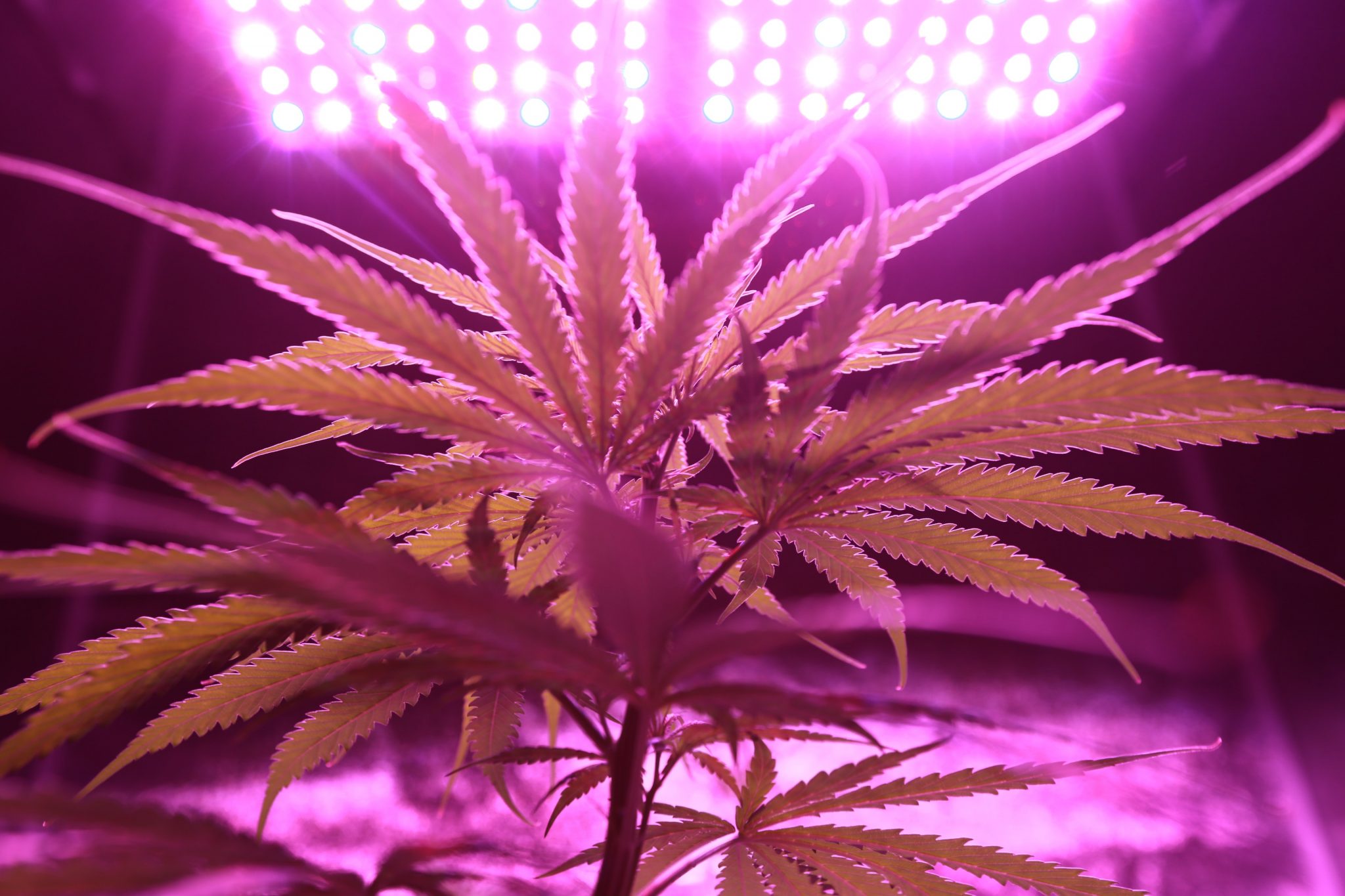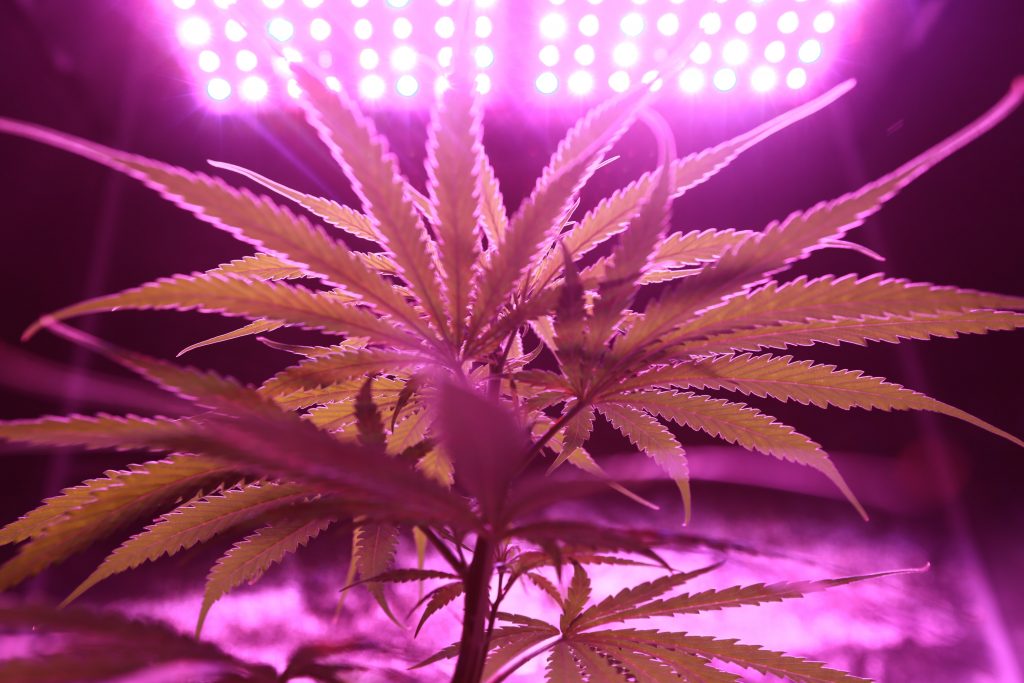 Measure the temperature and humidity levels and install ventilation mechanisms to keep these parameters in check when growing marijuana at home. It reduces the risk of pest infestations and mold and keeps the area from smelling pungent.
Check the pH levels of your growing medium. The ideal range should be between 6-7 for soil and between 5.5 – 6.5 for hydroponics.
Test the soil to understand the availability of essential nutrients and supplement with the rest to promote growth at different stages.
5. Germinate and Plant your Cannabis
The next step is to germinate your seeds. Place the seeds directly in a pot or in a wet paper towel and leave it for a few days to let it sprout. Using a pot as your germination medium is advisable as it reduces the transplanting shock in the next stage.
When you plant sprouts, transfer it along with the soil to a large pot or grow medium.
The plant is now going to transition into a vegetative stage where you will see the sprout grow into leaves. The temperature requirement is slightly higher during this time, and all the essential nutrients need to be adequately available for healthy growth.
Be mindful of light availability throughout this period. Monitor the growth and look out for any signs of plant deficiencies to provide the necessary remedies.
6. Monitor the Flowering Stage
The next step for your cannabis plant is the flowering stage. This is when your plant starts to form small flowers, which will eventually turn into buds that we consume. It is a critical phase in the life of a cannabis plant and requires maximum care and attention.
If you are working with pure cannabis seeds in growing marijuana at home, you might have to vary the photoperiod to lead your plant to this stage and weed out the males. Auto-flowering seeds reduce the effort in such areas and only require minimal adjustments in temperature.
Maintain the temperature between 64° F and 78°F and increase the watering levels to flush your plant with nutrients that contribute to aroma, taste, and potency.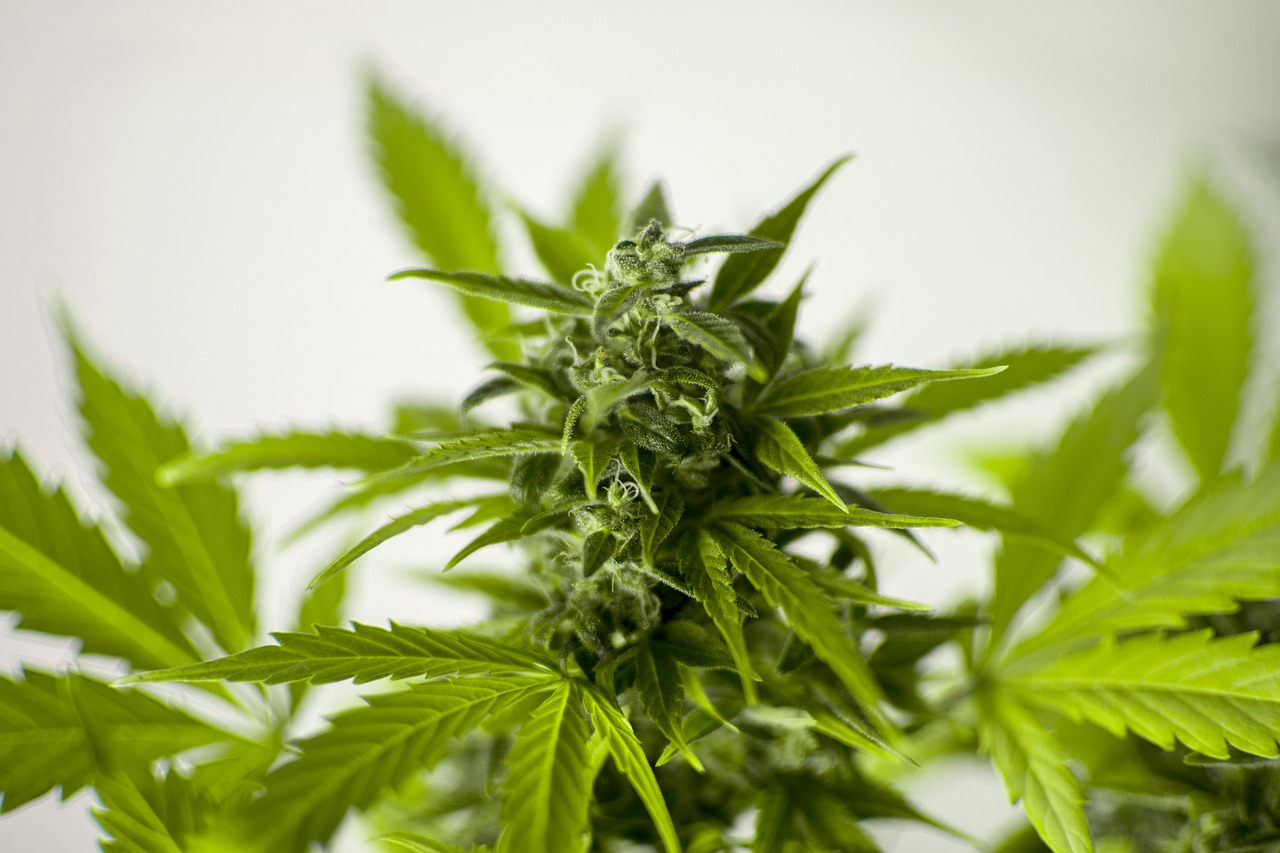 Your plant also requires some grooming during this stage to provide space for the flowers. Trim and bend the leaves to make sure your entire plant gets enough light and nutrients and is easy to maintain.
Watch out for signs such as yellowing of leaves or browning at the tips, which could indicate pH imbalance or nutrient deficiency. Caring for your plant during this stage will give you the best yield.
7. Get Ready to Harvest and Relish the Yield
Finally, the moment you have been waiting for. It is time to harvest the buds and relish your yield. The color depth of the pistils and hairs indicate the maturity and potency of the buds.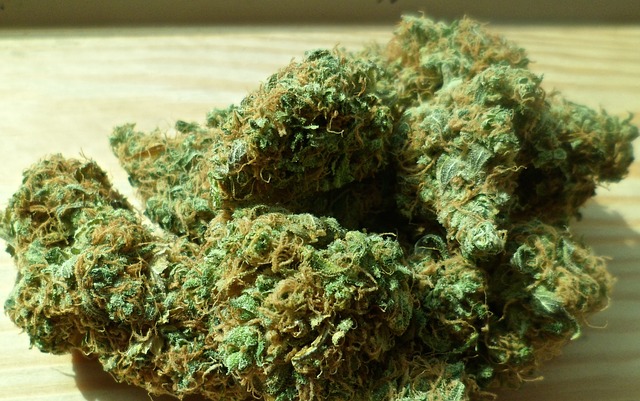 When they are about 50 – 70 percent dark, you will get a yield rich in THC content. If you wish to enjoy a relaxing effect from the buds, then wait for at least 80 percent of the flowers to become dark in color to harvest.
With the help of scissors, cut the buds and hang them upside down to dry out for five days. Place them in a jar and store in a cold, dry, and darkroom. Make sure to remove air from the container to let the buds cure and get ready for use.
Growing your cannabis at home can be a fun and exciting activity, but it can also be challenging at times. Although these instructions give you the basic idea of taking your cannabis seeds through the growth process to harvest, there are several strain-specific details, such as temperature levels and lighting requirements that need to be taken care of.
Research and gather these details and apply them wherever relevant to cherish the yield of your cannabis plant.
Kratom: 4 Reasons Why It's Worth Exploring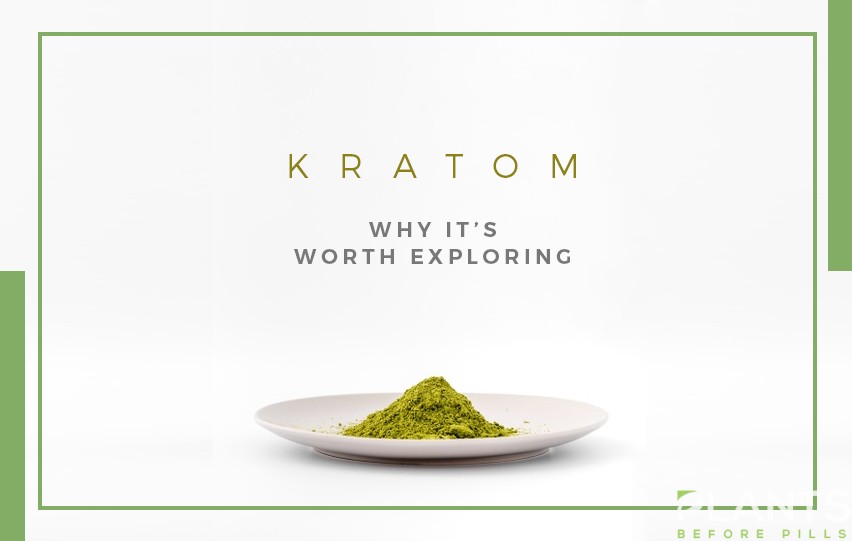 If you have been closely monitoring the Internet and been finding ways to keep yourself healthy, chances are you've seen this term once or twice. You might have even seen or heard about this in the news, especially with the Food and Drug Administration (FDA) and the Drug Enforcement Agency (DEA)'s interest in cracking down on these products.  
While Kratom tends to draw flak from these government agencies, there's still a large buzz surrounding this product, now more than ever thanks to many claims that it helped them wean off their addiction. However, apart from serving as a relief of sorts for opioid addiction and withdrawal, there has been a growing following for this herbal supplement/recreational drug because of its mood-boosting capabilities.
With all the mix of information around Kratom, it may be challenging to know exactly what's what. To shed more light on this product, we'll be tackling what this really is and why you should explore this herbal plant/recreational drug. Take a look.
What is Kratom?
Before anything else, kratom, otherwise known as Mitragyna speciosa, comes from a tree with the same name. Native to Indonesia, Malaysia, Papua New Guinea, and Thailand, its leaves have been used as herbal medicine to treat a variety of conditions. In particular, it has been used to address pain as it attaches to similar nerve cells in your brain to even helping manage sleep and other health conditions.  
Today, it is also being utilized as a recreational drug of sorts and is consumed in a number of ways. The most popular being brewed into a tea, being utilized in cooking, and even being chewed. It is also being smoked or ingested through the use of ground-up pills.
Why You Should Incorporate Kratom in Your Life
Provide Pain Relief 
Though the FDA and the DEA claim that kratom has no medical benefits, it has long been used in different parts on the globe, particularly in Asian regions, to treat chronic pain and even opiate-related withdrawal pain.  
Other illnesses and conditions such as diarrhea, diabetes, fever, and hypertension have also found significant results when this is consumed. All of these pain-relieving benefits can be attributed to the alkaloid found within kratom, such as mitragynine which is recognized for its analgesic properties.
Enhance Mood 
More than physical pain, this herbal drug is also considered a miracle worker as it eases emotional pain by promoting a euphoric feeling, thus inducing a general feeling of contentedness and even happiness.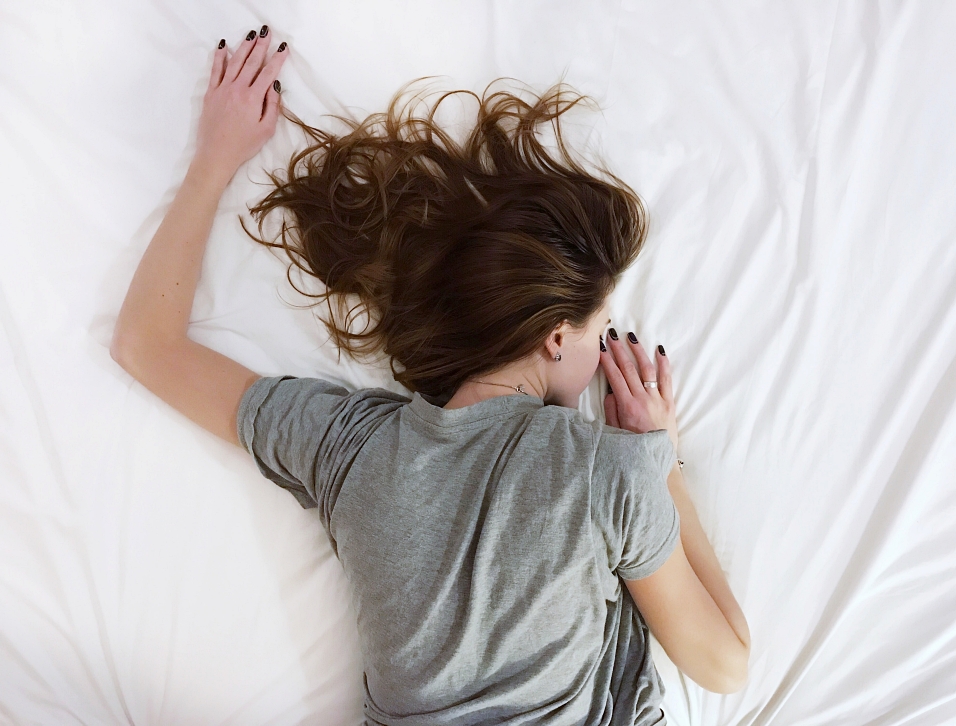 Address Sleep Problems 
One of the effects of consuming this is drowsiness. Higher doses of this drug can lead to sleepiness and even induce individuals to be in a dreamlike state. By consuming this plant, you can help treat sleeping problems such as insomnia as it can help lull you into a deep and restful slumber, allowing you to take the next day feeling much more energized. If you wish to address this particular concern, taking a cup of tea might work in your favor. 
Boost Immune System 
For those who wish to feel more energetic and who want to strengthen their immune system, this drug will provide the burst of energy that you need to conquer the day. Moreover, it can also help you to become more relaxed and reduce your stress and anxiety levels, both of which tend to trigger and agitate your immune system.
The Bottom Line 
Though there are still many studies conducted on kratom, there's no denying the possible health benefits it can afford individuals. With the guidelines above, you can best gauge how you can incorporate this into your everyday life and why it's even worth exploring in the first place.
How to use CBD Oil for Pain – 2020 Quarterly Review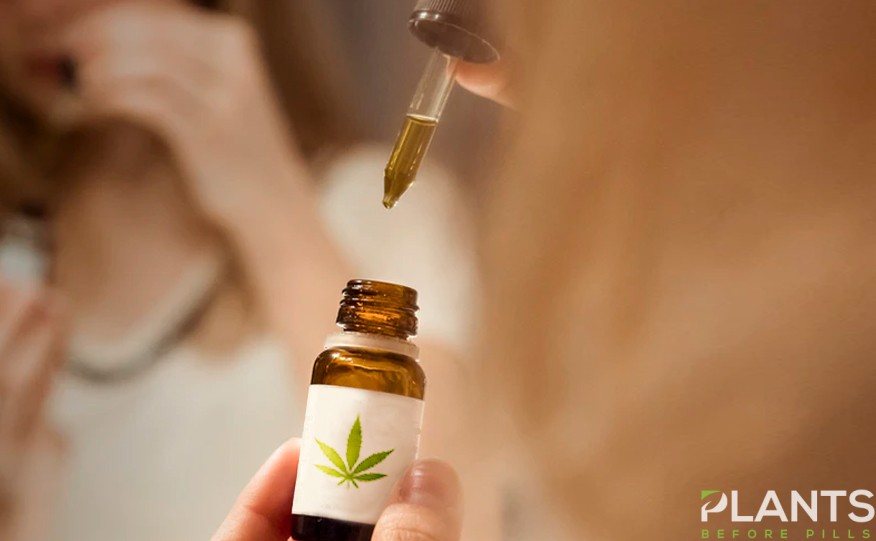 CBD has become wildly popular over the past 3-4 years due to it's many touted benefits and it's availability in markets all around the world. The sales of CBD products topped $1 Billion in sales in 2019 and looks to continue to grow well into the mid-2020s.
If you are still new to or haven't been following the CBD craze, CBD is short for cannabidiol, is a chemical compound from the Cannabis plant, which is also commonly referred to as marijuana or hemp. It is a naturally occurring substance that's used in a variety of products to give you a general sense of wellness in addition to the feeling of relaxation and calmness. Unlike its close relative, THC, which is the major psychoactive ingredient in marijuana, CBD is non-psychoactive which means you will not experience the "high" that you would if you were to consume cannabis with high levels of THC.
As we learn more about how CBD oil, CBD edibles, and CBD topicals work, the more buzz there is in the market for CBD products in general. There are a lot of new product spinoffs such as CBD dog treats, CBD bath bombs, CBD topicals, and even CBD toothpicks. Most CBD products claim to give a ton of benefits when it comes to the types of ailments they can be used to address. Of those benefits, one of the most common is for overall pain relief.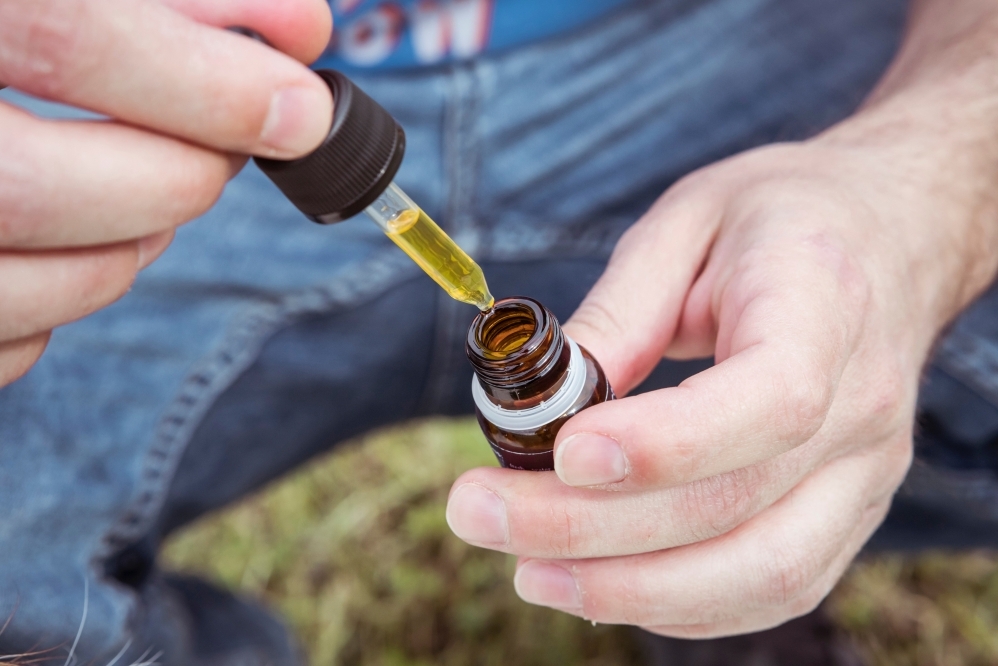 The trend towards natural and holistic health continues to grow each year as more evidence that costly pharmaceuticals (Big Pharma) not only come with a lot of side effects but also do damage to vital body organs such as the liver and kidneys. These complex "medicines" do not always assimilate well with the body which is why so many adverse reactions happen often resulting in having to take other medication to offset the ill effects of the first medicine. Those secondary medications often have side effects of their own and the negative feedback loop continues to perpetuate all while health is being compromised. The cause of this issue is that many manmade drugs are created to ease symptoms and are not addressing the core problem that is causing the symptoms. Natural products are viewed by the body as homogenous compounds because their chemical makeup is similar to the makeup of our bodies. This is a key differentiator between lab-made drugs and natural medicines.
In comes, CBD products and even CBD oil UK brands are in the mix of the global market. Being super easy to consume, CBD oil has become a staple in health regimens all across the world. It is easy to acquire, easy to take, and is all-natural. The compounds in CBD oil can help with inflammation in the body as well as helping ease aches and pains. Although pure CBD oil can be quite costly, the benefits can be great especially as it relates to overall wellness and low cases of side effects. CBD oil can be added to food, mixed into drinks, rubbed into the skin as well as absorbed into the skin by bathing in it. It has become so popular that even athletes are consuming it to help with their overall sports performance.
There is still quite a bit of research to be done as it relates to CBD as a whole but based on its initial reactions amongst many, things look very promising. As each year passes, the better the extraction of CBD oil becomes, and the more efficient it becomes inside the body.
Have you used CBD oil for pain before? Is it something you would recommend to a family member or friend to try if they are dealing with chronic pain? We'd love to hear about your experience with CBD oil and if it has been beneficial for pain relief.