Weed-Themed Shows and How These Change People's Perspectives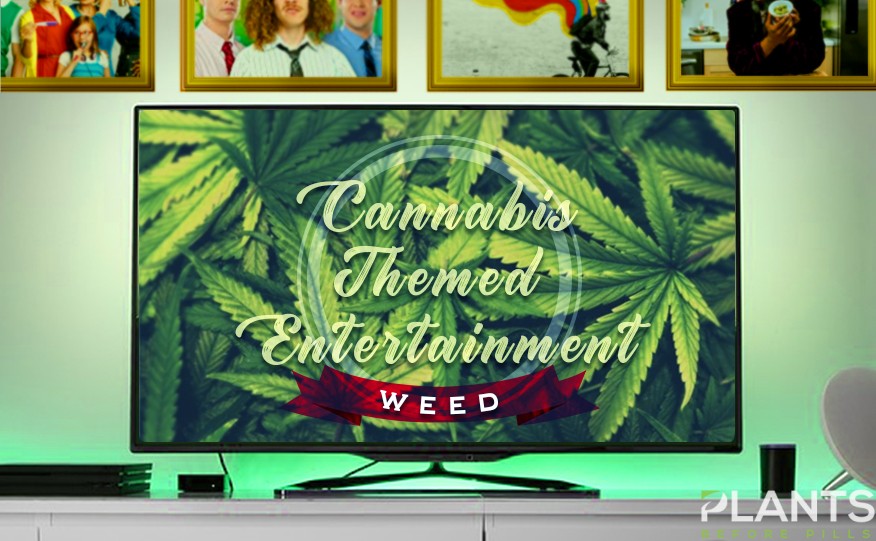 In the past, numerous television programs around the globe depicted stoners in a bad light. Apart from bumming around their apartments all day, these weed-loving individuals are most likely considered lazy. As a matter of fact, most shows and films on the big screen portray these stoner as people who love to snack every minute of every day.
Those who are not familiar with the herb have the tendency to believe these misconceptions. After all, people who are only watching from afar have no firsthand experience with weed or even CBD oil. Aside from using the CBD oil for pain management, these also provide immediate relief in other ways.
With the increasing drive towards legalization of weed in the United States as well as in other parts of the world, it cannot be denied that television played a big role in changing people's perception toward this herb. While there are still people who would gladly close their eyes to the wealth of benefits being brought on by this plant, there are more and more individuals who are discovering the capabilities of weed. Thanks to the magic of cinema and the pull of television, cannabis and CBD products are given more exposure than ever before.
Here's a closer look at the shows that successfully paved the way for more eye-opening programs.
Cannabis-Themed Entertainment
While not technically a television program, A New Normal makes use of big film stars and even more buzz-worthy directors to further its cause. MedMen, an LA-based cannabis company, invited Spike Jonze to direct its latest commercial campaign, with Grey's Anatomy star, Jesse Williams, in the main role.
The MedMen advertisement aims to show its target market the varying perceptions surrounding the use of cannabis, from the past to the present. To get a firmer grasp on the issues surrounding legalization of the plant, as well as getting another perspective on the use of hemp, make sure not to miss out on this commercial.
If you are into cooking cannabis-infused dishes and want to see contestants and judges getting baked on a show, Cooking on High might be the right one for you.
With so many questions surrounding the legality of this television program, watching this for yourself might satisfy the fire of curiosity in you. To answer the question that's on your mind, yes, Cooking on High is legal since its filmed and produced in a state where the plant is legalized as well.
This program provides various challenges for chefs. Aside from watching chefs infused various food types and edibles, there are food experts and marijuana specialists who educate chefs and viewers about what they are cooking with. If you want reality TV that's a tad different from other cooking programs, this is the one for you.
Workaholics is probably one of the first programs on the small screen that predominantly feature the use of weed. As a matter of fact, it seems that key characters in the series tend to use cannabis on an everyday basis. It follows the journey of the characters settling into adulthood and towards their corporate life, yet still maintaining habits and activities that greatly remind them of their college days.
If you want a nostalgic walk in the park, make sure not to miss out on this series. More than following the characters daily lives, let this show provide you with a sense of rawness and comedy you certainly need.
If you want something new each episode, you're in for a treat when watching High Maintenance. This follows the adventures of The Guy, a dealer who personally delivers his goods to customers. Through these episodes, you will get a glimpse of the daily lives and routines of people availing cannabis. Weaved with masterful storytelling and exciting approaches to each episode, you will surely be hooked.
Cannabis Living: How to Live Like the Characters on the Show
With the legalization of cannabis very much underway in select states in the country, living like your favorite series characters certainly isn't far from the picture. In fact, you can do so right in your very home!
Apart from the usual bong nights with your friends, why not spice up your get-togethers with something more creative? Cooking a meal that's infused with CBD hemp oil, using CBD oil vape, and even using beauty products can do a world of wonders. If you are itching to see what it's like to live in these characters' shoes, below are some ways you can try:
To live like a chef, you have got to try your hand at cooking. And not just any kind of cooking for that matter. During this cookoff with your friends and loved ones, why not live it up like Cooking on High? Here, you can ask participants to share their favorite dish and infuse it with some drops of cannabidiol oil.
Steaks with a CBD oil-infused chimichurri sauce on the side works well for huge gatherings. Your guests might also like servings of lasagne and even sweet endings such as brownies and gummies. During your cookoff, take this time to invite those of legal age to participate. Who knows, they might just come up with exciting creations everyone will love!
Try a Variety of Cannabis Strains and Products
Tired of the usual herbs you've been smoking? You may want to eat your goods instead. You can easily make edibles infused with cannabidiol or even buy some off the internet.
If you want something totally novel, why not get your hands on new cannabis strains and varieties available on the market? If you don't know, Netflix has co-created marijuana strains that are based on some of their most successful shows. These include hybrids named Poussey Riot from Orange is the new Black, Banana Stand Kush from Arrested Development, and Baka Bile from the Santa Clarita Diet.
According to The Guardian, shows that provide humor and comedy tend to use indica strains, while Netflix programs that feature a dramatic side tend to use sativa strains.
Want to have a spa date without the outrageous fees? You can do so right in your own home with the use of hemp-based products. There are tons of cleansers, exfoliators, and even serums that can help you look and feel your best.
Should you want to go the DIY route instead, you can simply get a few drops of hemp oil CBD and mix these with your choice of serum. Or, if you would rather do without the mixing and all the fuss on your blissful weekend retreat, you can just slather one oil on top of the other. Just make sure that the oil has been absorbed prior to putting another layer on your skin.
After your mini spa retreat, you will definitely come out glowing and hydrated than ever before. As these products contain anti-inflammatory properties, you will have the chance to soothe your skin and treat it with the luxury it deserves. If you want to go the extra mile, CBD oil for anxiety and CBD oil for pain management are just some of the items you can add in your arsenal.
Incorporate Hemp Use in Your Daily Life
Your hemp use does not have to stop with a cookoff or having a spa date at home. Not only can you use these cannabis products on a daily basis, but you can also incorporate these into your daily routine.
For one, simply cleansing and washing your face with a hemp-based cleanser such as Krave Beauty can already do a lot for your skin. If you don't have the time to prepare cannabis-infused dishes on the daily, just a few drops of your handy CBD extract will do the trick.
How These Shows Provide Another Perspective
All of these programs demonstrate the importance of cannabis in everyday life. Besides battling anxiety and dealing with the external and internal pressures that people experience, this plant also provides pain relief in more ways than one. By presenting weed into scenes and storylines as casually as food and alcohol, these television programs are seeking to alter the perception of viewers. Rather than portraying these as harmful substances that are only fit for bums and lazy individuals, the use of pot has now been shown as a normal part of life.
Sure, there are still stoners who tend to bumble and snack every so often, there are more refreshing and true-to-life depictions and characters that people nowadays can greatly identify with. From working-class individuals, upper-middle class, socialites to professional chefs, it cannot be denied that there is a wide range of people from varying types of backgrounds who are into using cannabis.
Give yourself a break and put these television shows on queue. In no time, you'll find yourself seeing their perspectives and how pot plays a central role in their lives. Who knows, you might find out that your story resonates well with the characters you see on screen.
Kratom – Benefits, Uses, and Dosage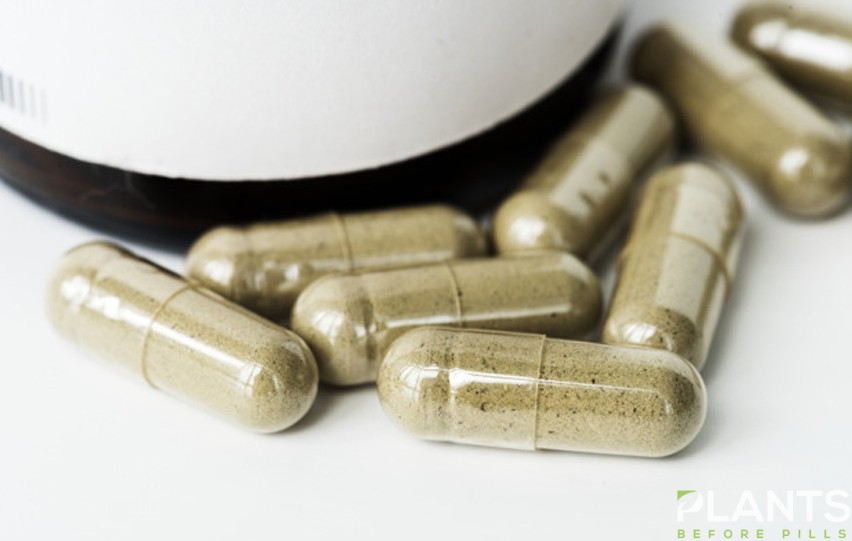 Curious about Kratom? Perhaps, you might have encountered the term while scrolling online. Or maybe, you've heard it somewhere and got curious on what the word refers to.
Often, for people who are familiar with the Southeast Asian culture, Kratom may originally refer to the herbal supplement used traditionally by the masses to relieve aches and pains in the past. However, to date, the identity of Kratom has become more complicated than that.
Specifically, from an herbal supplement, the plant shifted to a recreational drug often used to elevate mode, boost physical endurance, and even relieve opioid withdrawal symptoms.
Below, we have rounded up everything you need to know about this traditional herbal medicine, along with its benefits, uses, and dosage. Read on to know more.
What is Kratom?
Essentially, the term Kratom refers to a type of evergreen tree found in Thailand, Myanmar, Philippines and other South Asian countries.
What gave the tree a special status is its leaves, which are used as medicine and as recreational drug when chopped, chewed, or made into tea.
Are there Benefits Attached to Consuming Kratom?
Specifically, the leaves of Kratom contains two potent alkaloids, named the mitragynine and 7-hydroxymitragynine. When ingested, these alkaloids can produce euphoria and provide pain relieving, anti-inflammatory, and muscle relaxant effects.
Due to this, the plant has been used traditionally by local labourers in Asia to combat fatigue and relieve pain that come with their day-to-day tasks
However, that is just the beginning.
Soon, due to the plant's mood-boosting effects, it was later adapted to become an alternative med to treating mood disorders, such as depression and anxiety. Its sedative feature, which evokes feelings of euphoria, also made it an ideal treatment to ease withdrawal symptoms from illicit drug use.
How Much Kratom Should One Take?
Generally, consuming Kratom can lead to either a stimulant or sedative effect.
To achieve the first one, it is advised to take the substance in low doses, usually lower than 10 grams. When this happens, people who take the plant are expected to feel a boost in their energy, alertness, and giddiness. However, similar to the 'high' effect associated with marijuana, kratom consumption also leads to reduced motor coordination.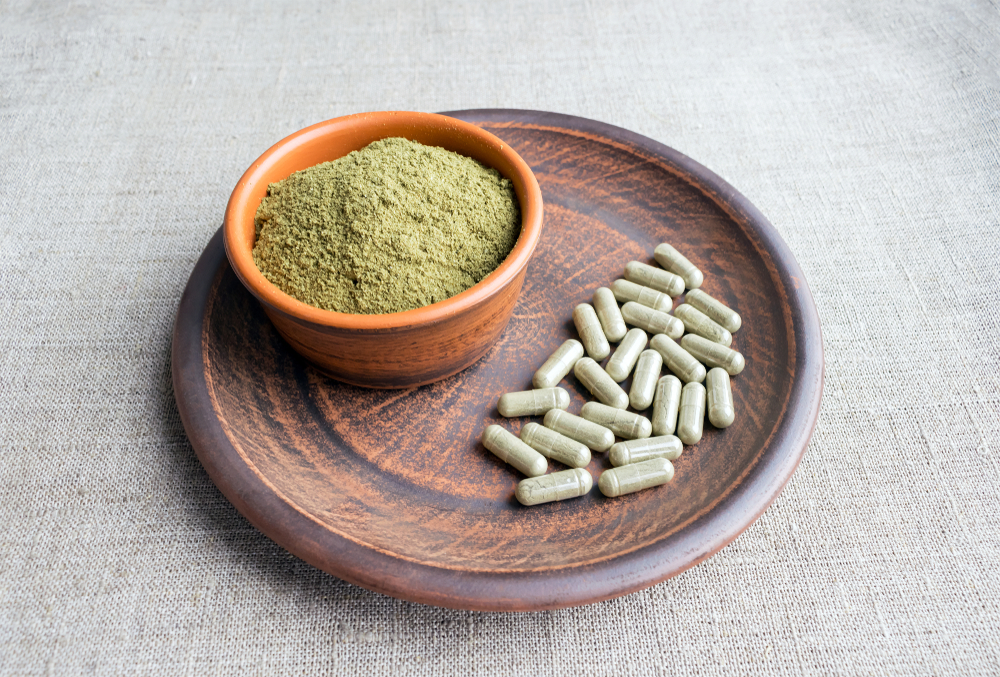 The effects are said to usually start within 10 minutes after ingesting the plant and can last up to one and half hour.
Meanwhile, when taken in larger dose, usually between 10 to 25 grams, users are to experience kratom's sedative effect, which are often described with general feelings of calmness and euphoria lasting up to six hours.
Why Is It Banned in Other Countries?
Generally, while there is good anecdotal emerging evidence that kratom are effective in relieving withdrawal symptoms, there are also a few studies suggesting that using the herbal medicine can lead to the development of another addiction.
In one particular study, for instance, people who took kratom for over six months were reported to had experienced withdrawal symptoms similar to those that occur after opioid use.
Other side effects also often linked to the drug include constipation, severe weight loss, insomnia, and loss of appetite.
Because of these, kratom remains to be a controversial medicine in the science field.
What Now?
To date, with still no sufficient clinical and rigorous studies focusing on kratom, its benefits remain to be deeply anecdotal.
However, despite this, many proponents still believe that the true medicinal potential of the herbal medicine is still yet to be unveiled.
Cannabis Mixed with Dung Found at Ancient Israeli Shrine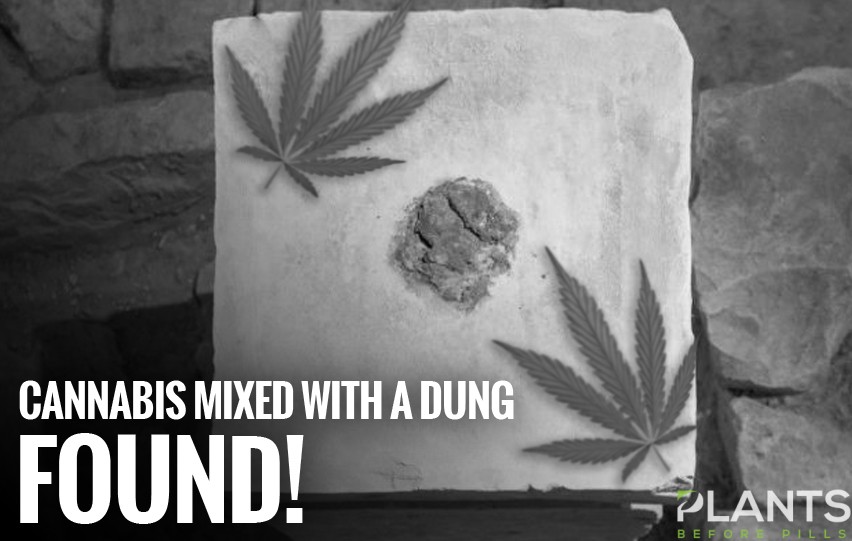 Israeli archaeologists reportedly found cannabis residue in a 3,000-year-old Jewish temple located in southern Israel. The said traces of marijuana in the temple are one of the first signs and proof that the ancient Jewish religion relied on the drug as part of their religion and belief system.
According to Reuters, the traces of cannabis was found at the Tel Arad temple, located in the Negev Desert. The religious site is located within 10 kilometers of the southern Israeli town of Arad.
Although the Tel Arad's temple was discovered around 50 years ago, the findings of the use of marijuana were surprising to the researchers. Based on the lead archaeologist Eran Arie, who led the research project on behalf of the Israel Museum and Volcani Institute of Israel, the found the said material on the limestone altar of Tel Arad to contain residue of what appears to be a mixture of cannabis and animal dung. The animal waste was supposedly used to help the marijuana plant burn.
Apart from the plant and the dung mixture, traces of frankincense were also found at another altar in the same shrine, notes Reuters.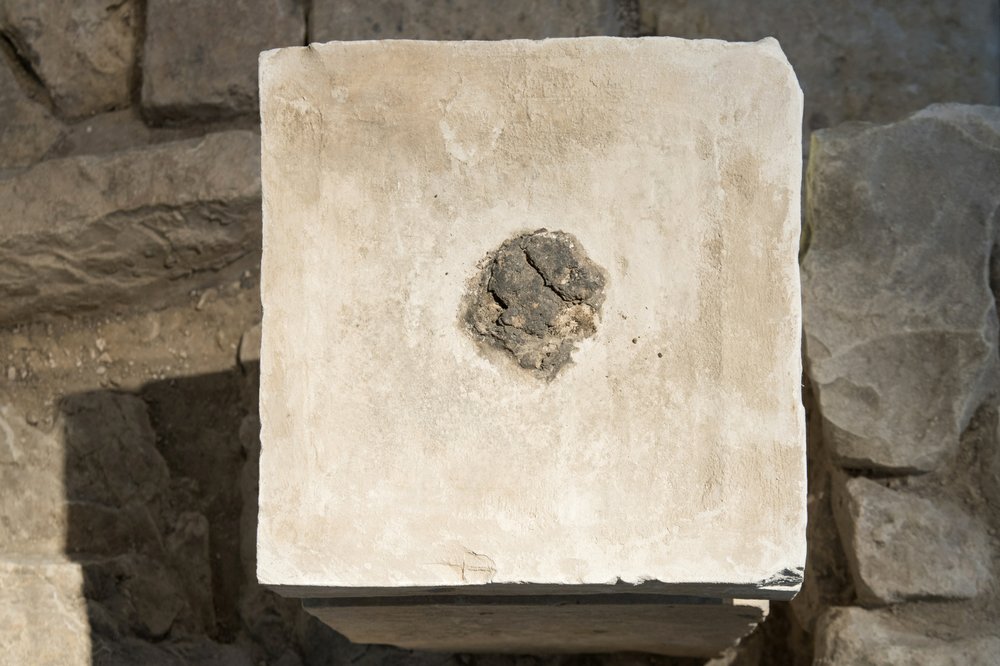 Prior to this discovery, Arie revealed that there has been no proof that cannabis was used and cultivated in the 8th century BC. Arie remarked that this was the "first time we see psychoactive substances in Judahite religion," notes the Associated Press.
Numerous attempts spanning decades initially resulted inbre inconclusive findings, making this discovery a major breakthrough for archaeologists. The two limestone altars found in the Tel Arad shrine can now be seen at the Israel Museum in Jerusalem.
Findings of the study were published last Friday, May 29, 2020, in the academic journal titled, "Tel Aviv: Journal of the Institute of Archaeology of Tel Aviv University."
Based on the findings presented in the academic journal, it appears that the plant was imported via the existence of trade routes. This is indicative of the marijuana plant's lack of pollen and seeds and it was possibly transported in the form of hashish or resin.
In a statement, another expert in the field, archaeology professor Yossi Garfinkel from the Hebrew University said the act of using opium, wine, as well as the discovery of psychoactives, point out that ancient Israelites and those who observed Judaism found it a "desirable thing to get into ecstasy and connect with God." Garfinkel is not associated with the study, notes the Associated Press.
A 7-Step Guide To Growing Marijuana at Home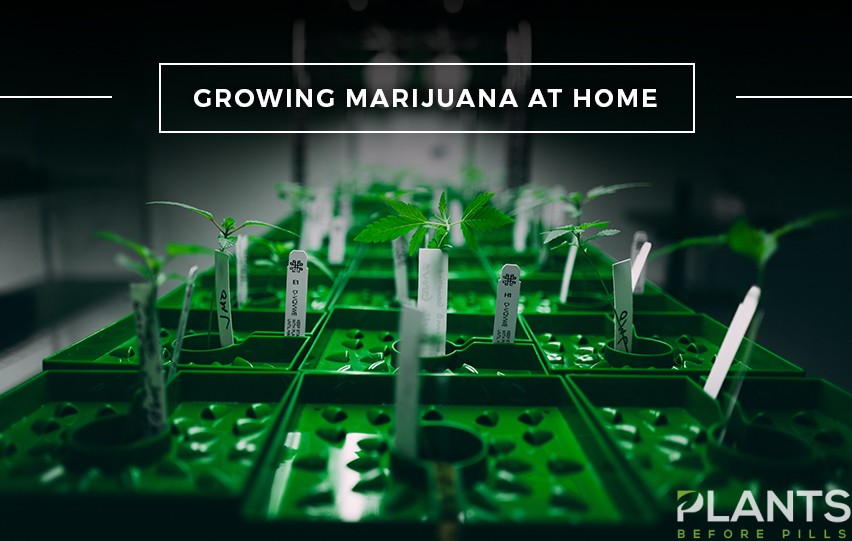 All the talk about cannabis can cause excitement to the point of getting your hands dirty and growing your very own plant. It can be a fun hobby and the start of an exciting business opportunity as well.
Also, for individuals using cannabis for medicinal value, it is possible to obtain the best quality buds grown with proper care. From seeds to buds, here are seven steps to follow to grow a cannabis plant at home.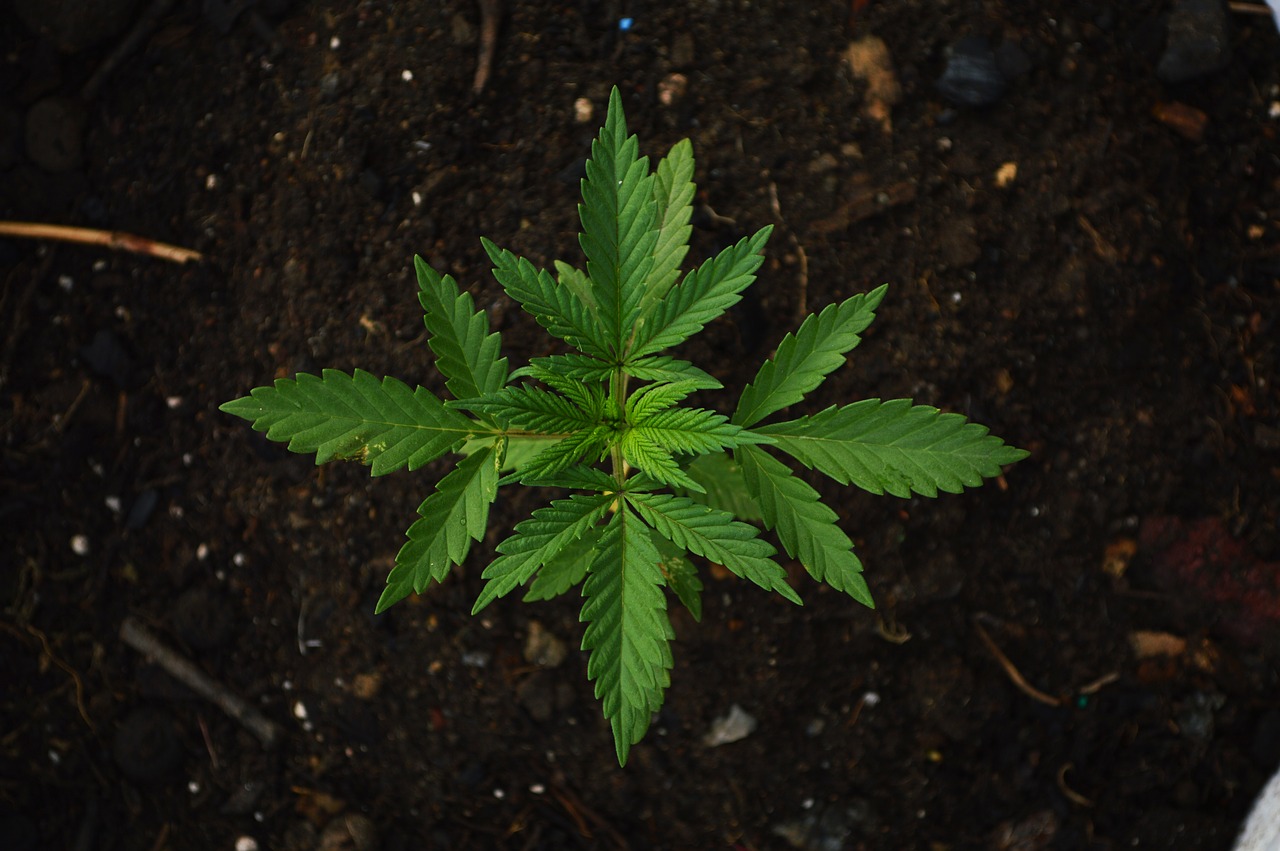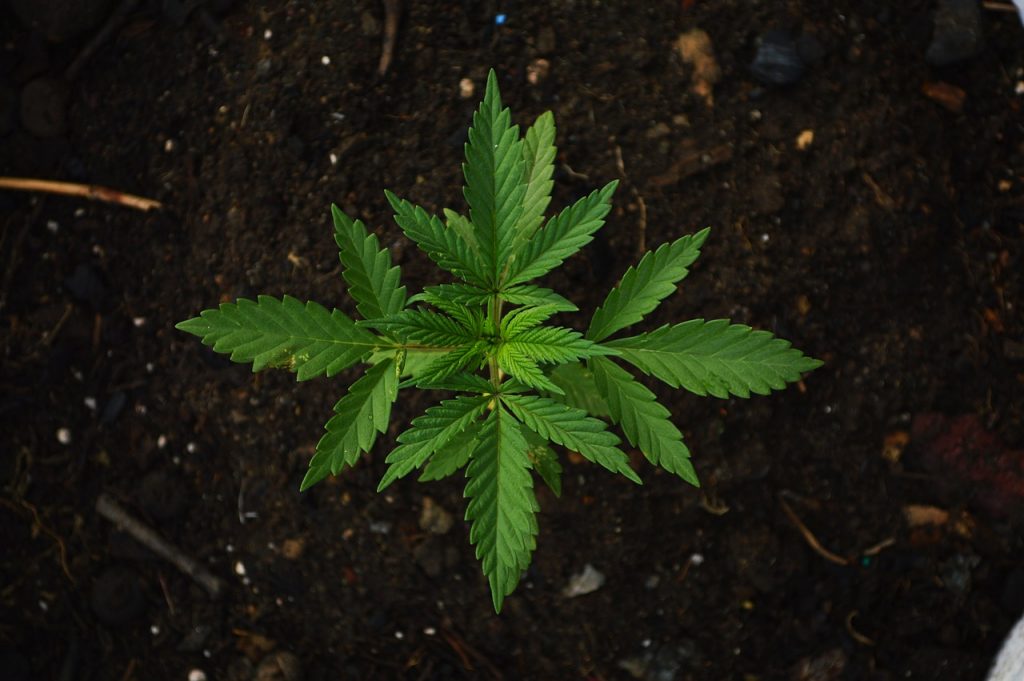 1. Choose the Perfect Spot
Finding the right location to place your cannabis plant is crucial. Although cannabis is not a demanding species, there are certain conditions required to ensure your yield is of the highest quality.
The place you select for your plant must be secluded and out of the way to reduce tampering. It must offer the liberty to control essential parameters such as temperature and light for the plant to grow well.
You can choose an empty room, basement, attic, garage, or any space available that is easy to clean and private to grow your very own cannabis.
2. Pick the Right Seeds
Choosing the right cannabis seeds helps to achieve a good yield for your use. If you are planning to grow any particular strain for medicinal usage, you can shop here from your trusted source of premium marijuana seeds.
If you are a first-time in growing marijuana at home, choose the easiest strain to care. It will help you learn about the plant, while not having to invest too much time, money, and other resources into it when growing marijuana at home.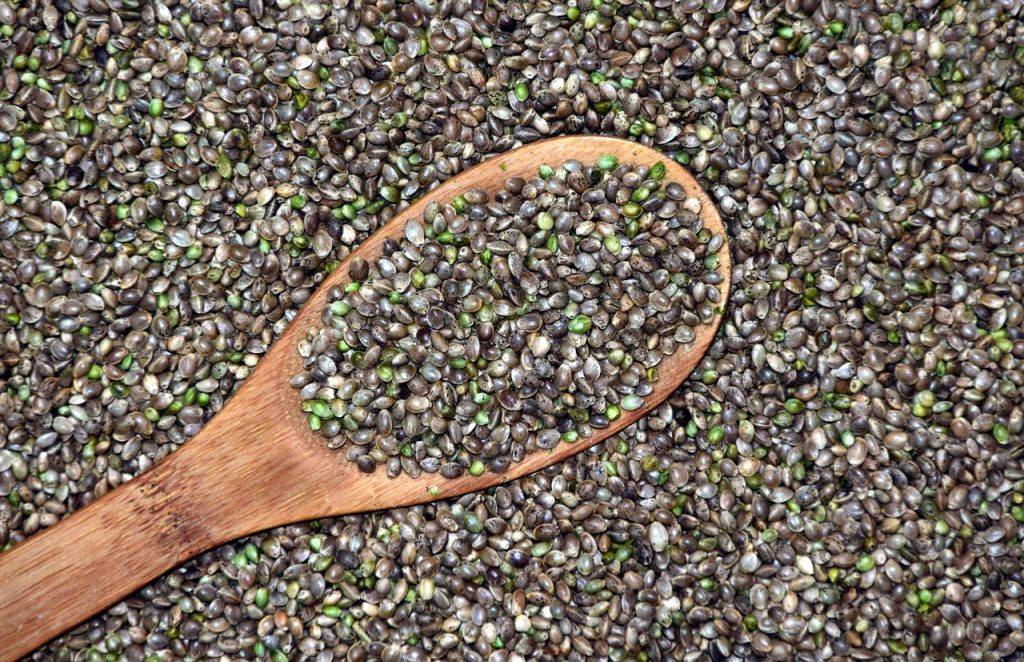 Among pure, feminized, and auto-flowering seeds, auto-flowering could be the best choice for novice growers. They produce 100 percent female plants that will give a completely usable yield.
Also, auto-flowering seeds eliminate the need for photoperiod control in cannabis plants, making it easy for first-time growers. The seeds are straightforward to grow, and a simple set can give you a healthy yield.
3. Choose Growth Medium
Once you know the right place to plant your cannabis, you need to prepare the area to support growth.
The growth medium is responsible for transferring nutrients through water, and the entire set up should be capable of doing so effectively. You can choose between growing in the soil, or soilless mediums, such as hydroponics.
In the case of soil as a medium, water the plants and add nutrients to the soil for the plant. But in hydroponics, you directly feed the necessary nutrients to the water that increases absorption efficiency and supports quicker growth. It also reduces some common problems with soil as a medium, such as pest infestations.
Although both pose specific advantages, using soil is the best choice for first-timers to make the process simple and straightforward.
4. Set Up the Growth Area
Now you can move on to work on the growth area to nurture and support your cannabis plant.
Make sure to create provisions for adequate light availability in the home growing area. You can rely on sunlight or invest in artificial lighting systems using LEDs, HIDs, or fluorescents to create the right light levels.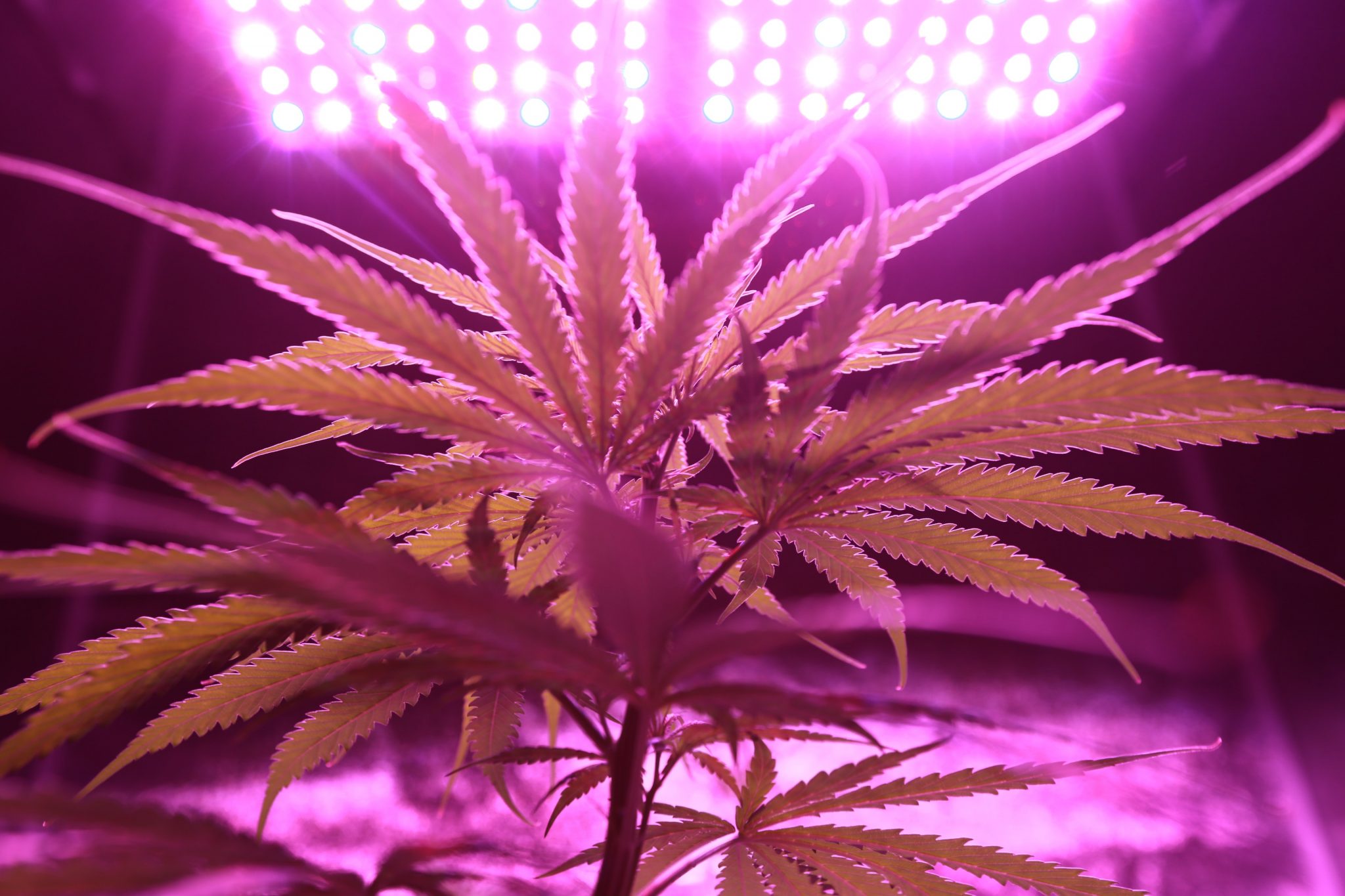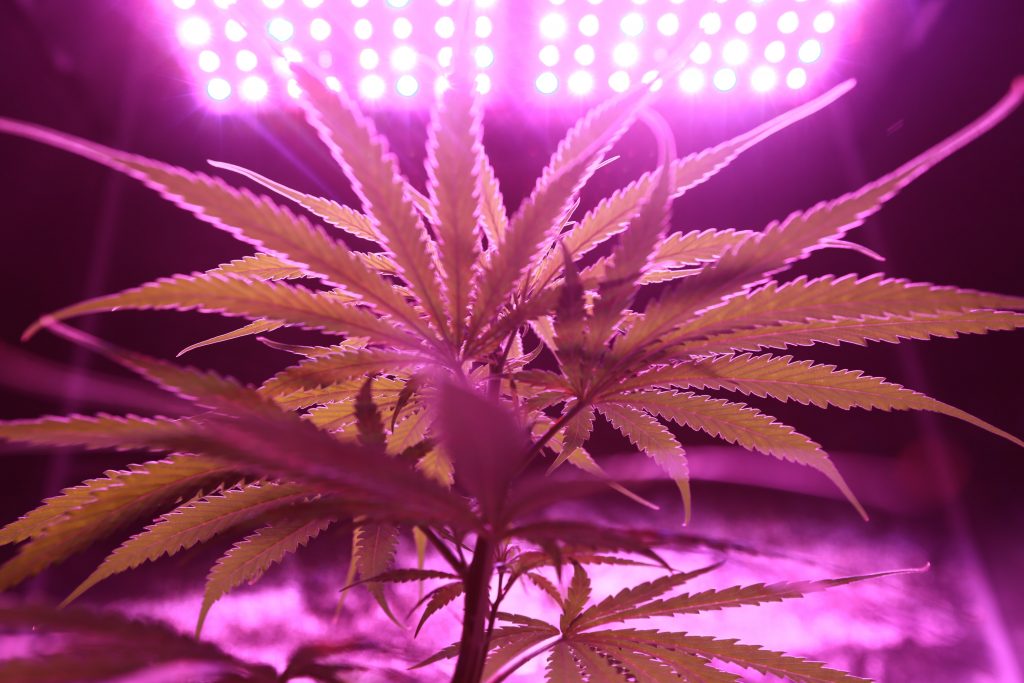 Measure the temperature and humidity levels and install ventilation mechanisms to keep these parameters in check when growing marijuana at home. It reduces the risk of pest infestations and mold and keeps the area from smelling pungent.
Check the pH levels of your growing medium. The ideal range should be between 6-7 for soil and between 5.5 – 6.5 for hydroponics.
Test the soil to understand the availability of essential nutrients and supplement with the rest to promote growth at different stages.
5. Germinate and Plant your Cannabis
The next step is to germinate your seeds. Place the seeds directly in a pot or in a wet paper towel and leave it for a few days to let it sprout. Using a pot as your germination medium is advisable as it reduces the transplanting shock in the next stage.
When you plant sprouts, transfer it along with the soil to a large pot or grow medium.
The plant is now going to transition into a vegetative stage where you will see the sprout grow into leaves. The temperature requirement is slightly higher during this time, and all the essential nutrients need to be adequately available for healthy growth.
Be mindful of light availability throughout this period. Monitor the growth and look out for any signs of plant deficiencies to provide the necessary remedies.
6. Monitor the Flowering Stage
The next step for your cannabis plant is the flowering stage. This is when your plant starts to form small flowers, which will eventually turn into buds that we consume. It is a critical phase in the life of a cannabis plant and requires maximum care and attention.
If you are working with pure cannabis seeds in growing marijuana at home, you might have to vary the photoperiod to lead your plant to this stage and weed out the males. Auto-flowering seeds reduce the effort in such areas and only require minimal adjustments in temperature.
Maintain the temperature between 64° F and 78°F and increase the watering levels to flush your plant with nutrients that contribute to aroma, taste, and potency.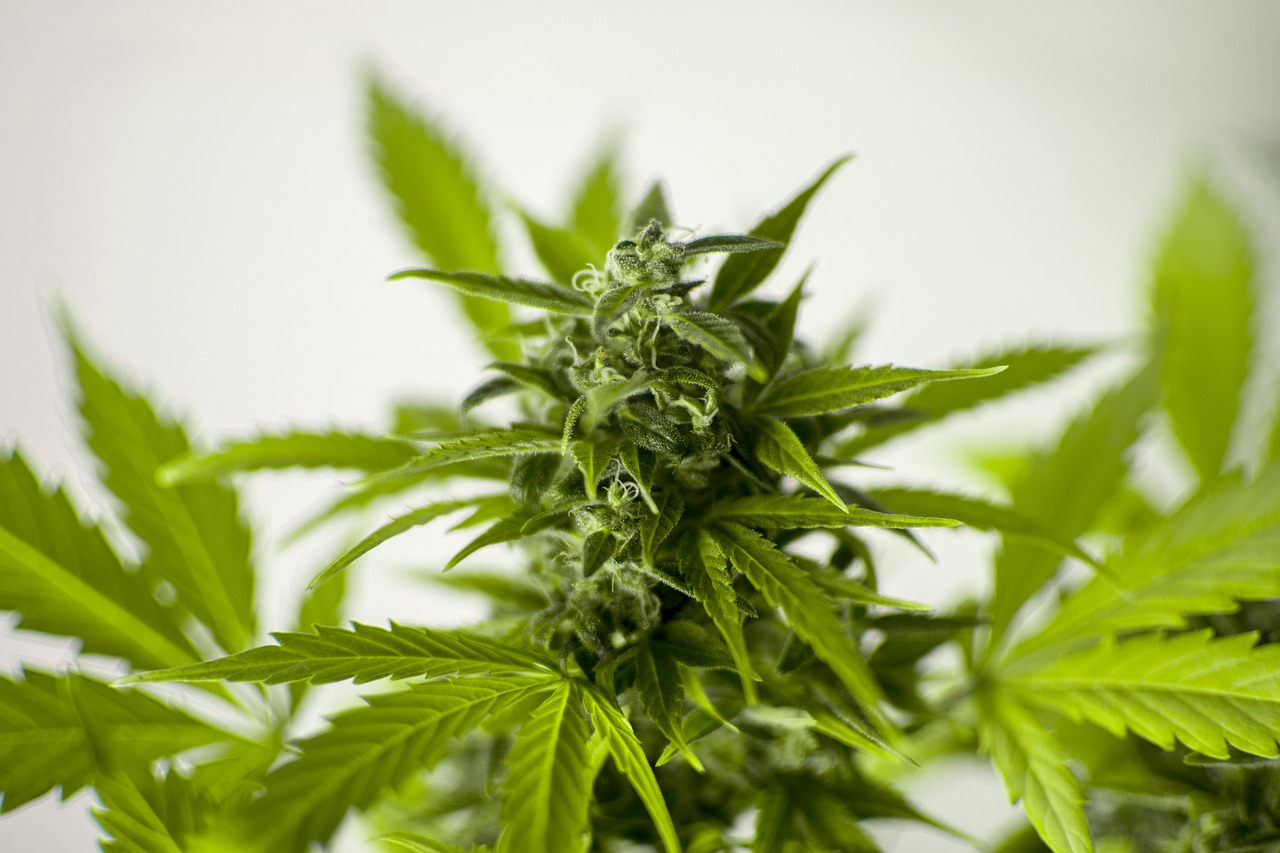 Your plant also requires some grooming during this stage to provide space for the flowers. Trim and bend the leaves to make sure your entire plant gets enough light and nutrients and is easy to maintain.
Watch out for signs such as yellowing of leaves or browning at the tips, which could indicate pH imbalance or nutrient deficiency. Caring for your plant during this stage will give you the best yield.
7. Get Ready to Harvest and Relish the Yield
Finally, the moment you have been waiting for. It is time to harvest the buds and relish your yield. The color depth of the pistils and hairs indicate the maturity and potency of the buds.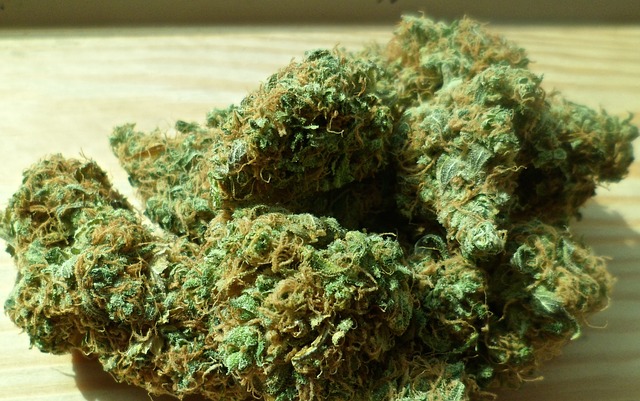 When they are about 50 – 70 percent dark, you will get a yield rich in THC content. If you wish to enjoy a relaxing effect from the buds, then wait for at least 80 percent of the flowers to become dark in color to harvest.
With the help of scissors, cut the buds and hang them upside down to dry out for five days. Place them in a jar and store in a cold, dry, and darkroom. Make sure to remove air from the container to let the buds cure and get ready for use.
Growing your cannabis at home can be a fun and exciting activity, but it can also be challenging at times. Although these instructions give you the basic idea of taking your cannabis seeds through the growth process to harvest, there are several strain-specific details, such as temperature levels and lighting requirements that need to be taken care of.
Research and gather these details and apply them wherever relevant to cherish the yield of your cannabis plant.