3 CBD Edibles for Your Halloween Party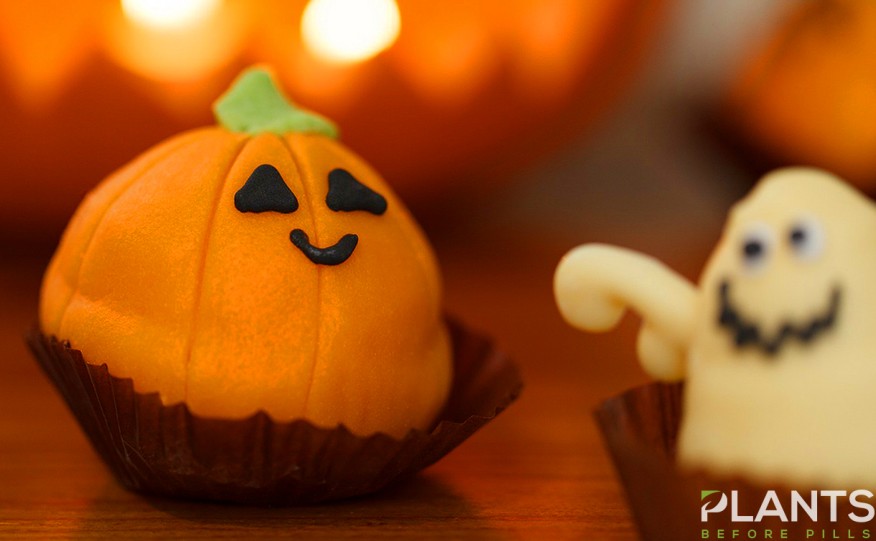 With Halloween only less than a month away, you may have found yourself dreaming up of some Halloween-themed edibles to go with your costume. From the hardcore characters of La Casa de Papel (Money Heist) to the Harry Potter trio crowd favorite, there are surely endless designs to complement your next haunted gathering. Whether you're looking for CBD oil edibles to cannabis-laced drinks, these Halloween-themed snacks are sure to knock your socks off.
CBD Edibles – Easy to Prepare Recipes
Canna-Caramels
One of the easiest treats you can make all throughout the year is canna-caramels. With its only ingredients being half a cup of sugar, 1 and a half sticks of cannabutter, 3 tablespoons of light corn syrup, and a can of sweetened condensed milk, you might just find yourself making these every so often.
To make this, simply combine all of the ingredients together over a medium-sized pot or saucepan placed over medium heat. Allow this to boil, then proceed with lowering the heat. Simmer and allow to thicken for around 7 to 10 minutes. Once the mixture turns into a golden-brown color, you'll know that this is ready. Afterward, pour the caramel into a pan lined with wax paper and allow to cool for 1 to 2 hours. Once it hardens, cut into bite-sized pieces. To go the extra mile, decorate this with some chocolate chips which can act as the eyes and drizzle with chocolate sauce for that mummy effect.
Cannabis Caramel Apple
Caramel apples have long been a Halloween tradition for many. If you want to serve this elevated childhood staple to your guests, make sure to add some of that CBD oil into the mix and let it work its magic.
The ingredients you'll need to make these include 8 Fuji apples, half a cup of cannabutter, half a cup of brown sugar, half a cup of light corn syrup, half a cup of sweetened condensed milk, 2 tablespoons of vanilla extract, and some nuts and candies of choice to decorate. If you are not a fan of red Fuji apples, you can also opt to use green apples as a replacement. You also need some parchment paper, wooden sticks, and a candy thermometer.
Start by placing the sticks in the apples and cleaning it thoroughly. Then, combine all the remaining ingredients except for the vanilla extract, nuts, and candies over medium-high heat. Bring the mixture to a boil and mix constantly, carefully ensuring no burnt areas. Allow the caramel to thicken for 25 to 30 minutes. Then, stir in the vanilla. Once your mixture is ready, dip and swirl the apples to achieve a smooth, even coating. Decorate the apples and allow it to cool.
Dirt Pudding Cups with CBD Gummy Edibles
Dirt pudding cups are a treat for kids at heart. With colorful CBD gummy edibles topping your creation, you're sure to encourage guests to take more than their share. Dig in and find treasures within.
For this recipe, you need a 15-ounce package of Oreos or other similar chocolate sandwich cookies, a 3.9 ounce instant chocolate pudding, 2 cups of cold milk, 8 ounces of whipped cream or any whipped topping, and 24 pieces of gummy edibles.
To make the dirt, crush the chocolate cookies until fine inside a plastic bag with the help of a rolling pin. In a separate bowl, make the pudding by mixing the packet with milk. Whisk until smooth and let sit until the mixture thickens. Once it has set, add the cream or whipped topping and half of the cookie crumbs. Divide the mixture into separate cups, top with more cookie crumbs, and decorate with CBD gummies. And voila, you're done!
Make your celebrations more interesting this Halloween. With these cannabis recipes, you can definitely have a real good time with fellow cannabis enthusiasts.
CBD-Infused Kahlua Cheesecake Tart With Scientist-Turned-Chef Chris Yang | Like A Chef [VIDEO]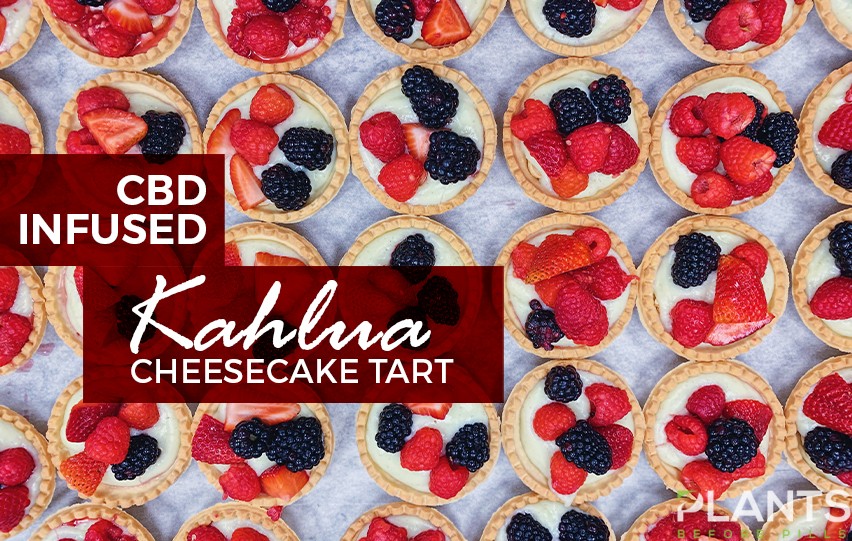 Talk about a show-stopping dessert! This CBD-infused Kahlua Cheesecake Tart is guaranteed to be a conversation piece in any dinner party or get-together. This dessert is easy to make as well as aesthetically pleasing while showcasing the benefits of CBD. Watch this video to learn how to make this for your next party.
CBD Drink Innovation and how CBD drinks dominate the 2020 market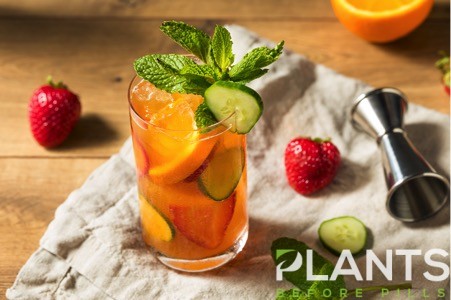 When CBD first came to the attention of the general public it was initially just in an oil format, with more adventurous users adding a few drops into their morning cup of tea or coffee, rather than just simply dropping or spraying the oil into their mouth.
The CBD infused drinks market has had an explosion in popularity in the past few years and alongside this organic growth there has been a plethora of new brands entering this marketplace -trying to take advantage of this new placed consumer demand.
Brief about First CBD Drink
The first brand that launched in the United Kingdom was a fruit flavoured carbonated water called Green Monkey. Initially launching in just the one flavour, it contained 10 milligrams of active CBD and its unique characteristic was the green colour of the liquid contained within. The exterior of the can featured a green monkey and cannabis leaves on a white background. As the first to the market they benefited from lots of press coverage which helped to build their business profile which in turn brought their beverages to the attention of shops and bars leading to many outlets stocking them.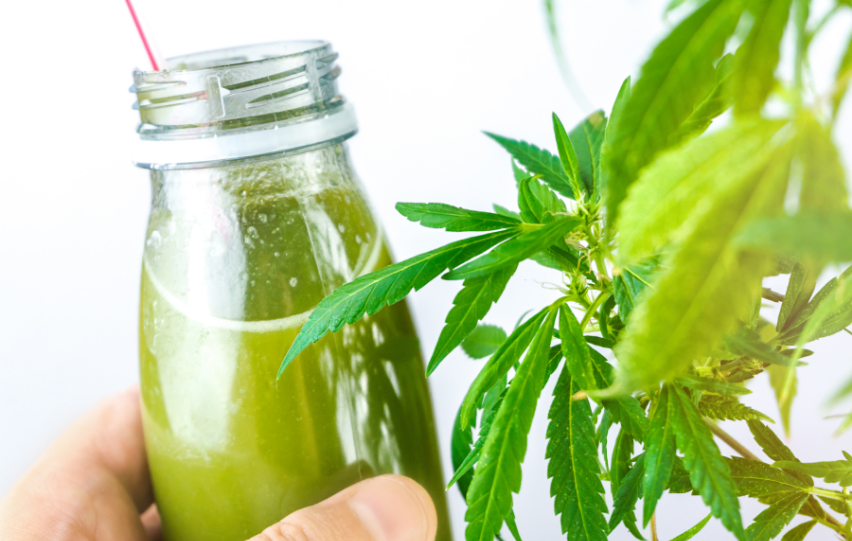 This success sparked the attention of other entrepreneurs who believed they could create something better. Many of the brands that launched in the UK, followed the same pattern, they created obscure flavours such as peach and ginger, lime and basil which they believed would attract a more sophisticated consumer and palate, hoping that consumers would be so keen to try and continue to buy their CBD drinks that they would bypass the fact that the flavour was not so good, essentially this created a niche demand within a niche sector, inhibiting their drinks from truly achieving mass market success.
Calm Drinks
One brand bucking the trend on taste is Calm Drinks, rather than trying to reinvent the taste profile of the modern consumer, they have chosen more popular flavours such as a lemon and lime that is similar to Sprite, an orange that is similar to Fanta and a mixed berry that is similar to Ribena, their approach is that in order to tempt mainstream users to try a CBD beverage, the most important factor is that the drink itself has to taste great and not be too obscure in order for the consumer to buy the drink again.
In the United States one brand in particular has really caught the imagination of the market and consumers alike is Recess. Their cool minimal branding, has a feminine feel to it and their quirky and unique social media and PR content has lead to them dominating the CBD drinks market in America. In particular the brand has done well in the two most fashion conscious states California and New York. Initially available in three unique flavours, their popularity has allowed them to expand their collection to six different lines, including blood orange and black cherry.
CBD drinks dominate the 2020
Industry insiders predict that there will be two new CBD drinks trends that will dominate the 2020 market and beyond. The first is CBD infused beer, whilst there have been a couple of early releases in this sector, it is only a matter of time before one of the larger craft brewers such as Sam Adams, Brooklyn or Sierra Nevada will release a beer containing the cannabis extract, and once it hits the market we will surely see a slew of alternatives in short succession. The second is a CBD energy drink, whilst at first glance it would seem like opposing forces, the anxiety from drinking too many energy drinks can be counteracted by the stress reducing properties of CBD.
What we can look forward to is that with innovation comes more choice which can only be good news for consumers and CBD enthusiasts alike.
How to Make Weed Brownies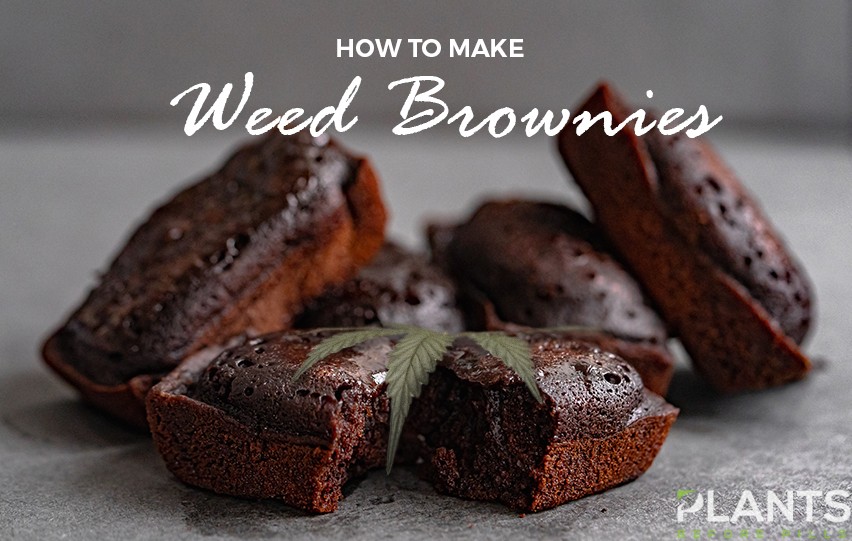 I'd wager a good portion of 21-64 year old humans ask "Is there weed in here?" when handed a homemade brownie. So these THC infused treats are usually people's first adventure into edible Cannabis (Likely attributable to chocolate's powers of covering up nearly any unpleasant taste.) Too-strong brownies sometimes carry the deep bitterness of raw marijuana, but with the right proportions you can make a brownie that's as delicious as it is dastardly.
Some bakers opt for chocolate ganache while others are in love with the cocoa (powder). Both will give you moist and gooey brownies on their own, but combining the two makes them addictively fudgey and, pot or not, they stand alone. Brownies bake up like an extra-dense cake, and both the pan and the baking time dictate the degree of fudge you end up with. A big wide pan will give you a thick chewy result, whereas smaller portioned pans will bake up super fast and gain height.
I like this recipe because it's well-tested by professional recipe developers, but forgiving if you want to make tweaks, which we are going to do to max out the fudge factor. Make your butter in advance and store it in the freezer, thawing before use.
Make the Brownies
For Brownies:
1 stick of unsalted butter that's been infused with 3.5 grams of cannabis (see above)
¼ cup vegetable shortening
¾ cup of cocoa powder
1 cup cake flour
2 cups sugar
½ teaspoon salt
4 ounce bittersweet or semisweet chocolate
¼ teaspoon baking powder
⅛ teaspoon baking soda
2 jumbo eggs
The guts of one vanilla bean
Preheat to 350℉. If you've prepped your butter in a sous-vide bag, toss it into a bowl with warm water and let it soften fully before mixing the batter. Baking all brownies, even cannabis brownies, calls for your standard wet bowl, dry bowl batter technique, so start by mixing all of the dry ingredients together. Then, in a second bowl, combine vanilla and eggs.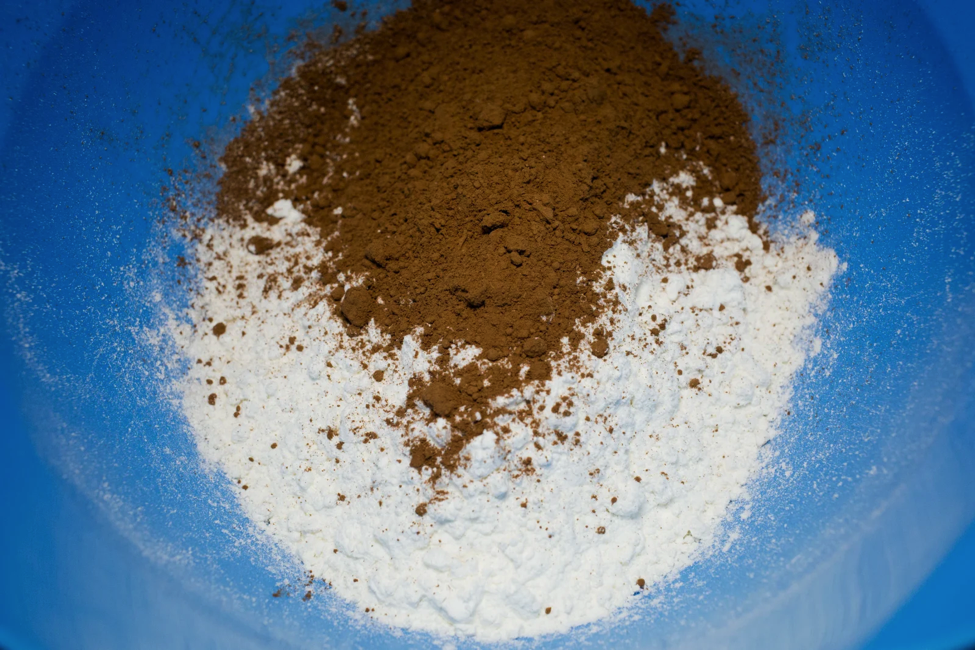 Melt the chocolate gently with either a double boiler or in a microwave in short bursts. Stir in the shortening into the chocolate until it melts. Stream the chocolate mixture slowly into the eggs and mix with a spatula, then fold in cannabutter. Make sure everything is uniformly mixed without aerating too much.
Fold the wet batter into the combined dry ingredients, and stir this sinfully thick goop again until it's just mixed. Here's where my bff OXO bowl scrapers come in handy: they allow you to squeeze out every last drop of the fudge into a waiting greased and parchment lined 9×7 pan. Smooth out the mixture and smack it flat on the counter a few times to make sure there is no air trapped inside.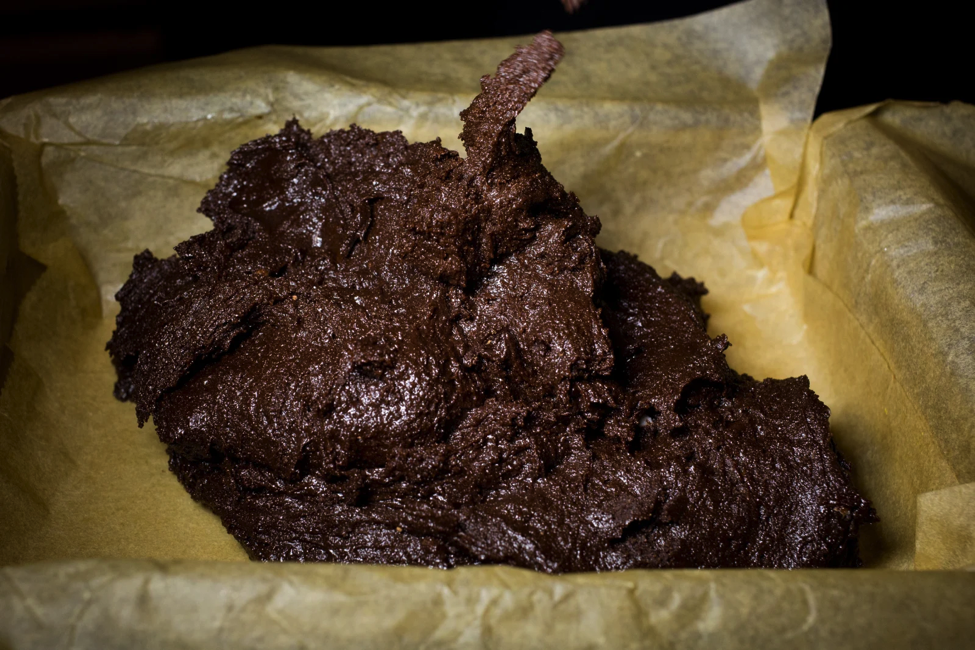 Bake for 15 minutes, rotate the pan, then bake for another 15 minutes. Remove from the oven and cool in the pan for at least 10 minutes. At this point your brownies are warm and edible, but be warned that their structure will come from cooling completely, similar to chocolate chip cookies. If you can't wait for them to cool completely, at least use a big, sharp knife to cut off a slab so you don't damage the innards too much. Use the paper to take them out of the pan and cool the rest of the way on a wire rack.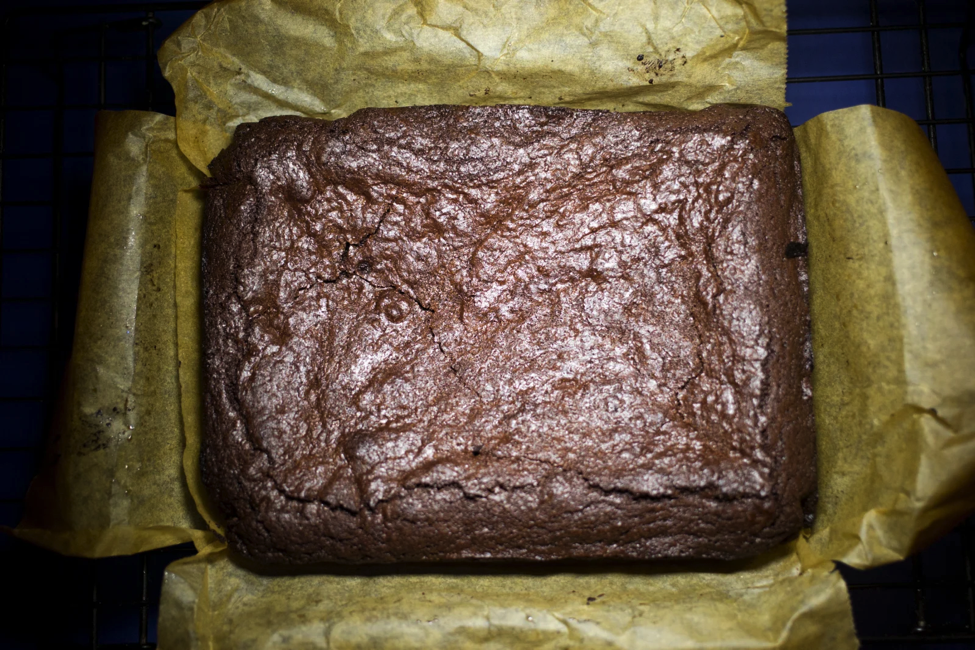 Portion, or don't, but keep in mind that each 1-inch square will have roughly 29 milligrams of THC, a potent dose, so serve small chunks. You can also swap out half of the butter for the non-psychoactive kind and drop the dosage down to 15 milligrams, which is much more reasonable for people who don't smoke habitually. Follow the basic edible protocol not laid out by Maureen Dowd and try not to consume more than 5 milligrams at time if you are a new denizen of weedland. Always wait 60 minutes before eating more, because eating too much can leave you impaired for hours at a time.
These devilishly rich bites will be too tasty to resist, so no one will judge you for making them sans herb, but if you want to impress someone or just imbibe the nostalgic way, this is it.
While the browines are amazing, you can always skip these steps and go right to the best online dispensary Canada 2019