Top 7 Cartoons to Watch with CBD Edibles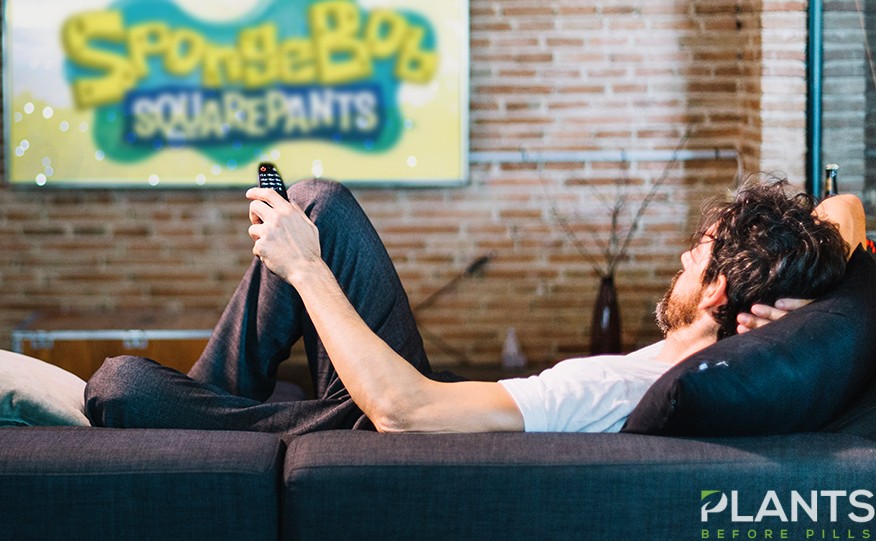 Looking for ways to further enjoy your snack time with CBD edibles? Listening to your favorite playlist might knock you out straight into the dreamland. Flipping through some books could at times be boring. Going on a video game war with your favorite pals might get too chaotic. The perfect alternative? Take a break, enjoy the serenity, and re-watch your favorite childhood cartoon series, of course!
As most of you already know, there is a broad range of cartoons that are best watched with a little help from cannabidiol. Given these shows' simple plotlines, interesting set of characters, out-of-this-world settings, and surprisingly laughable conflicts, checking them out during your leisure times with CBD will make your rest day even more relaxing and therapeutic.
Although CBD edibles won't give you that "high" sensation, turning on to cartoons could do the job. From talking animals, intergalactic travels, twisted dark humor, to unexpected political commentaries, there comes an array of animated shows that are sure to give you that same 'high' energy while munching some of your favorite CBD delights.
To kickstart your cartoon marathon, here are 7 of the best kid's shows that are worthy to be watched with some CBD edibles on your side table.
Check them out:
What better way to start out list other than with everyone's favorite sponge? From living in a pineapple under the sea, having a best friend that is … well … a dum-dum, living alongside a depressed neighbor, working under a greedy capitalist, and many more, there comes a broad range of reasons why Spongebob Squarepants stands as one of the best shows to watch if you want to welcome some loads of good vibes.
Not only does the show present subtle humor that only adults can understand, but it also features quirky misadventures that could leave anyone laughing out loud. From Spongebob's surprising level of obliviousness, Patrick's hilarious feats, Squidward's laughable misfortunes, to the story's overall nautical nonsense, this show is the perfect ingredient to make your snack time even more exciting.
Get ready to follow Spongebob as he wakes up high and ready, attends boating school, unknowingly puts another block of misery to his neighbor's life, and sell his labor for such a cheap rate in the name of his love for burgers.
Combining childish humor with twisted plots and relatable set of characters, Spongebob Squarepants is sure to make your CBD day the best day.
From intergalactic travels, daddy issues, to weird but undeniably striking humor, Rick & Morty seems to have all the necessary requirements to become one of the top shows to watch if you want to have a good laugh.
Following the story of a mad, alcoholic scientist, along with his naïve grandson, the animated sitcom features the adventures of two misfits as they set on a never-ending quest across time, dimension, and space.
Blending loads of dark humor, action, madness, and philosophy, the series had managed to present a brilliantly funny and toxic Back To The Future-style story that is sure to leave its viewers with surprising epiphanies and uncontrollable laughter.
You bet it. For years, Family Guy has stood as one of the top shows to check on if anyone wants to have a good time. From having a talking smart dog, a grotesque teenager, to a diabolical baby, Family Guy perfectly features a twisted, outrageous, and undoubtedly hilarious storyline that never fails to give its viewers a solid "Oh, come on" moments.
Given these features, Family Guy stands as a perfect bet when it comes to enjoying your relaxing time with some CBD snacks.
From terrorism, religion, disabilities, sex, to … wait for it … marijuana, the show is never the type to back down from any topic. Following the misadventures of a far-from-the-typical family and the chaos they cause to nearly everybody, Family Guy is sure to give you a good laugh as you happily munch some of those edibles.
Imagine this: A fat, alcoholic father, together with a supermom, tries his best (or, perhaps, his worst) to look after a trio of misfits: an evil son, a nerdy daughter, and a silent infant. Can you foresee the chaos, madness, and hilarity those set of characters could cause?
Featuring a satirical depiction of the modern working-class family, The Simpsons allows you to make fun of the things that normally make you miserable. As a bonus, the show is even believed to present a few hints on what lies ahead in the future (at least that's what many fans say!).
For years, no other animated sitcom had managed to present a hapless and dysfunctional family as hilarious and as relatable as The Simpsons. From offering adult humor that could make you laugh out loud in disbelief to referencing popular culture and real-life celebrities with fearsome accuracy, this show is, no doubt, one of the best classics for the typical CBD lover.
Adventure Time isn't your typical kid's show. Despite its colorful world and sing-along segments, this cartoon remarkably exhibits a surreal masterpiece. Following the story of a boy and his magical shape-shifting dog, this animated epic epitomizes what it means to live a 'high' life.
Set on a post-apocalyptic world packed with vampires, princesses, witches, and other magical creatures, this series features a unique plot and type of humor that can give you a few "What am I watching" moments.
From candy zombies, cyclical nightmares, devastating adventures to the pits of hell, to other weird yet interesting adventures, this show excellently blends magical positivity with dark humor, and in turn, creates a bold, fun, colorful, and strange world that could help enjoy your edibles even more.
No other duo tops our list of most iconic frenemies other than Tom and Jerry. Complete with violence, treacherous alliances, misadventures, and action-packed competitions, the show stands as one of the most recognized cartoons that are sure to give viewers a quick catharsis.
Following a non-stop, hysterical war between a greedy yet pitiful cat and a smart, always lucky mouse, Tom and Jerry is sure to take you into a world of unending rivalry and slapstick humor.
Although the two never really talked – except for the occasional singing, laughing, yelling, and "Aha!" – Tom and Jerry remain to be a classic masterpiece for people who love to experience a blend of pity and amusement.
Another classic contender on our list is none other than Nickelodeon's CatDog. Following the story of a conjoined cat and dog sibling, as they struggle to live a normal life, the show remarkably offers a good dose of humor and interesting oddness.
Combining Cat's smart yet mostly selfish antics to Dog's clumsiness and gullible nature, the show managed to display a hilarious and interesting plotline that could leave anyone in a seemingly 'high' state despite the pitiful state of the protagonists.
Set in a world where cats and dogs could be siblings, rats are blue, rabbits can be extremely authoritarian, and delinquent dogs roam around for trouble, CatDog promises a comical yet relatable story that is sure to leave you in tears for laughing out loud – with, of course, a little help from CBD!
Conclusion:
Have you decided which cartoon best fits your CBD snacks? Whether you're on the mood for some sci-fi comedy adventures or just plain animals living their human-like lives, you can expect that there lies a worthy set of cartoons waiting for you to click the "Play" button.
Be sure to experience a different kind of high and hilarity with these top 7 cartoons that will give you a boost of positivity as you munch on your favorite edibles.
Which show picked your interest the most? Find a good place to sit at, ready the snacks, and kickstart your colorful marathon with these amazing shows today!
The Best Cannabis Cookbooks To Have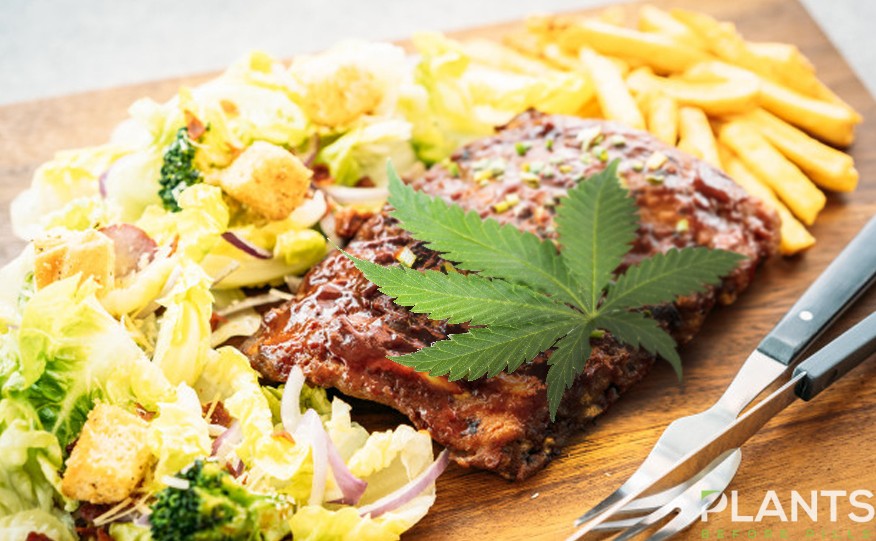 Wowing your friends and family may take more than just store-bought CBD oil edibles found on the market. While these can certainly provide a sense of calmness and relaxation to users, these don't necessarily provide a delicious and lasting taste that leaves their discerning palate wanting more. To shake things up in your weekly or monthly gatherings, why not make more meals and goods that go outside the box?
With the help of exceptional cannabis cookbooks in your kitchen, you can easily whip up exciting dishes for everyone to enjoy. Through these nifty kitchen aids, you can ensure restaurant-quality CBD oil cooking at the comforts of your own home.
Below are 3 of the best cannabis cookbooks you should get your hands on.
For Those Who Like Their Dishes with a Touch of History
Brownie Mary's Marijuana Cookbook and Dennis Peron's Recipe for Social Change by Mary Rathbun and Dennis Peron
Dennis Peron is touted as one of the earliest advocates of medical marijuana in the state of California. Mary Rathbun was, too. So, if you want your tastebuds to take a trip down memory lane, make sure to order this recipe book slash history book.
By providing a personal peek into the evolution of marijuana in history, both Peron and Rathbun's take will definitely allow you to appreciate the lengths it took to legalize cannabis. Along with classic CBD oil recipes such as the brownie, you'll find anecdotes and lessons peppered here and there.
For Seasoned Professionals
Bong Appetit: Mastering the Art of Cooking with Weed by Editors of Munchies
Born out of the popular Munchies and Viceland television series of the same name, this drool-worthy cookbook deserves a spot for individuals who have more advanced cooking skills. Highlighting 65 of the best recipes ranging from appetizers, mains to cocktails, this bible for cannabis connoisseurs will take everything to the next level.
Plus, Bong Appetit provides tips coming from industry professionals, thereby ensuring top-notch and high-quality results each and every time. You're also guaranteed to take something away from the discussions on politics and the recommendations on strain pairings scattered throughout the book.
For Beginners
The Cannabis Kitchen Cookbook: Feel Good for Home Cooks by Robyn Griggs Lawrence
There's nothing to be ashamed of when you're just starting out cooking in your kitchen. With this starter kit of sorts from Robyn Lawrence, you're sure to find easy yet delectable cannabis recipes that will help you master the basics. From making and extracting your own CBD oil to preparing tinctures, this book featuring 100 recipes will guide your way through the kitchen.
Complete with input and stylized takes from cannabis chefs in the United States, as well as step-by-step instructions, you won't have to be intimidated with experimenting with what this plant has to offer. With strain profiles and dosage recommendations, you're all set for the night.
Whether you're a newbie or a pro chef, you have something to learn from this wide range of cookbooks. So, go ahead, buy one of these and prepare for the best night ahead.
5 Restaurants That Serve CBD Infused Food and Drinks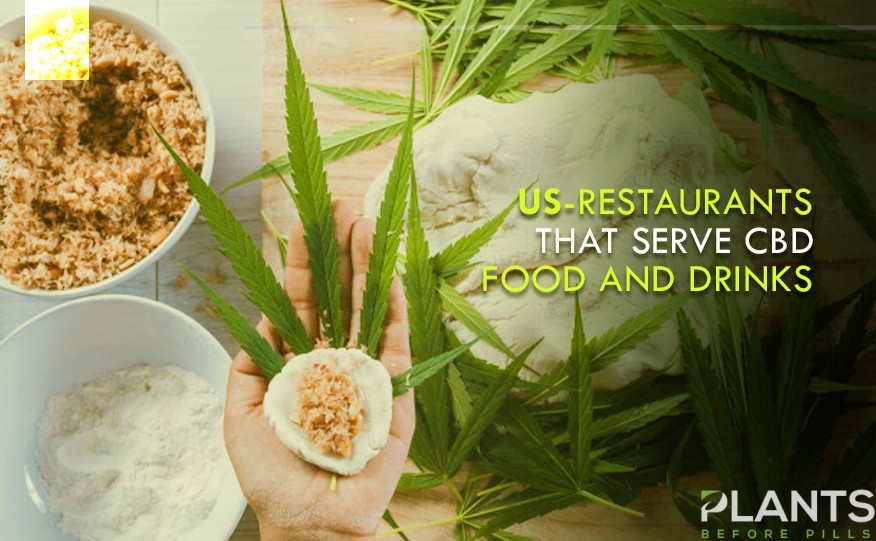 Because of the huge demand for anything cannabidiol or CBD, businesses are also getting into the fun by mixing this compound with their products. For instance, there are restaurants that create meals with CBD ingredient to attract more people into their premises.
In the US, more and more states legalize the use of marijuana and its active compounds like CBD and Tetrahydrocannabinol or THC. In case you need a dose of cannabidiol, here are some restaurants that you can visit.
by CHLOE
A well-known vegan restaurant. This place is a vegan wonderland because all their recipes are made from organic ingredients and are 100% vegan. By Chloe takes pride in their luscious menu, from salads, snacks, sandwiches and burgers, pasta, breakfast meals and of course, desserts.
Their CBD treats include chocolate leafy brownies, Ooey Cinnamoney roll, Chocolatey Cookey GF, Salty Peanutty Buttery Piey and more. The brand introduced a line called FEELZ, which sells its own collection of CBD-infused sweets. Check out FEELZ by Chloe to see more desserts they sell.
Zenbarn
Zenbarn offers a healthier set of meals to fill your tummy. They have snacks for sharing, cocktails, noodles, vegan bowls, drinks and more. This place has become a gem for its Salad infused with CBD dressing. A perfect combination of greens and natural ingredients that are not only good for the body but also tasteful.
If you are in the mood for a heavy snack, you might want to try the chicken wings in CBD garlic parmesan flavor. All the ingredients are gluten-free and you will love the combination of garlic and cannabidiol. Zenbarn also has CBD-infused burger or the '420 Burger' with CBD aioli for that mild hint of cannabidiol.
Fuel
Looking for an extra boost? Philadelphia's Fuel is not only healthy but also flavorful because of fruity smoothies. This restaurant infuses cannabidiol to its smoothies that taste like a normal one but makes one feel relaxed and pain-free. Their CBD Menu consists of CBD Berry Dream which has strawberry, Mango, Apple, and Banana; CBD Green Dream which has Kale, Spinach, Honey, Pineapple and Ginger; and CBD Orange Dream which has Non-Fat Yogurt, Banana, French Vanilla Shot and OJ.
In case you have a busy schedule and you don't have time to cook, you can drop by at Fuel and get your cannabidiol fix.
The Breslin
A New York City hotel called Ace Hotel serves CBD-infused brownies at its lobby. The Breslin added the new line of cannabidiol-infused pastries and cocktails to its menu. The restaurant uses Rosebud CBD oil as its main ingredient for brownies and cocktails.
The pastries are the best-sellers to the Breslin, especially the brownies. Before, The Breslin allowed RSVPs but eventually turn it down due to busy scheduling and high demand. The cocktails are also a game-changer which is a rendition of a French drink that has Rosebud CBD oil. All in all, this place is perfect for early night drinks and dessert.
Bubby's
Try coffee with a twist that is CBD at one of New York's famous eatery, Bubby's. The restaurant serves coffee with an added CBD sweetener for that relaxing treat. It is both refreshing and energy-boosting every sip. Try the coffee with their house specials Bacon, Mac N Cheese, and Fluffy pancakes.
If you're in the mood for good food, drinks, and desserts, these are the restaurants you can check out for that extra special ingredient that is CBD. Remember to check the dosage or strength to avoid any side effects like upset stomach and nausea. Although CBD oil benefits are guaranteed, it's also important to know how much you can tolerate.
Maker of Arizona Iced Tea to Enter Cannabis Industry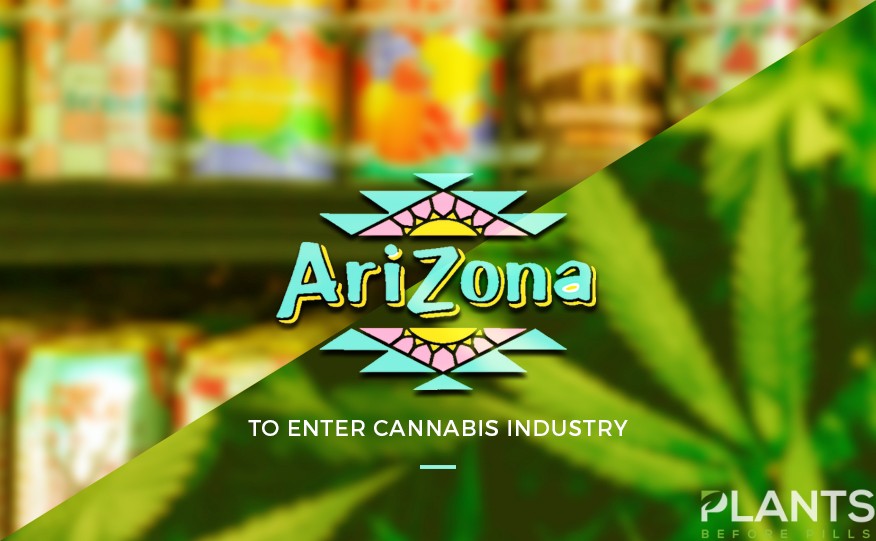 Arizona Beverage Co., the company behind the popular Arizona Iced Tea is set to break into the marijuana business by engaging in a licensing deal with a leading cannabis CPG company, Dixie Brands Inc.
The said partnership will enable Dixie to manufacture and distribute cannabis-infused products under Arizona's name. The products, which include vape pens and THC-infused gummies, will be sold through licensed dispensaries. If all goes according to plan, the product list is also expected to extend to beverages, such as tea, lemonade, soda, and coffee.
"The cannabis market is an important emerging category, and we've maintained our independence as a private business to be positioned to lead and seize generation-defining opportunities exactly like this one," said Arizona Beverages Chairman, Don Vultaggio, in a press release. "The cannabis category is an ideal space to bring the flavor and fun of AriZona into new and exciting products."
Under the arrangement, the New-York based beverage company can purchase a $10 million stake in Dixie brands. The initial term of the partnership between the two companies is set to last three years, with an option to renew twice for two years each.
"Arizona is a power brand and the most iconic and recognized CPG brand to extend into the cannabis market, providing the evolving cannabis consumer with a fun and flavourful experience alongside an iconic brand they know and love," said Dixie Brands CEO, Chuck Smith.
This latest move done by Arizona isn't the first unique turn the company has committed this year. Last July, it had engaged in a partnership with Adidas and sold tea-branded sneakers for 99 cents. The company's entrance into the industry marks the first international corporation to announce such plans before the drug is federally legalized in the U.S.
Cannabis Industry  – It's Bright Future
Lately, other beverage brands have been engaging in a series of partnerships with major marijuana key players. In 2017, Constellation Brands announced a 10% stake in the Ontario-based cannabis company, Canopy Growth Corporation. A year later, Coca Cola revealed it was in talks with Canadian company Aurora Cannabis to develop marijuana drinks. Molson Coors, another multinational brewing giant, has also announced plans to partner with cannabis producer Hexo Corp.
"This partnership marks a watershed moment for the popularization and expansion of the cannabis sector overall, and is another large step forward for Dixie Brands' strategy to build a house of famous cannabis … brands," said Mr. Smith.