Here's What to Expect at a Cannabis-Themed Wedding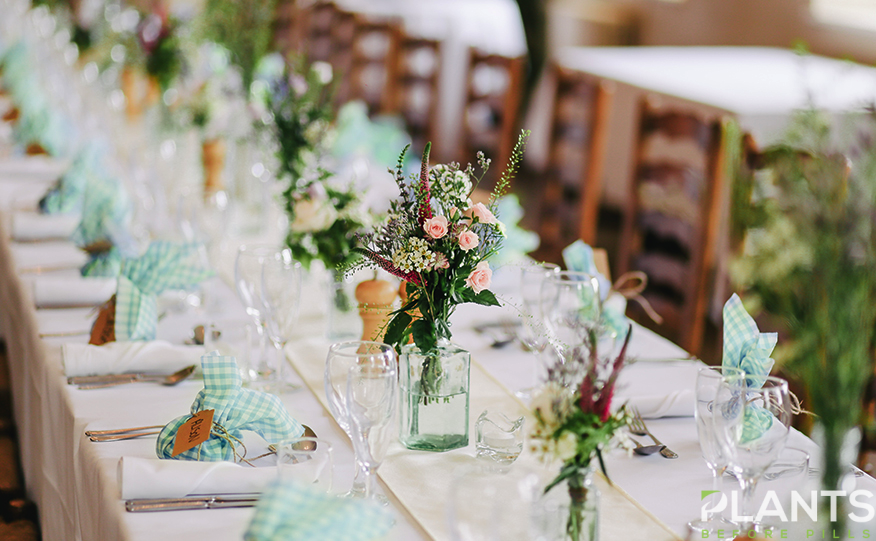 The legalization of marijuana in many parts of the world including Canada and some states in the US gives many people the opportunity to incorporate the plant into many aspects of their lives. As a matter of fact, many individuals include cannabis in celebrations of important days such as Christmas, birthdays and even the observation of the Lent Season.
Last October 27, 2019, the Toronto Cannabis Wedding Expo was held and through this, we had a chance to glimpse of what a wedding of this kind will look like. Whether you are a bride or groom to be or simply a guest of one, below are some things that were observed from this unique wedding.
Cannabis-Themed Wedding- What to Expect
Gift Bags Full of Cannabis Products
Weddings would never be complete without a basket of goodie bags to give away. With numerous CBD products on the market, it's not at all difficult to streamline your gift items to the people who'll be attending your ceremony and reception. From beauty items to CBD oil edibles, there are now tons of options you can choose from.
You can even customize giveaways depending on the personality and preferences of your recipient. Friends who are bookworms can receive cannabis-related books, while those who love music can get marijuana-inspired records. This way, you can make sure they know that their presence and support on your day is well-appreciated.
Cannabis-Themed Reception
Not everyone will be open to having marijuana in their respective venues. Although your state or region might uphold the legalization laws in place, not every venue will be as welcoming. Since regulations and restrictions on this plant are still being navigated, it might be best to choose a privately-owned venue. Better yet, get recommendations from your local dispensary. They might have partners who have contacts who can offer you a venue you might like.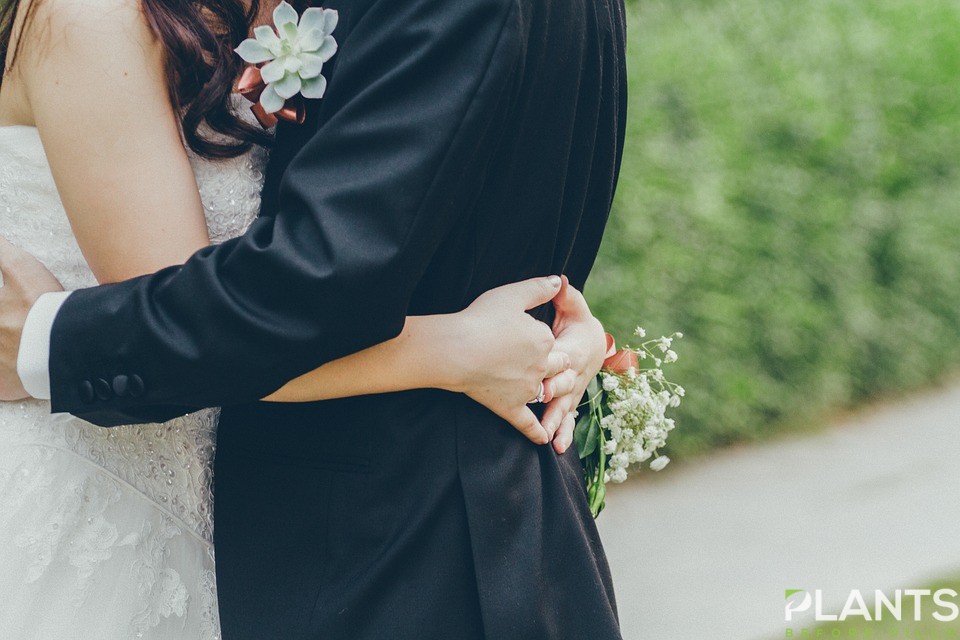 With a cannabis-friendly venue, you can expect your reception site to decorated with cannabis-related décor. From earth-toned furnishings to ornamental plants to uphold the natural characteristic of marijuana, the reception will definitely be referring to the plant.
While weddings typically have an open bar until the wee hours of the morning, a cannabis-themed wedding entails having a full-blown budbar or a mini dispensary of sorts. Since these substances have intoxicating side effects, you may be asked to choose between serving alcohol and this plant.
Compared to alcohol, CBD products and cannabis-infused goodies may be seen as the better choice. Not only do these provide a laid-back and relaxing sensation, but these also provide a more communal experience which like-minded individuals can share with one another.
Before you set up your bar, it is important to keep in mind that THC and alcohol don't mix well. Because of this, you might need to choose between marijuana or alcohol, or you can opt for a CBD reception complete with alcohol.
A Whole Lot of Fun
Apart from medical use, marijuana is also used for recreational purposes. Elevated towards a more sophisticated setting, like-minded individuals will surely have the time of their lives during this special day. Keep the celebrations going by sharing with other guests and by trying the different strains, that is, under the watchful eye and guidance of the event's budtender.
Conclusion
Now that you know what you can expect from a wedding of this kind, you are surely excited about attending the ceremony of your plant enthusiast friends. Better yet, why not go ahead and plan your dream wedding by incorporating marijuana into the mix? This way you are sure that you, your partner and your friends will be able to celebrate the occasion complete with the goodness of this plant.
A Winter to Remember: Fun Activities to Do with CBD This Cold Season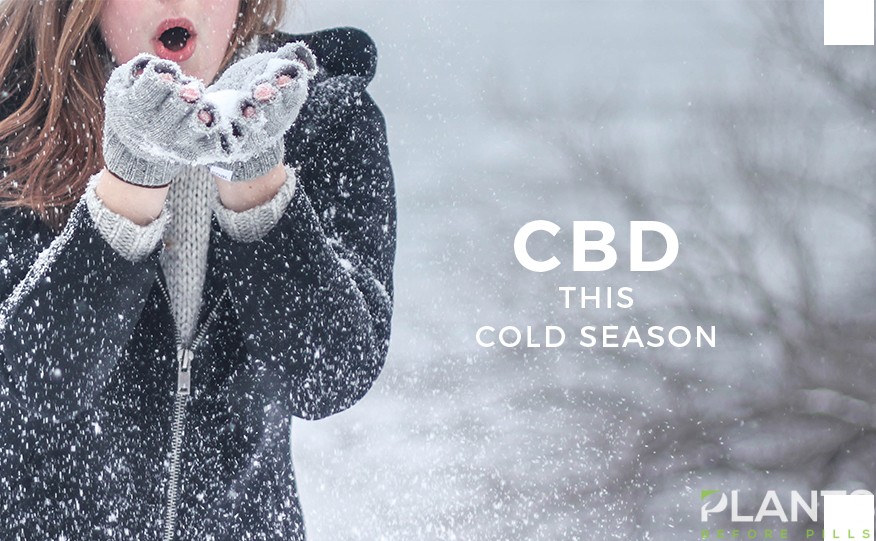 In need of some fun, thrilling activities to do during this cold season? Although it's easy to spend the days lying on the couch and fantasizing about warmer days, it's important not to let your winter become ultimately boring and plain uneventful.
Fortunately, with the presence of different CBD products in today's market, you are sure to never run out of good and fun things to do during this Christmas calendar despite the unsettling weather.
Whether you're planning to spend the rest of the season indoor or eyeing to enjoy the outdoor icy whiteness, there comes a lot of fun and thrilling activities to do ahead. To give you a fresh start, here are 5 of the best activities to do with CBD amid the cold season.
The Best Cold Season Activities to Do with CBD
Read a good book by the fireplace
What better way to feel cozy this winter other than spending your days by the fireplace? To make your stay even more worthwhile, it's best to grab the best book in your shelf and let yourself enter a different world while munching some of the best CBD edibles.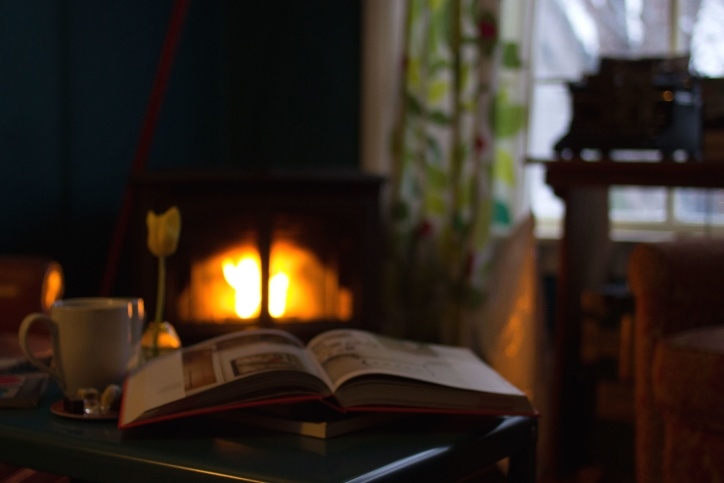 Whether you're on for some thrilling short stories or mind-bending novels, you can expect that you will never run out of good books to read. This way, while the rest of the world freezes up in cold white, you can spend the rest of your day meeting new characters and discovering new worlds that far exceeds your imagination.
To help you have a good start, checking out C.S. Lewis' The Lion, the Witch, and the Wardrobe, or Isabelle Allende's In the Midst of Winter might come as a good bet.
Go ice skating with a little help from CBD
Surely, your winter season could never be complete without spending some time skating at your local rink. For many, the feeling of ice skating comes out as something unparalleled. Not only does it let you embrace the outdoor landscape and glide rhythmically across the white field, but it also comes as a great workout during the season.
However, to let you get the most out of your skating time without the hassles of some sore muscles, it's best to try on CBD tinctures before hitting the ice and relieving some CBD topicals after you skate.
Make a homemade CBD recipe
If you're not on the mood to engage in some tiring outdoor activity, then hitting the kitchen might come out as a good alternative. Not only will this help you enjoy the warmth of the indoor setting, but it will also let you discover new recipes that are sure to leave you with a happy tongue and a full stomach.
Whether you're craving for some colorful gummies, strong-taste brownies, a plate of Greek salad dressing, or even some classic pesto, expect that you will never run out of ways to transform your favorite recipes into the best CBD-infused servings.
Have a bonfire with friends
Surely, there is no better time to bond with your closest friends other than the much-awaited holiday break in December. If you're the type of clique who prefers to spend their memories in the open space, then having a bonfire by the lake or simply in your patio will do the trick.
To add to the fun, make sure to prepare some classic snacks, a pile of cool CBD beverages, some groundsheets, a couple of cushions, and a collection of interesting stories to share with your favorite pals.
Have an indoor game night with your mates
Who says staying indoor couldn't be fun and lively? Whether you're on for some card games, board games, video games, or even drinking games, expect that you will never run out of fun and thrilling activities to do without the need to expose yourself in the chilling night of winter.
To make the competition even livelier, make sure to prepare some CBD edibles by the side table. This way, you and your mates will be able to keep your cool despite the heightening tension as the level progresses.
Conclusion
Are you ready to experience the best winter of your life? Although it may seem difficult to enjoy your vacation amid the dead of winter, there remains to be a lengthy list of fun and thrilling activities you can try and experience in this time of the year.
With the right activity, the best set of people, and the perfect CBD products, you are sure to have a lively and incredible winter to remember.
The Art of Gifting Cannabis During the Holidays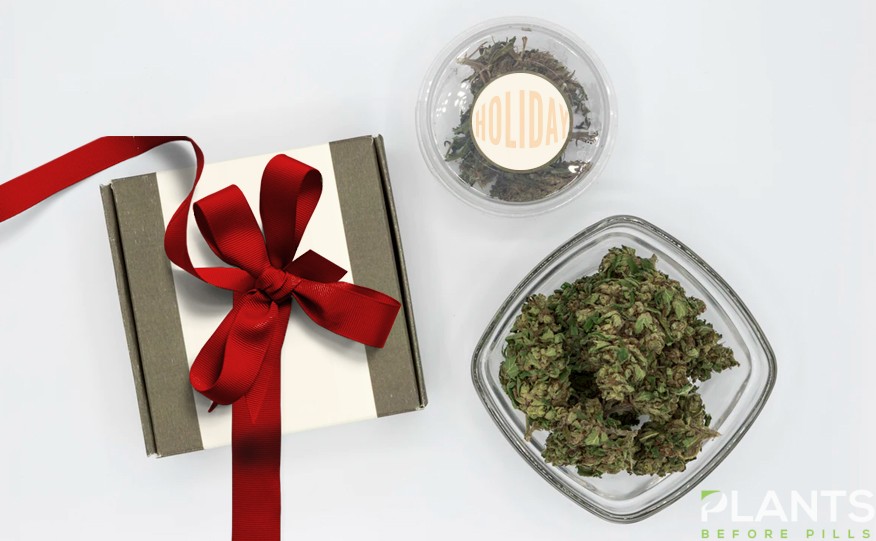 Christmas is just around the corner. And with the holidays coming in just a few more weeks, thinking of creative ways and presents may just be on the top of your list. For like-minded friends and family, cannabis products are certainly a godsend, especially to help your loved ones wind down during their much-needed break.
With the legalization and decriminalization of marijuana around us, it may be high time to revisit the laws in your state. If your state has approved the recreational use of this plant, you'll be happy to know that you can finally give some marijuana to your cannabis-loving friends. Since gift-giving and sharing have also been prevalent in marijuana culture, this might be the right time to bring back the drug's legal status just in time for the Yuletide celebrations.
Gifting Cannabis Products to Individuals
Giving cannabis products as presents comes with great weight and responsibility. Part of this comes from knowing the preferences of your recipients. After all, you won't necessarily give vaping products to someone who is not exactly into the scene, right?
At the same time, the 'burden' of gifting these items comes from informing recipients about their possible gift. Not only does this call their attention towards their present, but also allows them to prepare in time for receiving it. When children are exposed to these, it may pose dangers or risks which can harm their health. This is why gifting marijuana and other cannabis-infused products call for prior notice. This way, both givers and receivers are aware of the environment they are in, and by extension, aware of the parameters of their actions.
More importantly, taking the time to verify your recipient's legal age is of utmost importance. In states where the plant is legal, users must be aged 21 years old or older prior to consuming cannabis. Since you're gifting these plant-based products, the least you can do is assure receivers that they are getting high-quality goods from legal and regulated sources. To comply with the current state laws in place, ensure that you purchase goods from government-approved companies and licensed retailers or dispensaries.
Gifting Ideas Perfect for the Holidays
Once you have gotten these rules and regulations out of the way, it's time to find the perfect gift for your list. Below are some great ideas you can take inspiration from:
For the Purist – Cannabis Flowers
For the purist, the best gift will always be pure, unadulterated cannabis flowers. As a matter of fact, you might want to throw in some rolling paper or lighters to help complete their set.
For the Skincare Enthusiast – CBD Beauty Products
Nourishing, moisturizing, and glowing are the keywords you need to pay attention to if you want to give presents to cannabis enthusiasts who are also beauty lovers. There are tons of CBD-infused beauty items for sale today, so you're sure to find one that fits their fancy and your budget. These skin care products will help your loved ones feel and look their best as these are formulated with moisturizing and soothing properties.
For the Foodie – CBD Oil Edibles
You know what they say, the best way to a man's heart is through their tummy. If this saying is true for most of your foodie friends, you can easily purchase some CBD oil edibles available on the market, such as a cannabis-infused chocolate bar or gummies. You can even bake some good ol' fashioned pot brownies for that homemade touch.
It's understandable that you want to purchase some marijuana goodies for your friends, after all, this plant offers a wealth of benefits. However, before jumping in headfirst, you should definitely look into these basic etiquettes and guidelines of sorts. This way, you can have good, clean fun during the holidays.
The Best End of the Year Activities with CBD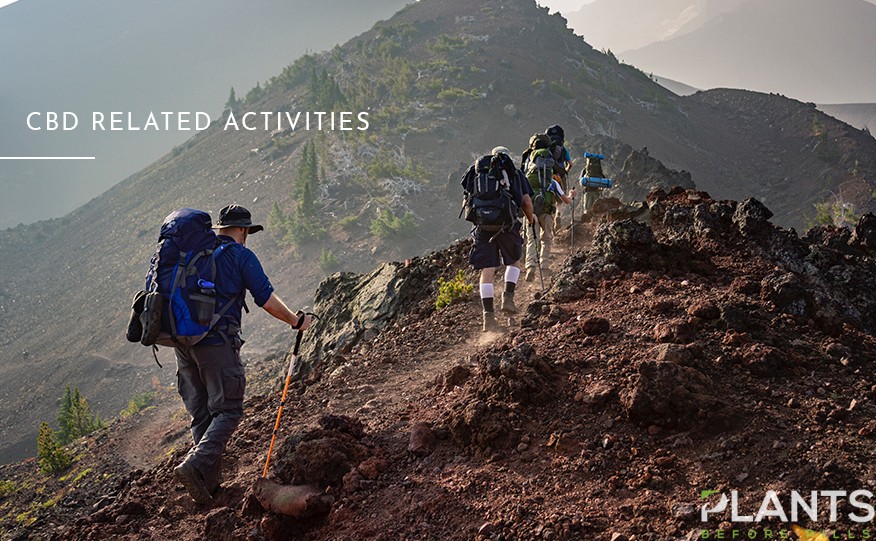 2020 is just around the corner and you only have a few more weeks left to get the most out of your 2019. Have you already thought of a plan to enjoy the remaining days of the year? Well, if you're a CBD enthusiast, you will never run out of fun and thrilling things to do and explore before the new year finally makes its landfall.
Whether you're a fan of edibles or finds delight in tinctures, expect that there comes a lengthy list of fun activities you can do with CBD products. Curious to know what these are? To help you exploit the remaining days of 2019, we have listed 4 of the most awesome and entertaining things you need to kick off your bucket list now.
Year-end Activities with Cannabis and CBD Products
Eyeing to go on a hike this season? That's great! However, aside from food, drinks, first-aid kit, and your weather-appropriate clothing, it's important to not forget adding CBD tinctures to your list of hiking necessities.
Since the compound comes as a natural pain-relieving solution, taking some dose of it as you go through miles of hiking will help bring relief to your weary body. Moreover, since CBD also comes as an effective anti-anxiety alternative, it can also help you combat the nauseous and uneasy feeling that comes as you step towards higher grounds.
Come up with your own CBD recipe
If you're the type who prefers to stay at home and enjoy indoor activities over outdoor ones, there's a huge possibility that you're going to enjoy some food experimentation time with CBD. Since we're already near the tip of the year, coming up with your own CBD recipe will help you unlock another achievement for 2019 and open new opportunities for 2020.
Whether you're the type who loves to indulge in some CBD desert madness or someone who prefers to feast on simple yet delicious CBD snacks, it is already high time to follow your whims and experiment with your own cravings.
To add even more sugar to your activity, try to call some of your friends and immerse yourself in a fun, thrilling, and productive food experiment with the help of cannabidiol.
Try out other CBD products
Remember that CBD balm you saw on social media? How about the CBD-infused cocktail you've missed to taste during one of your friend's party? As we all know, the weeks before the grand New Year's Eve appeal as the best time for experimentation and exploration; a chance for everyone to do the things they've missed to try during the whole year.
As 2020 approaches, it's best to explore other CBD products you still haven't tried yet before the year reaches its twilight. This wouldn't just help you satisfy your 2019 bucketlist, but it would also help you discover new products that are worthy to become part of your 2020.
Engage in a creative project with CBD
Although time is already running out for 2019, it will never be too late to turn your dream project into a reality. Whether you're a musician, a poet, or even a visual artist, there comes a broad variety of possible creative projects you can start and complete over the holidays.
Feeling the urge to write a song? You can kickstart your composition with a few bites of some CBD edibles. Wanting to write something worth reading? Take a flight with the Muse by taking a sip of your favourite CBD drinks. Eyeing to create an art piece as a memento of the current year? Extract your creative juices with the help of CBD oil. No matter what project you want to immerse yourself in, you will never run out of CBD products to enjoy while you're at it.
Conclusion
Are you ready to welcome 2020 with open arms and hopeful eyes? Before you do, it's best to not leave any regrets behind. Which among these activities do you want to accomplish this holiday? Call your friends, prepare the CBD, and be ready to complete your bucketlist before a new year comes to light.